01 Aug 2018 | Samantha Dugan
A Full Day of French Wine Foraging
You ever have one of those days where the stars, or whatever, align perfectly?  Like you find the right jeans and shoes on the same shopping day.  You get upfront parking, a leisurely walk in, and a booth at the hottest restaurant in town.  Those days where everything just goes perfectly, yeah those don't happen often in general, but I assure you, they almost never happen when you have a full day of tasting appointments.
There are always wines that underperform, cost too much for what they are, simply aren't well made or flawed in some form or another,  Just the nature of the business, I'm afraid. 
But there was one afternoon in late July where wines aligned, and I had a perfect day of tasting.  One wine after the other, tremendous value, great texture, gorgeous layered flavors, and so true to their French soils.  At one point I started to fear I had stumbled into some fake bubble of euphoria.  I mean, how could they all be so damn good?  Had to involve other staff just to make sure I wasn't huffing some weird wine juju.
Nope. They, too, were finding the wines brilliant.  One magical day brought us some new favorites to fall madly in love with.
As with many of our French wines these are made in small quantities, so grab them ASAP!  They won't be around long, especially as we are all sorts of excited to drink them ourselves!
2017 Jolie Folle Rosé Mediterranée IGP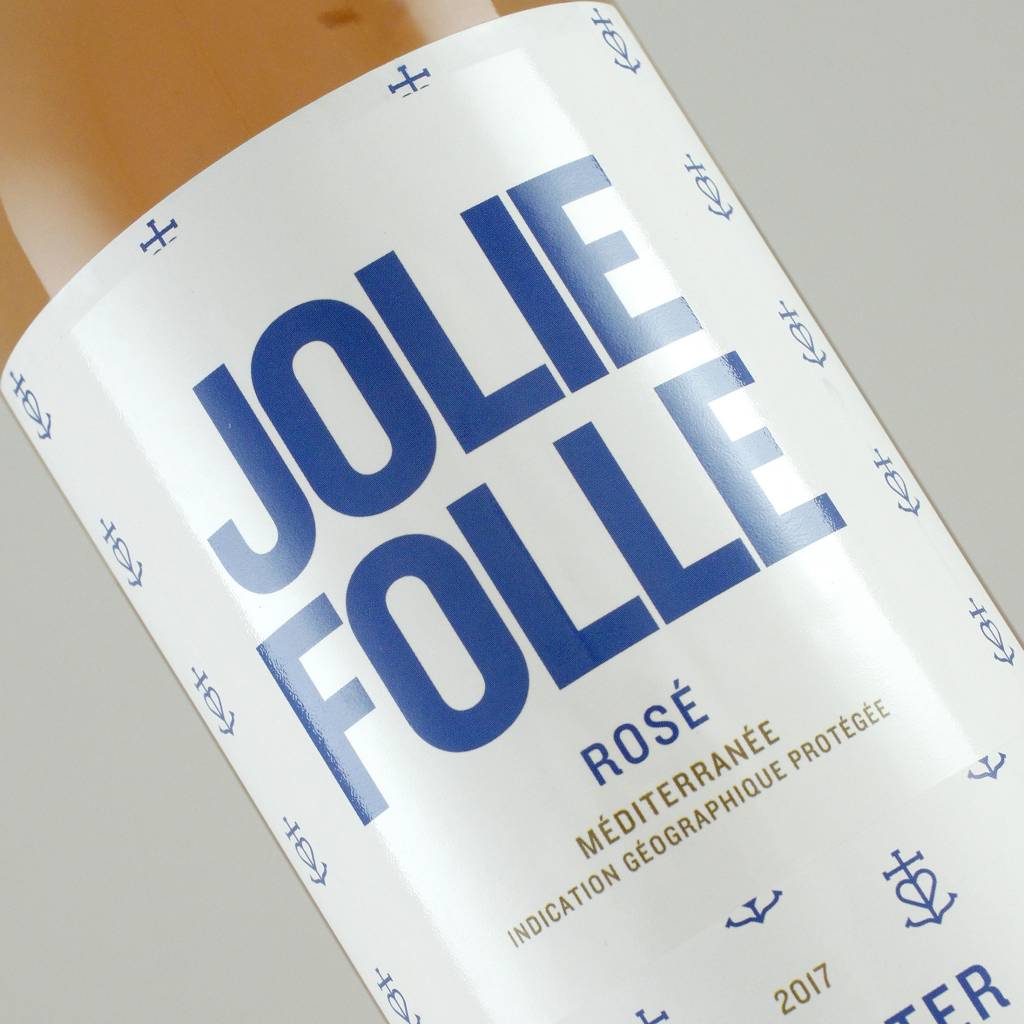 While nearly too late to sample rose for consideration I agreed to taste this fun little liter bottle rose from the South of France. Jolie Folle translates roughly to, "Crazy beautiful" with all the lavish ripe fruit you get here you can see where the name fits. Mostly Grenache with some Syrah, Cinsault and Carignan. You do get just the slightest touch of mineral or stony notes here but this larger bottle is all about purity of fruit. Generous, glugable and a welcome addition to our rosé set. 
$16.99 per liter bottle
2017 Chateau Saint Martin De La Garrigue Picpoul De Pinet, Languedoc
Picpoul as a variety is starting to gain some traction. People wanting something lighter than Chardonnay but not as green and racy as Sauvignon Blanc have begun dipping their toes in the pond of Picpoul. This organic offering comes from the South of France, (Pinet in fact) and offers tons of pure fresh fruit, a kiss of melon and citrus rind with just a tiny bit of river stone. Exactly the wine you want to have chilled on hand for the rest of these warm summer months.
$14.99 per bottle
2017 Janvier Jasnieres, Loire Valley
This rustic but exotic Loire Valley, dry Chenin Blanc has always been one of those wines that is full of character and this 2017 is one of the best I've had from Janvier, ever. Something in the nose reminds of an apple cellar, like ripened fruit, earth and wet cement walls which simply makes me smile with its uniqueness. Silky texture, that ample Chenin Blanc mouthfeel just glides across the palate then the tension from refreshing acidity comes through on the log citrusy finish. Think mild fish dishes, pork and even mild sausage dishes.
$21.99 per bottle
2016 Yohan Lardy Beaujolais-Villages Blanc
A beautiful little Chardonnay from Beaujolais all sustainably farmed and biodynamic, though not certified. The nose is deep, sort of leesy or doughy with plenty of green apple and a tough of flint. Nice weight on the palate but with a snappy, crisp finish. 
$14.99 per bottle
2017 Manoir Du Capucin Macon Solutré-Pouilly , Burgundy
This jewel of a Chardonnay from Burgundy's Macon region is one of those, "Get it while you can" wines for sure. Only 500 cases made, a very unusual blend of two clones of Chardonnay, one very rare and noted by its captivating orange blossom notes which you notice leaping from the glass. The female winemakers is farming organically and biodynamically and she has given us a wine that drinks like it should cost three times as much. Rich, floral, that orange blossom with ripe luscious pear. Sexy curve in the mouth with a long haunting finish. Simply stunning.
$17.99 per bottle
2015 Chateau De La Croix Médoc Cru Bourgeoise, Bordeaux
I nearly fell out of my seat when I first heard the price for this elegant Bordeaux. I was sure my sales rep had given me the price wrong. Double checked in fact and nope, this packed but regal Bordeaux is under $25, retail! Mostly Cabernet Sauvignon with some Merlot, Cabernet Franc and a tiny bit of Petit Verdot all of which are sustainably farmed. I noted a feminine edge to the aromatics and my sales rep nodded, "Another female winemaker". The nose is laced with deep fruit but lifted by this core of blooming flowers and spice. Sturdy on the palate, with some silky tannins this wine is begging for simple steak, beef roast or lamb. Gorgeous.
$21.99 per bottle
N.V. Dhondt-Grellet Champagne Brut
This one is not brand spanking new for us but seeing as it had been well over a year since we last tasted it so I'm calling it, "New, again". This Brut falls on the low dosage end of things but there is so much ripe fruit naturally that it is not one of those bracingly dry low dosage Champagnes. White flowers all over the palate with tart backed green apples and citrus rind. Nice weight on the palate, faint little bubbles and a wonderfully long finish. Perfect for simply sipping or with delicate sea creatures.
$46.99 per bottle
N.V. Pertois Lebrun Exaltation Champagne Grand Cru Blanc de Blancs
This brilliantly intense Blanc de Blancs is making its California debut and we could not be more thrilled to welcome it. Made with 30% reserve with this is one of more studious styles of Champagne. Layer after layer of flavors and aromas unfolding in the glass. The nose keeps drawing you back in and the palate is incredibly long with richness.
$57.99 per bottle