Posted on
By Samantha Dugan
"These wines are amazing. Thank you so much for doing this!" when you hear your customers say things like that, with such earnest enthusiasm, you know you are not only on to something, you need to spread the word! I mean clearly there is a thirsty market of wine lovers out there that need to be reminded, or brought up to speed, on some of France's most food appropriate and all too often overlooked wines from Alsace.
It was twenty years ago that owner Randy Kemner called a twenty five year old Dr. Pepper drinker into the tasting room, once again, to smell and taste whatever it was he was being sampled on. This was an ongoing exercise between those two, he constantly trying to teach and her resisting the whole thing and insisting that wine simply smelled like wine. It was in that tasting room with a golden puddle of rich, aromatic wine that she, that I, began what would be a long time love affair with wine. Specifically those from France. This past Saturday I met up with that old first love of mine and boy-oh-boy. I'm downright swooning.
Alsace is located in the far eastern part of France, tucked into a triangle with Germany and Switzerland. The architecture of the region is a reminder of a war-torn past when Alsace was actually part of Germany not France. The storybook buildings look more German, but it is in the food and the wines of Alsace that you find the influence of both Germany and France and this is exactly what makes Alsace truly unique and in a class all their own.
A long narrow strip of land, twice as long as our Napa Valley that is planted to over 90% white wine varieties. This is where they have more starred restaurants than anyplace in the food obsessed country of France, aside from Paris of course. A place where the foods are pork rich and slathered in wonderfully mouth coating mustards, served with a smear of creamy, oozy cheese or piled atop pillowy soft potatoes and intoxicating shreds of pickled cabbage. A place where they grow richly textured and highly aromatic white wines that pair brilliantly with the wild array of the foods on the table. This place is Alsace and there is simply no other growing region like it. Time to acquaint, or reacquaint, yourself with the sultry, generous, forward wines of Alsace!
Our first Saturday tasting of 2017 Randy came up with the idea of doing an Alsace Food & Wine Fest. To highlight the brilliance of these remarkable wines by serving them with the iconic foods of the region. Tarte Flambee, the crispy little flat bread with mild cheese, hunks of smoked ham and sautéed onions. Eggy little quiches stuffed with more pork and striations of spinach and cheese. The most famous of all, the dish that once it arrived in the shop, all warm and bubbly had my head, and heart fluttering with remembrances of many a bistro or brasserie meal in Paris, and in Alsace, tucked into a tiny corner table, long slender bottle of chilled white wine on the table, glass smudged with greedy fingerprints as I devoured a plate of Choucroute Garni, the famed Alsatian dish of sauerkraut cooked in white wine with potatoes and assorted pork products. Luckily I was too busy pouring to eat as much as I wanted of that dish.
We had 65 people show up, for mostly all white wine, they paid us $30 each to partake and most of them made a point to come and thank me for the tasting. It has been 20 years since I stood there, mouth agape, golden pool of wine rolling about in my glass as I "got" wine for the first time, after pouring and spending a January Saturday afternoon watching people fall in love, or discover these wines for the first time, well sometimes you can recapture that first kiss.
I encourage you to try this recipe, the dish will become a go-to for dinner parties as it is actually better the next day when reheated!
http://www.foodnetwork.com/recipes/choucroute-royale-braised-sauerkraut-recipe.html
Use Alsace Riesling instead of Sparkling wine.
Fresh sauerkraut (sold at Alpine Market along with the meats)
No Duck.
Dale's Meats: Smoked Polish Sausage, Smoked Pork chops, smoked pork butt, wieners.
Dale cooked it at night, then reheated the next day. The juices concentrated in the sauerkraut a lot more the second day.
Served with 2 German mustards: medium and grainy. (also sold at Alpine Market)
Made from a blend of Pinot Blanc, Pinot Auxerois and with a tiny bit of Pinot Noir in the mix, this light little sparkler is a sheer joy to drink. Slightly peachy with a hint of citrus and honey. Clean, bright and with a slightly weightier mouthfeel than you find in say, the Cremants from Loire or Limoux. Show stealer at our recent Alsace tasting.
These are always a hard sale for us and yet, here we are, trying to get folks to give these wines a shot. Dry and Muscat can be a hard concept considering how much sweet Muscat flooded the market as of late but we assure you, this wine is quite dry. The nose is all Muscat, floral and with tons of peaches and apricot. There is a hint of honey and herb here as well. On the palate the wine shows some serious weight but also some serious pucker. Kinda messes with your mind a wee bit, to smell all that fruit and feel a weighty, bone dry and tangy wine come scraping across the palate, but that's what makes it so much fun! It wants meats and cheeses this spunky little wine.
The Trimbach family has been making wine in Alsace since 1626 so we are very confident that these folks have the kinks worked out as it were. We are madly in love with this super value from such a prestigious Domaine. The Pinot Blanc here is just so pure and nearly vibrating with life. Dry, lighter on the palate with a little kiss of under-ripe peach on the finish. Perfect all-purpose white that is fantastically charming.
This has been one of our best-selling Alsatian wines for a few years running, takes only a couple deep sniffs and the tiniest of sips for one to figure out why. Purity, cold, crisp stone fruit, sexy curve on the palate with a lovely lift of fresh acidity on the super clean finish. Pop the cork and see why we have a hard time keeping this one in stock!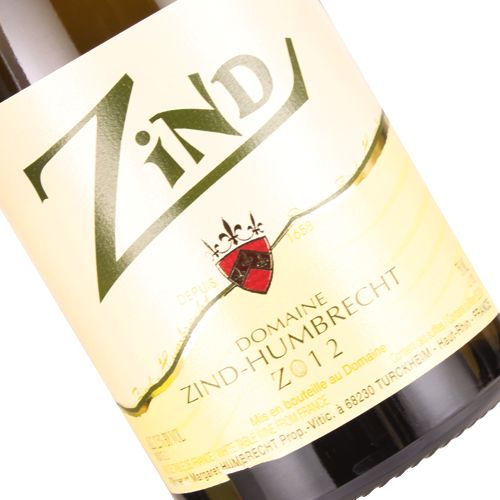 Not too often I get to say this about an Alsatian wine but, this silky white is comprised of 65% Chardonnay, not something you see too often in Alsace, and 35% Pinot Auxerois. So not something that most of has something to compare it to! Here you get a fun combination of roasted stone fruits and crisp citrus rind. Almost like an apple tart that has a little lemon curd. Not a sweet wine but a heavenly rich styled one. Think more about those porky dishes when popping the cork on this serious white wine.
Made from a selection of Trimbach's finest parcels of Pinot Gris, here you find a skillful balance of rich, densely packed fruit and laser sharp, firm acidity. Not a shy wine in the least. Big round body, mouth coating fruit. This is a wine produced to accompany hearty fare like lobster, truffle dishes and the king of all, foie gras! Not feeling like something that over the top? Don't fret, this wine loves strong cheeses too!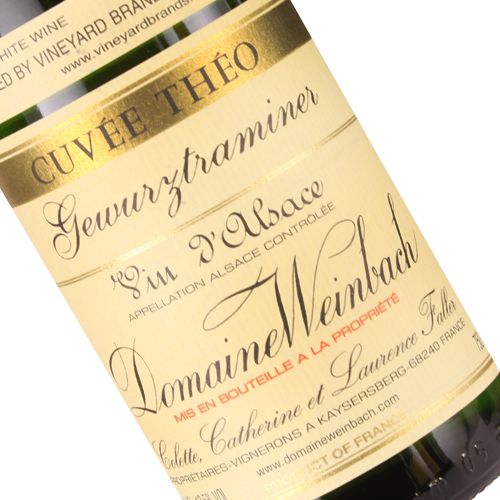 I know we aren't supposed to do this but, well this is my favorite Gewurztraminer from not just Alsace, from anywhere. Gewurztraminer can be hard to wrap your head and palate around. Such massive and intense flavors and aromatics at play with these wines and it can all too often come off clumsy or over the top. Not the case with the wines from Domaine Weinbach. Amazingly expressive on the nose, the lychee mixed with acacia honey and tangerine rind, then on to blooming gardenia, ginger and back again. Weinbach has a way of elevating the variety to something much more regal. I like this wines with strong, sort of pungent cheeses but I know lots of people like it with Asian/Indian dishes.
So you like them big and luscious? White wines bursting at the seams with ripe dripping peaches and syrup? We got your luscious monster right here! Warmed stone fruit, honeysuckle, little hints of tangerine rind. Super floral and loaded with lusciousness.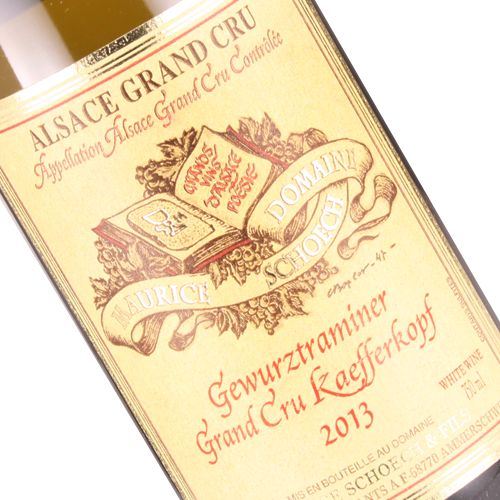 The sweetest of the Gewurztraminer we have from Alsace but not as cloying and clinging as some we've come across. Toasted brioche with apricot jam is what came to mind when we sampled this flirty sweet one. I love the texture here, silky and saturated but there is a wonderful lift of cleaning and focused acidity that keeps things from being drug down into that sugary finish. Now this one I would save for the cheese course. Get some blue cheese, some mountain cheese like Comte or Gruyere and maybe something runny like Muenster or Epoisses and dive in lips first!
Not much by way of red wine being grown in Alsace but we love to sample them when they do come our way and this lovely, light and snappy Pinot Noir from Trimbach is a sheer pleasure to smell and sip. Very light body, nearly see-through in its pale red color. Cooked red cherries with a savory mushroom note and a hint of something herbal on the finish. Think light dishes such as salmon, roasted chicken and simple pork dishes. Ready to drink now.