20 Mar 2023 | Samantha Dugan
ALSACE REVISITED: A SECRET GARDEN FULL OF LUXURIOUS TREATS JUST WAITING TO BE DISCOVERED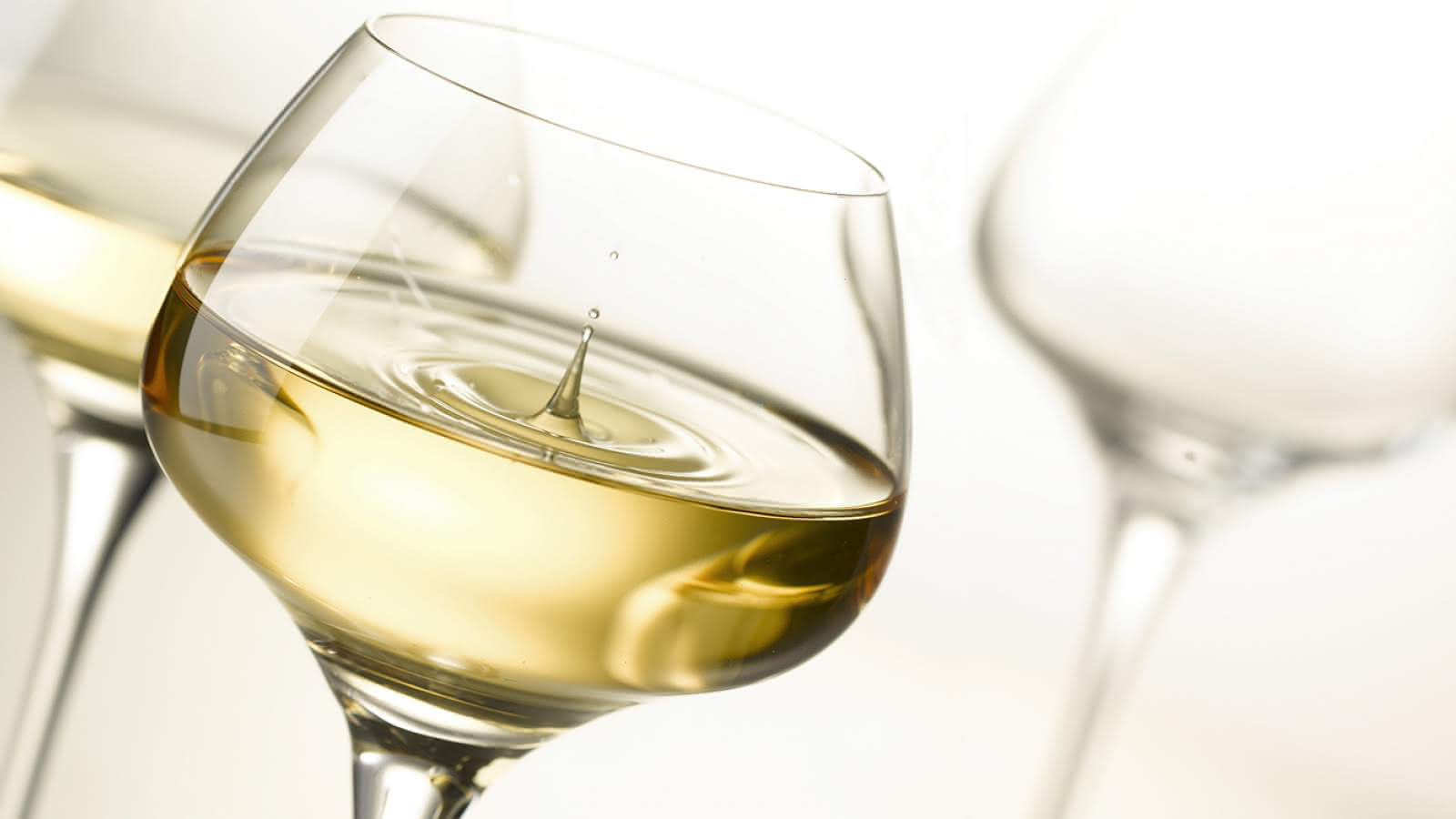 "How did you get into wine?"
A question I am asked several times a month, mostly from new customers or sales reps that have yet to hear the love story that is Samantha and The Wine Country. The condensed version is when I was recruited to work here at The Wine Country I didn't know, like, or even drink wine. They all tasted the same to me, but seeing as I was hired to do shipping and work the back room in this wine shop, it really didn't matter, though Randy was determined to try and make a wine lover out of me if it was the last thing he did.
One afternoon the sound that always sent my eyes rolling and face into full on scrunch mode, "Hey Sam! Come taste this wine." Randy's voice bellowing from the tasting room, broad grin across his face, his arm extended with a puddle of wine splashing about in the bottom of a glass. Being fairly shy and as I mentioned above, not into wine at all, I rather loathed these exchanges. Always afraid I was going to look dumb in front of the "wine speakers" standing there, lowering my head, nose dipping below the rim of the glass, nostrils flared as I took a deep sniff of their worshiped elixir and flatly reported my findings, "Smells like wine"  
That one afternoon, that grin on Randy's face, the glass passed off into my hand. It was that puddle of aromatic white wine that flipped my switch, spun my head and ended up putting my hesitant heels right on the path of a whole career, in wine.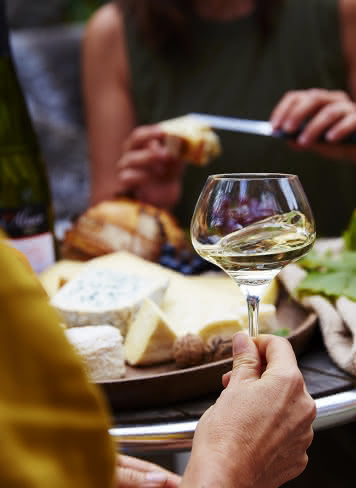 It was a wine from France's relatively unsung and wildly underappreciated wine growing region, Alsace, that opened my curious sniffer and quite literally changed my life. I quickly moved my attention from the wines of Alsace to the brilliant wines of the Loire Valley, Champagne and then to my beloved Burgundy, but Alsace has always had a special place in my heart. Plus, they are some of the most food-appropriate wines on the planet, so I'm forever in that department either shopping for what I'm making for dinner, or assisting a customer with a food and wine pairing. The wines really are that flexible and though mostly white, the range of foods they pair brilliantly with is remarkable.
Because of where it is located, just across the Rhine from Germany, (has in fact been Germany at different times), the foods of Alsace are rich, meat/pork heavy and loaded with lots of big luscious flavors, the fuller bodied and explosively aromatic wines are utter perfection when paired with sausages, cheesy potatoes, briny cabbage and more. I absolutely love turning people on to these wines, like unlocking a gate to a secret garden full of luxurious treats just waiting to be discovered.
We recently hosted a Saturday afternoon tasting featuring the wines of Alsace and it gave me the opportunity to introduce and share a couple new things as well as the chance to play around in my kitchen and bring a regional treat for our tasters to enjoy with the wines we were featuring. We had an amazing showing, curious tasters taking home many of their newly discovered favorites, and I got so many requests for the recipe for the Tartiflette, (a cheesy, oniony, potato dish from Alsace) I made that I thought I should do a recap for those that were unable to join us for the wine and cheesy potato fun, and for those that have been emailing me about the potato recipe.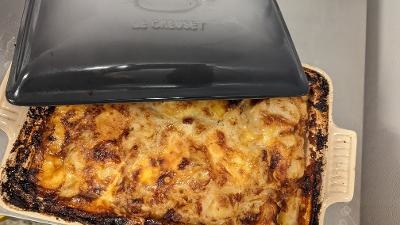 While it is still nice and cool out it is a perfect time to explore these wines, and play around in your kitchen with wine, potatoes, pungent cheese, bacon and onions.
Have fun!
Alsace Tartilette
As always, I am a home cook that doesn't bake, so there is little to no measuring happening in my kitchen. So, this is more of a guideline or estimation recipe to get you close. I have sense added a little Dijon mustard to the onion mix but that is an addition for you to consider if you want a little more zing as it were.
2 ½ -3 pounds russet potatoes boiled until just shy of done. You can peel if you want, but it is not required.
½ Pack thick cut bacon cut into 1 inch strips
1 large yellow onion, or 2 small, thinly sliced
1 cup dry white wine
3-4 wedges Delice de Jura cheese. You can also use Taleggio or Reblochon and a pound is probably enough
Salt & Pepper
Heat oven to 350 degrees
Boil your potatoes and let them cool until you can handle them. I cut mine in rustic hunks rather than cubes. I like the craggy edges, but either is fine.
Cook bacon in a large skillet until crisp. Remove bacon and add onions, salt and pepper and cook until onions are soft and beginning to change to a golden color. Add white wine and cook until reduced by at least half.
In a large bowl combine potatoes to onion mixture (this is where you can add the mustard if you are inclined to do so) and toss until evenly coated. Add half the potatoes in a baking dish, add half the cheese cut into slabs, making sure to scatter them around evenly. Top with the rest of the potatoes and final layer of cheese slabs.
Cook for 25-30 minutes until cheese is golden brown and bubbly. Serve warm but, gotta be honest, not too hateful at room temperature either.
Featured Alsace Wines
N.V. Vol Enchante Cremant D'Alsace Brut  $23.99
A fruit forward and gentle sparkler made from Pinot Gris, Pinot Blanc, Pinot Auxerois and Chardonnay, this is a crowd pleasing bubbly if ever there was one. The label is charming as all get out but the real charmer is what you find in the glass. Stone fruit, yeasted dough and bits of toast. Plenty of playful bubbles and a crisp finish
2021 Domaine Trapet A Minima Blanc  $21.99
Trapet is a new winery for us here at The Wine Country and we are super excited to get to know these wines, the product of a native Alsatian and a Burgundian, even better. A. Minima is a crazy white blend of Gewurztraminer, Muscat, Pinot Auxerois, Pinot Gris, Riesling and Sylvaner is biodynamically farmed and vegan. Here you get wild aromatics of ginger, lime rind, stones, peaches and flowering herbs. Quite dry on the palate with a racy snap on the finish. Serve with cheese and pickled veggies, grilled fishes, white meat and salads.
2020 Domaine Mittnacht Pinot Blanc  $17.99
Founded in 1958, which is relatively young by Alsatian standards, Domaine Mittnacht took to biodynamic farming early on, and with vigor, becoming one of the first in the region to be certified in 1999. This Pinot Blanc is actually a blend of Pinot Blanc, 70% and Pinot Auxerois and here you find that lovely bit of Alsatian weight that we love their white wines for. White peaches and tangerine on the palate with some orange blossom and herbs. The weight is medium and there is no oak used here, thus the wine retains a wonderful freshness. Great all purpose white to have on hand, especially when you are going through Chardonnay fatigue.
2020 Albert Boxler Sylvaner  $32.99
Alsatians tend to drink more Sylvaner than any of their more prestigious varieties like Riesling, Muscat, Gewurztraminer or Pinot Gris, likely because of how agreeable Sylvaner is at the table and those Alsatians, they cherish their time around the dinner table. Albert Boxler is one of the most respected names in winegrowing, from anywhere but especially within Alsace and it takes very little by way of investigation to see why. From this less than noble variety Jean Boxler is able to coax such intensity and extraction. Layers of dried red apple, toasted nuts and river stones. Gorgeous texture with a long but dry finish. Cannot think of anything other than sweets that this wine wouldn't be beautiful with.
2021 Domaine Mittnacht Gyotaku  $23.99
Certified biodynamic and a blend of Pinot Blanc, Pinot Gris, Gewurztraminer, Riesling and Muscat. This is a vividly aromatic wine. Packed with florals, apricots, pears, ginger and spice. Lots of round and supple fruit right upfront with just a kiss of sweetness that plays nicely with the warm spices. Fuller bodied with a long and richer ended finish. Think spicy and bold flavored foods such as Indian and Vietnamese or Thai.
2021 Domaine Trapet Gewurztraminer  $26.99
Organic, biodynamic and vegan even. This highly limited, (sold out at the importer already) highly aromatic and wildly spiced white wine is all about big, rich, full bodied fruit and warm cooking spices with a candied orange rind and blooming white flower finish. Think big ol' stinky cheeses, spicy or heavily spiced foods, like curry and masala or one of my personal favorites, pastrami or corned beef. Super fun wine that while explosive finishes drier.
2019 Hubert Meyer Winzenberg Grand Cru Pinot Gris  $29.99
Wow. What a mouth coating wine full of curvy fruit and layers of complexity! Coming from a Grand Cru village you expect to feel the deeper texture and power, but getting all of this with this kind of price tag? Unbelievable. Peaches, apricots, lemon rind, fresh cut white flowers and a hint of ginger fall upon the palate like a comforting hug but then the acidity comes barreling through and ties everything nicely together. A wine with enough power to hold up to hearty dishes with some spice or grilled/steamed sausages and assorted smoked foods. Pretty damn sexy.
2018 Hubert Meyer Pinot Noir  $27.99
Well, there is one tiny upside to climate change: Alsatian Pinot Noir has never been better! Plenty of tart red fruit and spice with hints of minerals and underbrush. Gentle tannin and acidity make this a dream for the dinner table as you can pair so many things with it. From roasted veggies to pork and even salmon. Pop the cork and enjoy!