07 Jun 2023 | Randy Kemner
BURGUNDY, BEAUJOLAIS, LYON: EATING & DRINKING OUR WAY THROUGH EASTERN FRANCE PARTS IV, V, VI, VII
PART IV:  BURGUNDY
For some reason, I always thought the distance between the Jura, near the Swiss border, and Beaune. in the heart of Burgundy, was a day-long trek. In actuality, it took us about an hour and a half to make the trip, and our destination--the modest but delightful Beaune Hotel--would be our home for the next five nights.
We had stayed in some impressive digs in Chamonix, Annecy and Arbois, but this modest two-star hotel and its small-ish room was all we needed. The charming owner, Muriel, told us she was born in Beaujolais, but not to a winemaking family. She did, however, attend wine school and got jobs, I think, in the Loire Valley and Burgundy's Cote de Nuits where she made enough money to purchase this little hotel, three blocks from the walls of the old city in Beaune.
Continental breakfasts cost 9.8 euros, and they were just fine. Dale mentioned that we should eat like that at home instead of skipping breakfast, which is the norm for us. Best of all was, unlike most hotels within the walls, there was parking for our little Toyota hybrid.
We arrived on a Saturday, walked to La Ligne, a fish restaurant recommended by Beaune Imports owner Michael Sullivan, walked back to our hotel and crashed.
The next day, Sunday, most shops were closed, so we decided to check out the Parc Bouzaize in the late morning, then later drive through the Cote de Nuits to Dijon and back. The park was beautiful, flowers were blooming, thick, green vegetation, families were out, a man was doing Tai-Chi, and a jogger or two made their way around the perimeter. Dale stood in front of a tall Sequoia, there were water birds in the lake, a pigeon aviary, and a playground for the kinder.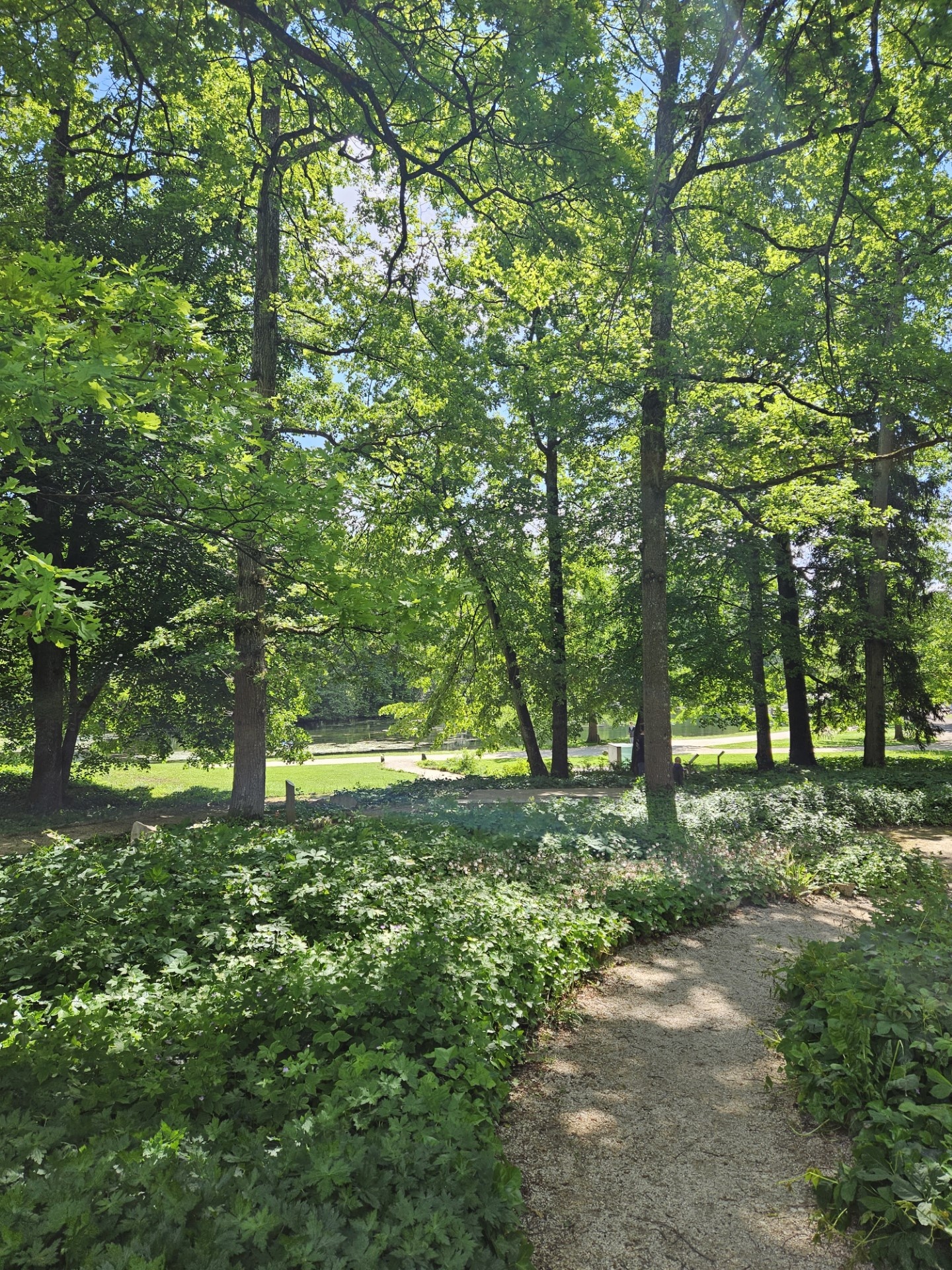 And the drive north had us viewing some legendary sites and road signs:  Corton hill, Pernand-Vergelesses, Nuits Saint Georges, Chambolle Musigny, Gevrey Chambertin and more, each village sign conjuring up memories of long ago pleasures.
A good day.
Monday in Burgundy, I had arranged two tastings for the afternoon. The first one was with Guillaume Camus, winemaker/owner of one of our favorite houses, Camus-Bruchon in Savigny-les-Beaune. When I visited this estate in 2002, I had my picture taken with his late father, Lucien.  Now, in 2023, it was Guillaume's turn to pose with me in the cellar.  We did a barrel tasting of his pure, beautifully structured (mostly) red and white wines from 2022, then made our way through the same wines from 2021, a difficult, but high-quality vintage.  As Guillaume walked us around his cellar, I spotted some old bottles in a bin, attacked by the ravages of mildew, completely disguising the potential inside them.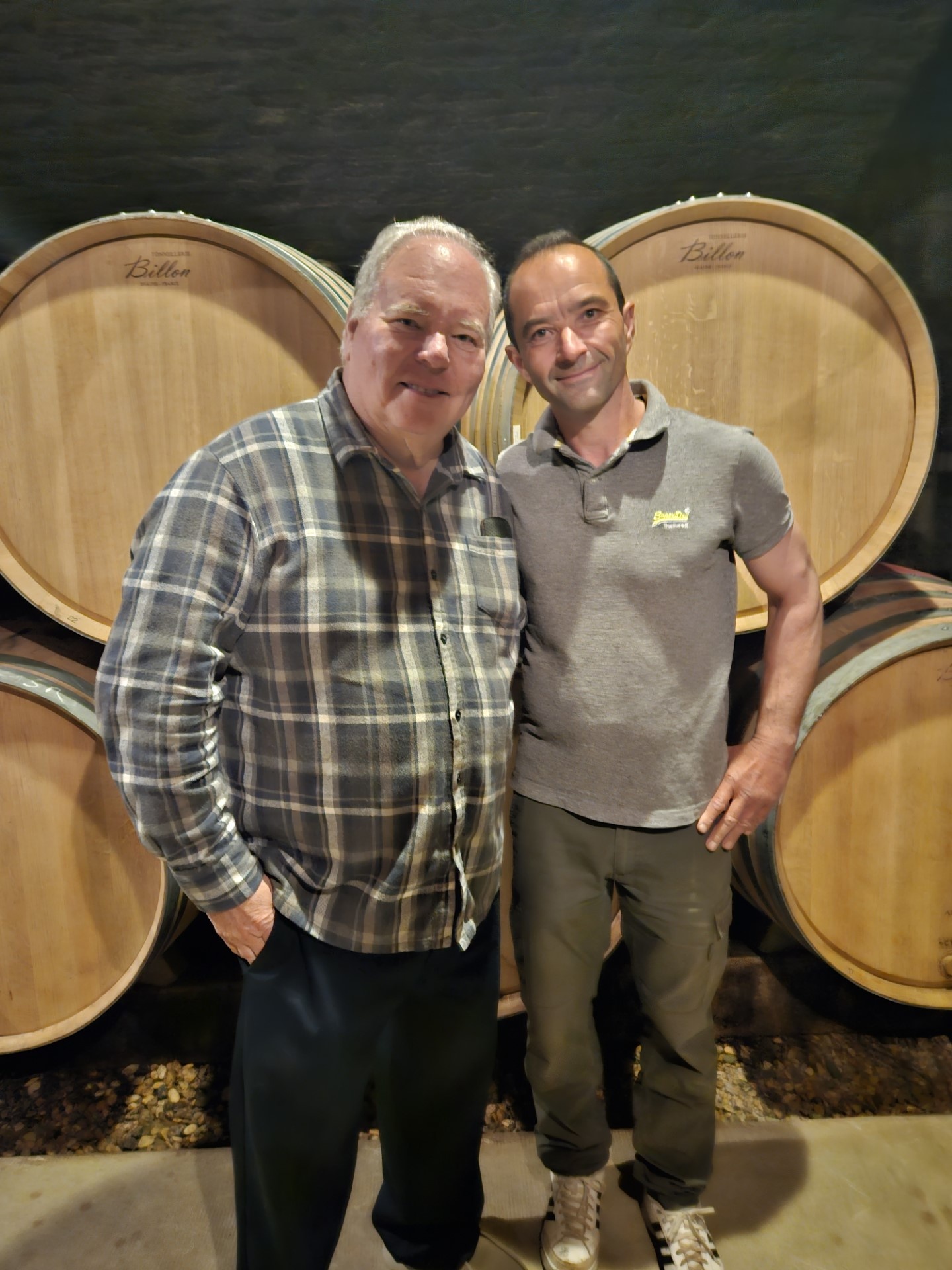 Following our meeting at Camus-Bruchon we drove to Marchand-Tawse in Nuits Saint George, and the charming Englishman/winemaker Mark Fincham hosted us for an hour of barrel and bottle tasting. We've had a long-term relationship with this negotiant/domaine and Samantha Dugan has created many fans of these wines, as was evidenced by our sold-out tasting a couple days earlier.
These folks do excellent work from affordable Bourgogne red and white all the way to Grand Cru Corton and Corton Charlemagne. Because of the variances in price, you can enjoy some of these wines for your Sunday chicken dinner or take a special bottle out of your cellar for a birthday meal.
PART V:  BEAUJOLAIS
If you've been hanging around The Wine Country for any amount of time, you will have heard me extolling the virtues of Beaujolais, one of the all-time classics of wine, and one of the most versatile food wines on the planet.
The story of Beaujolais is complicated. Once grouped together with Burgundy which it doesn't resemble because of different soils--granite--and a different grape, Gamay.
So Beaujolais has been thought of as its own thing for quite awhile, hampered reputationally by the simplest of all Beaujolais, Nouveau, that most people unfortunately equate with the appellation. (Nouveau is fun, but it is certainly not representative of what Beaujolais can achieve.)  In my experience, the finest Beaujolais is made by domaines, some in all appellations, but especially in the 10 crus, the villages and places where there are hillsides that provide more depth to the wines and actually allow many to age, which Gamay, historically anyway, was not supposed to be able to do.
Beaujolais is also the heart and center of the natural wine movement, which brings its own set of complications. Let's just say, if you are not doing Beaujolais, you are missing out on one of the great joys of the wine world. Priced less than most famous wine regions, with reasonably low alcohol, they are the kinds of all-purpose wines that your wine collection should always stock.
A remarkable oversight on my part is that in all my importer and personal tours of France, I never took time to explore what everyone described as a beautiful place. Except for a quick tasting at Dominique Piron, then zipping off to the Loire, I had never set foot in the place. So I decided that Tuesday would be the day Dale and I would drive an hour-and-a-half south of Beaune to visit two of my favorite Cru Beaujolais producers--Chateau Thivin of Cote de Brouilly and Domaine Chignard of Fleurie. We would also take some time to drive through all ten of the Cru villages, drive to the top of Mount Brouilly to admire the panorama, and zip through Pouilly-Fuisse (closer than I expected to St. Amour, the northernmost Cru.)
It was a cold, drizzly and blustery day when we arrived at Chateau Thivin. We walked under a sign announcing the domaine, into a handsome courtyard, and were met by an utterly charming Sonja Geoffroy, wife of the current owner and winemaker. Sonja walked us into the steep hillside vineyard across the street and I was startled to see that the Beaujolais bush vines were only about knee-high, with no trellising. As we would find out driving to Fleurie, all the vineyards we spotted were the same low bush vines. Remarkable.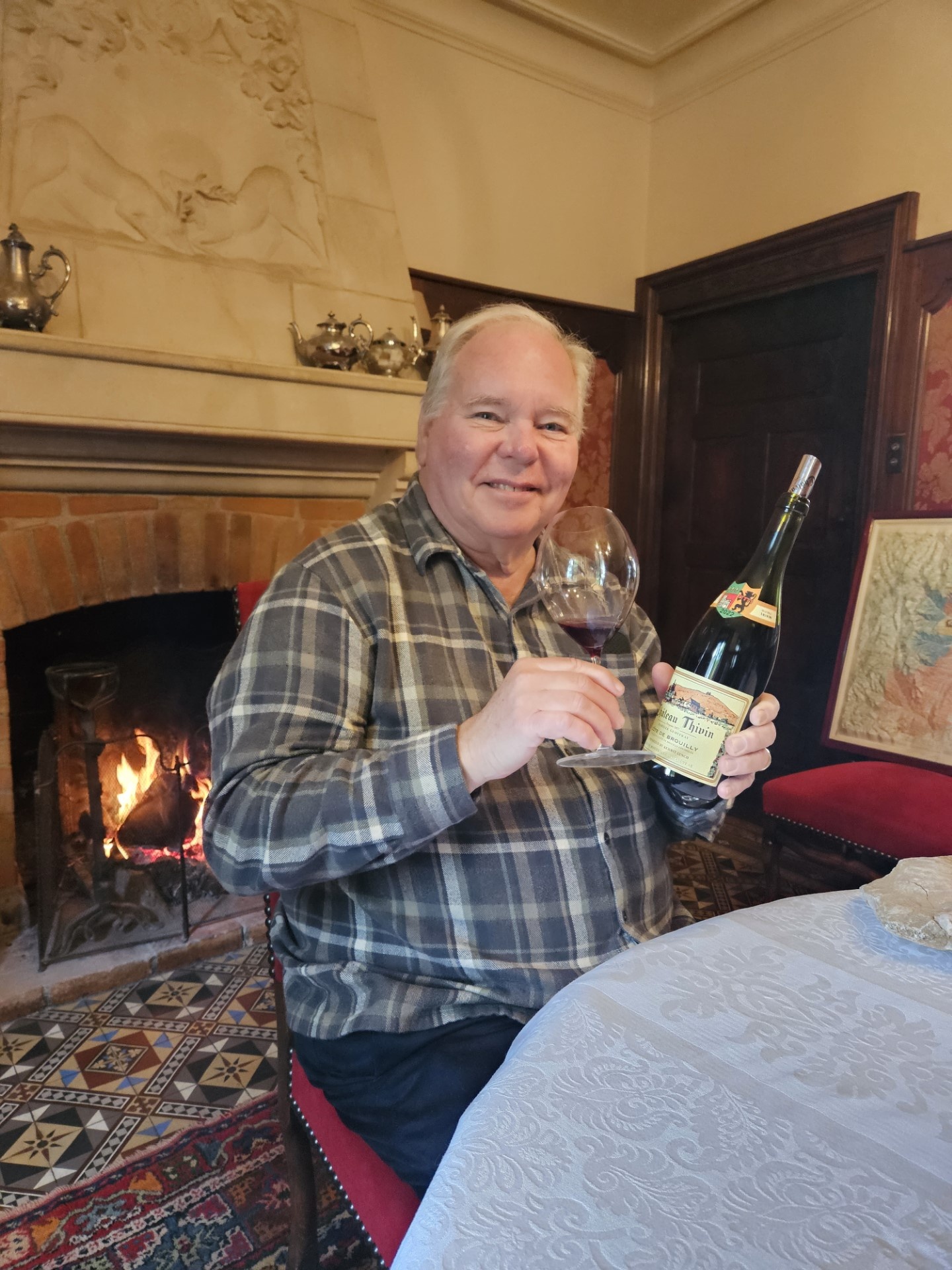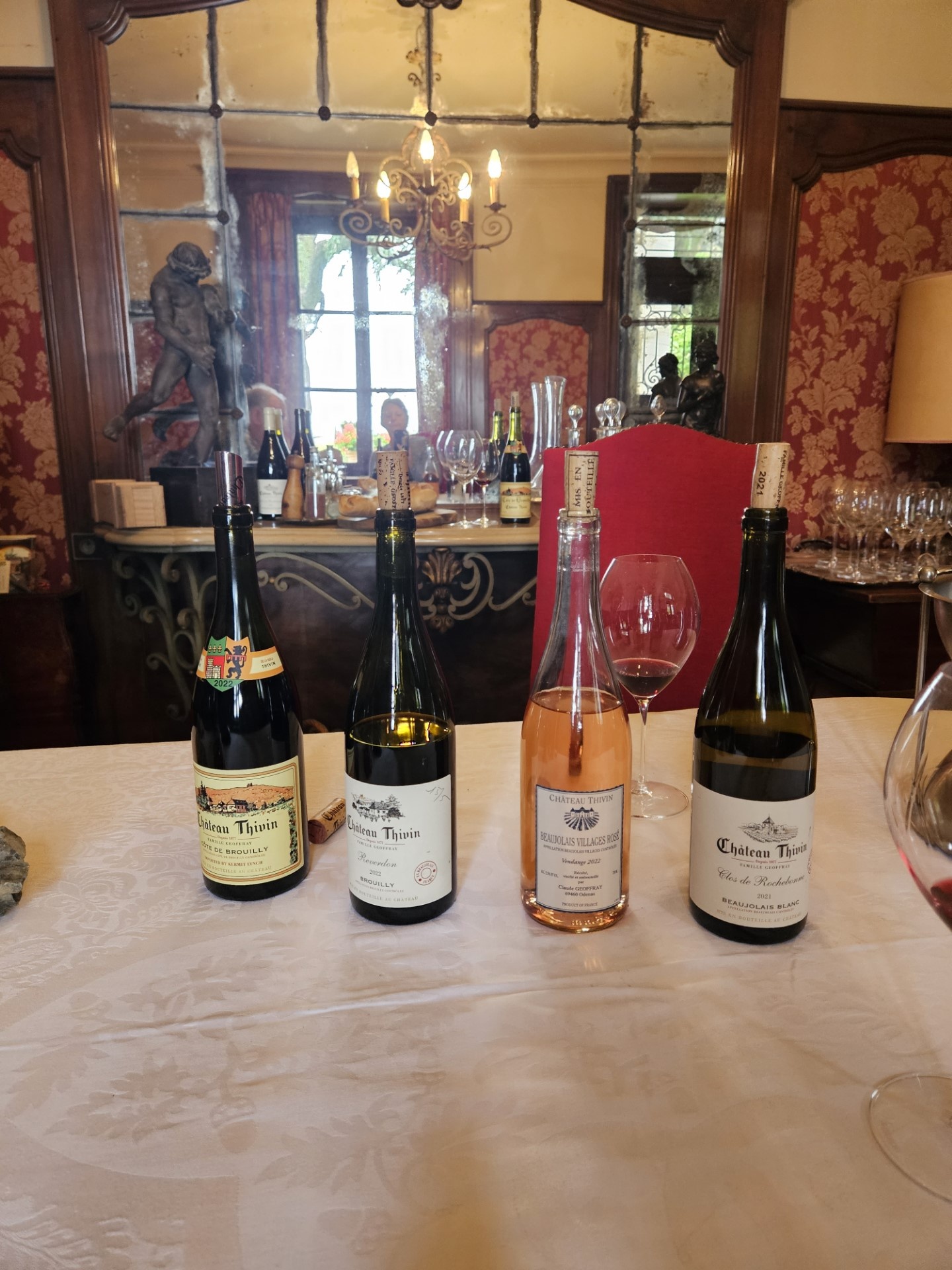 Sonja then led us into the house, past a well-fed cat glaring from a chair, and into the 19th century dining room where she hosted our tasting of current wines. A welcome fire warmed us up and we sat at a large table with a white tablecloth. We sampled the Thivin white Beaujolais (I didn't know they made one), the Beaujolais rose we've carried at the store, the very good Brouilly (which came from a ring around the base of Mount Brouilly, and the main wine, the Cote de Brouilly from the hillsides.
When we mentioned that the only thing we'd eaten that day was a small madeleine each, Sonja jumped up, went into an adjoining room, and a minute later came back with a plate of cheese and sliced saucisson and a crusty bread to go with it. 
We also sampled a couple reserve wines I didn't know existed, then Sonja pulled out an older wine, masking the vintage. She asked us to guess the year.
At first the wine had the white pepper nose of over-the-hill wine, but after swirling, the pepper was gone and a beautiful aroma appeared. The flavor was beautiful and there was a lot of life in that wine, silky texture and all.  Judging by the faint tinge around the rim I thought it might be 14 or 15 years old.
"2008," I guessed.
"Close," said Sonja. She turned the bottle around, and it was a 2005. Whoever said Beaujolais doesn't age, hasn't been around Chateau Thivin.
I was so comfortable at Chateau Thivin, enjoying the company of Sonja and basking by the fireplace, I didn't want to leave, but we had to make our afternoon appointment in Fleurie with Domaine Chignard, another one of importer Kermit Lynch's star producers.
As we drove up Mount Brouilly to enjoy the view, we saw a sculpture of a bicyclist, perhaps commemorating a bygone Tour de France leg.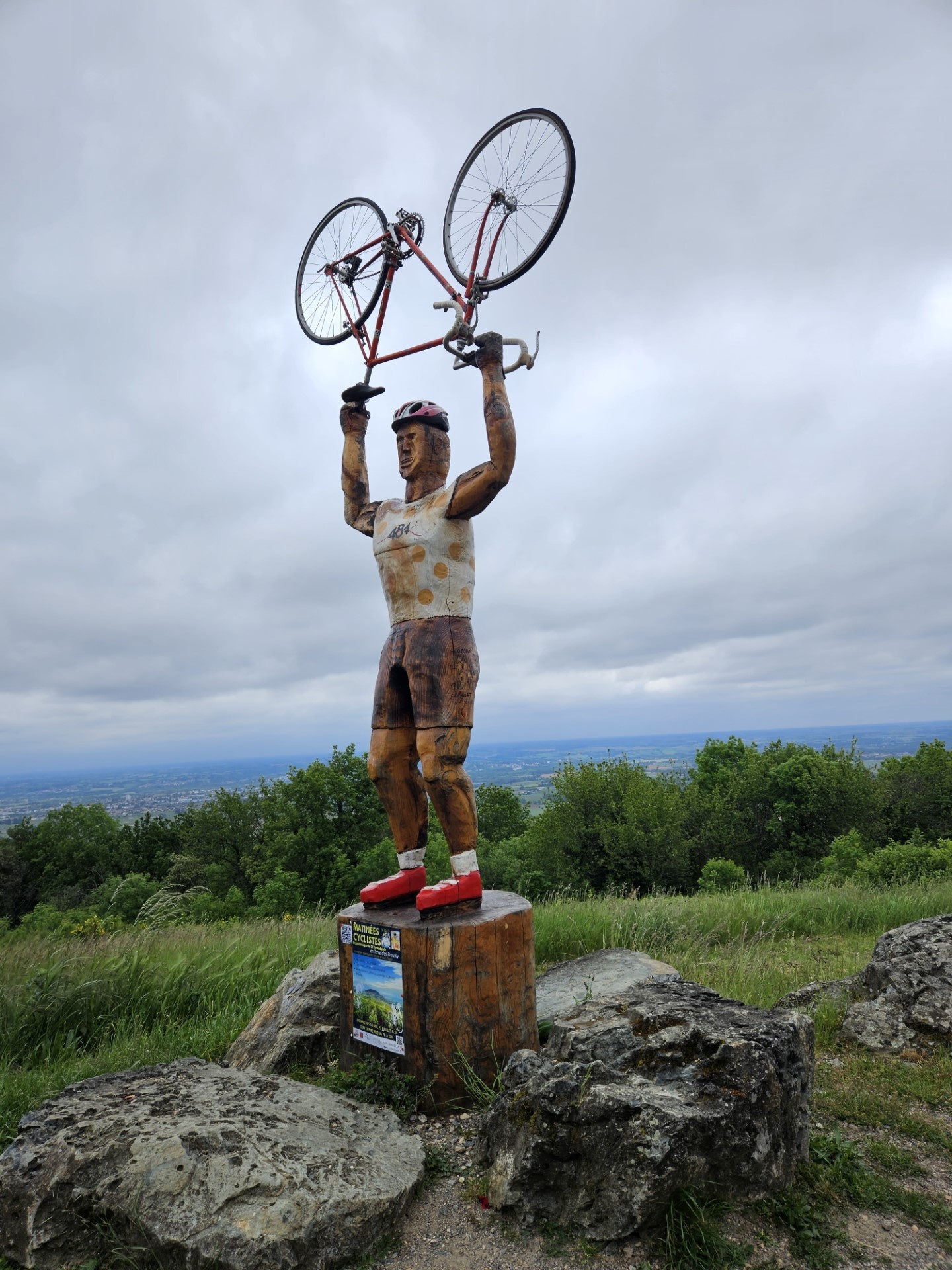 Our GPS led us to a house on a hill with a gate in the Beaujolais cru known as Fleurie, named for the flowery character of its wines. After waiting a couple minutes, a little guy with a chuckle and a grin greeted us. I asked him if he was Michel, the patriarch of the family. But that was this guy's father. He introduced himself as Cedric. Cedric Chignard, the winemaker, marketer, warehouseman and maître. 
He excused himself to finish loading an order onto a truck with a load bound for Indianapolis. Then he came in, walked us into a little room and began pulling bottles.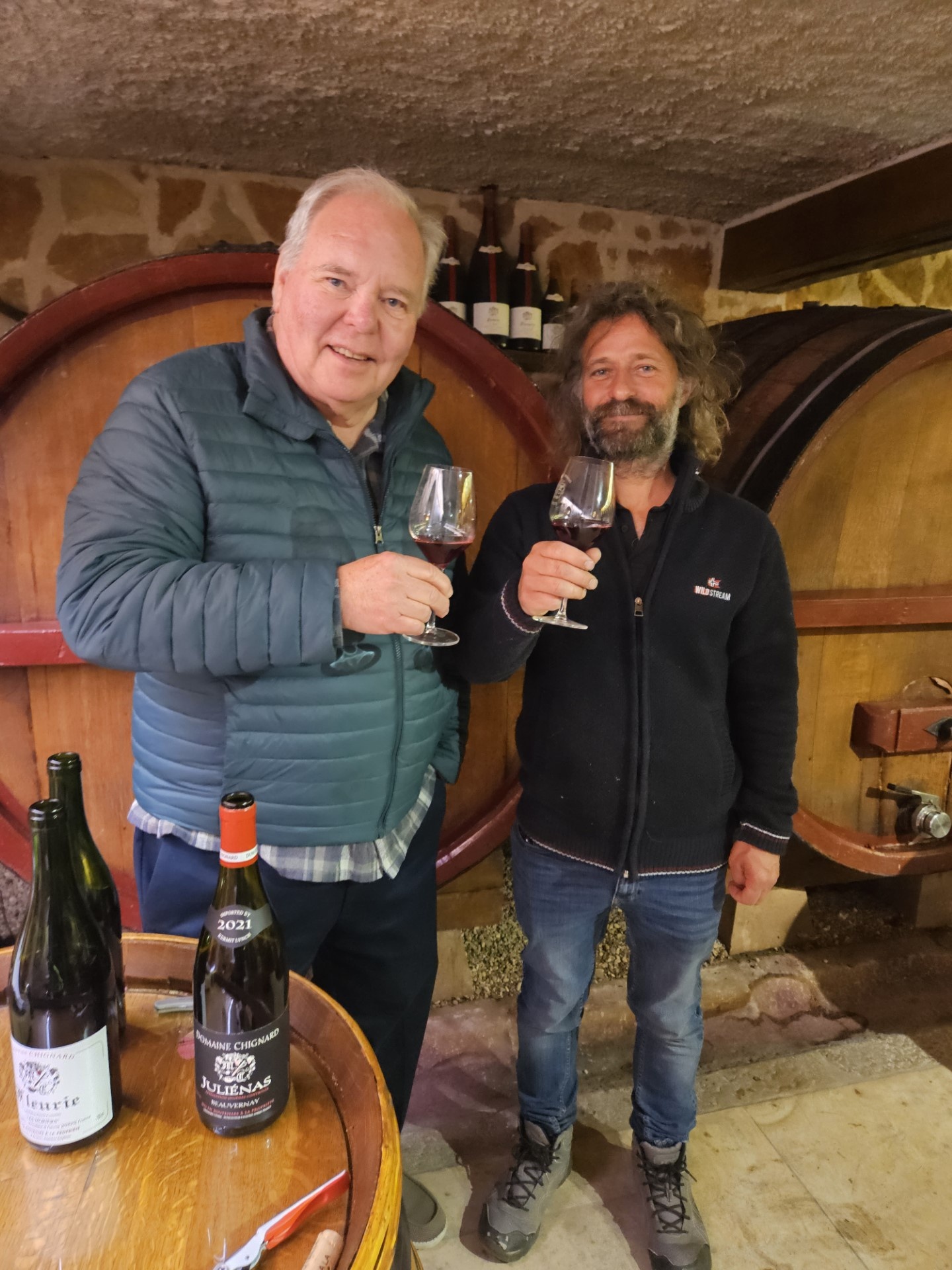 Among the wines we sampled were a couple vintages of the flagship Chiroubles, a couple vintages of Julienas (the s is silent, we discovered), and a bottling that doesn't make its way to America because it is aged in small oak barrels, which the Lynch people think doesn't represent the appellation as well as wines produced in large wooden casks.
As I thought about the Beaujolais we sampled earlier in the day, and now these terrific wines, my wine merchant brain began thinking we should double the offerings we carry, perhaps select the finest wines from all 10 crus and do for Beaujolais in the 2020s what we did for rose in the 2000s.
I was still thinking about the satisfying wines we sampled that day as we drove the hour-and-a-half back to the hotel. We didn't have dinner reservations that night, so we walked into old town Beaune, but the good restaurants were packed. We saw a tourist restaurant on the square that wasn't (which should have been a red flag), but the menu offered Burgundian classics Boeuf Bourguignon and French Onion soup, so we stopped.
We should have known better.  It was the worst meal of our entire trip.
PART VI:  BACK TO BURGUNDY
Our final full day in Burgundy would see us visiting the De Montille winery in Meursault, bought in recent years from Bouchard. Since Etienne de Montille was out of the country, we were received by his international marketing director, Nicolas. We were joined by a foursome from northern California, and immediately toured the facility, the tank and barrel rooms, then did a barrel tasting of some of the 2022s ranging from village wines to premier cru to Grand Cru. If you love Burgundy, you are going to want these, even though they'll cost you.
The Grand Crus were great, of course, but the Pommard Rugiens stuck in my head. I drank my first Pommard Rugiens in 1972 (probably a 1969 vintage from Louis Jadot), and have loved that vineyard ever since.
After barrel tasting some awesome white wines, Nicolas poured us a mystery wine from bottle and asked us to guess what it was. "Chassagne?" someone asked. I thought he was trying to make a point with a precocious Bourgogne blanc, but it had more stuffing than that.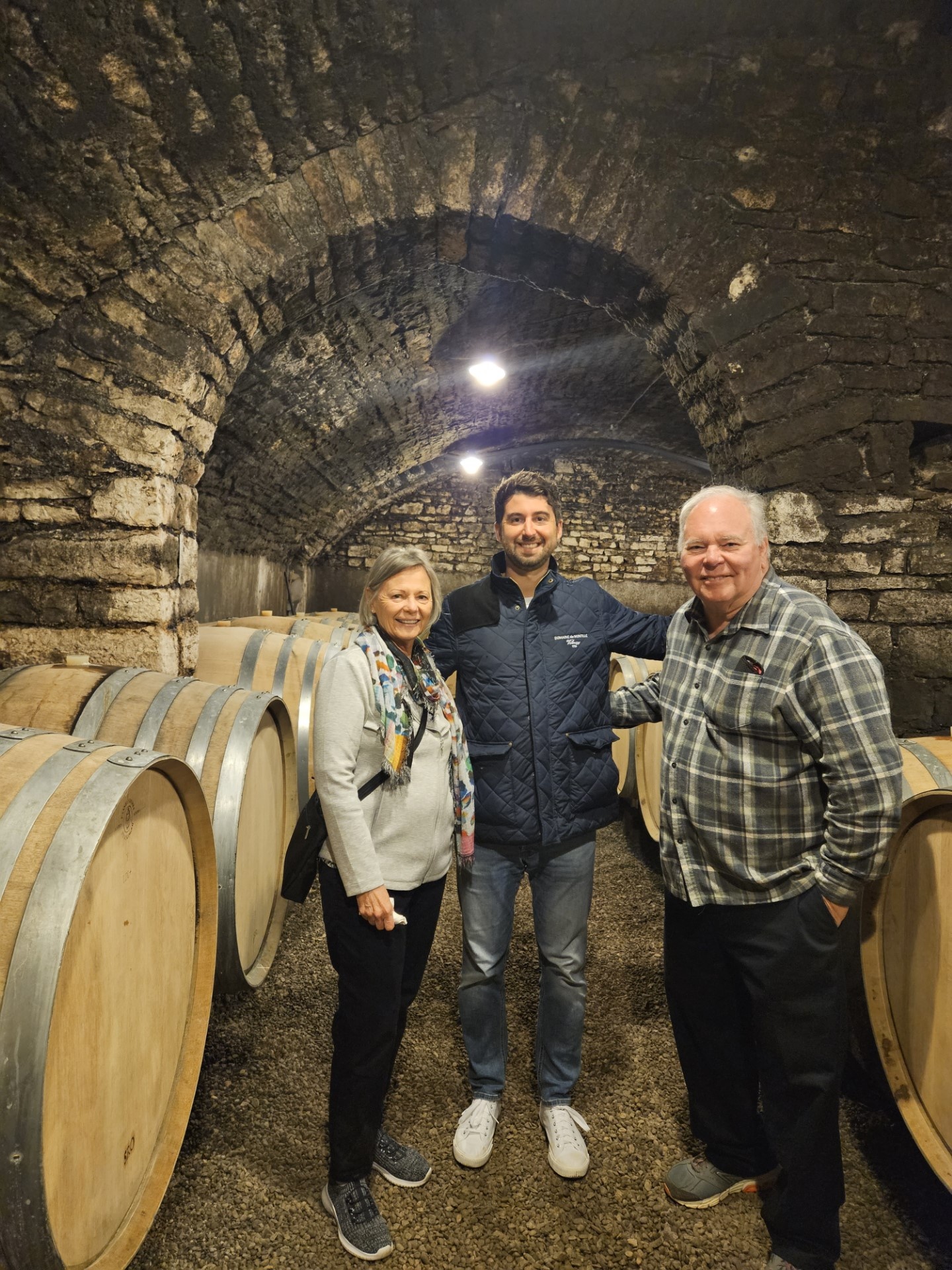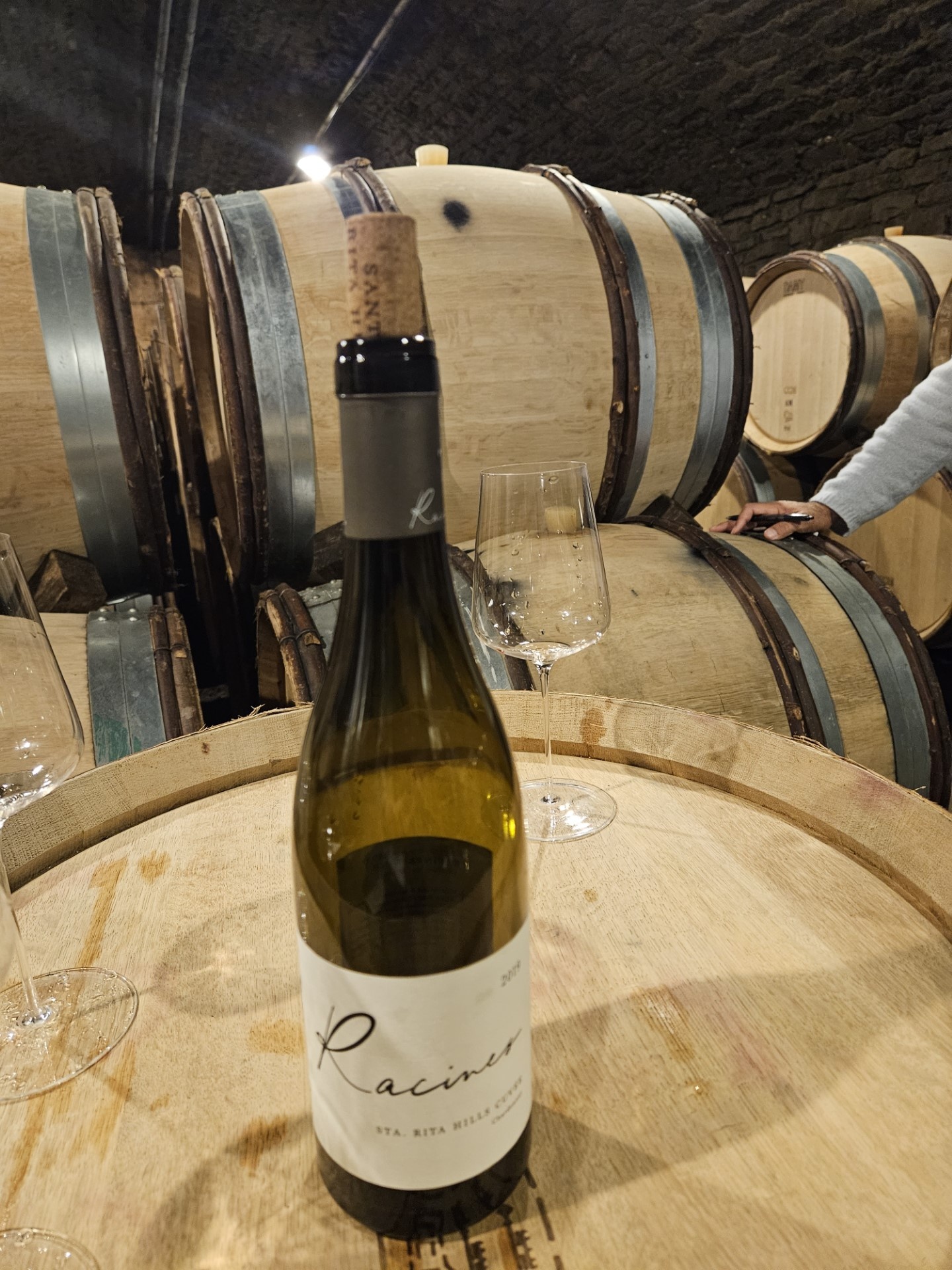 When he revealed the bottle, I was stunned. It was a Racines Sta Rita Hills Chardonnay, a project Etienne de Montille was consulting for. Stunningly close to some premier cru barrel samples. It had us all grinning.
We had a free afternoon in Beaune, so we did a little shopping in the old town, then took a self-guided tour of the Hospices de Beaune. The famous tiled roof you see in all the pictures is only visible from the inside courtyard, but that doesn't lessen its magnificence.
Inside the main hall were the beds, the high ceiling, and the chapel at one end. The tour also took us to the pharmacy (as it was in ancient days) and the kitchen where the nuns would prepare food for the patients in their care.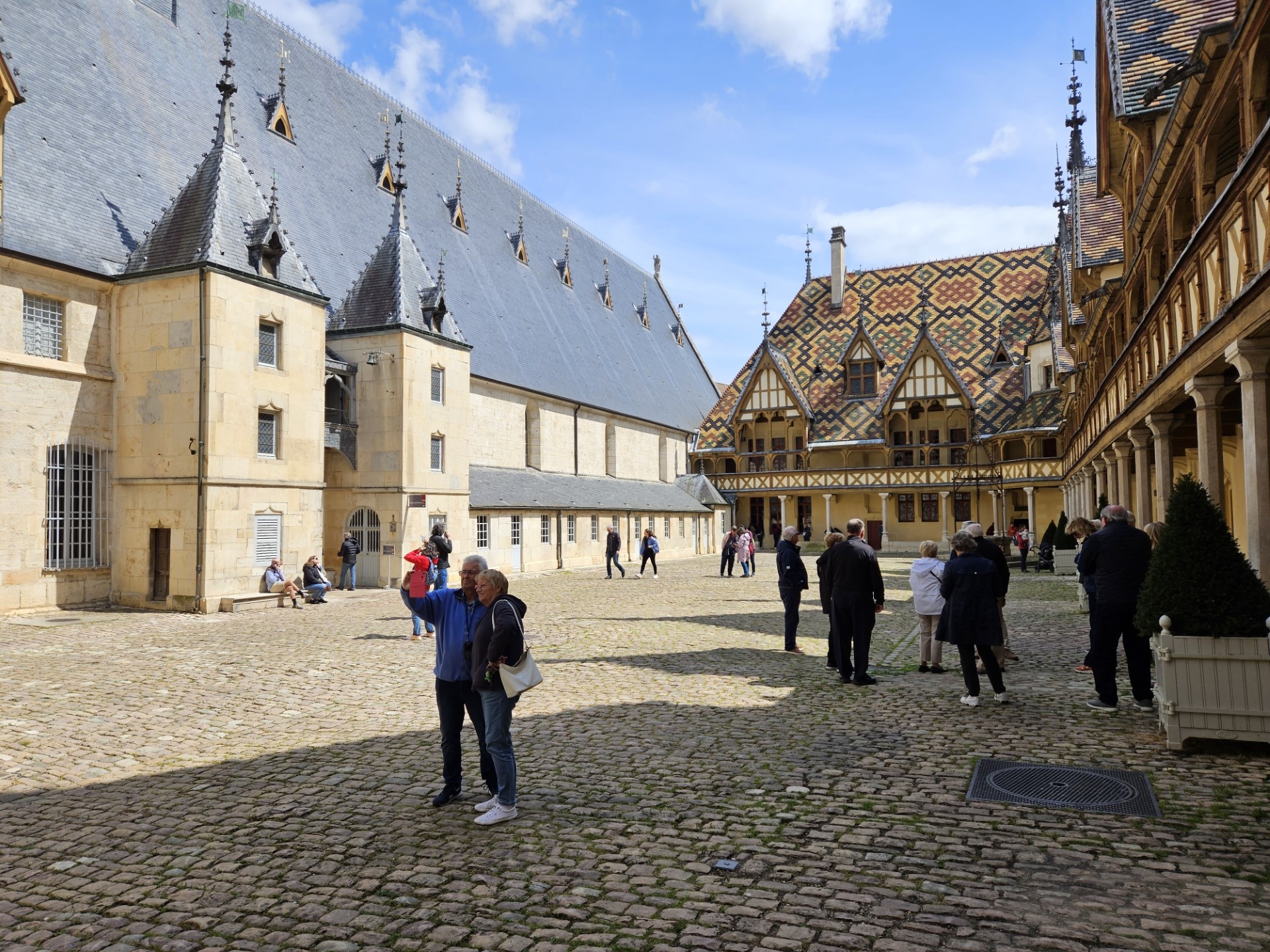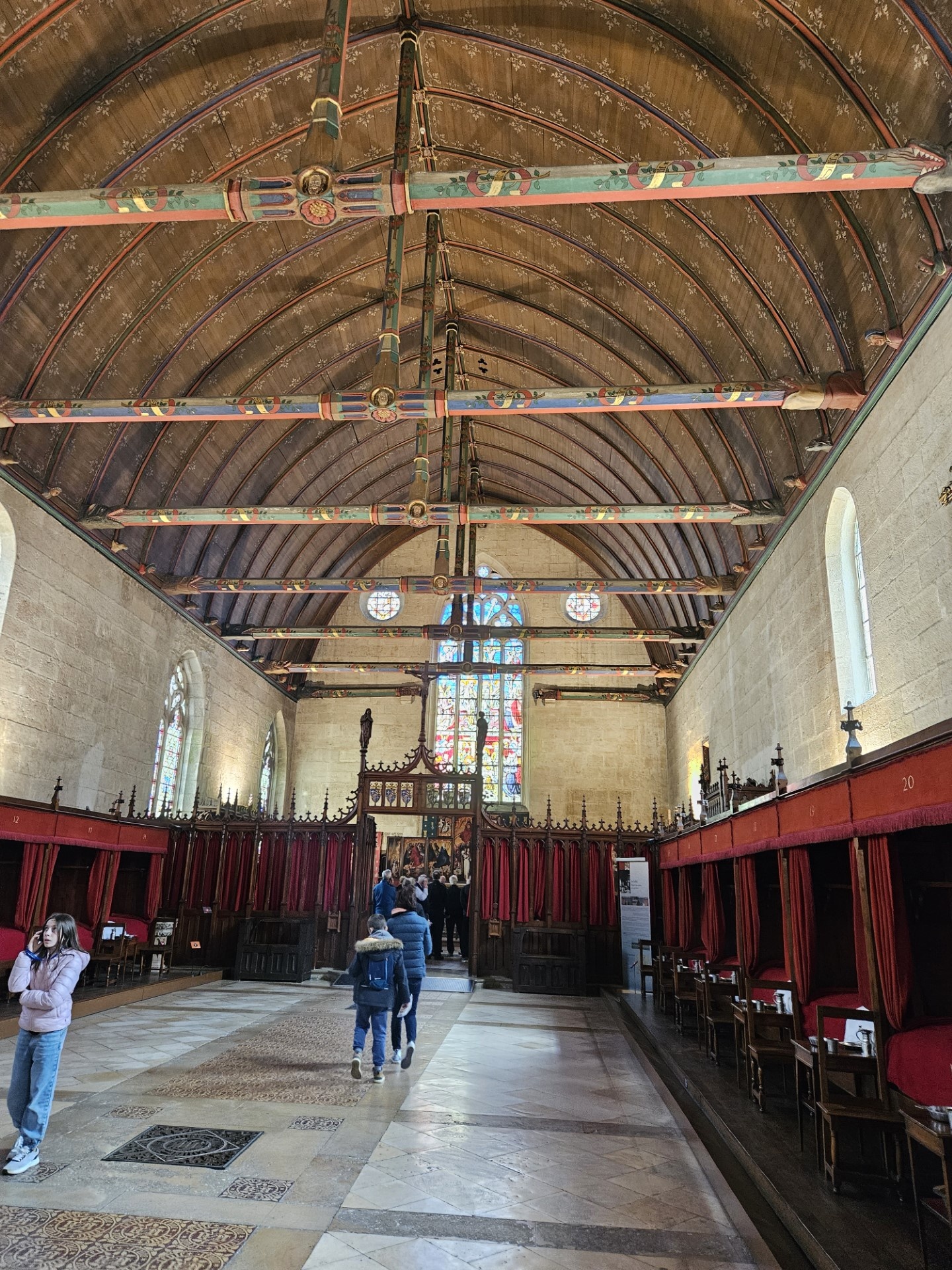 If you find yourself in Beaune, this is a must-see attraction.
That night we had dinner at the Le Bistro de L'Hotel in Beaune to have our second encounter with Bresse chicken. We wanted to see if lightning would strike twice after a mind-blowing experience at our hotel in the Jura. This hotel specialized in Bresse chicken, but I must say, it didn't resemble the Poulard served at our hotel in the Jura. It was good, but unremarkable.
The highlight of the dinner was meeting an older couple from Great Britain who were regulars. We got into some political differences of opinion (He trying to minimize the effects of climate change, and I telling him we are running out of water in the American West, and we had just seen an alarming receding glacier a few days earlier.)  But it was all a friendly exchange because all of us were all enjoying our food and wine in Beaune. These Brits regularly visit this hotel on their way to and from their chalet in the Alps.
PART VII:  LYON
Onto the last leg of our trip, we left Beaune, drove south on the autoroute a couple hours, topped off the gas tank and returned our rented Toyota to Europecar at the Lyon airport. A shuttle took us to Terminal 1, where we found a taxi to take us a half-hour to our hotel on Place Bellecour in the peninsula just above where the rivers Saone and Rhone converge. (Did I mention 120 euros in cash? No credit cards.)
Our friend Carl Taylor had advised us to look for a hotel in this area, which we did. You can easily walk from river to river in less than 10 minutes. After the convergence, the Rhone makes a ninety-degree turn south, pass the great vineyards of the Northern Rhone, the southern Rhone and into the Mediterranean near Marseilles.
Lyon is France's third largest city, behind Marseilles and Paris, and like those cities, we tend to visit the core of the place and never branch out to the suburbs. That's OK, because there is a lot to see and do within walking distance.
Our hotel, the Bayard Bellecour, is a throwback to another century, perhaps 1910.  Walking through the front door, walking down a hallway, ringing a button on another door, walking up a flight of stairs, then you saw the small reception desk.  Down a picture-lined hallway, we were led to a large room with oil paintings and etchings, floral wallpaper, burgundy-colored walls, and a very large bathroom with upgraded facilities and our first shower with a door.  Why, oh why, don't French hotels offer washcloths?  This would be our home for the next 5 nights.
The 19 euro-breakfast is an option, which we took only once.  Not that it wasn't good, but we could be just as satisfied buying a croissant and coffee in a neighborhood pattisserie for half that.
We arrived about twenty minutes before check-in time, but the room was ready, so we were let in.
I came for the food; Dale, who has been on a diet for sixty of her 69 years, came to take the walking silk tour.
Prepping for the trip to Lyon, I watched videos from Rick Steves and Anthony Bourdain, and secured two reservations at Bouchons featured in the latter's program. Our first night we visited Comptoir Abel.
Bouchons were traditionally the big food-sausage and Beaujolais restaurants where silk workers ended their shifts. Abel was one of those places once, but since it got famous, the wine list got gentrified. The food had traditional Lyonnaise dishes like quenelles and chicken in Morel cream sauce, tripe, veal kidneys and the like.
A crowd gathered just before the 7:30 opening (no early entry to sell you cocktails, which is common here), and once the doors opened, everyone filed in. We secured a corner table and ordered quenelles for me and chicken and morel cream sauce for Dale after an obligatory coupe of champagne.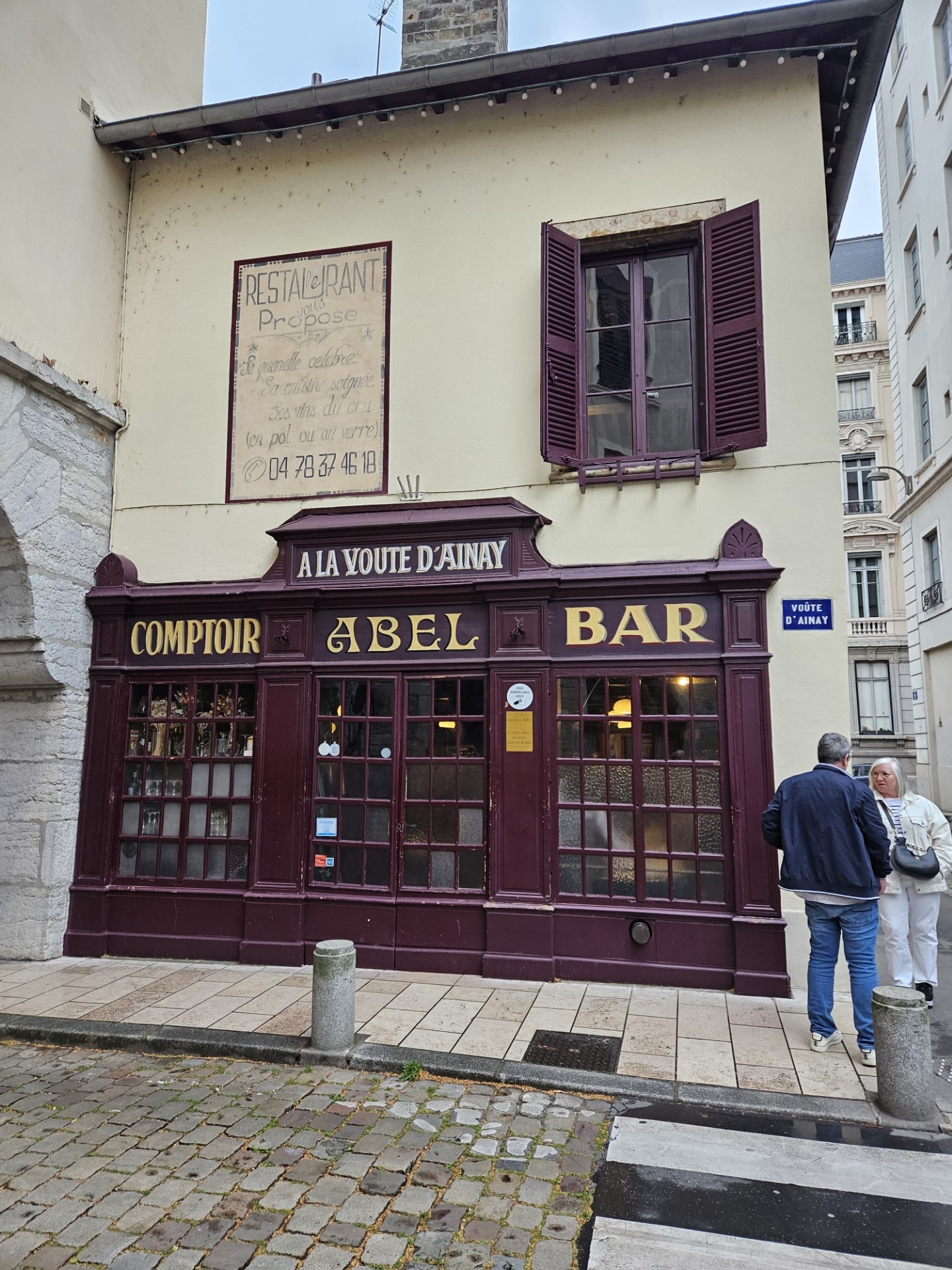 The place still had the feel of an old hangout...nothing fancy. The food was plentiful but not refined. For example, of the three quenelles we have experienced in Chamonix and Burgundy and Lyon, this one was the densest and the mushroom cream sauce the most plentiful, and least fine. Dale said she enjoyed her chicken dish, and it ample morels. Coming off our recent trip to Beaujolais, I had a penchant for more, so I ordered a fine Fleurie, which Dale and I both loved. Vacation wine, for sure!
We left stuffed and happy.
Friday in Lyon, Dale and I decided to walk and walk and walk, across the Rhone to Les Halles de Paul Bocuse, a convention-center sized indoor farmer's market with chocolatiers, patissieres, cheese mongers, green grocers, fish stalls, boulangeries, and lots of small places to eat.
To be honest, I expected the place to be a bit more spit-shined. Perhaps at an earlier time (like when the Rick Steves video was filmed) it was. Still, there were lots of interesting things to see, and to buy.
That night we dined at a small restaurant, L'Espace, a few blocks from our hotel, where we had a wonderful meal. Dale ordered a hamburger(!) with a great bun, and I had a terrific braised veal blade with mashed potatoes in a rich sauce. What did we drink? Champagne and Beaujolais, this time a delightful Julienas.
Dale booked a private silk walking tour for Saturday morning. We took the Metro to the Hotel de Ville station, then transferred on the C route to Croix Russe, a traditional hilltop area for silk workers. We exited the Metro tunnel next to a square with a big statue of Jacquard, the inventor of the Jacquard loom, which revolutionized the production of silk, once Lyon's biggest industry.
We were met by "Alex", who provided history for the neighborhoods we were walking in, took us to a private "museum" containing a couple rooms of Jacquard looms owned by an old man who was born in the building, and whose father was one of the last of the milleures, master silk weavers, until the 1950s.
The man told us about the process of weaving, pattern making, selecting threads, and punch-card technology used in these looms, and demonstrated how the manually operated Jacquard loom worked. He spoke in French while Alex translated.
After the museum, Alex led us through neighborhoods and into the place in front of Lyon's city hall where a magnificent fountain attracted photographers and tourists, like me.
After that, we walked and walked, down stairways and through passageways, seemingly forever. I thought we would see many such places, but I was wrong. Although Alex kept up a never-ending commentary on the looms, the silk workers, the architecture changes along the way, we just walked down flights of stairs. At one point he used a code to get into a private building with more stairs.
When we finally got to the bottom, we crossed the Saone river and walked some more until we got to a silk shop owned by a woman whose name escaped me. I began to get the sense we were being led to a racket, like those "free" Murano tours in Venice.
She told us all she and Hermes were the last two Lyon-produced silk millers, yet she told us all the looms had to be 60 miles from Lyon, due to noise regulations. She demonstrated painting onto rayon patterns woven into the silk, showed us some live silkworms feeding on Mulberry leaves in the back room of her store, showed us a video, explained that hand painting on silk was being replaced by ink-jet printers and showed us samples of scarves she was selling (with a cut going to Alex, I'll bet).
I don't have a trained eye for finery, but I can discern quality design and printing from sloppy versions, and I wasn't sure this was the place for quality, given the samples I saw.
Nonetheless, Dale purchased several scarves for about 60 euros each, Alex pointed toward a pedestrian bridge over the Rhine, pointed to a far building with construction going on and said the Place Bellecour was just on the other side. We had nearly walked the entire way home.
From the middle of the pedestrian bridge, I looked up and saw the Basilica de Notre Dame de Fourvier atop a high hill overlooking the city.  Across the bridge was a farmer's market, which we ambled through. Strawberries started to be in season, along with purple artichokes.  The was a fish stall, cheese mongers and a falafel maker. On the far end were some chairs with a view of the river next to a guy shucking oysters. We ordered a dozen, with a half dozen moules gratinee, a couple glasses of dry white wine and rested in the warming sun.
I had over 12,000 steps that day, according to my cellphone.
Dinner was at Bocuse Brasserie Le Sud, one of four bistros the Bocuse people have in Lyon, this one dedicated to the "cuisines of the sun." Dale had a lamb and couscous tagine and I ordered Osso Buco, both of which tasted like competent hotel food.
The wine list looked like an institutional oeuvre, as well. Champagnes by Mumm's and Perrier Jouet, DuBoeuf everything from Chardonnay to Beaujolais, and a smattering of France's greatest hits, like Saumur-Champigny and Bordeaux. I expected better, but shouldn't have, knowing in advance this was a chain enterprise.
The wine we chose? Beaujolais, of course. It turned out the Morgon we ordered was also from DuBoeuf.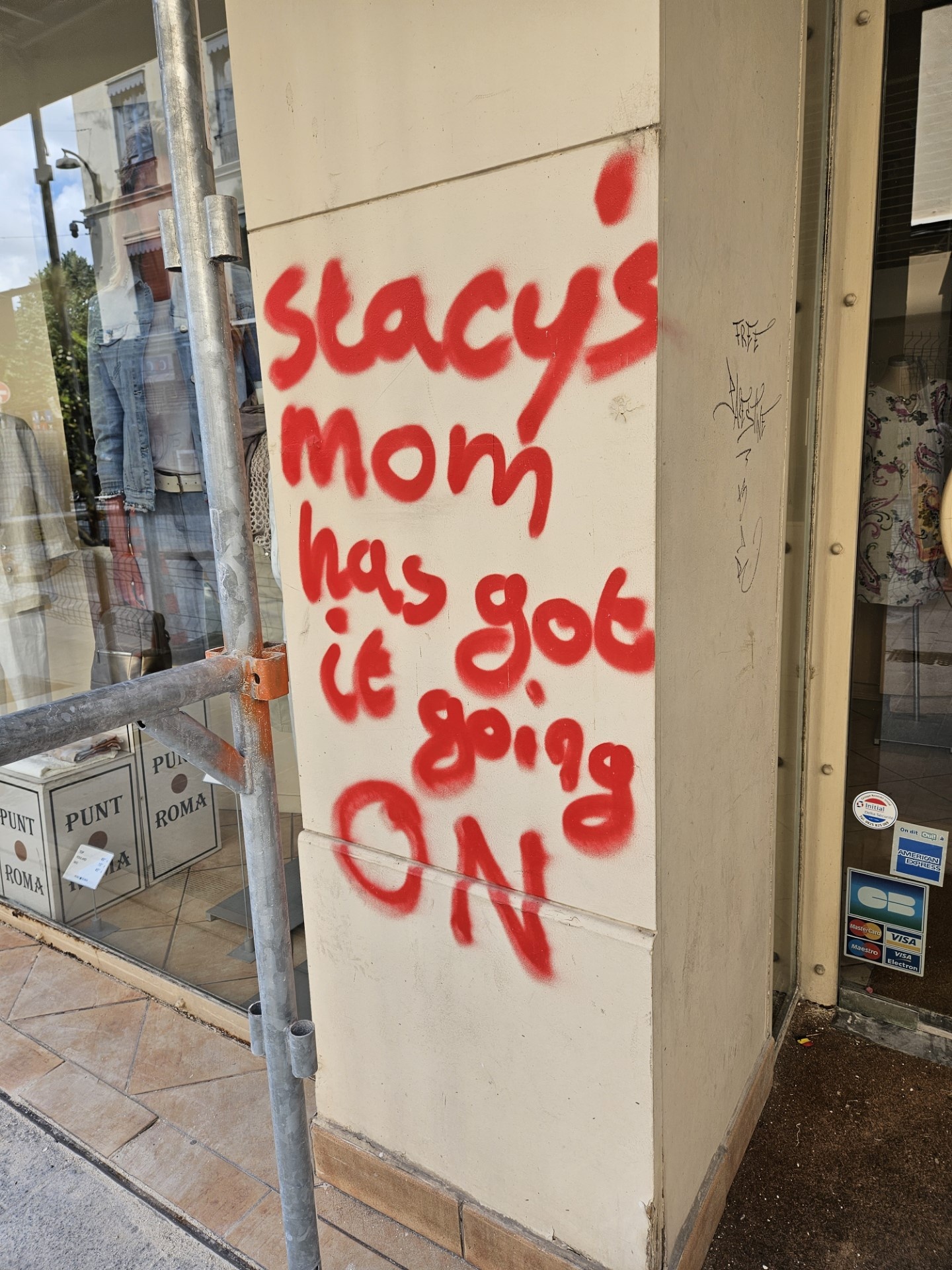 Graffiti. It's everywhere in Lyon. Attempts to paint over it are futile. On our walking tour, our guide, Alex, pointed to a newly painted wall.
"It'll be covered by tomorrow," he said matter-of-factly.
To some, graffiti is self expression, sometimes rising to the realm of street art. To me, a guy raised in a neat suburb in Southern California, graffiti is incomprehensible. They are scars on private and public property. Vaguely, and sometimes overtly threatening, they are mainly from cultures different than my own.
I understand the need for self-expression, and I especially empathize with the plight of the left-behind, the marginalized and the poor. They need champions, and those willing to express their frustrations to an often indifferent society. Breaking windows and spray painting stores is a way of getting attention, but not often the kind of attention that will lead to concrete solutions.
In Lyon, graffiti is so pervasive, and in French, or French slang, I have no idea whether the message is political (much of it seems so), social or personal.  Dale and I saw some actual street art, some creative graffiti, some commissioned sculpture for all to admire.
But walking across the Rhone to find a recommended boulangerie for a bite to eat, our GPS led us into a couple of wrong turns and soon we were in the Algerian section, with crowds of young men standing around, and a few following behind.
Dale's anxiety began to rise, perhaps irrationally fearing pickpockets and muggers, and these people seemed to present a potential threat to her. Or was it our latent xenophobia deep in our DNA that suddenly was not so latent? Were we looking like elderly American marks in tennis shoes, or was it all a misplaced sense of insecurity? 
We found the bakery, ate a not-so-good croque monsieur and yogurt, had two pastries, one so-so and a great raspberry macaron and two cups of coffee each. We had to walk a couple blocks to the bridge across the Rhone for Dale to feel safe again.
Yes, there is a lot of graffiti on "our" side of the bridge, but those don't seem like warnings saying (or not saying) "stay out of our neighborhood." Our graffiti seemed to be political outcries, as indeed there were huge demonstrations against raising the retirement age only a few weeks earlier, as evidenced by some strategic broken windows we witnessed in storefronts, restaurants and banks.  (The windows weren't smashed, just cracked enough to need replacement.)
Lyon has some beautiful buildings, and some venerable structures that, at least to me, would look better if they were steam cleaned and graffiti-free. But I'm a guest in this country, and graffiti is a large part of Lyon's milieu.
I expected all the stores in Lyon to be closed on Sunday. What I was surprised to learn was that most restaurants are also closed on Sunday. Family values?
As I was researching places to eat dinner on Sunday, I discovered an upscale restaurant on top of a hill overlooking Lyon called Bulle-Restaurant de Fourviere. The menus looked good and the prospect of our last fine dining experience in Lyon being relaxed with a dusk-to-night view of the city was very appealing to me.
When I went to Google maps to find the directions to the restaurant, it reported it would take 25 minutes to walk there, which meant it would take 25 minutes to walk back to the hotel--after dark. Worse yet, the walk to the restaurant was mostly uphill, something I didn't do well at each stop of our trip.
I knew there was a tram somewhere, but I had been unable to locate it on a map. I looked again, tried multiple websites, then discovered there was indeed a tram to Fourviere, outside the imposing Basilica of Notre Dame de Fourviere at the highest point on the hill overlooking Lyon, within 150 meters of Bulle restaurant. When I learned that the funicular bottom terminus was just across the Saone bridge on the same street as the Place Bellecour, across the plaza from our hotel, I was elated. Now a leisurely stroll would replace a torturous climb, and the whole trip would take just 20 minutes.
We bought our billets, saw the signs for Fourviere (F-2) and waited for the tram to arrive. In a few minutes we climbed aboard and rode it through a long tunnel (Thunder Mountain at Disneyland came to mind, only longer) which emerged across a small street from the basilica. It was Sunday, and a lot of people were filing into the church for Mass.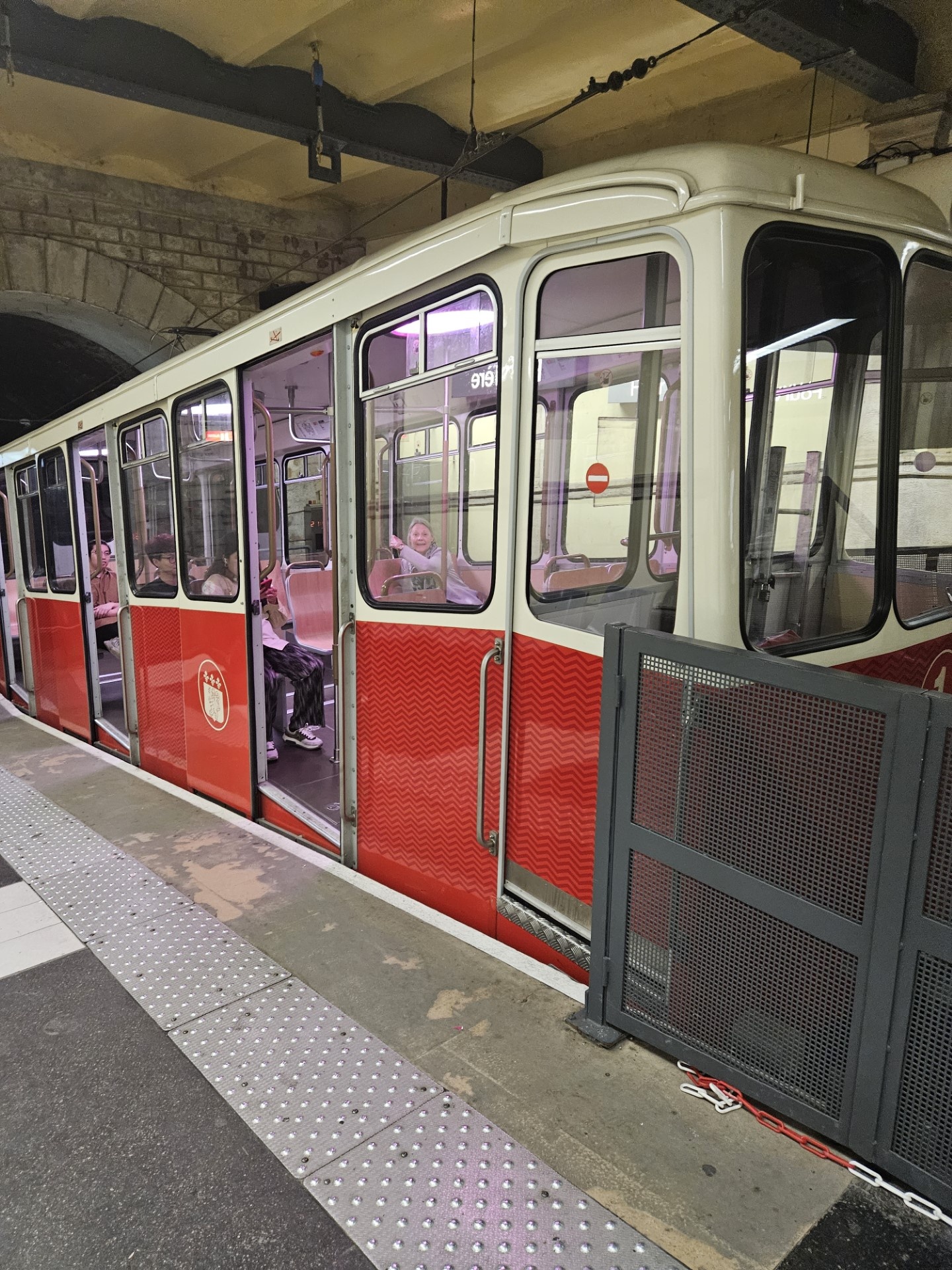 We were 45 minutes ahead of our reservation, so Dale and I wandered alongside the church, passing our restaurant, and onto an observation point overlooking the Saone and much of Lyon. There was still a lot of light (sunset is after 9 p.m.) and the panorama before us was expansive.
Usually, when restaurants open at 7 p.m., they don't open early for cocktails, but Bulle had a terrace and the bar was open, so we found two seats by the railing and ordered two foamy specialty cocktails and relaxed.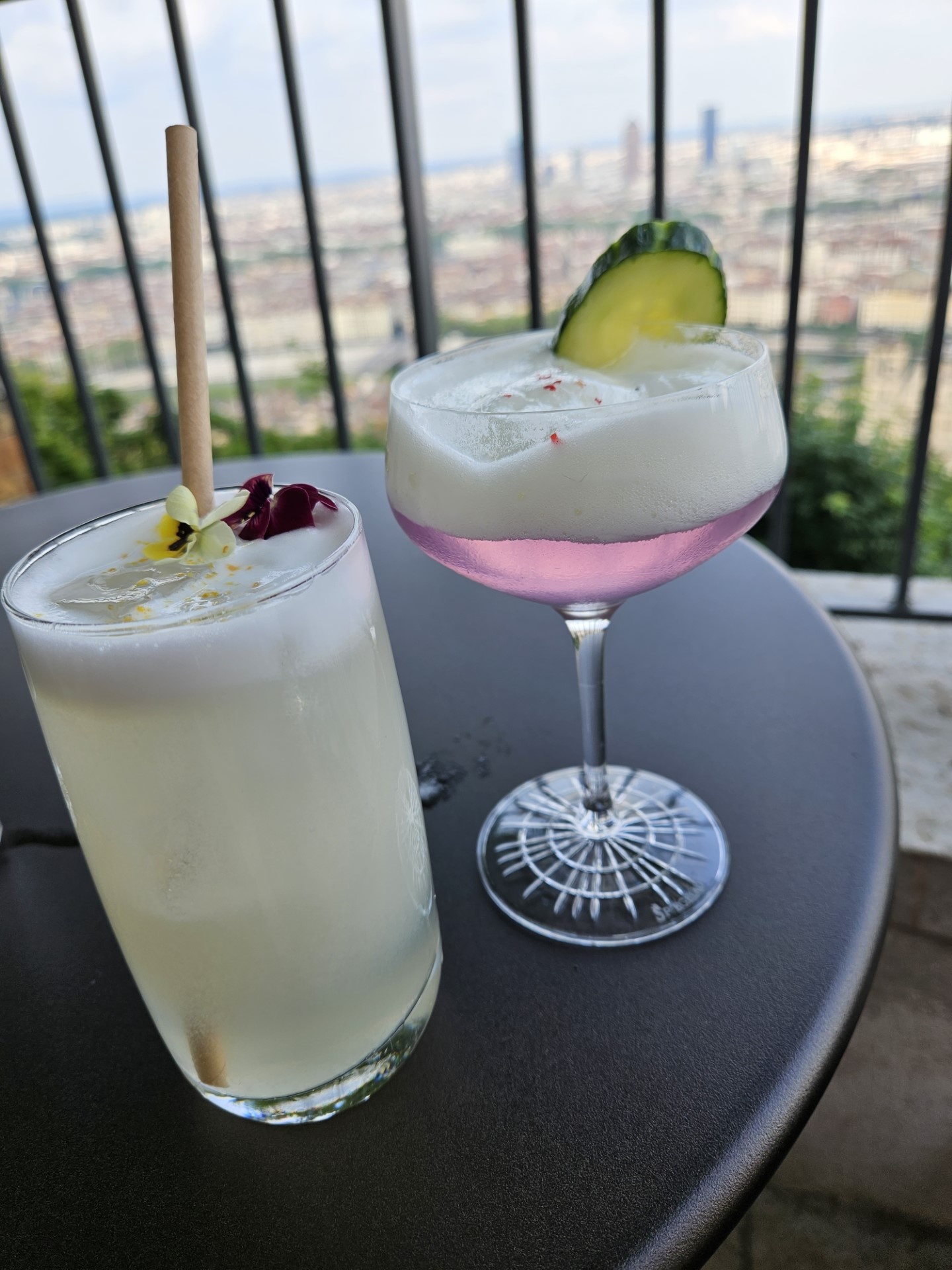 At 7, we paid our bar bill, then walked downstairs to a very attractive dining room, where we were again seated next to a window with a city view. Dale ordered her customary verre de Champagne and I, a glass of Rully blanc.
There were several menu options, Dale chose the Argent, and I selected the slightly more expensive d'Or.
The first course for Dale was the white asparagus with hollandaise and a creamy goat cheese with a treatment of a yolk.  Mine was a ravioli in a mushroom and meat broth.
Dale ordered a glass of Chablis for her fish course, which she shared with me, then two glasses of St. Joseph for our meat course, which was Magret for Dale and Lamb for me. By the end of the meal, Dale was really full.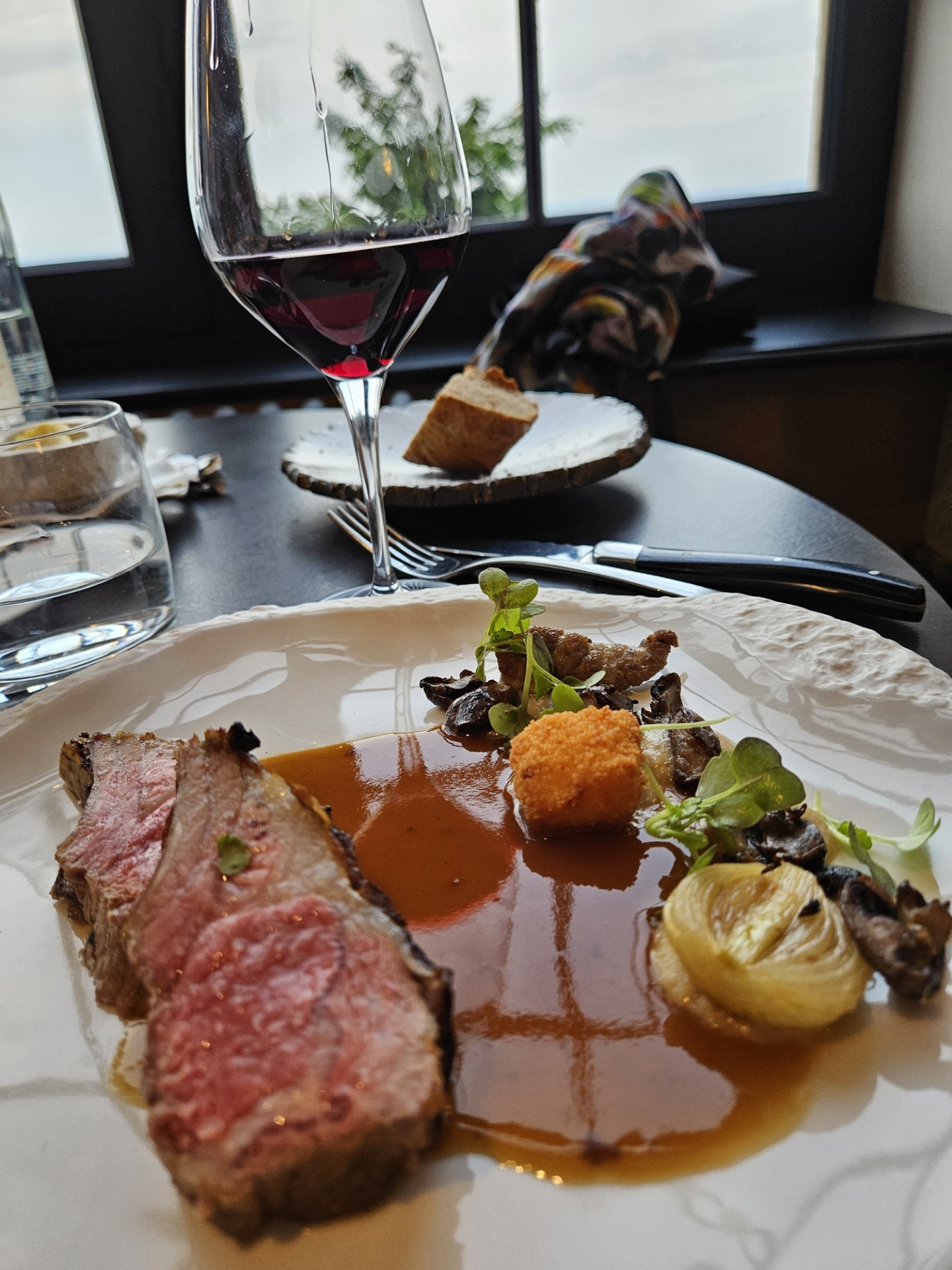 "Pas dessert," she pleaded. The waiter asked if I wanted hers in addition to mine, but I said one dessert is enough for the both of us
After dinner, we walked the short distance to the funicular, rode it down the hill, and walked halfway onto the bridge over the Saone. Gazing at the reflections in the river, it was a beautiful way to end another day in Lyon.
Except for our dinner reservations, we hadn't made any plans for our last full day in Lyon, which was also going to be our last full day in France.  Tomorrow morning at 10:30 we would be taking off for home.
Dale wanted to visit a fabric shop about 12 blocks away, so we walked there. It was closed until 2--yes, despite what you've heard about international business pressures making people give up their 2 hour lunches, we found things were pretty much as they were--so we went next door to a pattisserie, ordered two cafes, a croissant and a muffin and sat outdoors to watch the world go by.
We returned to the fabric store, Dale bought some prints for her sewing and we returned to our room.
I got an e-mail from our friend Carl Taylor who told us not to miss Le Dome Bar at the Intercontinental hotel, once rated the world's best bar. So we walked there.
A spectacular space, restored after the war, a one-time hospital turned into a luxury hotel.
We ordered two sets of signature cocktails and just relaxed until it was time to walk the 6 blocks to our dinner spot. The cocktails were expert--nuanced, balanced, clean, with a subtle extra thing going on. Truly magnificent.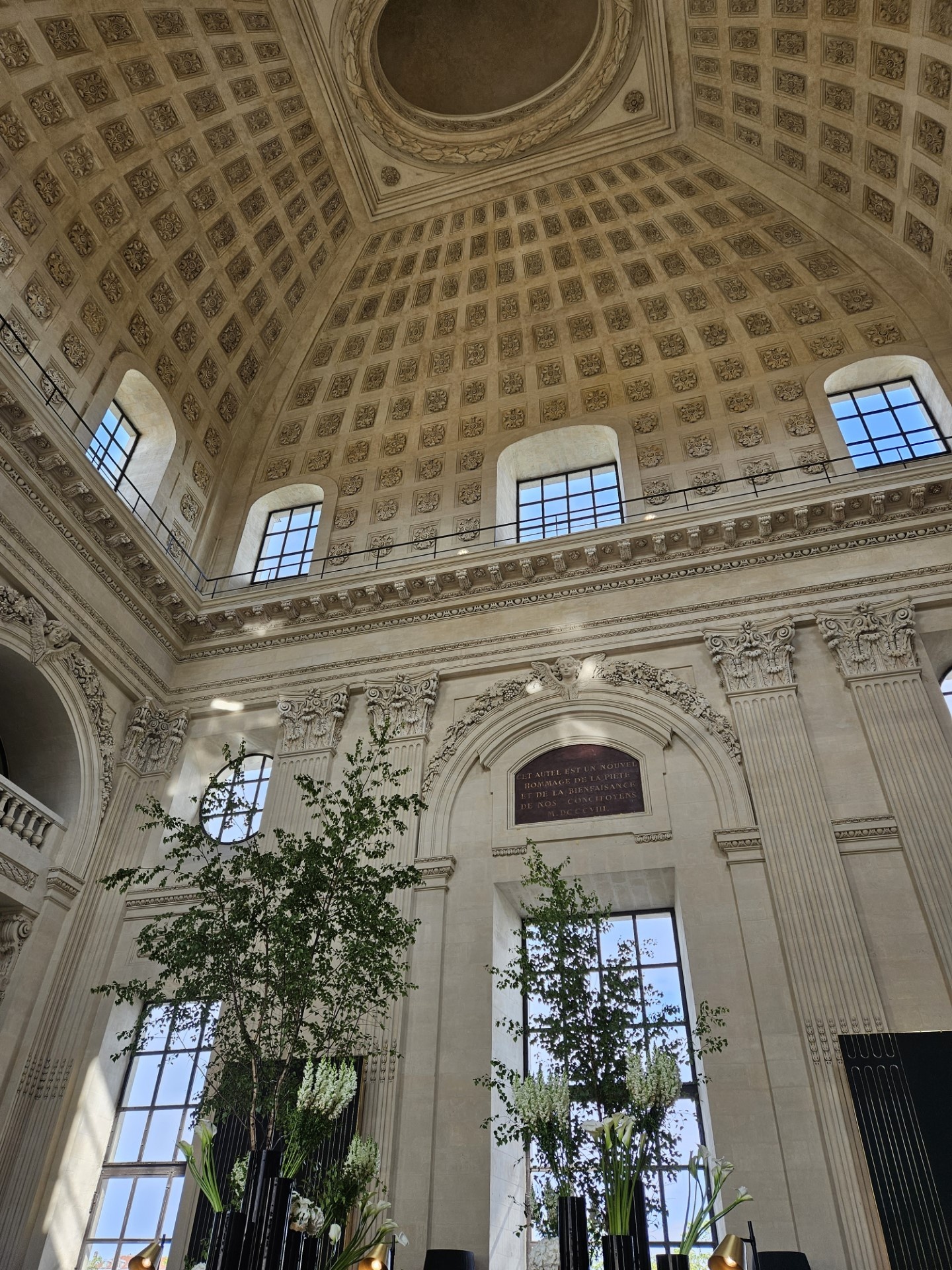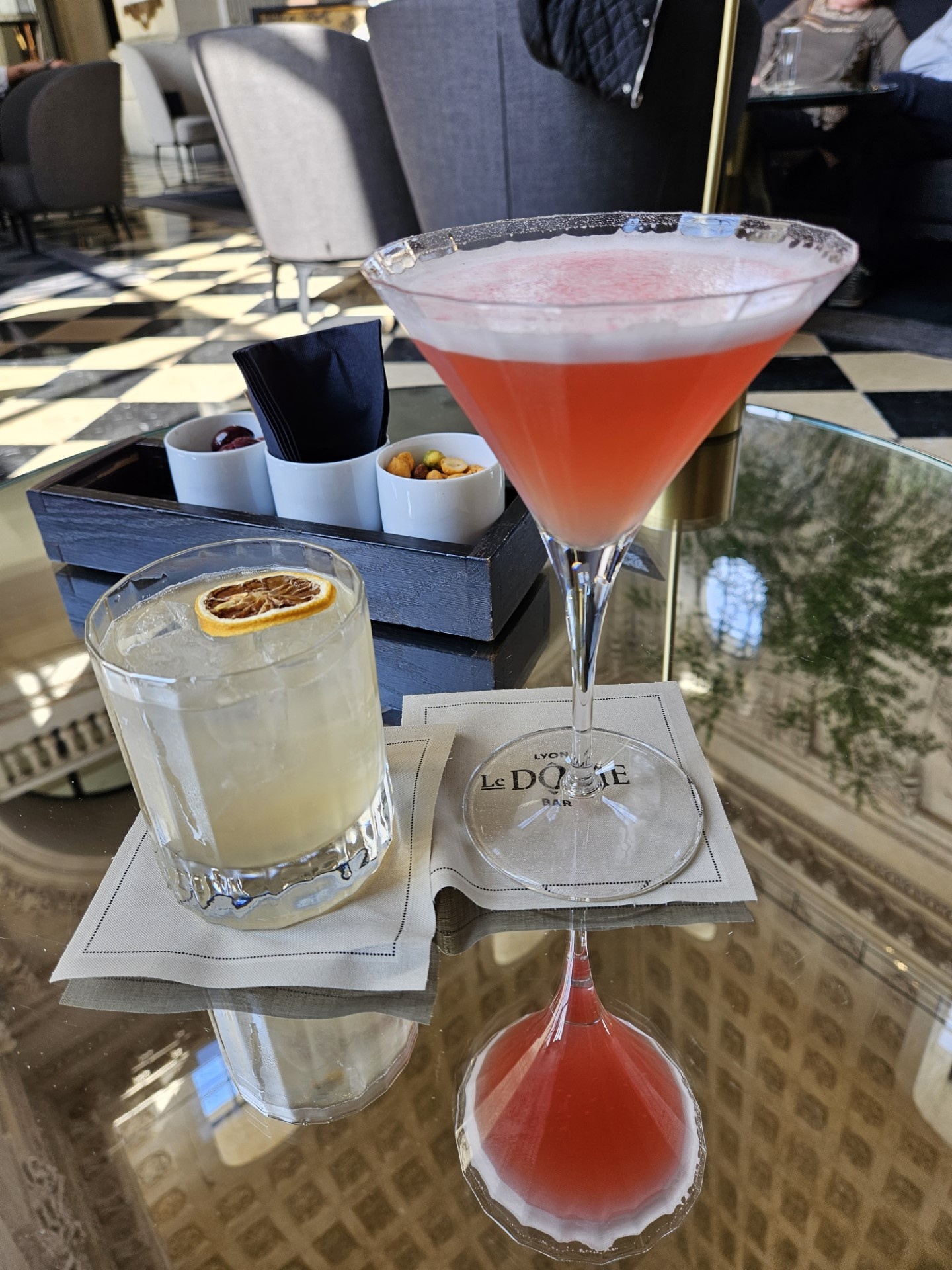 The last stop on our last full day in Lyon (and our vacation) was dinner at Bouchon Comptoir Brunet, about six blocks from Le Dome Bar. This was the second bouchon Anthony Bourdain profiled in his Parts Unknown CNN episode on Lyon.
My first impression was the restaurant was a lot smaller than it appeared on television, but it was loaded with character. Dale and I were the first to arrive, but slowly people filed in, and our corner table gave us a good vantage point to people watch.
There was an old Chartreuse poster on the wall, with dolls and displays in several places in the corners and above the bar.
Our final wine of our Tour de France would be a solid Saint-Amour from the northernmost cru in Beaujolais (and not far from Pouilly-Fuissé). After visiting Beaujolais and experiencing such warm hospitality, their wines were even more appealing. I'll be drinking a lot more of them when I get home.
Dale ordered a Lyonnaise salad (no frisée in both French versions she consumed), and I finally broke down and ordered escargot, which were served in a special plate with twelve indentations for the snails and the persillade, sans shells. They weren't garlicky at all, unlike our versions back home.  As for their appeal?  I don't think I need to order them again--whether in Burgundy, Lyon or anywhere else.
For our mains, Dale ordered sweetbreads and morels, which were not crispy, but rich in a cream sauce. My main course was, of course, a Bouchon specialty, quenelles, this time with a traditional sauce Nantua, the only one of four we tried on our trip. It was densely textured, but still satisfying, especially washed down with the easy-going Saint-Amour.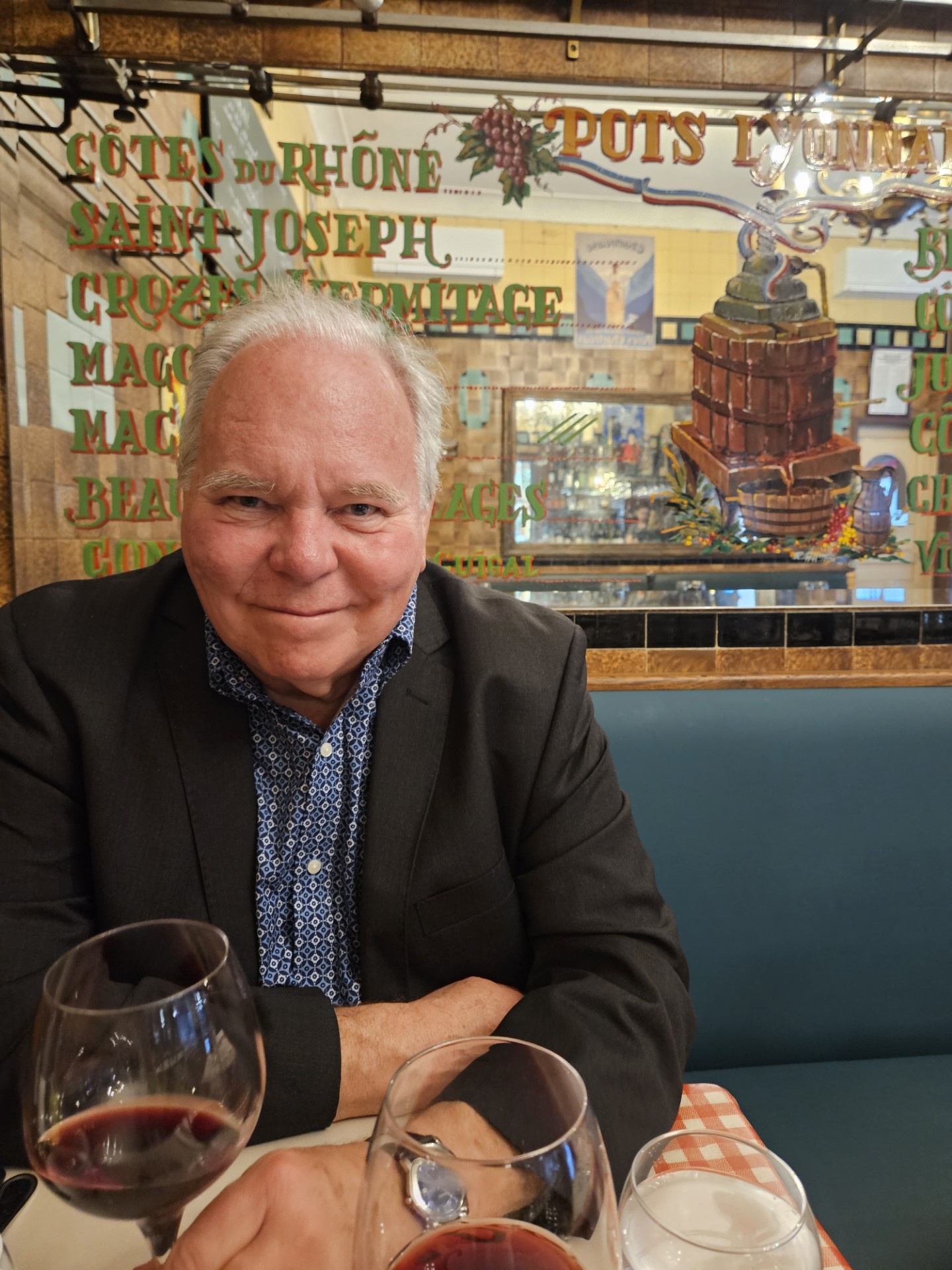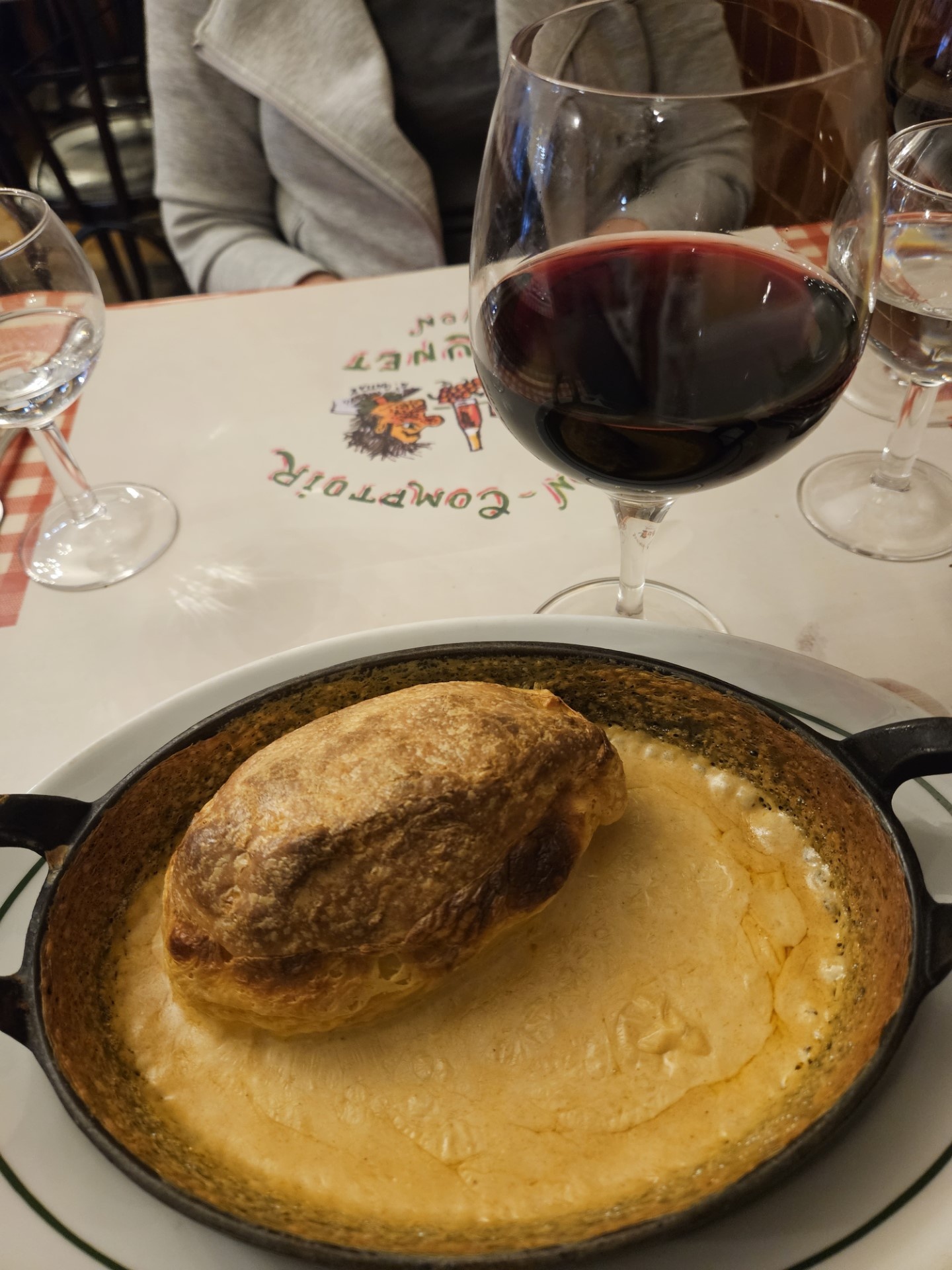 Dessert was a house-specialty Brunet Cake with Lyonnaise pralines (pink hard coated almonds, not caramelized pecans) and fruit, which we capped with a couple of strong decafs.
As we walked the twenty minutes back to our hotel just after 9 p.m., we looked up in the distance and saw the Basilica Notre Dame de Fourviere on the highest point of the hill. The 9 p.m. sunset was in its final glow and the vision provided an apt coda to our wonderful three weeks in France.