12 Oct 2022 | Randy Kemner
BURGUNDY FOR THOSE OF US WHO WORK FOR A LIVING
Just the name Burgundy brings shivers of anticipation to those of us who love French wine.  The history, the lore, the adventure, the disappointments, the sheer joy when it all comes together make Burgundy a region like no other for lovers of the vine.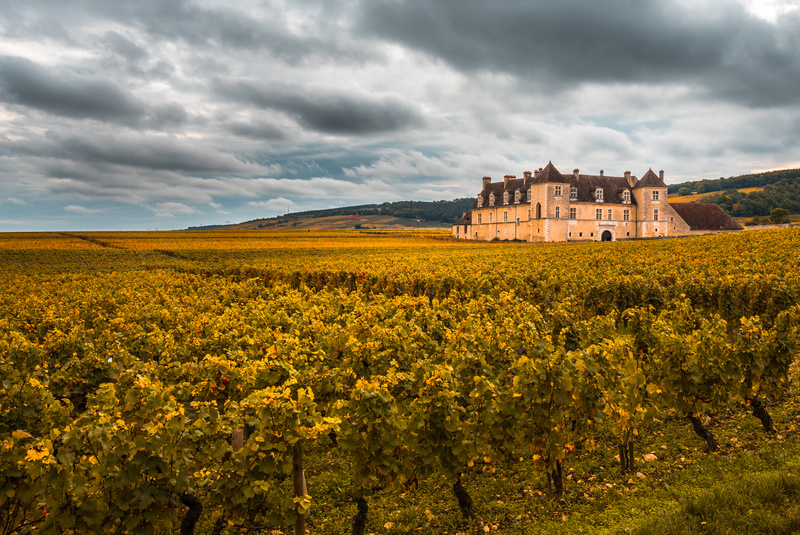 Early in my wine journey, when I couldn't afford much on wine, I would splurge on a Pommard or Gevrey-Chambertin for Thanksgiving, then spend the rest of the year buying up all the Bourgogne Rouge I could, trying to find the one or two bottles that tasted closest to the special-occasion wines I aspired to.
Now that I have a bit more disposable income than I did when I was in my twenties, I thought I might be able to drink some good Burgundy from some of the producers I'd loved with more frequency.  But it appears I'm not the only one who prizes those wines these days.  In fact, the market has expanded so much, prices for the elite wines have rocketed to rent-check levels in some cases.
This is dismaying, because I am not a trust fund baby, nor did I win the lotto.  I work for a living, and I still want to drink good Burgundy.
It still can be done for prices not unfamiliar to California Pinot Noir buyers, but we have to search for them.  In preparation for our upcoming Burgundy tastings in early November, and before delving into our pricier bottles, I wanted to find out where the comparative bargains were.  I am particularly interested in discovering wines I don't have to cellar to enjoy, mainly because I think most of our customers take wine from our shelves to their table in one fluid motion.
Here are some of the most interesting wines I mined, most in limited quantities:
2019 Domaine Coteaux des Margots Macon-Pierreclos Gamay
The southernmost region of Burgundy is mostly known for its white wines, like Pouilly-Fuissé and Macon-Villages.  Although a little Pinot Noir is grown here, there is also Gamay permitted, which makes sense considering Beaujolais is only 20 miles to the south.  The soils are different though, and so are the wines.  This tight, lean, green wine displays bright and penetrating acidity.  You are not looking for capricious charm here; it is a dry, medium bodied workhorse of a red wine, as straightforward as a high school principal.
$22.99 per bottle
2020 Roland Lavantureux Bourgogne Epineuil "Les Fauconniers"
Bourgogne Epineuil is at the cool, northernmost part of Burgundy, a regionn called Tonnere near Chablis where the limestone soil is thick, and the bright lean flavors of its Pinot Noir reflect that.  Lavantureaux has been one of the Chablis stars of the Kermit Lynch portfolio for over three decades, and though I've enjoyed these wines for much of that time, I never knew the estate was growing Pinot Noir.  With a touch of smoke in the aroma, the flavors are more complex, with attractive black cherry fruit dominating.  It's a leaner wine with a fairly round texture, but there is enough fruit to make for a tangy-tart, satisfactory, minerally finish.
$47.99 per bottle
2020 Michel Sarrazin Givry "Sous la Roche", Burgundy
Givry, located in southern Burgundy's Chalonnais, is known for producing early-drinking, pleasurable red wines.  Sarrazin's Pinot Noir is a little reticent in the aroma, but the flavor makes up for it.  Generous black cherry dominates, with a round, sensuous texture.  Medium weight, framed by bright acidity, the flavor follows through to the finish, loaded with a generous dose of minerality.
$34.99 per bottle
2020 Maison Saint Vivant Bourgogne Pinot Noir
This Nuits-Saint Georges producer has made a red Burgundy with a lot of charm and early appeal.  With a richly dark color and a luxurious viscous appearance, the wine appears to be a more expensive version of what it is.  Slight herbal notes float in and out of the aroma, but it is the mouthful of concentrated black cherry fruit that is surprising and very satisfying to drink.  Nicely structured with just a bit of tannic grip on the finish, it is a wine that will provide much pleasure at an attractive price.
$27.99 per bottle
2020 Michel Sarrazin et Fils Maranges, Burgundy
The rich appearance and pure fruit aroma are a giveaway that this must be from the Côte d'Or, Burgundy's golden slope.  Indeed it is.  With a round texture and expressive fruit flavor favoring black cherry there is a lot to admire here.  This is real Burgundy, though youthful.  A little tannic grip in the finish.
$38.99 per bottle
2018 Maxime Cheurlin Noellat Bourgogne Hautes Cotes de Nuits
If ever there was a "feminine" Burgundy, this is it.  The Vosne-Romanée producer has crafted a wine I'd love to serve with quail, Cornish hens or full-on roast chicken.  A lighter garnet color with a delicate aroma that is more seductive than in-your-face.  In the mouth, it is an attractive wine in the most delicate, delicious sense.
$49.99 per bottle
And a Couple More New Arrivals:
2021 Domaine des Braves Régnié, Beaujolais
Régnié is one of the 10 Beaujolais "Crus", appellations that theoretically produce wines of greater character than Beaujolais-Villages.  We first discovered Domaine des Braves twenty years ago and have always admired its easy-going nature and trueness to traditional Beaujolais.  That's what you get in the 2021.  It's a pretty Beaujolais, loaded with charming fruit.  Not trying to be something it is not, this Régnié is all-Beaujolais in character.
$20.99 per bottle
2021 La Spinetta Moscato d'Asti "Bricco Qualia", Piedmont, Italy
After a half century enjoying wine, it still baffles me than anyone wouldn't enjoy the pure joy of this world-class Moscato.  Giorgio Rivetti is said to have created his dynasty from this wine, a low alcohol, frothy pleasure on so many levels.  Try to pick out an aroma or flavor component—is it mandarine orange, lime, pear or all three?  Impressive concentration is in the middle of it.  Of course it is a sweet wine, but sweet in the most natural sense.  Imagine a warm leisurely afternoon sipping this wine while nibbling at a slice of salami.  World class pleasure.
$20.99 per bottle