Posted on
By Samantha Dugan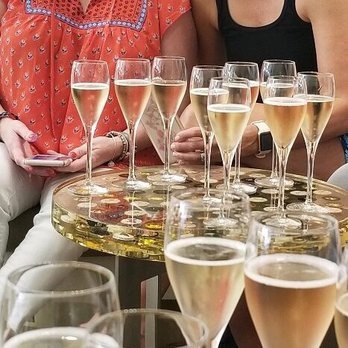 Just because your champagne blend is loaded with Pinot Noir, it doesn't necessarily mean your bubbly is plush and curvy. There are some Pinot-rich champagnes that are lithe, lean and goosebump-inducing. Both styles are sexy as hell.
"Have fun pouring and selling those big, fat, round, lusty Pinot Noir-based Champagnes!"
Randy's voice bellowing, him walking out the door at the end of his workday, me placing tasting sheets at each place setting for another sold-out Champagne tasting, the early part of my workday.
His words still hanging in the air sort of like a cartoon bubble, "Those big, fat, round Pinot Noir" and while as a "curvy girl" I appreciate the fact that some folks find thick curves and densely packed flesh lusty, is that the definition of lusty or sexy for everyone?
I knew that a little over half the wines I was featuring that evening were in fact that palate-coating, groan-inducing, rich, thick bodied and staining style of Champagne, but the other half?
No, the other half of the Pinot Noir-based champagnes were that other kind of wildly compelling and sexy, that slither their way into your brain and slowly, deliberately, unmistakably stoke your consciousness and arouse your curiosity in a way that makes your heart pound.  
One style likes thick thighs, bare, exposed and ready, the other, the other you need to wiggle out of their jeans a little bit.
Both damn sexy.  Both achingly compelling.  Both just sitting behind that cage ready to burst for the ready and open palate that is there to surrender to their particular flavor of lust.  
Have fun?  Oh yeah, count on it, Randy.
As Jessica and Kevin poured splashes of the selected Pinot Noir-based champagnes in waiting glasses I was lucky enough to be able to slip into full on geek/nerd mode and watch as this patch of folks swooned over the giving-it-all-up style of lusty wine while a pocket of others on another table watched as the little hairs on their arms stood erect, their necks bent to take in another deep and loaded with intrigue sniff or sip.
After the bustling crowd was gone, I walked the stripped aisles of my Champagne department, rows upon rows of empty shelves, and ripped open case boxes and indicator that the object of many people's desire scooped up and taken home for the night.  
So, if I learned one thing that night, lust wears more than one outfit and there is a Champagne out there to seduce every palate and that in of itself, sexy as hell.
Highlights from Pinot Noir Grower Champagne Night
Laced Up Ready To Be Untied Wines
N.V. Pehu-Simonet Grand Cru Extra Brut
This tiny production Extra Brut is grown organically and comprised of 70% Pinot Noir and 30% Chardonnay, 70% of which is from the 2014 vintage and the remaining from reserve wine which aids in giving this intellectual wine more compelling complexity. Grown in two different kinds of chalky soil there is plenty of mineral and seashell intertwined with citrus oil, baked red fruit and a hint of baking bread. Tremendous energy and life with layer after layer of eye brow raising aromas. Quite dry but still offers tons of pleasure.
$55.99 per bottle
2014 Hure Freres 4 Extra Brut
This line of wines from the brothers Hure had to take on a label change due to some wonky copyright situation. What was once the 4 Elements lines in now just labeled 4 V with the variety. So, this sexy wine is the 2014 Hure Freres 4 V Pinot Noir. Bit confusing but worth the head scratch I promise. The 4 line or tier of wines from Hure Freres represents one variety, one vineyard, one variety and one vision which is to show how specific wines behave in particular soils. Very progressive concept and we have had a ball watching this project unfold. We've seen how vintage lends its accent to each parcel and how the finished Champagnes wear that badge of place and vintage with each release. Pretty cool. This was one of my favorite wines at our recent Champagne tasting. Deep and uber expressive aromatics. Layers of floral and slow roasted fruit unfold in the glass, offering just a little peek of something new with each deep breath or sip. The wine fills the mouth but doesn't stain as much as shimmy along the sides of the tongue leaving just a whisper of flavor that seems to be purring, "take another sip….discover more". I cannot stop thinking about this wine. Only 125 cases made.
$88.99 per bottle
2014 Marguet Shaman Zero Dosage Grand Cru
 One of the less than 2% in Champagne to be farming 100% organically and biodynamically. Something 6th generation winemaker Benoit insisted upon when he took over, believing firmly that his young daughter's diagnosis of a rare leukemia a result of the decades of poisoning the soils with vicious herbicides and pesticides, something that more and more winemaking families in France are taking into consideration, the younger generation taking extreme steps to make the soils clean and healthy for all of us.
Made from 69% Pinot Noir and 31% Chardonnay, all Grand Cru and all organic, Benoit makes all his blending decisions outside the cellar, in the warmer air, to get the full expression of fruit and mineral. Here you have astoundingly floral aromas, like jasmine and wisteria along with buttery toast and baked red apples. Long, super long and beguiling on the palate with a lean but determined finish and teeny, tiny bubbles to boot. Delicious.
$56.99 per bottle
Baring It All Bubbles
N.V. Vilmart 1er Cru Grande Reserve
 A long time darling for the Grower Champagne fanatics this sexy and giving offering from Vilmart is a screaming deal. 70% Pinot Noir and 30% Chardonnay, all organically farmed. Here the usage of oak shows but in a way that frames and showcases all the sexy fruit, it doesn't take over and obliterate it. Long, luscious, creamy with flecks of lemon curd, berry kissed butter and brioche. The wine coats the palate with saucy and forward fruit alone with a hint of anise and a sprinkle of green stems. So giving and open. Friendly and joyful this is a wine to share with people that lean towards the indulgent.
$49.99 per bottle
N.V. Camille Saves Grand Cru Carte D'Or
 "Damn, that gives me chills" the words that slipped past my lips as we sampled this wine at our current Champagne tasting. Deeply seductive, curves stuffed into the glass aching to unfold and spread across the palate. Made from 75% Pinot Noir and 25% Chardonnay, all from Grand Cru vineyards. Dense, bursting at the seams and haunting, this is powerful wine with amazing depth and absolute pleasure giving. I have often referred to the wines from Camille Saves as, "A librarian, in fishnets" in a way to describe that they are both intellectual and sexy as hell, one night with this exemplary offering from this tiny domaine and you too will not only understand, you will be wrapped around its finger and banging on our doors for more.  
$69.99 per bottle