17 Jul 2022 | Samantha Dugan
CHICKEN & CASTELVELTRANO OLIVE SALAD ONE SHEET MEAL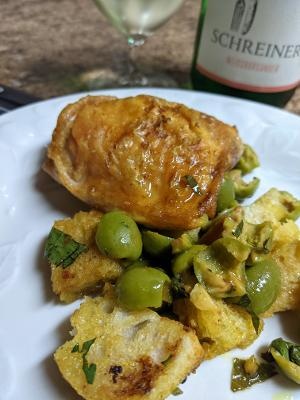 I first read a version of this recipe in the New York Times and was instantly drawn to it as I am a giant vinegar/citrus/brine lover, so a dish with rich, meaty chicken thighs, white wine vinegar and Castelvetrano olives was sort of screaming, "Come and get me woman!" and who am I to argue with a perfect sounding dish, let alone the freaking New York Times? Nope, I was going to make it and make it I did.
Did something I almost never do, I followed the recipe, like nearly exactly. Did I love it? I did, I really did but, I felt there could be just a little something more. There was such wonderful intensity and depth, plenty of salty and garlicky goodness but I could help but think there was just something missing for me, but I knew I would be making that dish again.
About a month later I was running through my mental rolodex, (for you young people a rolodex is like a contact list) of dishes to make for dinner that night and that briny chicken dish came to mind. It was a long day and I had exhausted my gray matter, so I sent my husband a text to pick up the ingredients I could remember and put dinner out of my mind. I knew it was tasty and pretty damn easy to make, I would be in for a delightfully savory meal.
Dinner out of my mind I went on with the rest of my workday. An hour or so later in walks Uyen Nguyen, also known to many of us and the astoundingly talented local bread maker that is Flour Is My Friend, bag full of crispy, chewy, perfectly seasoned bread swinging at her side. I had completely forgotten that I placed an order with her. Shuffling through the messy desk that is my mind I found a crumpled little piece that triggered my recall. "Let me see, I know I ordered a couple of her impossibly good babka but what else?" When Uyen handed me my still warm bag of baked goods I could smell it, "Calabrian loaf!" and just like that a new, or augmented dish was born.
I rushed home, glanced at the recipe again and then took it in my own direction, with some extra everything as that is how I do. Now this dish is in nearly weekly rotation, and I get requests for the recipe all the time. Now, once again you precise folks, I apologize but I don't measure when I cook, so these are iffy measurements and feel free to play around with it to make a version that is your very own.  
If you have not ordered from Flour Is My Friend I cannot recommend it enough. Truly artisan bread that is perfectly seasoned and she has some wicked cool flavors to select from. Don't miss out on the babka either, just don't ask how much butter is in it. You can place orders with her through her Instagram page or messenger.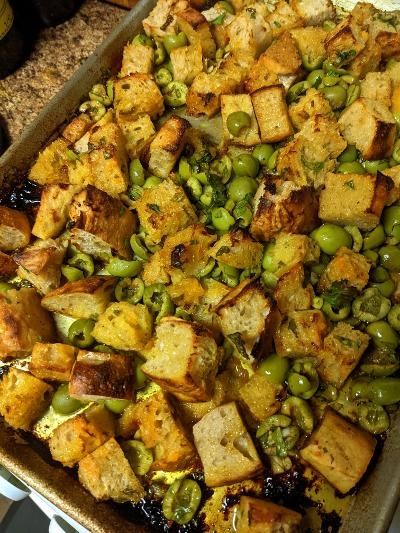 You Will Need
Turmeric
White Wine Vinegar
Garlic (I use at least 3-4 cloves) diced or grated
Castelvetrano Olives (I use 2 jars) crushed
Olive Oil
Parsley (I use a large handful) chopped
Bone In Skin On Chicken Thighs
Really Good Bread (about half a good sized round) cut into 1 ½ inch cubes and let it dry out a little. I cut the bread first before anything and then leave it out to dry.
Heat oven to 450 degrees
Brush a little olive oil on a lined baking sheet, sprinkle with salt, pepper and Turmeric. I make a paste out of that and then rub both sides of the chicken in that, place skin side up. Sprinkle seasoned chicken thighs with white wine vinegar and place in the oven for approximately 25 minutes, depending on the size of your thighs.
While the chicken is cooking add to a bowl your minced or grated garlic, crushed Castelvetrano olives, parsley, more white wine vinegar, cracked black pepper, a little salt, a glug of olive oil and a little water to thin it out. You want it loose with plenty of liquid. Mix together and let sit until chicken is done.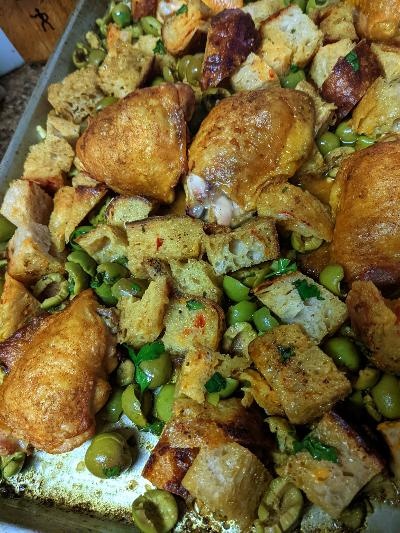 When chicken is finished cooking remove from the oven and transfer chicken to another plate to rest. I don't cover because I want the skin to remain crispy. Pour the olive salad into the hot pan and use a spatula or wooden spoon, or whatever you use, to stir the salad around the pan being sure to scrape up all the yummy brown bits on the bottom of the pan. Toss in cubed bread and rub them into the drippings and olive salad, pushing some into any browned bits that are left. Pop back into the oven for about 10 minutes, remove from the oven, nestle chicken pieces back into the pan along with any juices that settled on the plate. Serve from sheet pan and enjoy.
Wines
This is, as I said in the beginning, a pretty intensely flavored dish. There is vinegar, olives, and plenty of garlic, so you need a wine that can take a back seat, or a wine that has enough rich, lavish fruit that it can hold up. Think Pinot Gris, Vermentino, South of France whites and Rose.