Posted on
By Samantha Dugan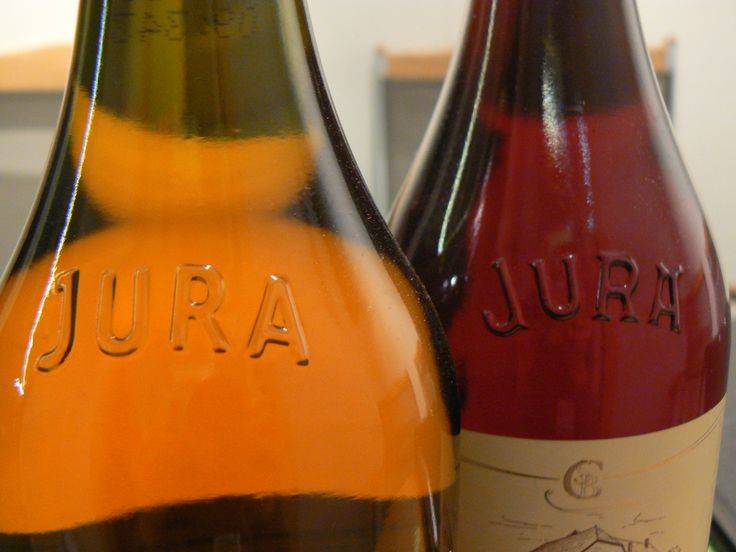 There is a special character to the products near the French Alps. Perhaps it's the clean water and fresh air, or it's the cows grazing on mountainside flowers and clover. The wines and cheeses reflect this special terroir, and appreciating them opens up a new world of flavors and textures.
"I welcome you for your first visit in the Jura. Thank you for picking my vineyards to see but first, I must take you to the cheese."
This, the broken English and smiling eyes of Xavier Reverchon when we stopped in for a visit to his tiny Domaine in Poligny, a village in France's Jura region located at the base of the Swiss alps. It was a chilly and rainy April afternoon but no amount of rain or dark ominous skies could deflect from Xavier's enthusiasm for the wines and Comte cheese of his beloved region.
My three other travel companions and I pulled our scarves tight around our necks, piled into our luggage-stuffed car and followed Xavier's car down the road to the local creamery co-op. The rolling hills green and lush, the cows, their massive bodies seemingly undisturbed by the constant pelting of icy rain drops as they walked about the fertile pastures.
I could hear the tiny pebbles of gravel crunching beneath our tires as our car pulled up to a, mildly cheesy, (pun intended) looking store with a cartoonish sign of a big smiling cow out front. As we climbed out of the car we watched as other cars pulled in and drove off, families out to pick up some local cheese for dinner. Entering the shop we saw a counter where you could taste cheeses in various stages of aging as well as a handful of other local products. There were low-sitting tables scattered with toys cut from wood and painted in bright colors, something to keep the kids busy while the elders noshed on samples and gossiped about local politics.
We were given shoe coverings and white lab jackets before being ushered into the back of the creamery where all the cheesy magic was made then tucked away on high shelves to slumber into perfection. We walked from the cheese making area to the varying aging rooms, the aromas going from freshly cleaned metal drums, or vats, to highly pungent, almost nose stinging intensity.
We were taught that one of the things that made the nutty and fruity Comte extra unique is that there is not one owner of the many creameries in Jura, they are all co-ops, so all the village's farmers contribute milk from their cows, the ones that graze on the local grasses and flowers so much like the wines there is an exclusive sense of place, or terroir to each village's cheeses.
And people have very strong opinions as to which villages produce the most outstanding quality.
Standing in that creamery in Poligny, Xavier Reverchon beaming from ear to ear, we were assured that the very best Comte came from that very spot. Lucky for us right? With cheeses and local goodies stuffed into our already bulging luggage, snacks and gifts for visits down the road, we were on our way back to Xavier's winery to partake of his organically grown, less than 3,000 cases production wines.
Reverchon Wines
I had tasted two or three of the Reverchon wines back in California at the shop and an importer dinner, brought out to get our opinions whether this was a wine that ought to be imported. But this was to be my first tasting through the entire range, which is still just about five or so different bottlings.
The Reverchon wines had, before that trip, not ever been exported. Not just to the United States but anywhere outside of France, even. Xavier and wife Isabelle making so little wine that most was sold to visitors, or fans, of the winery or at wine fairs that couple would attend.
Xavier was positively vibrating with excitement and pride that we had all come to taste and select wines to stock in our shops in California. He couldn't wait to show us the special room where he aged his wines, his extensive vintage record keeping system, the one scrawled onto a large piece of cardboard, kept his labeler and even the, "fancy" twelve bottle wine boxes, instead of the standard six bottle ones, that he bought just to ship wine to The States.
The initial, "tour" over, we headed into the dining room where Isabelle was waiting with wine glasses and set table, the smell coming from the kitchen drawing us in even deeper. Local Comte, Poulet au Vin Jaune, and splash after splash of the Reverchon's charming wines. So very proud to be able to share these, as well as a few new Jura favorites with you all.
Be sure to check our cheese case next time you're in; we try to always have at least one Comte to offer, usually in the tender 15-18 months of age range. Grab a hunk of that mild, densely packed, nutty cheese and one of these wines and get your palate nerd on.
N.V. Xavier Reverchon Cremant Du Jura Brut
Very delicate pink color. The nose is all berries and spice with just a scrape of citrus rind. Light and super-friendly on the palate with just a touch of bitter almond on the finish, which keeps you reaching for one more sip. An absolute pleasure and honor to stock this super rare wine. Oh, and it's organic too! Only 100 cases made.
$25.99 per bottle
2015 Xavier Reverchon Saint Savin Chardonnay Cotes Du Jura
With wine like this I almost wish they would list Chardonnay on the label. Not because it isn't Chardonnay but it is often so unlike the Chardonnay that most people have tasted that I fear it will be even more confusing than if you just labeled it Cotes Du Jura. This white is not of the very traditional oxidized style because Xavier tops off to retain freshness. These is a slightly Sherried nuttiness and brininess here but it is balanced out with green apple skin and almonds. Tons of bracing acidity with a long finish.
$28.99 per bottle
2015 Xavier Reverchon Trousseau Cotes Du Jura
Just going to say it, I am madly in love with this delicate and feminine red wine. There were a whopping 80 cases made of this delicate and lacy little Jura red. The aromatics remind me of wild berries being grown beside a river. That mossy, sweet berry smell that makes me want to sink my teeth in. Light and airy on the palate with such a graceful and gentle mouth feel. Light enough to serve with fowl or even white fishes. A rare treat for sure.
$28.99 per bottle
2004 Xavier Reverchon Vin Jaune Cotes Du Jura
Vin Jaune, or "Yellow wine" is probably the most famed, (if there is such a thing) wine of on the Jura. Made from the local Savagnin the wine is transferred after about 18 months into large Burgundy barrels with a gap, or space left between the barrel and the wine. Over time a yeast forms over the wine, this is called the voile, veil and that yeast contributes to Vin Jaune's incredibly unique flavor, and preserves the wine's freshness. Aged for at least 6 ½ years before release and checked at least twice a year by an agent of the Jura to ensure typicity and a high standard of quality. These wines are not for everyone, but they are some of the most memorable one will ever encounter. Aromatically not unlike Sherry, powerfully nutty, stony, salty and dry but with so many layers of utter complexity that keep you coming back for more. A deep, haunting and bone dry wine that as a full and curvy body, zingy acidity and a salted almond flavor that goes on forever. It is a truly rare wine that every wine lover/nerd needs to try at least once.
$76.99 per bottle
Other New Jura Favorites:
2014 Domaine Pecheur Chardonnay Cotes Du Jura
With what is going to be a couple very tight couple vintages out of Burgundy many of us French wine lovers are going to be seeking our Chardonnay fix from other regions and with what we've been seeing emerging from the Jura as of late, I think we are going to be just fine. This offering from Domaine Pecheur is quite stony and full of nut skin aromas and flavors, so think more along the lines of Chablis than the more saturated wines of the Cote D'Or. Nicely weighty in the mouth with citrus rind, stones and a touch of quince, A wine for chicken in mushroom cream sauce, charcuterie and strong cheeses.
$21.99 per bottle
2015 Domaine Pecheur Poulsard Cotes Du Jura
I am crazy about the wild, almost feral like aromatics on this wine. Something about it reminds me of patchouli, cranberries and wild herbs. The color on this Poulsard is so light that we actually have a few dry Roses that carry a darker color. Poulsard is an indigenous variety to the Jura and always offers a light bodied and playful sipping wine that is packed with freshness and some really cool flavors. Light enough to serve with white meat and mild fish dishes but for me, I love with slightly chilled with fried chicken or salami sandwiches! So delicious you are going to want two, at least.
$21.99 per bottle