06 Jun 2023 | Randy Kemner
EATING & DRINKING OUR WAY THROUGH EASTERN FRANCE, PARTS I, II & III
Dale and I hadn't been on an airplane since before the shutdown when we visited New England and Quebec in the fall of 2018.  Our 2020 plans to visit Austria were put on hold by the pandemic, and when non-stop flights to Vienna were restored, the tickets were nearly twice as expensive as those we had booked before.
United Airlines was holding a sizable credit for us, but where else could we go for the same amount as our credit?  The answer was France, but this time we wanted to visit places we hadn't been before, like the French Alps, Lake Annecy, the Jura, and Lyon.  Dale had never been to Burgundy or Beaujolais, so we worked them into our itinerary as well. 
There were no direct flights to Lyon from Los Angeles, so we would have to take a connecting flight.  I discovered a sister airline, Air Canada, that had a flight from L.A. to Montreal with a four-hour layover, then a flight from Montreal to Lyon.  There we would rent a car, drive to Chamonix, and begin our three-week vacation, one we had been saving up for, say, four years.
A few months before our vacation, Air Canada decided to cancel their Lyon route, so I had to contact our original carrier, United, to see if another partner airline could get us there.  We were in luck, or so we thought.  Lufthansa had a flight to Frankfurt with a connecting flight to Lyon with only a 2-1/2 hour layover, but two weeks before the trip, Lufthansa cancelled our early flight to Lyon and booked us on a later flight, which would have put us in Lyon so late, we would have had to miss our car rental reservation, and would have gotten us into Chamonix at 10 p.m., too late to check in our hotel and have dinner, which was also reserved.
I phoned Lufthansa and spoke to a very helpful service person who after a search discovered the early connecting flight had been restored—a day earlier, May 1.  We'd have to find a place to stay one night before heading east to Chamonix in the French Alps.  The layover was only a couple hours, and the total time of the journey was just over 15 hours.  We could handle that.
I got an idea.  During my 2002 Beaune Imports tour, we stayed about an hour south of Lyon at Clairfontaine, a manor house with a Michelin-starred restaurant.  We could head down there, have a wonderful first-dinner in France, spend the night, drive 20 minutes to nearby Côte-Rôtie and Condrieu in the northern Rhone, admire the legendary hillside vineyards, and we'd have plenty of time for the three-hour drive to Chamonix.
There was a hitch, though; the restaurant was closed the night we would be arriving.  We found out they had a sister restaurant 800 meters away, with a sister hotel.  So that's what we decided to do.  It was called The Cottage, and it was simpler, but nice enough to rest up for the first leg of our journey.
Both flights went without a hitch, we were able to pass through all the customs checkpoints easily. Dale enjoyed some complimentary champagne on both flights so she was happy.
PART I:  CHAMONIX-MONT BLANC
Leaving the northern Rhone, we followed our GPS until we found a series of autoroutes and toll roads that brought us to Chamonix, a narrow village in a valley about 4,000' feet elevation surrounded by steep snow-covered mountains, including Mont Blanc, Europe's highest peak.
Photos can't begin to capture the immense natural beauty of Chamonix. The weather every day was parfait, and the temperatures were crisp, but warming in the sun.  The village was full of ski shops and restaurants, but this was the "shoulder season," as our friend Carl Taylor called it, so it wasn't too crowded.
We checked into Les Balcones du Savoy and had a room on the fifth floor of a Chalet-inspired residence hotel with a small kitchenette and a balcony with a splendid view of the mountains.  Once unpacked, I went downstairs to the front desk and bought a bottle of Mondeuse rosé, brought it up to the room, uncorked it, and made my way to the table on the balcony.
Dale was into her second Bruno Chief of Police book with her glass of Mondeuse rosé relaxing on our deck, and I was just transfixed at the view.
That night we walked 20 minutes to La Maison Carrier, a very fine Savoyard-inspired fine dining restaurant decorated in knotty pine and oil paintings of the surrounding.  After ordering champagne aperitifs, we ordered dinner, quenelles for Dale, and a perfect pork shoulder and potato cake for me.  I drank a red Mondeuse with my meal, and ordered a delightful Chignin blanc for Dale.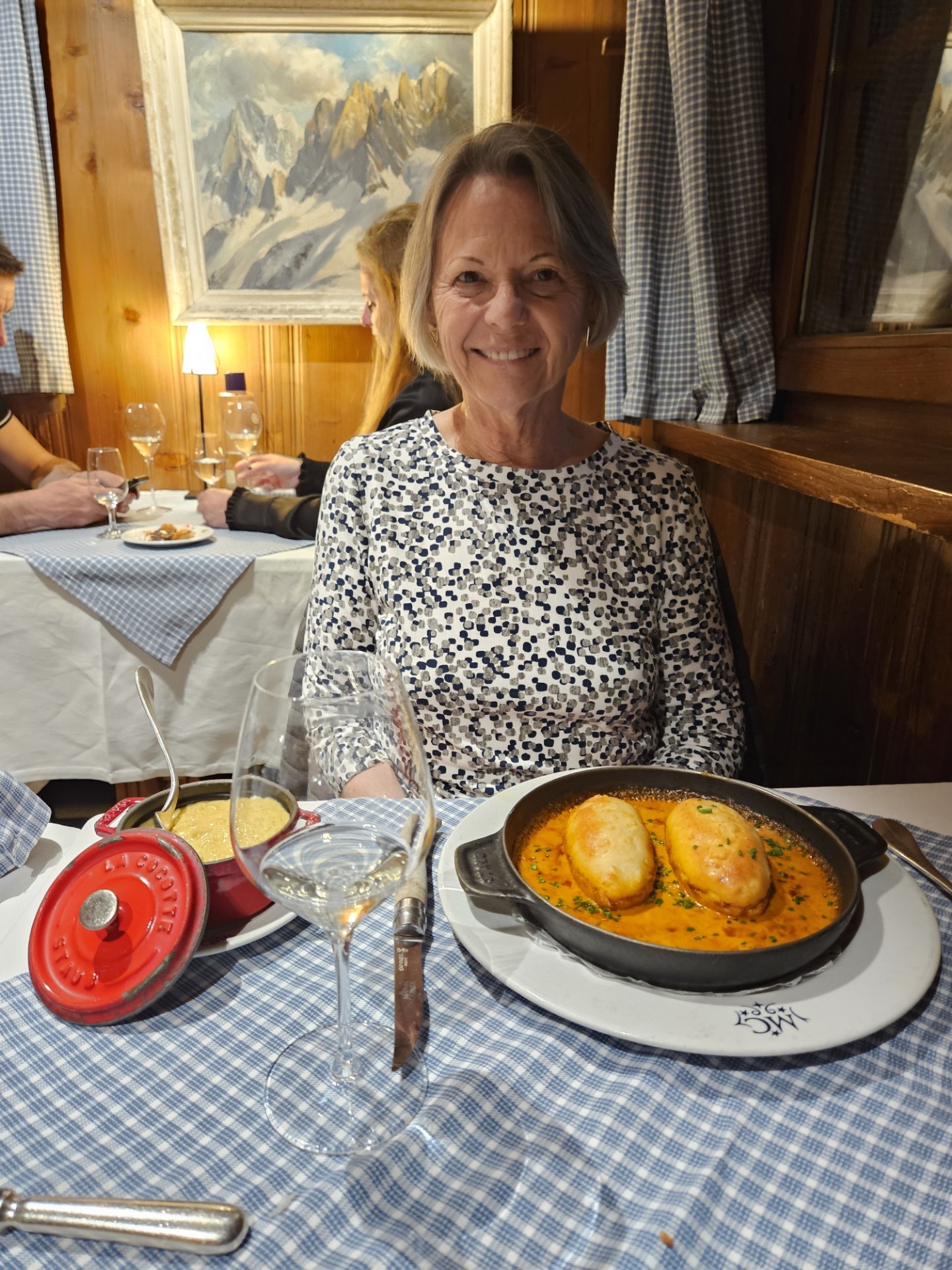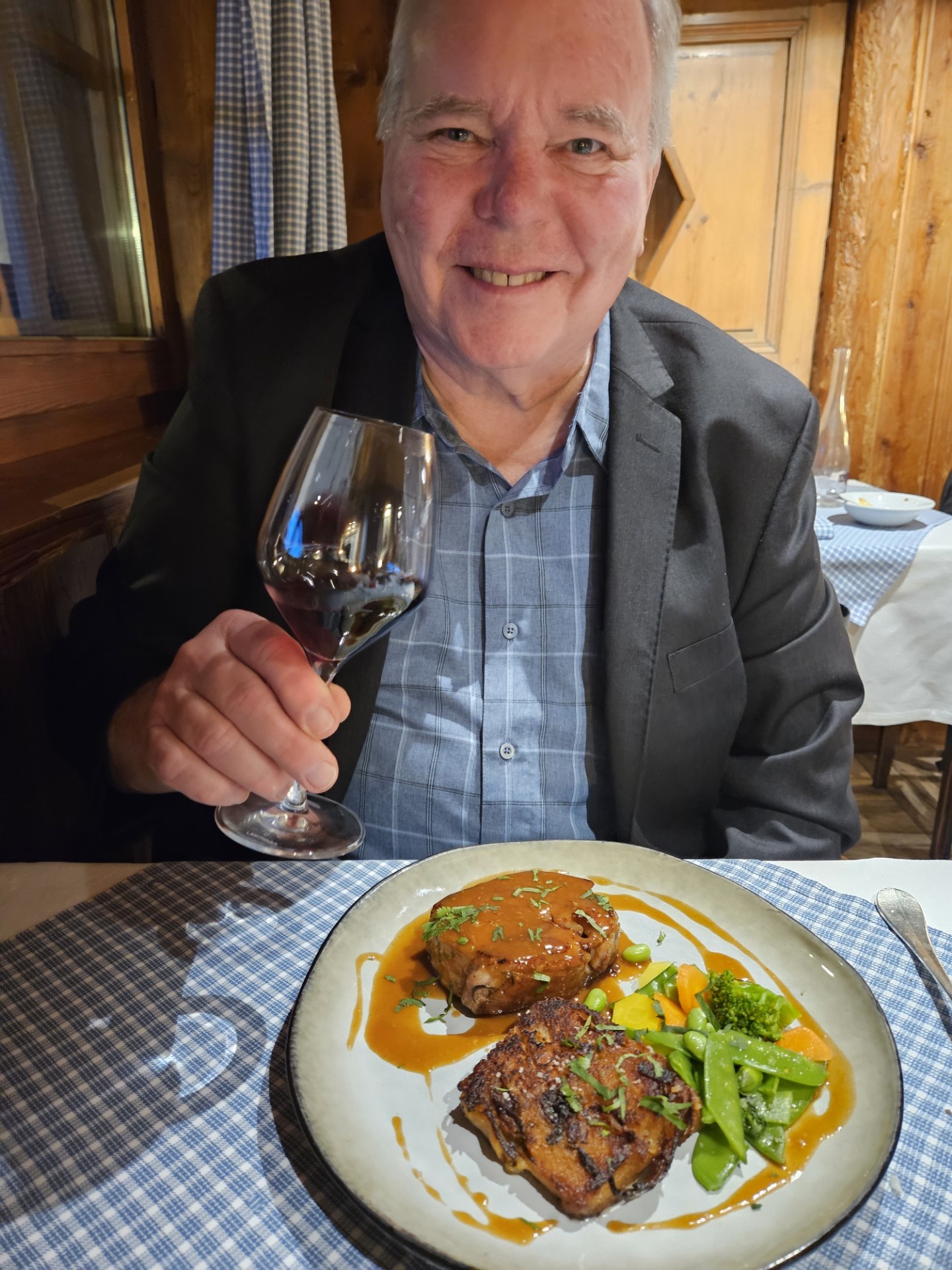 It was a wonderful and satisfying meal, but the dessert bar put us over the edge.  We waddled back to our room, working off some of the citron tart, snuggled into bed and finished the day very happy.
The next day we decided to drive to Le Parc de Merlet to see the deer, Alpacas, and marmots.  The parking lot was quite a distance from the entrance to the park and the climb--at altitude--was sheer torture pour moi. I knew I should have gone into training six months ago, but discomfort got in the way back then, so I would make coffee and do the morning crossword instead.
Now I was paying the price. Lungs burning, as were my hamstrings. And that's just on the "easy" trail. Gorgeous scenery, though. Perfect weather, too. It hurt so good, and once I got my breath back, I could keep marveling at the views.  The mind wanders.  Is a place like this where I'd ultimately like to spend my final years?
There are a lot of great things to do in Chamonix especially if you are a daredevil skier, backpacker, hiker, parasailer, rock climber or ice pick climber, which we're not. For the rest of us, besides gazing at the incredible views, there are two musts: taking the train to the Mer de Glace and walking inside a glacier, which we'll do later today, and traveling up the tram to the L'Aguille du Midi, which we did yesterday all the way to 11,499' elevation. Quite literally and figuratively breathtaking, dizzying. A fun thing to do on the top is called Step Into The Void where you can walk into a plexiglass box hanging over a sheer cliff. That's about as dare-devil-y as we ever get.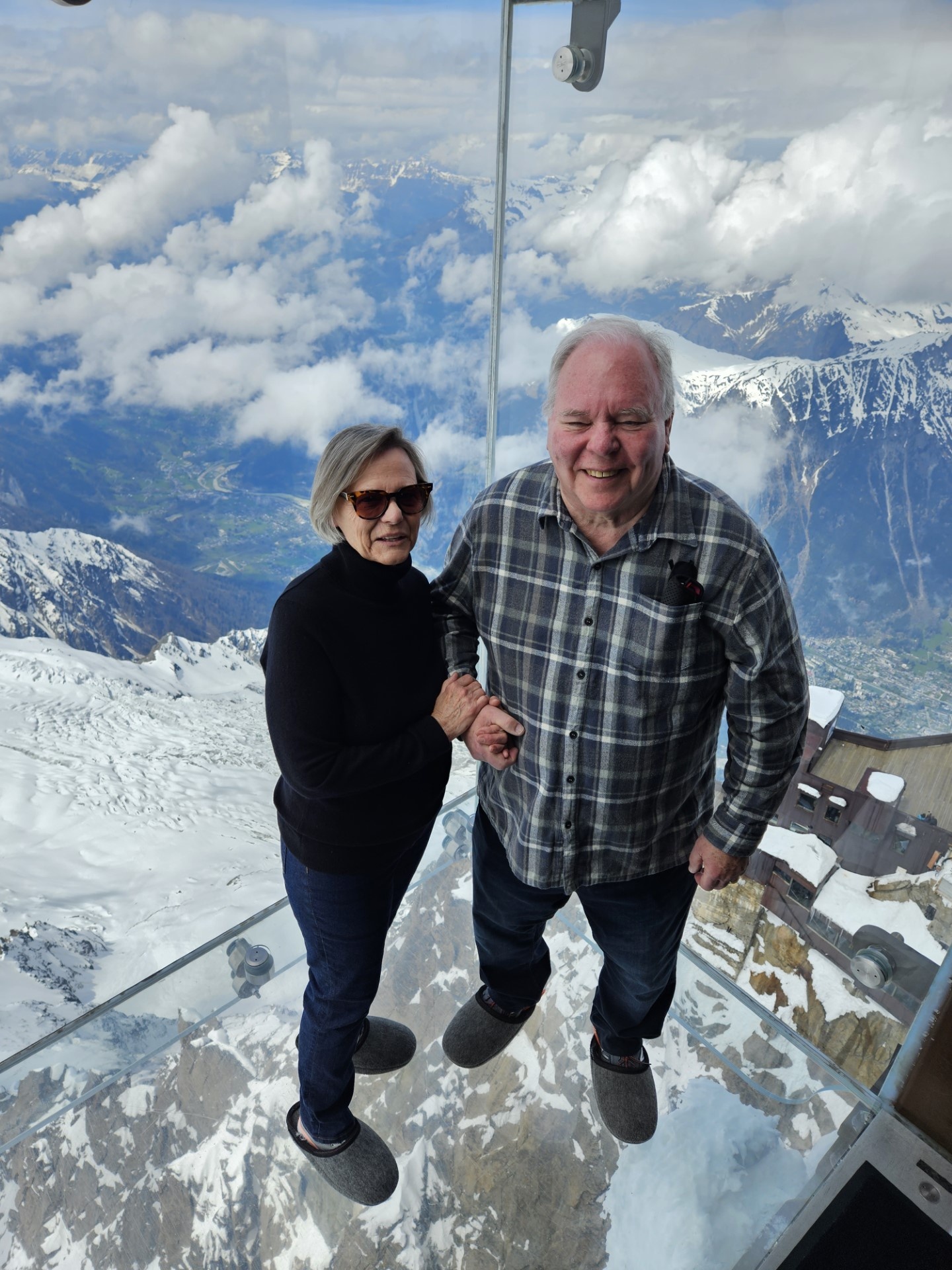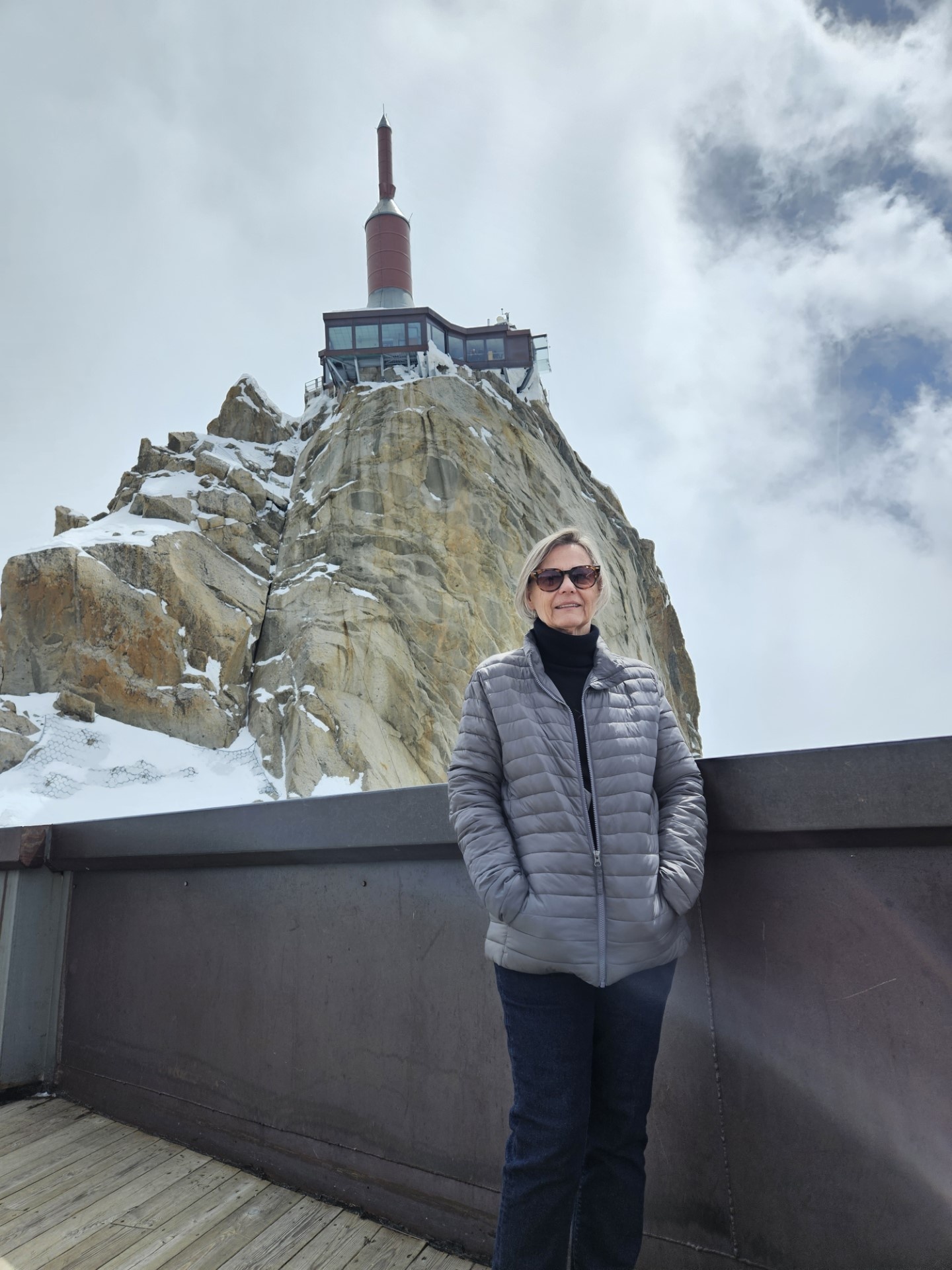 We discovered a cozy seafood restaurant in Chamonix called Restaurant du Cap-Horn which served a whole Dover Sole boned at the table and a Japanese-influenced seafood bowl. We investigated a bottle of Auxey Duresses blanc, and it passed the test.
Desserts were yummy, too, including a salted caramel souflee.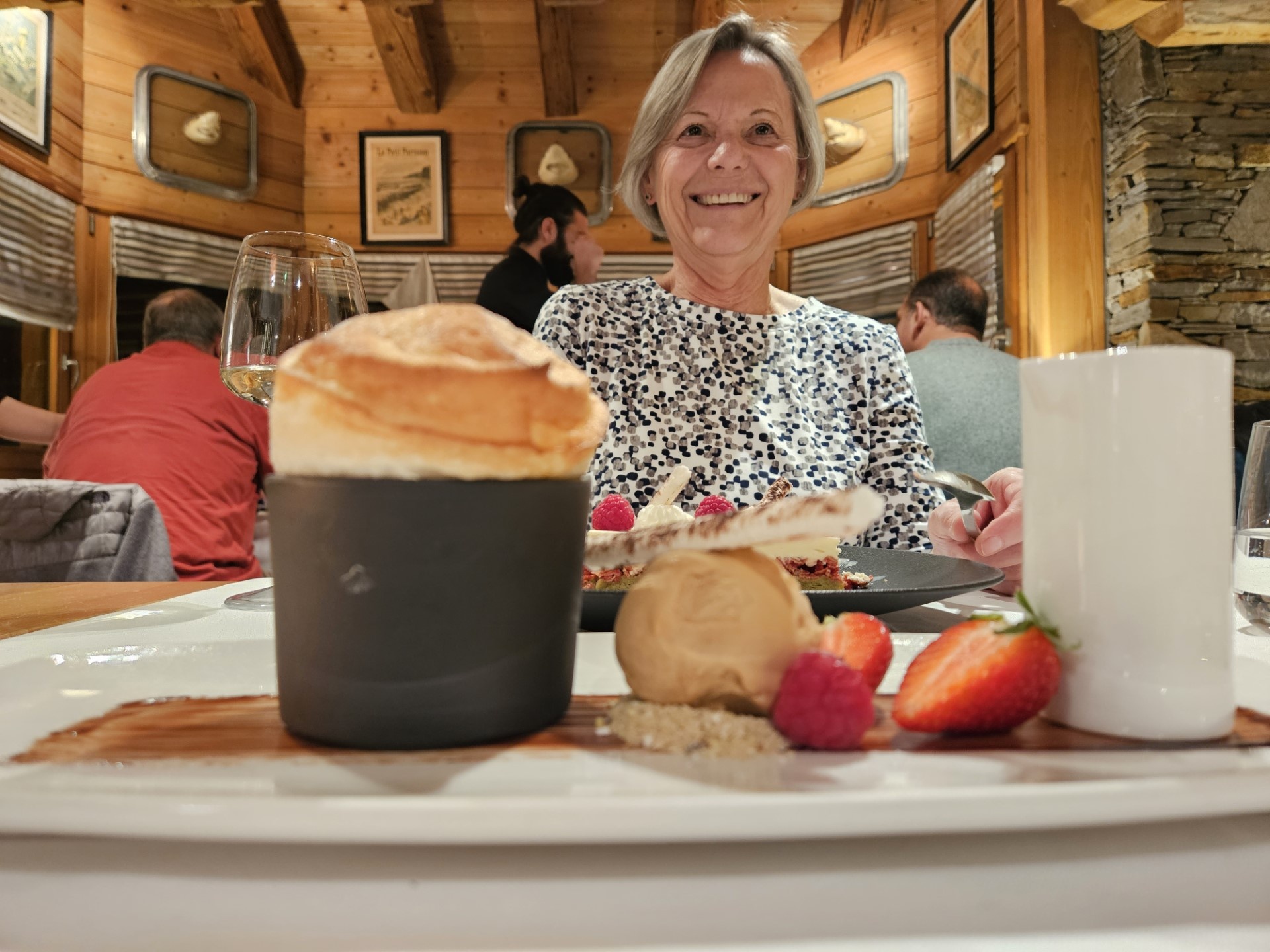 One night we had a Mediterranean gin martini at Le Comtoir des Alpes, using a blanc vermouth and a dash of lemon juice. We followed that with beef cheeks braised in Mondeuse wine and a wonderful pintade for me. Enjoyed them with a Chassagne Montrachet rouge. I loved the sexy, elegant Spiegelau stemware.
Saturday was the day we set for the cog-train ride to Montenvers and the trek to the Mer de Glace glacier to go inside the toe. The ride was gorgeous, the weather sunny and then the surprise. Et quelle surprise!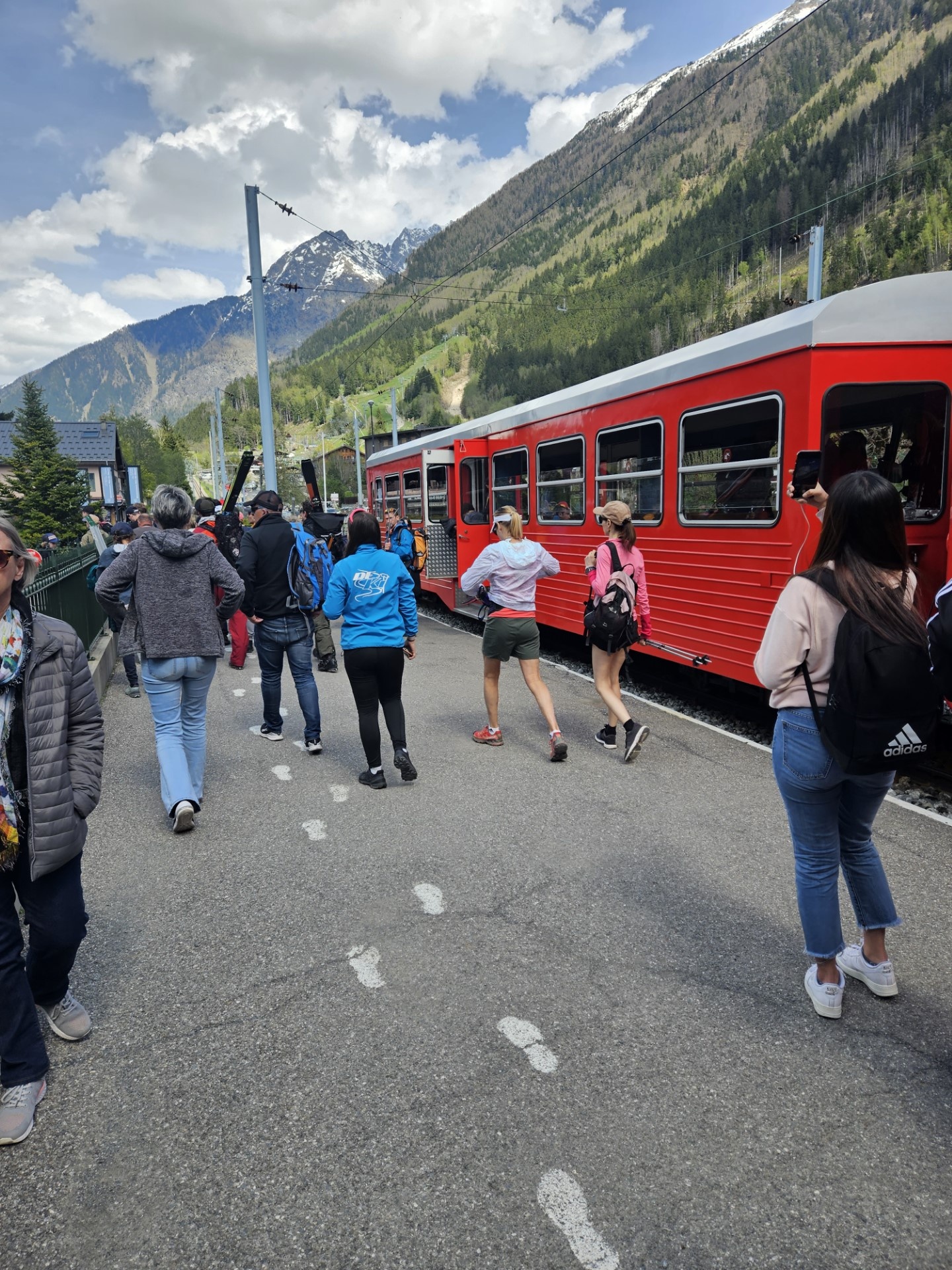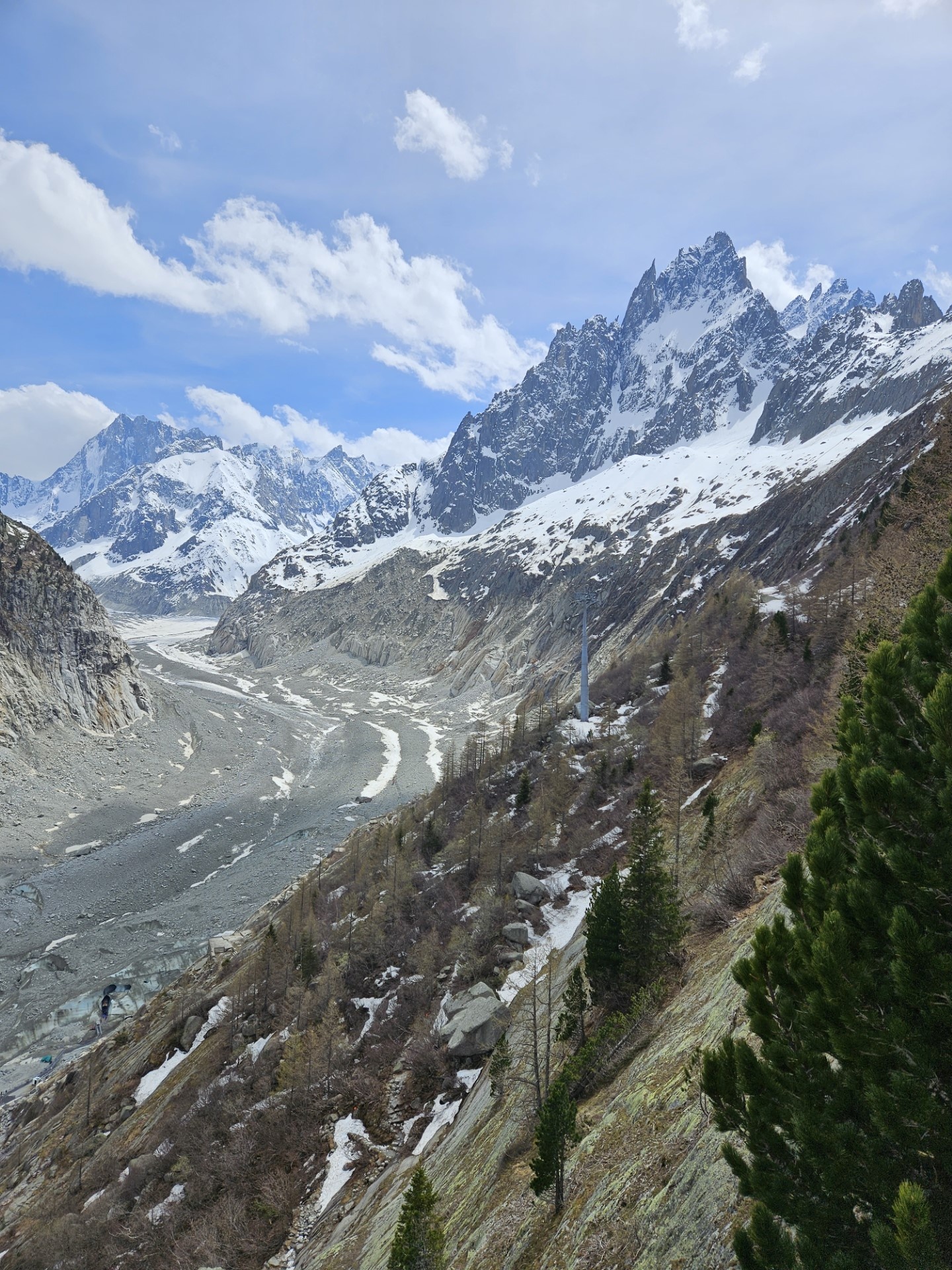 After a steep gondola ride toward the glacier, we had to walk 30 stories down (or was it 50?), and each grueling step I kept thinking "It's gonna be a lot harder going up."
Dale turned to me about two-thirds the way down and urged me to turn back, but we came to go inside the glacier, so that's what we were gonna do.
The chambers weren't as long as I thought they'd be, and we only spent 10 minutes inside, but they were gorgeous with striking blues.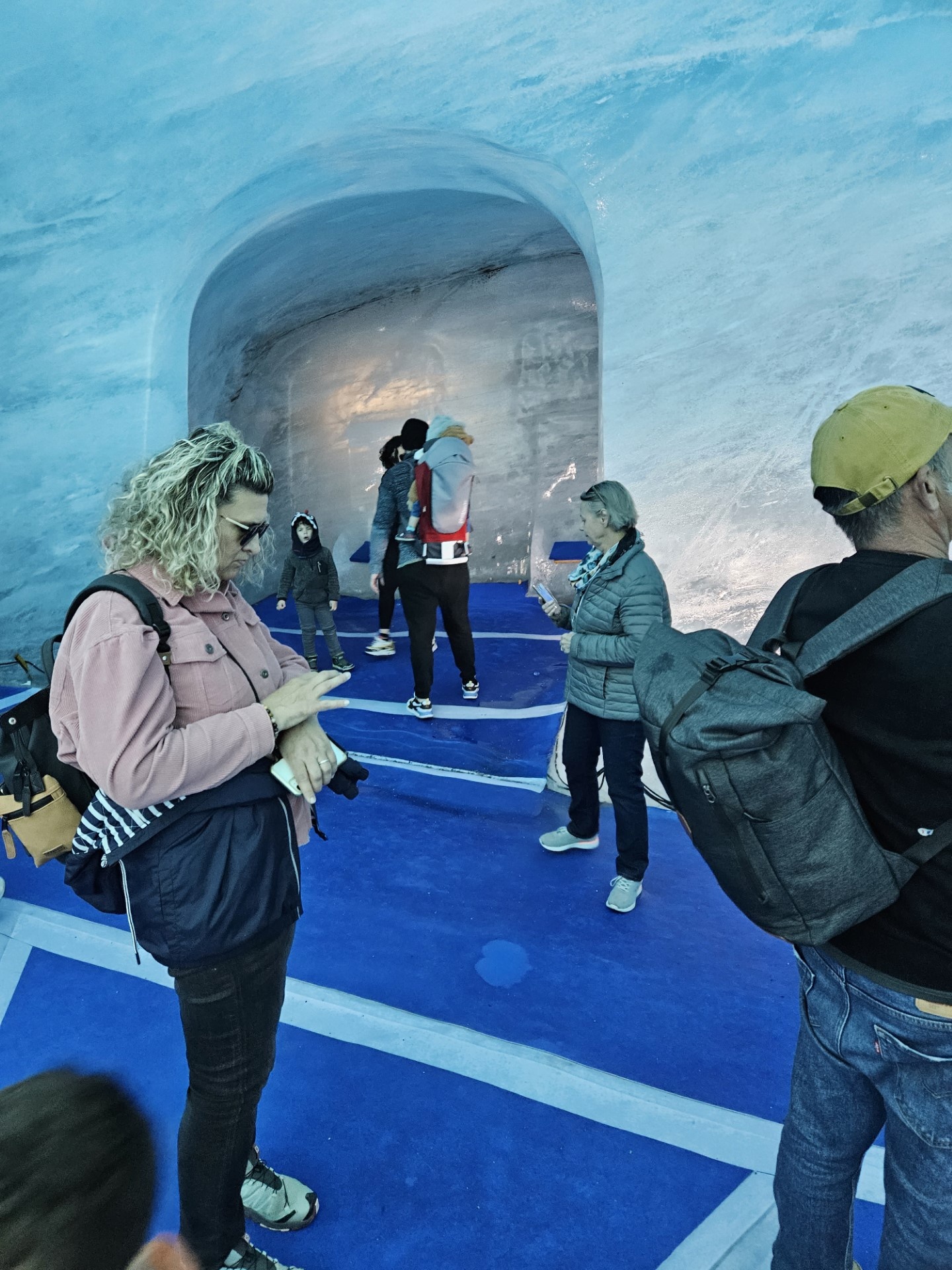 All I can say is the way up was hell. My thighs felt like burning tree stumps. Skiers were passing as I was gasping for breath (were they skiing the glacier?), and at one point I recorded a video goodbye in case I didn't make it.
Obviously I did or I wouldn't be writing this.
I didn't document our final dinner in Chamonix because our Michelin-starred restaurant, Hameau Albert 1er, was too elegant to whip out a cell phone and start taking pictures. Let's just say Dale and I spoiled ourselves with this one. (Our credit card may need a higher limit before this thing's done.)
Anyway, we packed up, gassed up, and headed through the long Mt. Blanc tunnel to emerge in Italy's Val d'Aosta, another breathtaking region (with vineyards!) just to check it out. We stopped in the ski town of Courmayeur, saw a church letting out with excited little girls in their white confirmation dresses, and handsome families chatting away heading for one of the few open local bars. Dale and I found our way there, ordered two fine cappuccinos and a couple delicious berry fruit muffins, and soaked up the atmosphere. We heard some French spoken and what sounded like an Italian dialect, but really couldn't tell.
Getting back in our car, it was time to return through the tunnel to visit our next destination, Annecy. We followed a 1957 Mercedes pulling a small trailer pasted with travel stickers and signs on it (in English) saying it had driven the world.
Soon after emerging from the Mt. Blanc tunnel on the French side, it began to rain, lightly at first, then seriously. It was hard to make out the car in front of us through all the rain, but it wasn't long before we made it to our next home, at least for the next three nights, in Lake Annecy.
PART II:  LAKE ANNECY & THE SAVOIE
Thanks to Carl Taylor, Pam Taylor and Dr. Gregor Bonomo, we learned about the lake town of Annecy (pronounced Ahn-see) in France's Savoie region. Called the most beautiful village in France, Dale and I decided we had to visit. We had seen many YouTube videos in preparation for our trip. including boat rides on the lake, but the forecast was for rain the whole time of our visit. Perhaps there would be some breaks in the weather to come.
We had to park in the medical center's parking lot to make the long trek to the Hotel Palais de l'Ile, a place Carl and Pam had stayed in many years ago. Located in the old town on one of the canals, our room gave us a side view toward the lake out of one window, and a view up the canal from the other.
We went to dinner in a quaint place about 150 meters from our hotel. By this time, the light rain had stopped, and our post-meal stroll through the bustling nighttime town revealed people lined up at the many ice cream shops and packed into the many restaurants along the way. It was holiday weekend, and the town was buzzing.  
Our room had views of the triangular-shaped Palais de l'Isle, a bit of Lake Annecy and the canal leading downstream.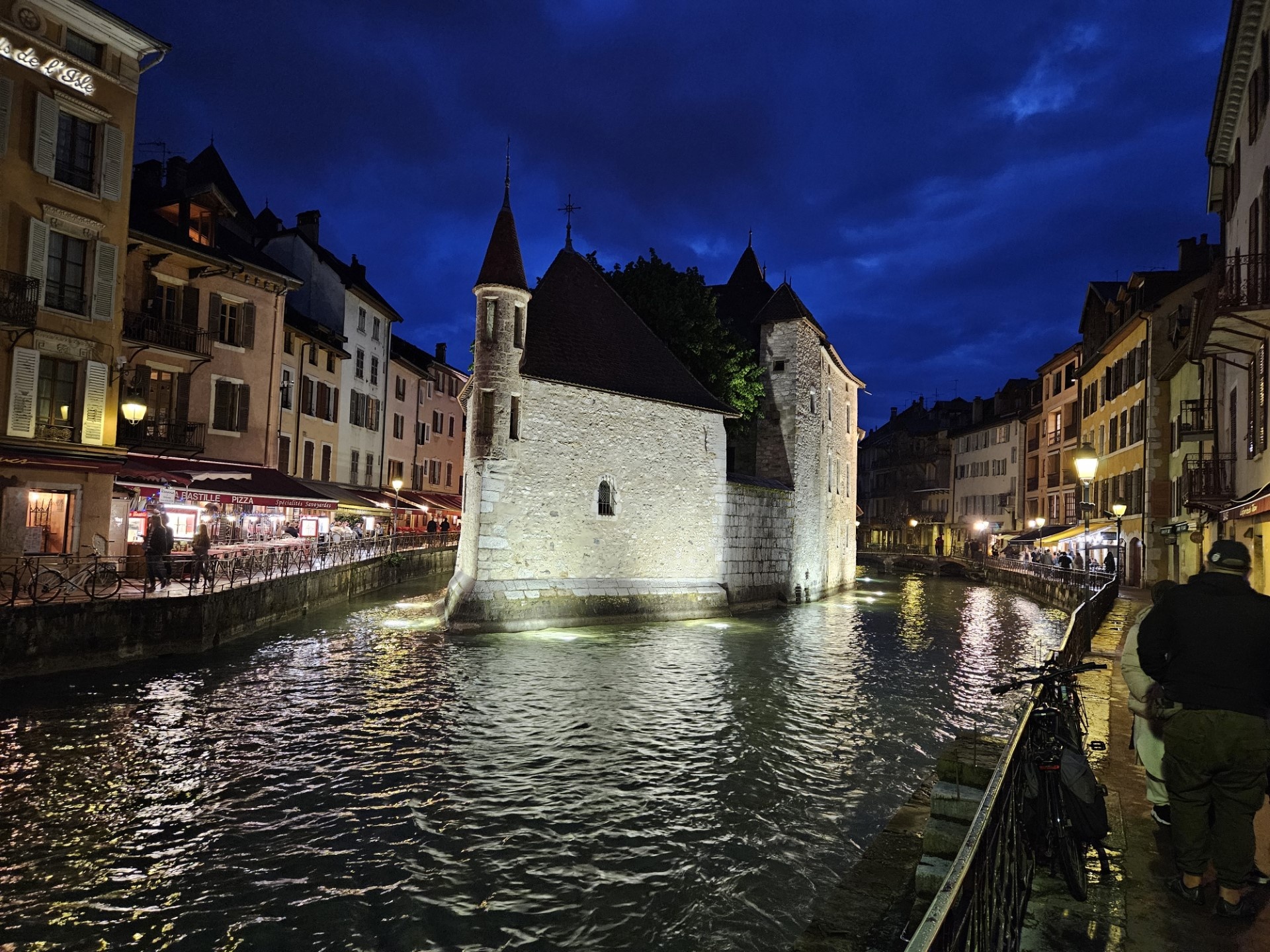 As we gazed into the canal and the colorful night scene we also marveled at the water's reflection on the former prison, one of the most photographed scenes in France. It was hard not to be completely captivated.
The rains came and went, came and went while visiting Annecy. The restaurants we visited all served creative meals, perhaps the most ambitious was Restaurant Jean Sulpice, an elegant Michelin two-star about a third the way around Lake Annecy. We went there for lunch on Monday May 8, the national holiday celebrating what we call V-E Day, which they commemorate the German capitulation to end the European theater in World War II.
I won't bore you with the details, well, maybe a few details.  Dale ordered a glass of Chartogne-Taillet Brut Rosé to start.  I think it was an extra-brut, and it was in perfect, delicate balance.  I ordered a Kir Royale.  There were two amuse-bouches, both served creatively.  The butter was infused with a little cumin, which I had never experienced before.  A couple of the wines served in the pairing menu were natural wines, including an orange wine, one of the pairings featured a local craft ale, there were impeccable white wines from Savoie and Switzerland, a Rioja reserve, a Zweigelt Beerenauslese with the strawberry dessert and a Coteau de Layon with the chocolate cake.  In my opinion, the two desserts make trouble for the wines, but they at least survived.  The strawberry dessert could have been made interesting with a complimentary liqueur, but honestly, it didn't need it.  And coffee would have been a better partner with the chocolate.  Bordeaux and Burgundy may be tradition-bound, but the Savoyards are making adventurous wines from Jacquere, Altesse and Mondeuse.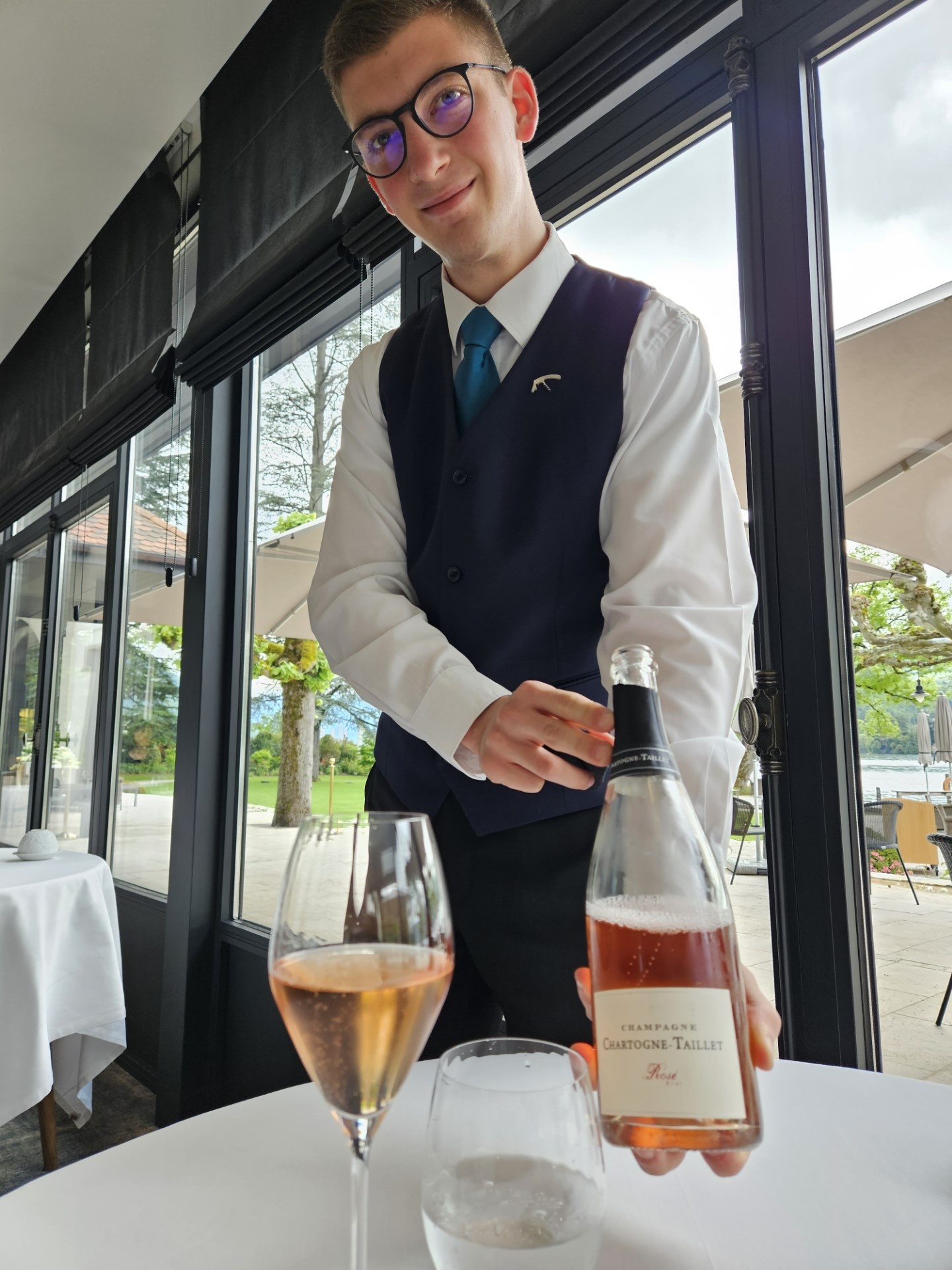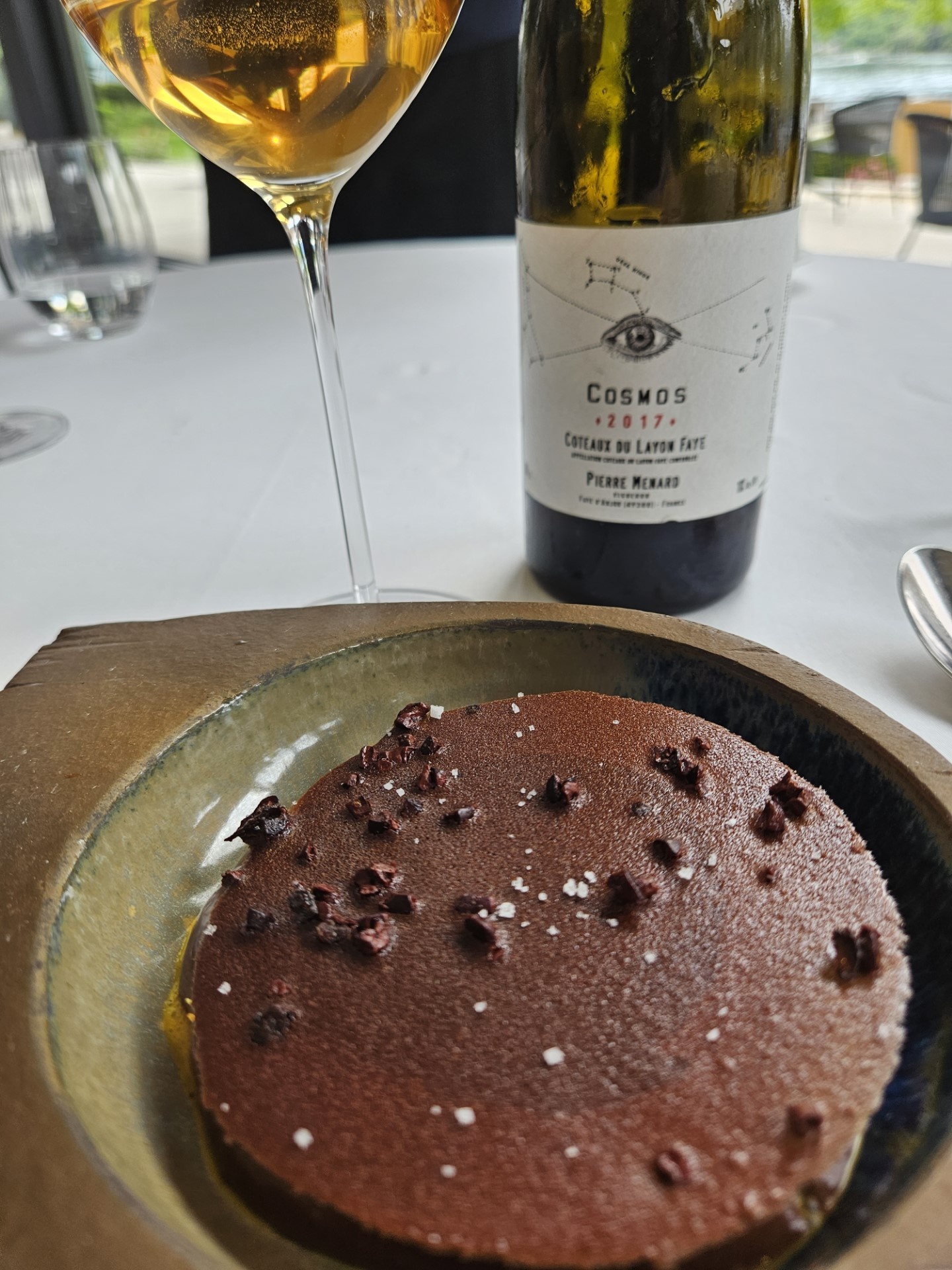 While we were dining, we could look out the large windows and see a fisherman on the lake, and al fresco diners eating lunch on a patio nearer to the lake.  One group of women were distracted by their phones, so I don't know if they were really paying attention to what they were eating.
After lunch, we strolled through the grounds of this impressive restaurant.  The clouds were looming, but there was enough sunshine to make the lake look beautiful.
Overlooking the lake, there were ever-changing views as we gazed at the lake fishermen, and glanced over to the outdoor diners.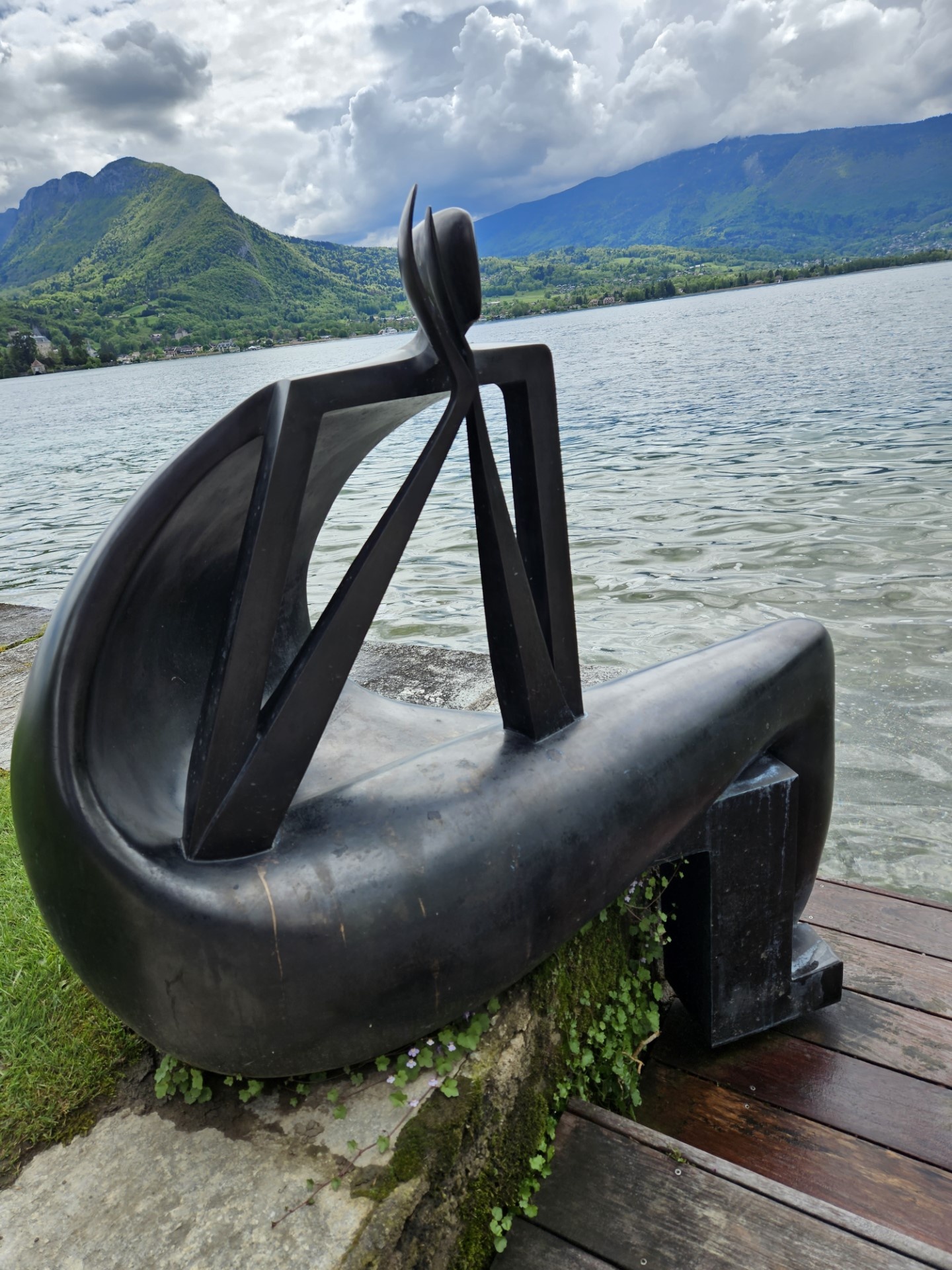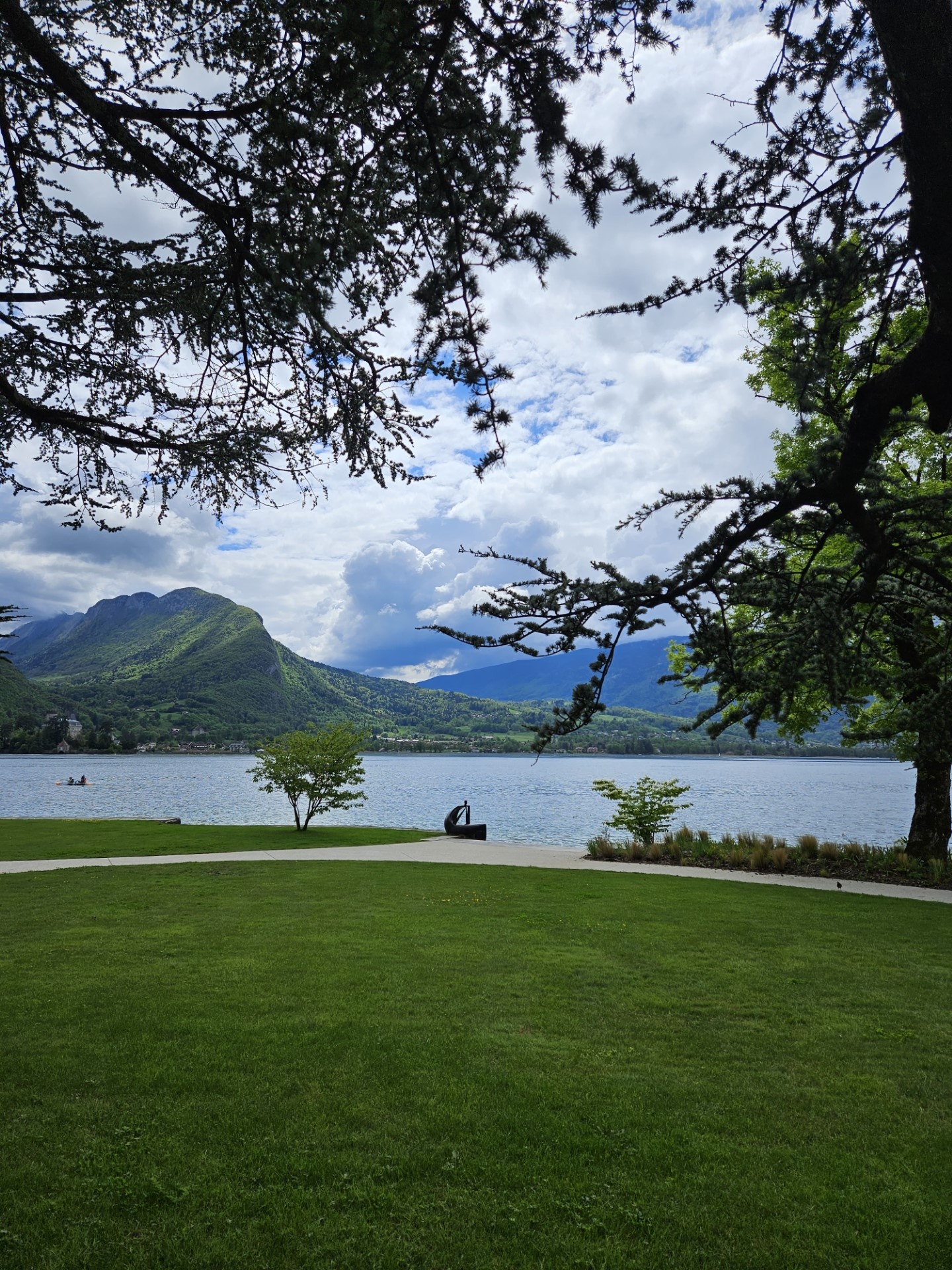 The next day we would visit a couple of those estates. 
The first winery visit of our trip was to see Jean Marc Portaz, the owner and winemaker of the Marc Portaz winery, whose delicious, white Apremont we've carried in The Wine Country for many years.  We were greeted by his dog Bear, who was doing his best guard dog barking when we arrived, but later proved to be so gentle, all he wanted to do was fetch.
I've always liked the Portaz Apremont for its easy-going nature every vintage.  We sampled that wine,  his Altesse Rousette de Savoie, a slightly weighter, more chiseled white wine, a rosé and a sparkler, Cremant de Savoie.  As we were leaving, Jean Marc gifted us a bottle of his Rousette de Savoie and my mouth is watering already in anticipation of its opening.
While we were waiting for our afternoon tasting appointment, Dale and I drove around the area, experiencing some great views, driving through Apremont and discovering a lake that we could walk around, Lac Saint André.  Along the way, we spotted a few people fishing, and off in the distance we could see the snow-capped mountains of the Alps.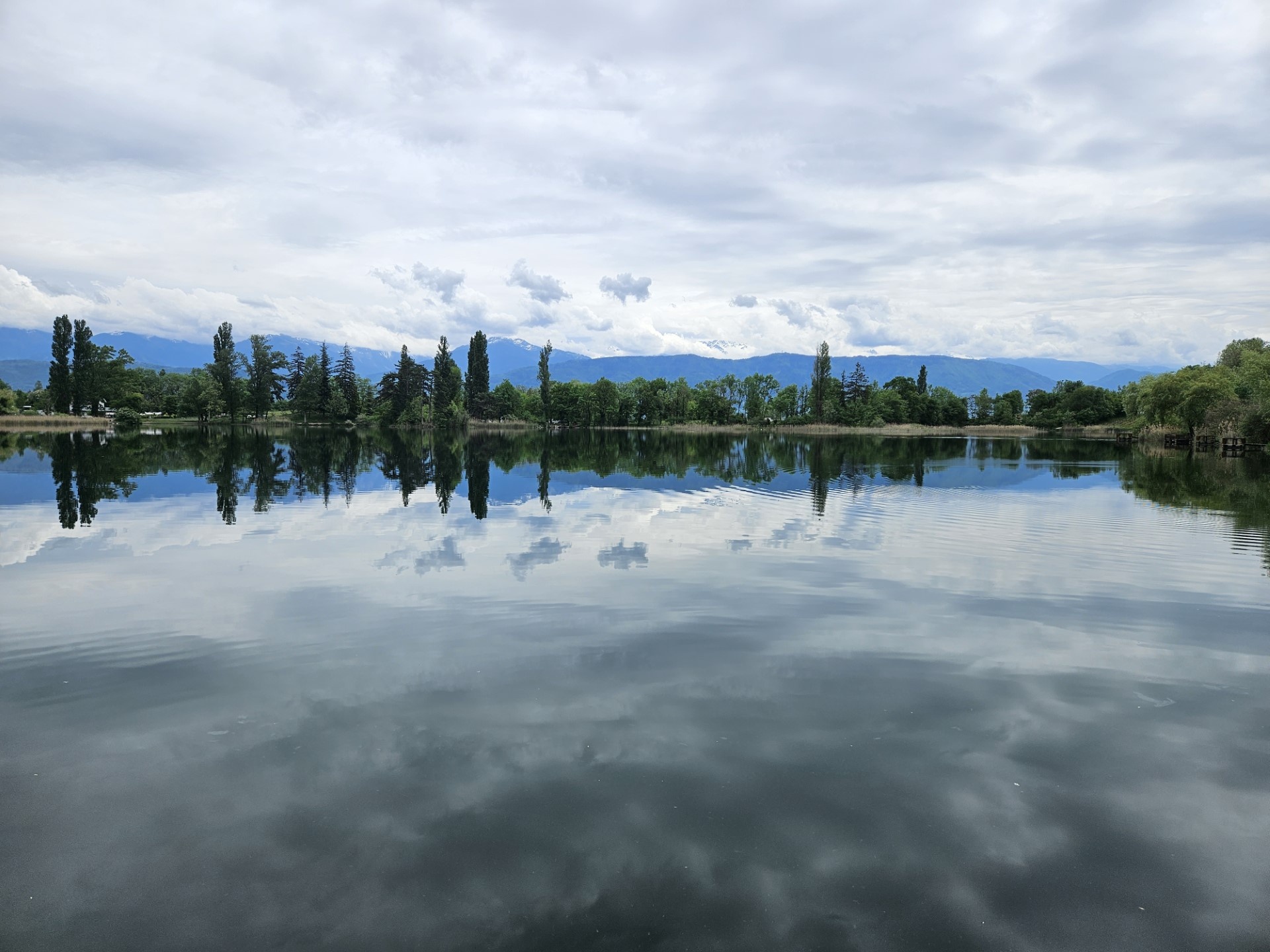 Our second visit that day was to a winery we only knew from one wine, the Blard Mondeuse, an admirable red that I had drunk before our trip and wanted to know more about its producer.  When we arrived, both owners, father and son, were working their vineyards, so we were met by a student intern who enthusiastically showed us around the property and introduced us to the father of the estate.  A stocky, bushy-gray-bearded fellow who spoke no English, but welcomed us just the same, reaching out a thick, weathered hand.  He left to do some more vineyard work, as we were to find out in Burgundy, May was a busy time in the fields.
Much to my disappointment, Blard winery is no longer making Mondeuse, which was the reason I came there.  They no longer had the contract to purchase the fruit, which was grown in the next valley.  Instead, they were working on their white wines including a handsome Apremont, their Cremant de Savoie and a Pinot Noir.  All the wines were solid, but I'd have to revisit them to make sure I wasn't being wine-seduced by my vacation.  (We were excited to learn although the winery was sold out of Mondeuse, our local distributor had five cases of the 2020 vintage, its final one.  We just bought all five.)
PART III:  JURA
The wines of Jura, a French region east of Beaune along the Swiss Border, have always been a mystery to me. They grow grapes called Savignin and Poulsard as well as Burgundian varieties Chardonnay and Pinot Noir. Perhaps the most distinctive (and for some, off-putting) characteristic in some of them is a deliberate choice to produce oxidative wine in the manner of Sherry. Like the Spanish wine, these wines are made with a cap of yeast (flor in Jerez) trying to keep the wines fresh as they are exposed to air. The ultimate expression of this style of wine is Vin Jaune, literally "yellow wine", an intensely flavored sherried wine that left me perplexed the first, second and third time I tried it. Rare and expensive, Vin Jaune is hard to get. But more on that later.
The big difference between the tastes of dry sherry and oxidative Jura wines is the former seems to have a brightness but no fruit, while the latter balances its "sherried" flavors with quite a bit of fruit, making them a completely original taste.
I drank my first Vin Jaune with Didier Dagueneau at his home in Saint Andelaine, Pouilly-sur-Loire. We had just finished dinner and he popped into his cellar to grab a bottle. After tasting it, importer Michael Sullivan asked me what I thought.
"Bad sherry," I answered.
"Take my advice and go to the Jura, Michael said. Eat their food, sample their wines at dinner, and experience them in context."
That was in 2002, and twenty-one years later, here we are.
Dale doesn't like all of wine's mumbo-jumbo, and I get it. She'd rather drink wine than talk about it, so the idea of going to tastings day in and day out on a vacation is about as fun to her as a case of the shingles. That's why I booked a room for three nights at the Castel Damandre, three kilometers from the wine town of Arbois. Nearby was the Cascade de Tufs, a series of waterfalls and rippling cascades a five-minute walk from our hotel.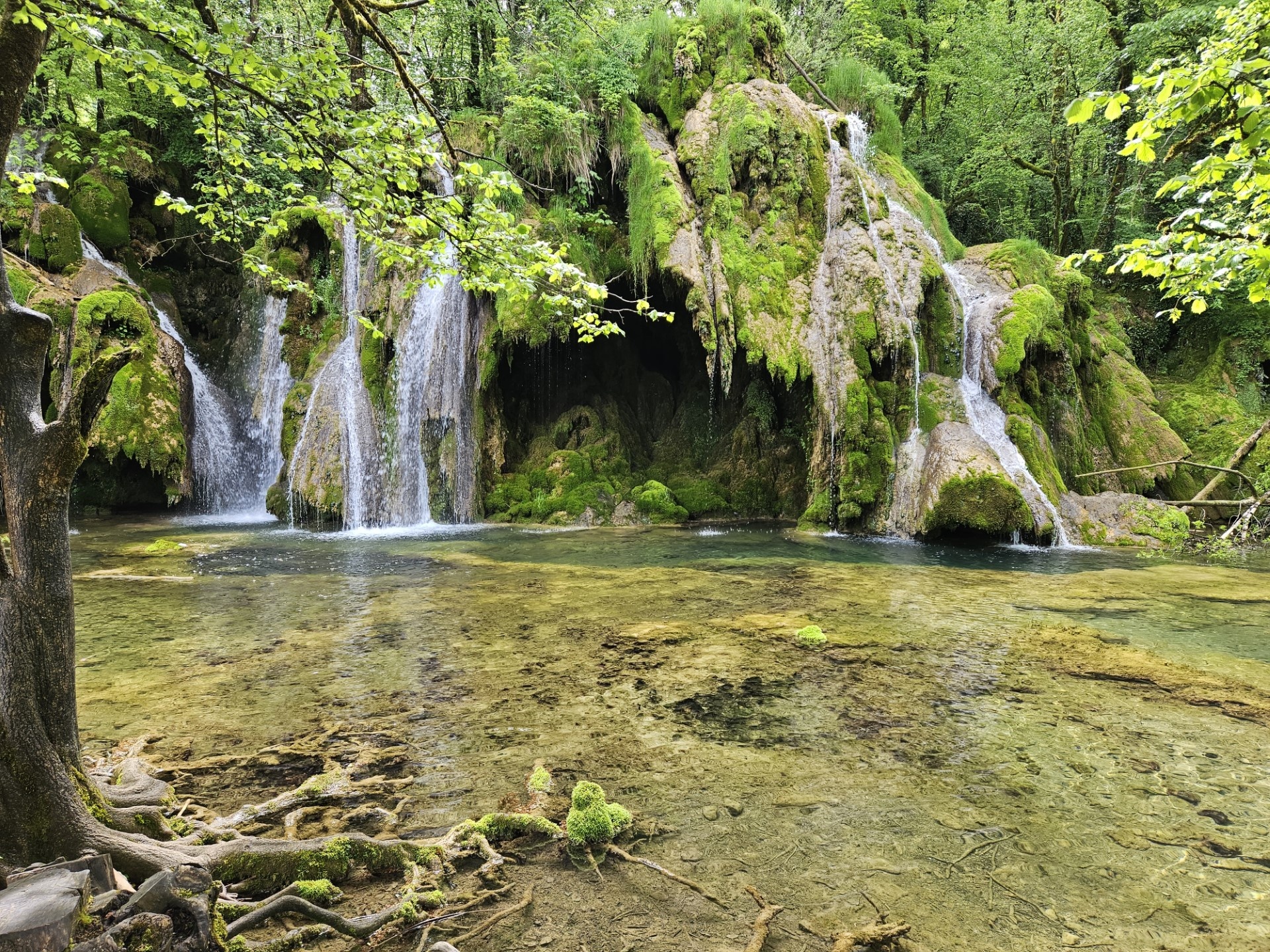 Damandre looks and feels old, although they recently were awarded their fourth star for its hotel and its amenities. We were told part of the building goes back to the 14th century, and the old wooden steps on the staircase give you a feeling that guests have been treading up them for centuries.  They had a restaurant there, but as I glanced at the menu, it looked more like a greatest hits menu than creative cooking.  I would learn later that one of those greatest hits had greatness all over it.
When we arrived, our room wasn't quite ready, so if we waited, they would upgrade us to a room that usually went up to 380 euros a night for nearly half that. We walked in...it had dark patterned wallpaper, and a big fat jacuzzi bathtub for two right in the middle. A large, modern bathroom was on the right with a two-sink counter and a large shower behind a glass divider.
On the opposite side of the suite, the room opened to the sight of a four-poster bed. Our windows had views of the immediate hills beyond the compound, and of course the swimming pool--devoid of sunbathers now, but undoubtedly jamming in the summer.  The view above the pool was hilly and lush.
We had reservations for dinner at Michelin-recommended (not necessarily starred) restaurants in the area for the next three nights. One of the restaurants, Auberge de Grapiot, was modern and inventive in Pupillon, a small wine village not far from Arbois.  The next night we had reservations at Les Caudalies, an impressive hotel restaurant with a lovely view in Arbois.  This was going to be fun.
The day after we arrived at Castel Damandre in the Jura, Dale and I decided to walk from the hotel up the hiking trail to see the waterfalls and the Cascade de Tufs. Not far above the falls was the source of the river, bubbling into a crystal clear pond before tumbling down the series of drop-offs. Notice how green everything is.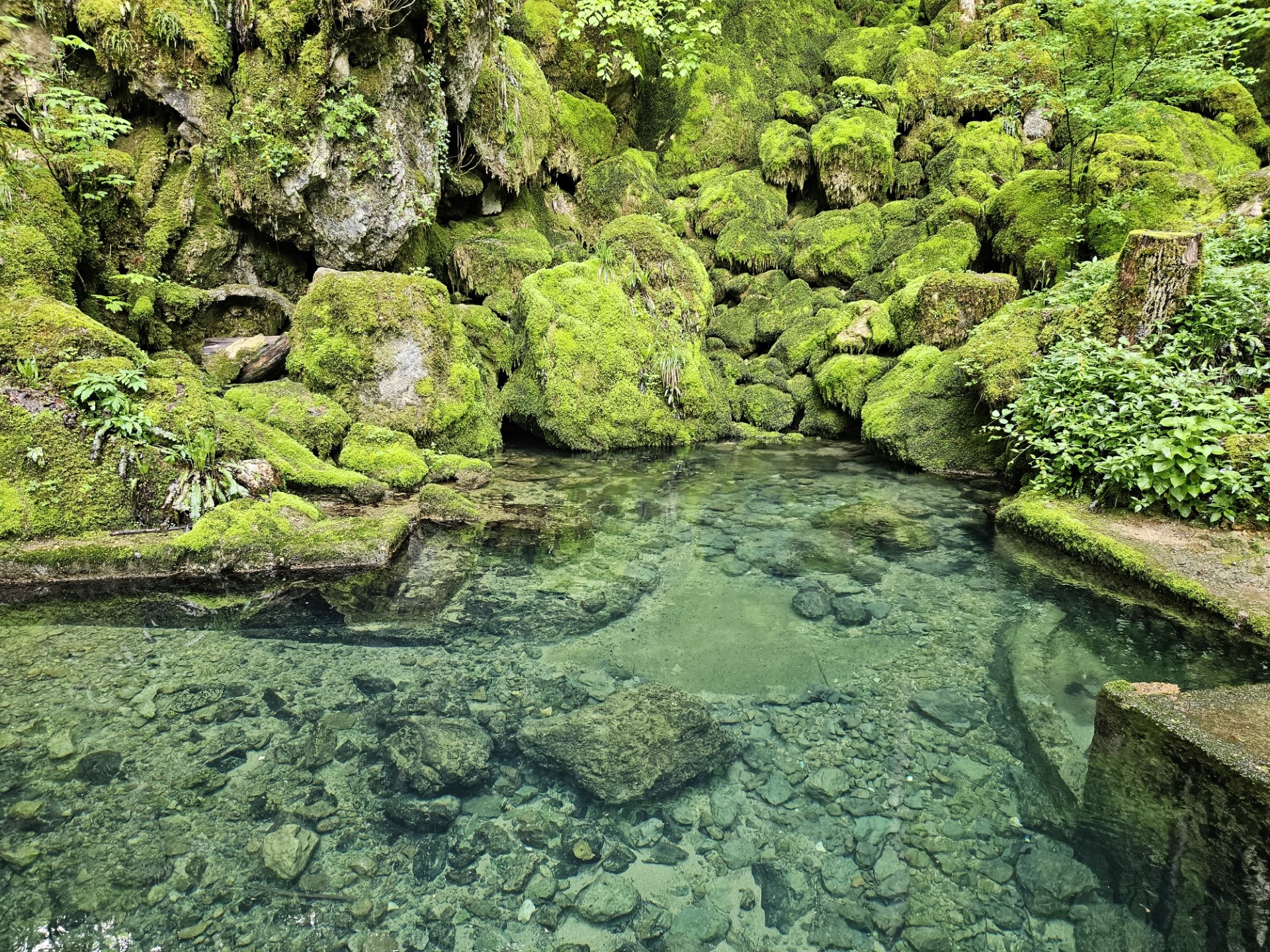 At breakfast our last full day at Castel Damandre near Arbois, while watching the waterfall by the hotel window, we met two women travelers from Luxembourg who told us the hotel chef was serving Bresse chicken that night. I immediately canceled my reservation for that night and booked a table at our hotel dining room.
I had read many times about France's (and perhaps the world's) best chicken, the blue footed, white feathered and red combed bird prized not only for its superior quality but because it sported the colors of the French flag.
That day we drove to Chateau-Chalon, another old hilltop wine town, because we were told by Samantha Dugan it was charming, and by a former French server that the town was beautiful.
Sleepy, the day we drove in. The first thing you see as you start to drive up the hill are the ruins of an eleventh-century fortress called "The Tower of Charlemagne," never mind that Chalemagne had been dead hundreds of years before the tower was built.
As we drove the narrow streets, my eye caught a sign saying "Credoz". I recognized that name from the store, even served its Vin Jaune as an aperitif (more on that later) at a recent dinner party.
We pulled up to the stone home and an outgoing middle-aged lady named Annie (who turned out to own the estate with her husband Jean-Claude Credoz) walked over to our car. We didn't really come for a tasting, but when I told her we were customers of hers, she invited us into her tasting room for a "degustation". She indicated our importer Jerome Brenot of La Grenouille Imports had been there the previous week, although through her faulty English,  she told us he was coming the following week.
It was there I learned that Vin Jaune should be served with the cheese course, preferably the region's great Comte or, depending on who you ask, a creamy cow's milk cheese. (So much for my clumsy attempt to use Vin Jaune as an aperitif.)
After a fine tasting, I bought a couple bottles (a handsome Pinot Noir, a gorgeous Vin de Paille), and she gifted us a compelling bottle of lightly oxidized Chardonnay, then we bid Annie adieu.  On the way out of Chateau Chalon, we went past La Tour de Charlemagne again where I spotted a scarecrow in a field behind a large stack of wood with a soccer ball for a head.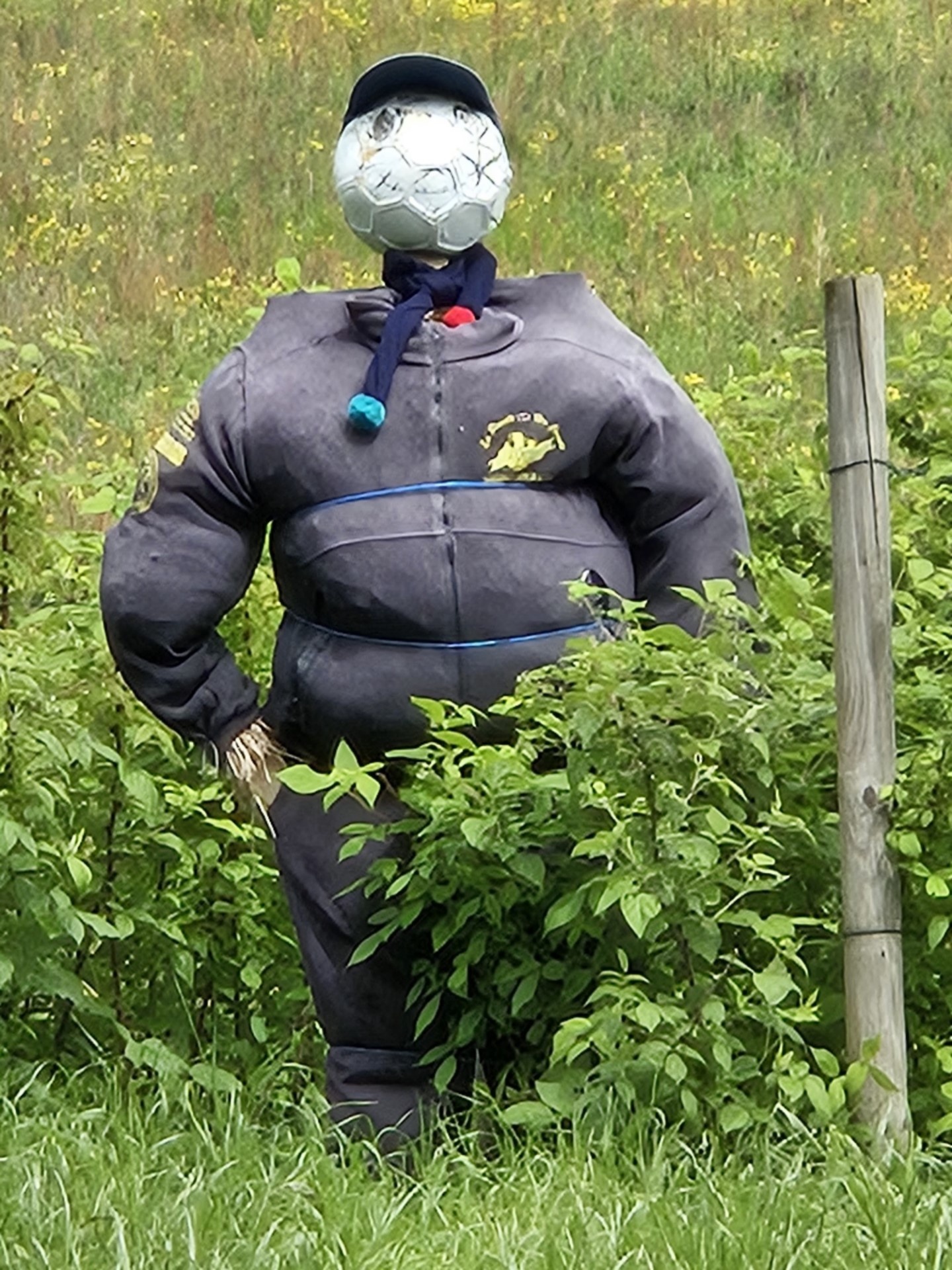 Our final night in the Jura, I learned Bresse chickens were bred not far from where we were staying and sold to the finest restaurants in France, and now we were about to experience our first one, in this restaurant served with morels in a Vin Jaune cream sauce, accompanied by a medley of baby vegetables and a cup of risotto with another couple morels.
I knew I wanted a Jura Chardonnay with this meal, but not an oxidized version, so I asked our waiter at Castel Damandre to select a wine he thought would pair best with the bird. He selected a Chardonnay with the appellation Arbois-Pupillon (Pupillon is a nearby hilltop appellation in the Jura), and the wine was excellent--pure, straightforward and just full enough to make its way through this rich meal.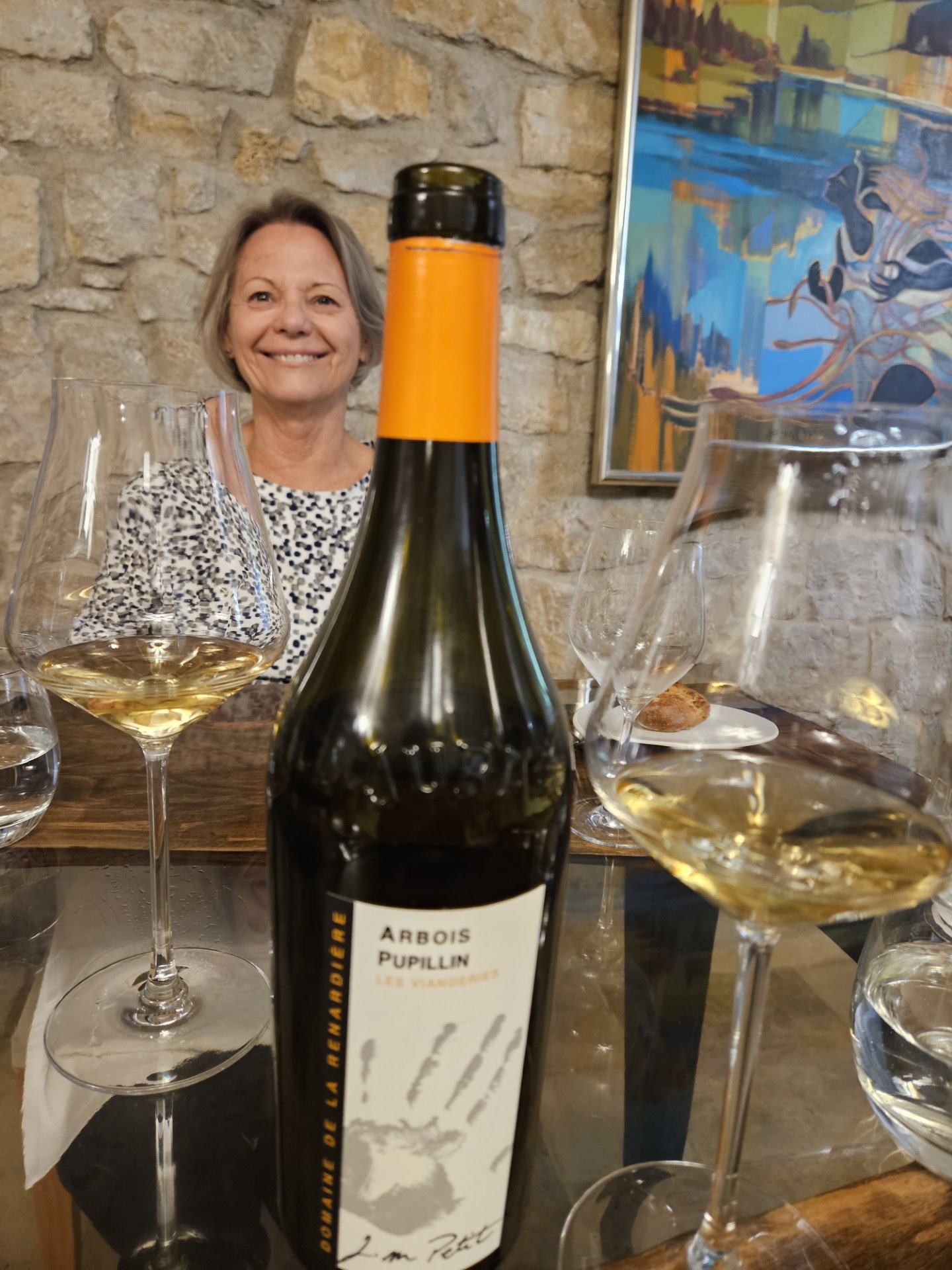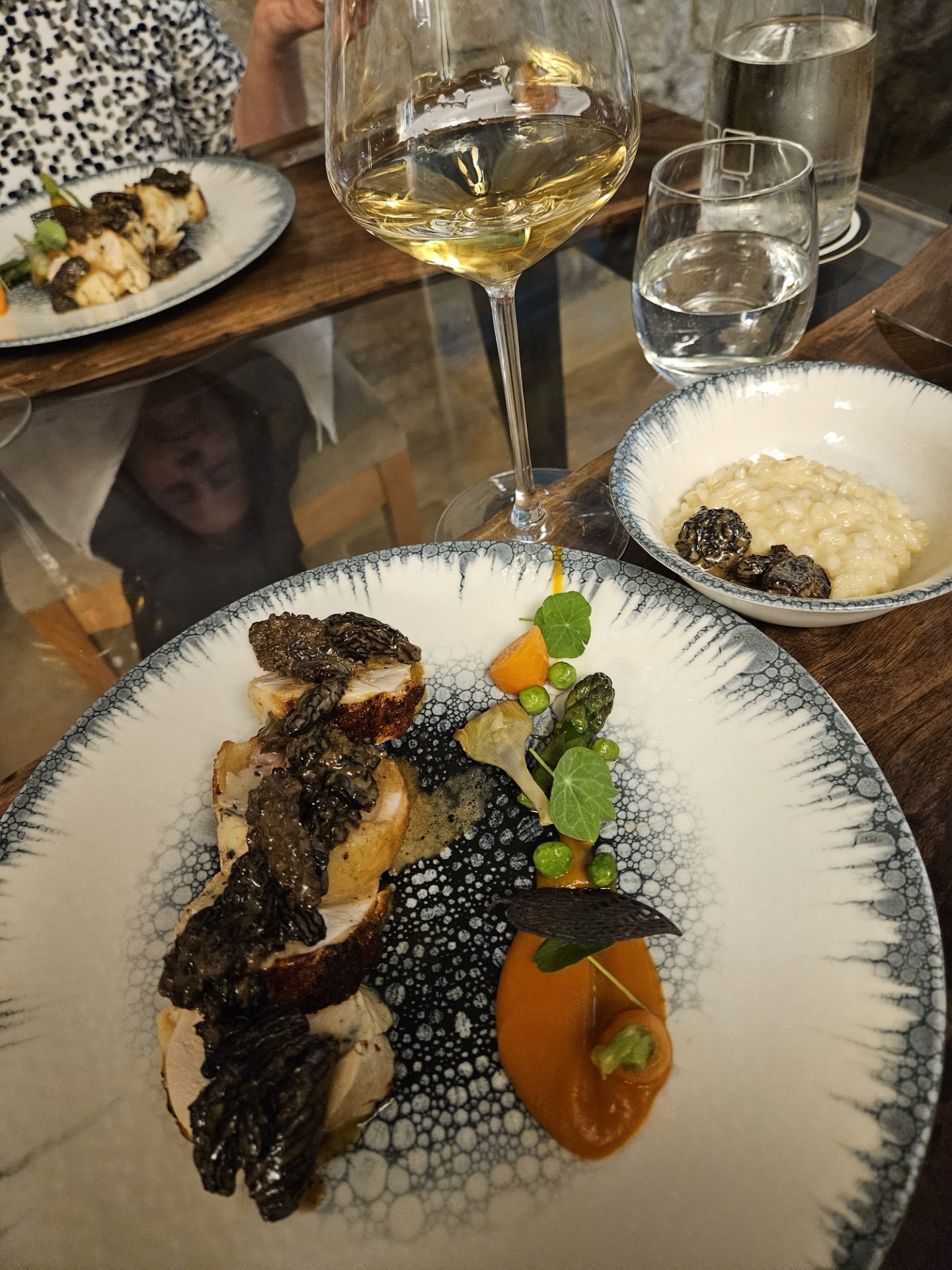 When our Bresse poulard arrived, it was presented in thickly sliced medallions arranged in a line. I was astonished at the number of Morels on the chicken--too many to count! The sauce was very subtle, made with butter instead of cream, and deglazed with Vin Jaune, the local "yellow wine".
I took my fork to slice into the first medallion and there was practically no resistance--it was that tender. In my mouth, it was flavorful, rich in a foie-gras kind of way, and the sauce harmonized perfectly, as did our wine.
I asked our waiter to tell us more about these chickens, and he explained that they were corn finished, I suppose to fatten them up, giving them that other-worldly tenderness.
I don't know if this is typical for Bresse chickens...I intended to find another on an upcoming menu in Beaune or Lyon to compare. But it was an experience I was not likely to forget.
And the Morels!
If that weren't all, we ordered a Paris-Brest for two for dessert. 20 years earlier, I had read about Paris-Brest in The Art of Eating as one of the three fundamental Parisian pastries, along with tarte au citron (lemon tart),  and mille-feuille (which we call "Napoleons").
Named after an early bicycle race between the two cities, it was created (depending on your source) either in 1891 or in the early 20th century. Shaped like a wheel, it looks like a giant bagel sliced horizontally and filled with praline-flavored butter cream. It was cut in half and served to each of us along with a little cup of hazelnut ice cream with a thin leaf of chocolate in a kind of creme Anglais puddle at the bottom.
The cake part had a harder "crust" that gave way pretty easily when the fork sliced through it. This was my first one, and it was pretty damn good.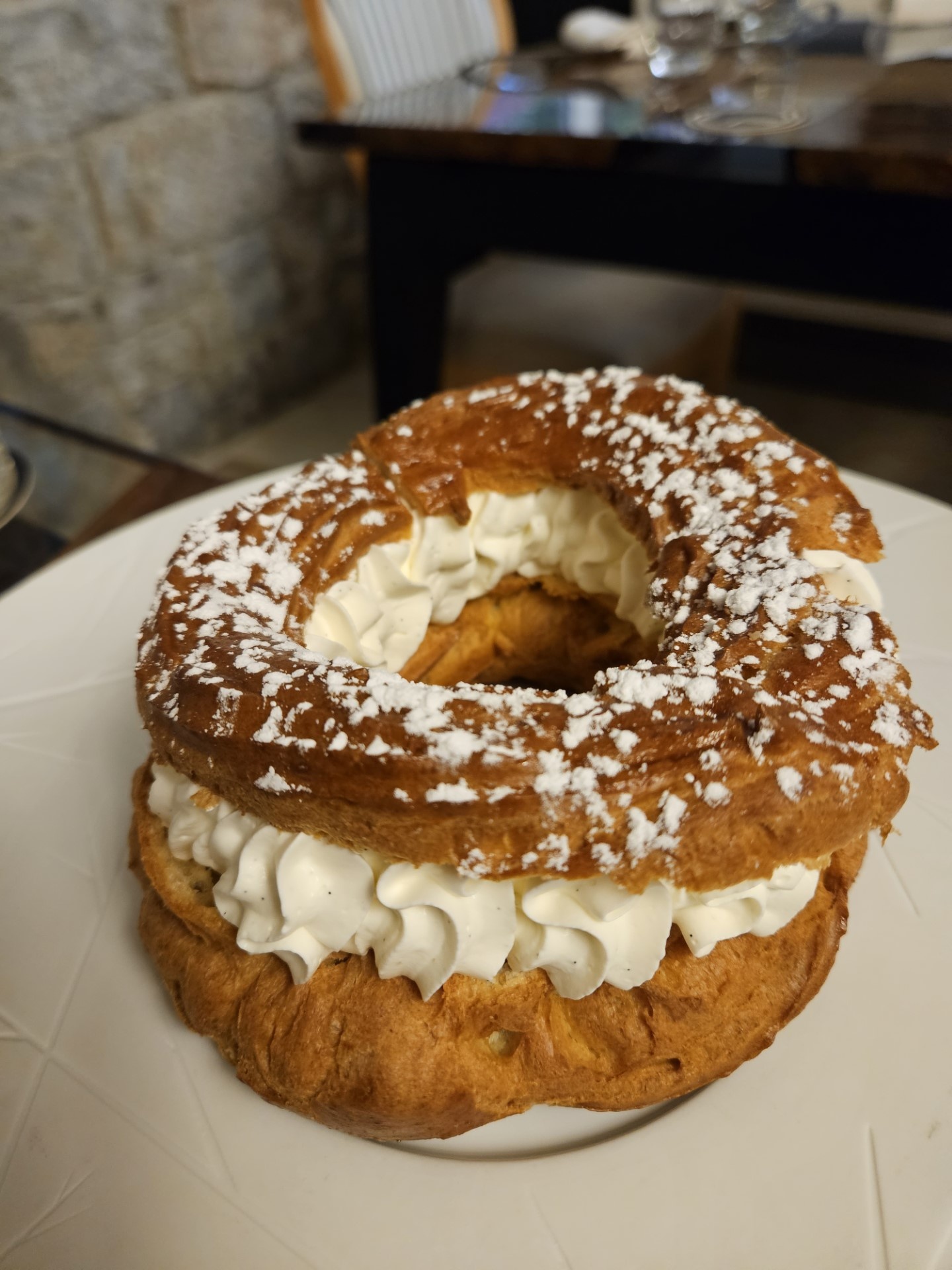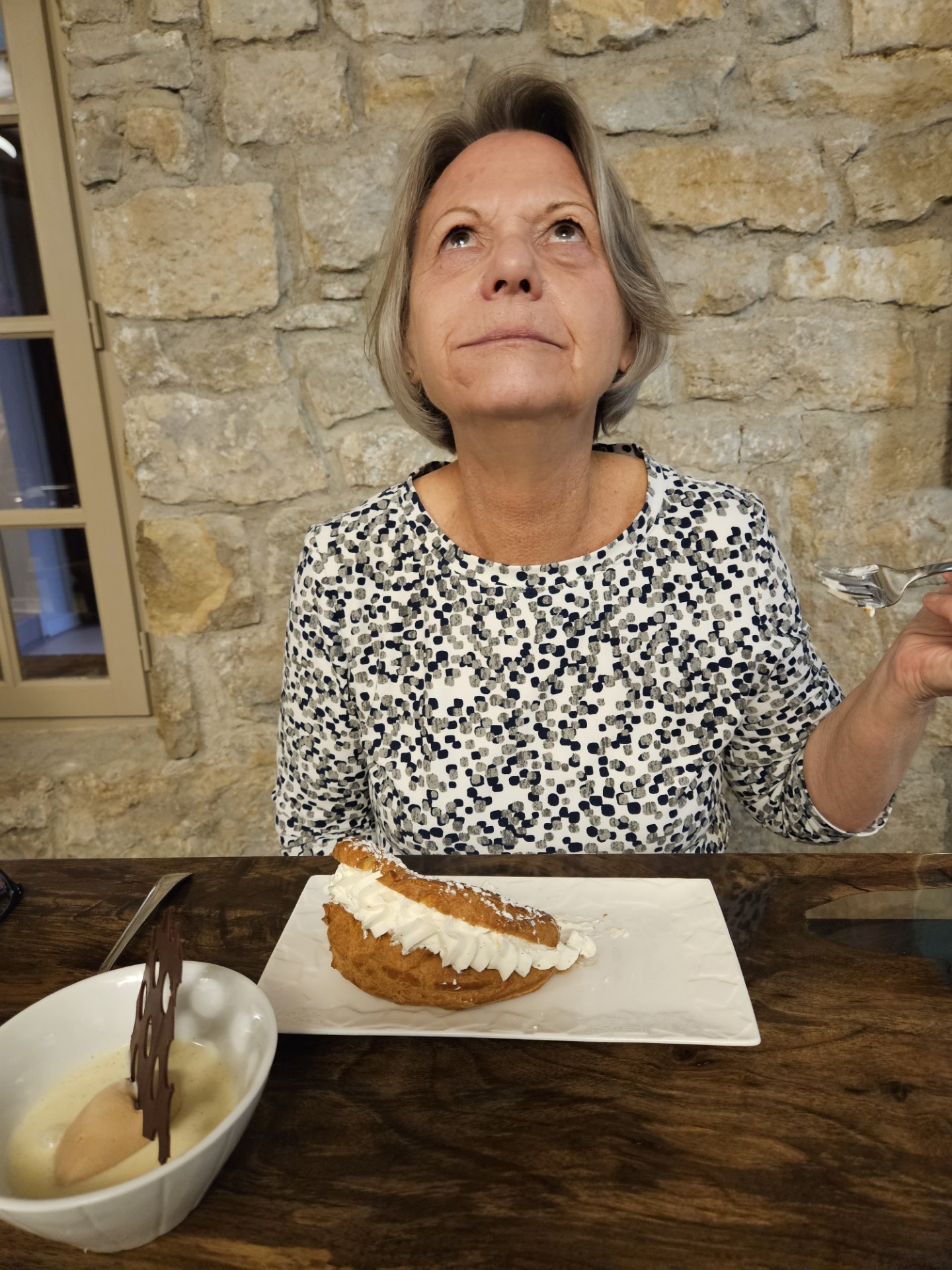 I looked across the table as I was taking pictures of the thing and snapped a shot of Dale just after eating her first bite.
NEXT INSTALLMENTS:  BURGUNDY, BEAUJOLAIS & LYON