Posted on
By Chris Costales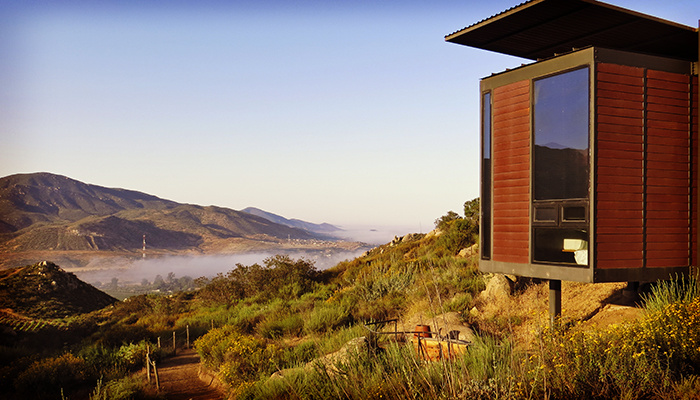 In the past few decades, a remarkable wine and culinary region has gone from sleepy valley to a major destination.
Away from the hustle of Tijuana and inland from the sandy beaches of Rosarito and Puerto Nuevo lies a wine region producing some amazing wines that are waiting to be discovered.
Recently, it was my pleasure to vist the Valle de Guadalupe, the hidden secret in Baja California that produces the vast majority of Mexican wine.  Now with more than 150 wineries and growing with visitors from all across the world, the future continues to look promising for this crown jewel of Mexican wine tourism. 
For people from San Diego, this emerging wine destination may not be such a surprise as it is a relatively close drive from tourist-friendly Ensenada, but now many people from the greater Los Angeles area are discovering for themselves the great hospitality and wines that are waiting to be experienced here.
Mexican Winemaking from 1594
What many people might be surprised to know is that Mexico has the oldest history of winemaking in North America.  Around 1594, Catholic Jesuits arrived and established a mission using the natural springs and wild indigenous grape vines of the area.  Soon after, the Spanish Crown authorized land grants for the purpose of producing wine and brandy, establishing what is today known as Casa Madero as the oldest winery in North America.  Unfortunately, by 1700 this developing wine industry was viewed as a threat by the Spanish Crown and was prohibited except when used for church purposes.  This severe delay in wine culture continues in present day.  Mexico as a wine producer trails behind beer and hard spirits such as tequila and Mezcal as the prefered drinks of the Mexican population.
International Favorites
Even if you might be unfamilar with Mexico, you will feel at ease drinking their wines as international favorites.  Cabernet Sauvignon, Merlot, Nebbiolo and Tempranillo are some of the most produced red wines, with familiar favorites Chardonnay, Sauvignon Blanc and Chenin Blanc among the most widely produced white wines.  
In Mexico the adventerous spirit of the local winemakers shine as there are no rules or regulations on what can be planted where or what grapes are allowed to be blended together.  A Chardonnay and Vermentino white blend might sound unusal at first but the wine is simply delicous and is ready to dissuade any skeptical palates at first sip.  
The winemaker responsible for this concotion happens to be a living legend in Mexico. Camillo Magoni first arrived in this country from his native northern Italy in 1962 to make wine for LA Cetto, which today is one of the areas largest producers. After close to fifty years as their winemaker he chose not to retire but to establish his own brand of Camillo Magoni wines that offers amazing value and high quality that only someone with 55 grape harvests experience can offer.
We are going to offer some amazing examples of Mexican wine on Thursday September 5th from 4:30 to 6:45 for only $15 so make sure to come, as we're bringing the best of Mexico straight to you.
Here are a few of my favorite Baja wines to get you started:
L.A. CETTO 2017 SAUVIGNON BLANC, VALLE DE GUADALUPE, BAJA CALIFORNIA, MEXICO
Coming from one of the largest producers in Mexico, this great value white balances ripe fruit, refreshing acidity and a smooth long finish. The winery was founded by Angelo Cetto in 1928 and grew in size during the 1980's when many small wineries nearby were bought. Now L.A Cetto produces roughly half of the country's wine with 2,500 acres of vineyards in Baja California. The wine is not excessively tart like other Sauvignon Blanc, but it does have a nice white grapefruit citrus note with green melon and pear fruit. Dangerously easy to drink with salads, grilled fish or seafood.
$9.99 per bottle
CASA MAGONI 2018 CHARDONNAY VERMENTINO, VALLE DE GUADALUPE, BAJA CALIFORNIA, MEXICO
Vermentino is fast becoming popular in Mexico and this blend is a great showcase why. The fresh tart green apple of the Chardonnay mixes wonderfully with the ripe tropical notes of the Vermentino which also adds a grapefruit and white flower aroma to the wine. This wine is the product of Italian winemaker Camillo Magoni who fell in love with Mexico and stayed for forty-nine years making wine for the largest winery, L.A Cetto. At Casa Magoni he hopes to create a tradition of quality wine of affordable pricing with unique blends you'll want to try again and again
$16.99 per bottle
CASA MAGONI 2016 MERLOT MALBEC, VALLE GUADALUPE, BAJA CALIFORNIA
Winemaker Camillo Magoni has dedicated more than 50 years of his life toward making some of the highest quality wines coming from Mexico. He has long been a steady hand in this region, with his wines ready and waiting to show the rest of the world how great Mexican wines can be. These two French Bordeaux varieties have found a great home in the Valle de Guadalupe with expressive blackberry fruit, plum and violet aromas. Some great features of this wine are its silky and velvety texture, rich lush mouthfeel and long smooth finish.
$19.99 per bottle
ROGANTO 2017 RED WINE "PICCOLO" VALLE DE GUADELUPE, BAJA CALIFORNIA
This wine is quickly becoming one of our favorite red blends coming out of Mexico. A delicious combination, not often blended together, of Cabernet Sauvignon, Tempranillo, Cabernet Franc and Merlot. Black and red fruits mix together here with a cherry cola mouthfeel and a wonderful spiced finish from French and American oak with 3 months barrel aging.
$24.99 per bottle
LITERAL 2014 RED BLEND, VALLE DE GAUDALUPE, BAJA CALIFORNIA
Leave any preconceived ideas of the quality of Mexican wine behind and let this bottle speak for itself. The bold flavors of juicy plum, raspberry, vanilla, spices and soft inviting tannins in this wine are a testament to the quality currently coming out of Mexico. The wine is equal parts Cabernet Sauvignon from the Valle de Guadalupe and Syrah from the Uruapan valley in southern Ensenada. The Syrah imparts a slight olive character along with beautiful violet aromas. Aged for 10 months in American and French oak barrels with 15% being new. 400 cases produced.
$41.99 per bottle