19 Jul 2022 | Samantha Dugan
KALE HATERS' KALE SALAD
The F*&%@#! Kale Salad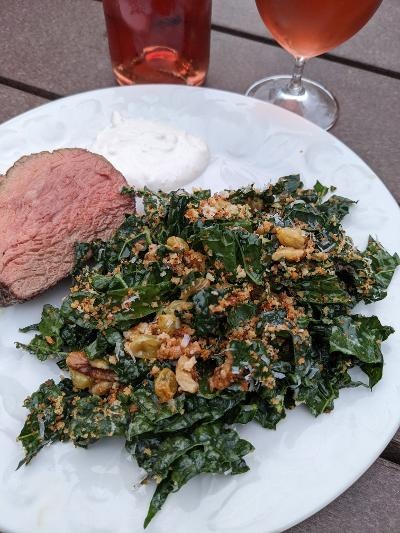 Forgive me the name of this inanely delicious salad. It is sort of a joke between my family and I because it seems that every time, I offer to bring a dish to a potluck or dinner party the answer has increasingly become, "Could you bring that kale salad?" and this is from others, like us, that don't have a heart on for kale. I mean, outside of using it in white bean and sausage soup I've pretty much avoided the whole kale craze. Truth be told, I found it to be waxy and hard to chew, so I have no idea what prompted me to try this salad when I read a recipe for it. Must have been in one of those, "Gotta eat healthier" modes and nothing says health like bland greens that give you a work out just by trying to chew it. Sign me up! Can't you just sense the excitement?
The first time I made it my husband and I thought our inner get healthy beings were messing with our heads. I mean, how could two confirmed kale avoiders be spellbound by a kale salad. Had to be some kind of mind trickery going on, so of course I tried it again the following week. What the hell?! How is this stupid salad so freaking delicious? What is happening to us? Doubled down and made it the following week, three weeks in a row and I'll be damned if we weren't ready to devour another huge bowl of it the next night. Just to test ourselves I made another kale dish, we both deemed it "Meh" and I wouldn't make it again. Tried a couple others and nothing, this salad is unicorn for us, one that we have since been riding weekly and has become my most asked for dish from those that I have made it for before. My unrepentant kale haters kale salad if you will.
So, kale skeptics, bear with me here. At least give it a try. Now for you raisin haters, there is nothing that can be done for you I'm afraid. The pickled raisins make this salad, and part of the dressing so they are essential for this magical, crunchy, extra savory salad. I'll post a creamy mushroom pasta dish, sans raisins, next so feel free to sit this one out.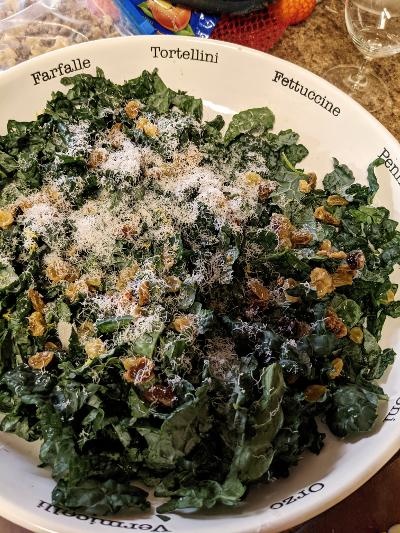 This is for a double batch. I know you think you won't need it but think again my friend, you will want seconds and because kale is so hearty, it makes a delightful leftover salad for lunch the next day.
What you need
2 bunches Lacinato/Tuscan/Dinosaur Kale, stalks removed and finely chopped
½ cup, (at least, I make more) golden raisins
½ cup toasted walnuts diced
½ cup panko toasted
2 cloves of garlic (again, at least. I do more)
Zest of one lemon
Olive oil
½ cup, (at least) freshly grated Parmesan cheese. Do yourself a favor here, don't buy the pre-grated for this. You want fresh, fluffy grated Parmesan here.
½ cup white wine vinegar, (another at least here)
Salt and Pepper to taste
Get your raisins in a small saucepan and add the vinegar along with about half as much water, and simmer until the raisins are nice and plump. Let raisins sit in their pickling liquid while you assemble the rest of the salad.
Toast walnuts in a small skillet until just warmed through. Put aside. In the same pan add a glug of olive oil and the panko breadcrumbs with some salt and pepper. Toast until nice and brown, remove from heat and grate in the garlic and lemon zest, while the breadcrumbs are still warm, stir until combined. I sprinkle a little of the Parmesan in once it is completely cooled but that is up to you. Your salad, you cheese it as you see fit.
Place kale in a large shallow bowl, sprinkle raisins over the kale with most of the pickling liquid but a lot depends on the size of your kale bunches, so use caution. You don't want the salad swimming in the liquid, but the vinegar helps soften the kale too. Toss it all together with a good glug of olive oil, salt and pepper. I like to let it sit for about 10 minutes before tossing in the walnuts, Parmesan, and top everything off with the toasted and pungent with lemon and garlic panko. Taste, add salt, pepper, cheese, olive oil and white vinegar as needed.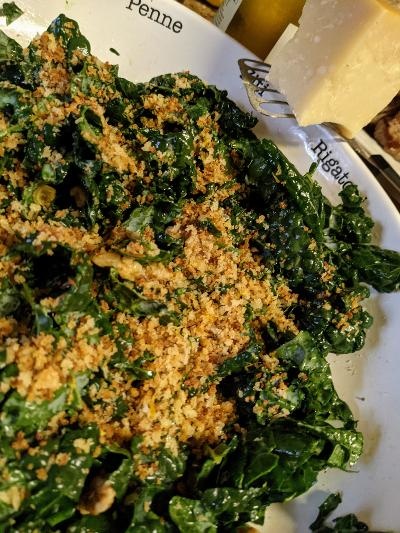 Really is one of our absolute favorites. I think it's brilliant with red meat but we have had it with grilled portobello mushrooms and it was gorgeous there too. Hearty salad that inspires raves, and cravings. Give it a go. Share with your friends and you too can be the famous kale haters kale salad maker too!