21 Jan 2023 | Randy Kemner
LET'S TALK ABOUT AFFORDABLE WHITE BURGUNDY
Burgundy is a Place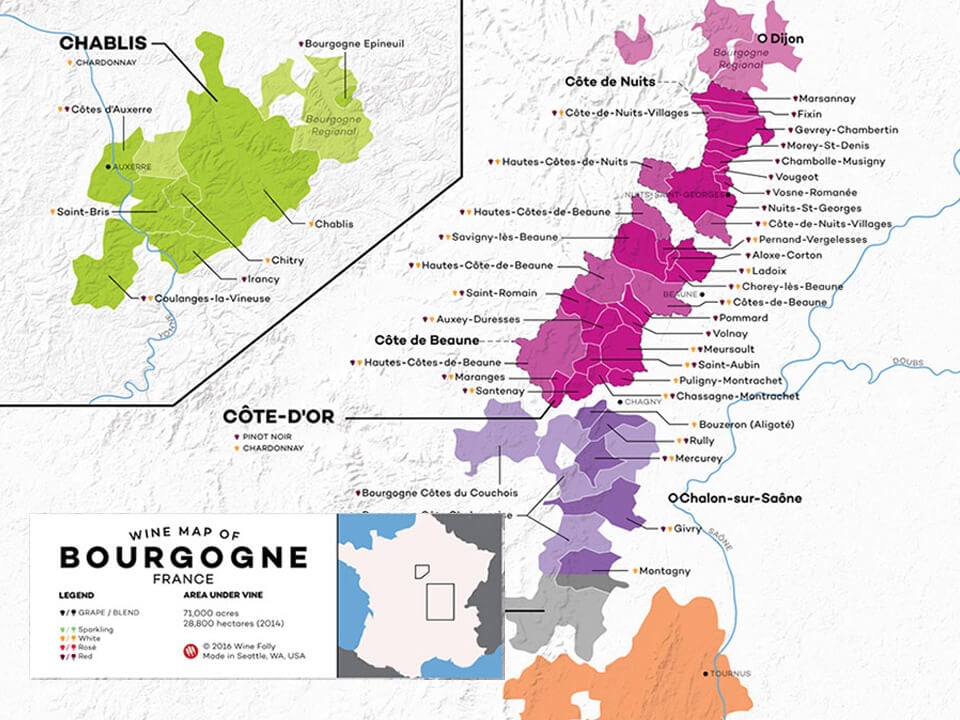 Most of you know by now that Burgundy is a revered wine growing place in France, between Auxerre in the north to Macon in the south, dominated by Pinot Noir for their red wines and Chardonnay for their white wines, which is in fact the origin of these mega-popular varieties.  With a few minor exceptions we'll talk about later, these are the most beloved and sought-after wines in the world.  Winegrowing and winemaking is strictly controlled by government agencies to help assure quality.  Unlike the great chateaux of Bordeaux making wine in the tens of thousands of cases, Burgundy wine is still produced mainly by vignerons in tiny quantities—many bottlings fewer than 500 cases—so their rarity makes the most lauded of them—reds and whites—frightfully expensive.
White Burgundy Is Not Only a Wine; It's the Dominant Wine
The term "White Burgundy" confuses a lot of people, particularly Americans who were conditioned to the notion that Burgundy is red wine.  I say conditioned because in the bad old days, American winemakers were permitted to use the term Burgundy for their generic red wines, blending any wine grapes, even the cheapest, so long as it was colored red.  This is a practice that has largely been abandoned, but unfortunately is still used by a few legacy vineyards in their jug wines.  So ingrained is the notion that "Burgundy" is red, even dark red color swatches are called "Burgundy". 
Here's a stat that might spin your head:  61% of wine from the Burgundy region is white, 30% red, 8% is the sparkling wine of Burgundy, Crémant de Bourgogne and 1% rosé.  So much for the notion that all Burgundy is red.
We don't quite know when Burgundian Chardonnay came into being—perhaps as late as the eighteenth century—but we know that the world's most prized Chardonnays come from Burgundy.  The northernmost cooler regions of Burgundy produce leaner white wines from Chardonnay, the most notable in Chablis.  Chablis is also a place—not a varietal—and certainly shouldn't be the name of a jug wine.  It's insulting.
The most prized white Burgundy wines are grown in the Côte de Beaune in Burgundy's Côte d'Or.  The vineyards of Montrachet, Chevalier-Montrachet, Batard Montrachet, Criots-Batard-Montrachet and Bienvenues Batard Montrachet, which are all clumped together south of the city of Beaune between their namesake villages Chassagne-Montrachet and Puligny-Montrachet, produce the most expensive dry white wines in the world, sometimes costing thousands of dollars a bottle.  These are Burgundy's white wine Grand Cru vineyards, along with the Corton and Corton Charlemagne vineyards north of Beaune and seven vineyards in Chablis, nearer to Auxerre, which are generally less expensive than those of the Côte d'Or.
Other outstanding white Burgundies can be found around the villages of Meursault and the aforementioned Puligny- and Chassagne-Montrachet.  Excellent white wines can also come from Saint-Aubin, Saint-Romain, Santenay, Beaune, Savigny-les-Beaune, Pernand-Vergelesses, and other villages of the Côte d'Or.
Solid white wines can be found further south in the Côte Chalonnaise and even further south in the Maconnaise, best known for the iconic wine made in Pouilly-Fuissé.  Traditionally Beaujolais, to the south of Macon, has been included in the geography of Burgundy, although it is usually treated as a different region because of its granite soils and the dominance of the Gamay Noir grape.  White wines, while rare, are made from Chardonnay, its main connection remaining with Burgundy.
Exceptions to the Pinot Noir and Chardonnay rule are few, but they exist in Burgundy.  There is a little Gamay planted in the Côte d'Or which may be used alongside Pinot Noir in a blend to make a red wine called Bourgogne Passetoutgrains.  The white wine grapes Pinot Blanc and Pinot Gris (which make wonderfully expressive wines in Alsace) are legally permitted in Burgundy, and sometimes blended with Chardonnay in lesser regions, but used mostly in sparkling wine production alongside Pinot Noir and Chardonnay.  There is another white wine variety, Aligoté, which is the grape of Bouzeron in the Côte Chalonnaise.  Historically, Aligoté was so acidic there was only a tiny market for the wine.  The mayor of Bouzeron was said to have invented the Kir by adding a few dribbles of the liqueur Crème de Cassis to this white wine to make it more palatable.  Today there are excellent producers of Aligoté in the Côte d'Or who have made fuller-bodied versions, some even aged in oak barrels.  Once seen as the "poor man's white Burgundy", Aligoté today makes fleshier, more interesting wines than ever before, thanks to climate warming.  Don't expect it to be as complex or as compelling as finer Chardonnays in Burgundy.  While it may be unfair to use the lipstick on a pig metaphor, Aligoté in the right hands can produce joyful dry white wines worth a try.
There is one more anomaly in Burgundian white wine we should mention, a nugget of information that may win you a bar bet in your snobbiest wine bar.  The little village of Saint-Bris, about twenty minutes from the town of Chablis, is the only appellation in Burgundy to mandate Sauvignon Blanc for its namesake wine.  It makes sense, since the climate and soils are nearer to Sancerre than they are the Côte d'Or.  If there is Chardonnay and Pinot Noir grown there, it is simply labeled Bourgogne.
Making White Burgundy Affordable
Because all Burgundy wine—reds and whites—are ranked by the prestige of their vineyards, the desirability of its wines usually—but not always—starts from the most prestigious Grand Cru classification, then Premier Cru, then village wines, then Bourgogne.  If you are looking for bargains in a land that can produce white wine in the thousands of dollars, "affordable" white Burgundy may be a relative term.  We set the bar at $40 for "affordable" white Burgundy, which admittedly is still a luxury for many folks. 
Even with inflation raging and supplies dwindling due to weather challenges plus increased demand in expanding markets, it is still possible to drink good white Burgundy under $40 if you search hard enough.  Today is has become harder to find admirable white wines labeled Bourgogne under $40, but it can be done.  The whites of Mâcon and Chablis, forming the geographic bookends of Burgundy, are where some impressive quality and value can be found.  Chablis, with its tangy and doughy flavors from fruit grown in decomposed sea shells, and Pouilly-Fuissé, also influenced by chalk, but less so, with a bit more flesh due to its warmer climate, are both top-notch regions that produce quintessential dinner wines, particularly with seafood.  While the most expensive wines from these regions may top $40, there are still many wines under that figure that allow us to enjoy white Burgundy more often than on special occasions.  If you search for it, you may even find some good Côte d'Or white wines under $40, although it is getting harder to find with that tony zip code.
Finally, there is a small amount of sparkling wine made in Burgundy, and while not the breed of Champagne to the north, Burgundian bubblies make use of Burgundy grape varieties and acquit themselves admirably, often for well-under our $40 threshold. 
Some of our more impressive affordable Burgundies:
2020 Manciat-Poncet Macon-Charnay Les Chênes                $18.99
2020 Manciat-Poncet Pouilly-Fuissé Les Haut de la Roche   $31.99
2021 Manoir du Capucin Pouilly-Fuissé Sensation                $31.99
2020 Roland Lavantureaux Petit Chablis                                $27.99
2020 Patrick Piuze Chablis Terroir de Courgis                        $35.99
2020 Samuel Billaud Chablis Les Grands Terroirs                  $32.99
2020 Camus-Bruchon Savigny-les-Beaune Blanc Protogée   $35.99
2020 Nicolas Rossignol Aligoté de Bourgogne                       $37.99
N.V. Bailly-Lapierre Cremant de Bourgogne Reserve Brut   $21.99