Posted on
By Jessica Martinez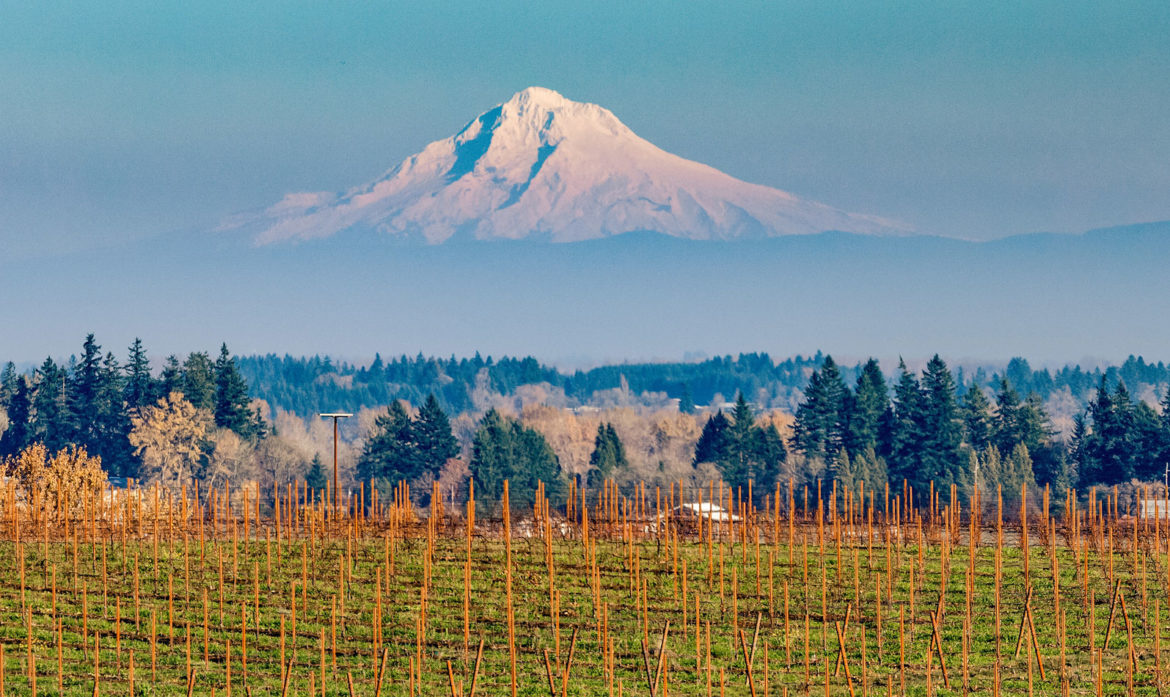 Great Oregon vineyards combined with Burgundy Expertise are making super-premium wines worth seeking out.
Wine consultant and Master Sommelier Larry Stone was working for Evening Lands winery in 2010 when he began his hunt for his own land.  He found that in a farm that from the start had been low-impact, organic, and biodynamic in principle and practice.  These practices were also imposed with advice from Bethel Heights proprietor Mimi Casteel.  Larry had help from an Oregon master and one of the most celebrated winemakers in Burgundy, Dominique Lafon.  Dominique was the man who convicted Larry to try his hand at winemaking instead of selling his fruit.  Lingua Franca "is an invented universal language, native to no one yet it brings people from different cultures together.  The wine is a language that spans cultures around the world and can bring people together through shared appreciation and enjoyment."
The minute I was told that Dominique Lafon had anything to do with these wines, I knew it was going to be a good lineup.  Dominique's Meursault and Volnay wines are by far the best I have ever had.  He is known for making some of the best Chardonnay in the world, but his Pinot Noirs are hidden gems.  Larry, Dominique, Mimi, and winemaker Thomas Savre have created something special in the Lingua Franca, and these wines are something very special to experience.
2018 Lingua Franca Estate Chardonnay, Eola Amity Hills, Oregon
Hand picked and whole cluster pressed, barrel fermented with native yeasts. 40% new 600 liter puncheons, 60% old French oak barriques were used for fermentation and aged for 11 months. This wine went through full malolactic fermentation. Wines were combined in tank with their lees for 5 months prior to bottling. This wine is bursting at the seems with grapefruit zest, jasmine, and vanilla on the nose. The palate brings a lively acidity and is bright and lifted by underlying energy.
$51.99 per bottle
2018 Lingua Franca "Sisters" Chardonnay, Willamette Valley, Oregon
Sisters Chardonnay is named for Larry's mom and her sister who managed to stay together and take care of each other for nearly 90 years. This wine comes from the best lots of the vintage. Shallow rocky soils driver mineral, savory fruit and floral qualities. This whole cluster pressed wine is fermented in barrel with wild yeasts 16% new 600 liter puncheons, 55% neutral French Oak barriques and went through full malolactic in barrel. With 10 months of aging in the barrel it is transferred to tank 6 for 6 months prior to bottling. Lifted floral aromas and great length and complexity on the palate, flinty wet stone and white truffle highlights.
$90.99 per bottle
2018 Lingua Franca Estate Pinot Noir, Eola Amity Hills, Oregon
This is a glass full of rose and red fruit, the palate is rich dense powerful red and black fruits, dark plum and pomegranate, raspberry nuances of wet stone and savory herbs. 20% whole cluster and aged 25% new & 75% old French oak barriques, 12 months 4 in tank before bottling.
$51.99 per bottle
2018 Lingua Franca "Mimi's Mind" Pinot Noir, Eola Amity Hills, Oregon
This is a wine made from just that, the mind of Mimi Castile of Bethel Heights. This wine has stunning lift. Air and time reviles complex herbs such as thyme and oregano then floral notes of rose petal and violet and finishes with rich mulberry, red cherry and raspberry overtones of aromatic spices such as cinnamon, vanilla and anise. 50% whole cluster and 26% new oak and the rest is in neutral barriques.
$90.99 per bottle