27 Feb 2022 | Kevin Lepisto
MARCH WINE OF THE MONTH: 2018 FALESCO TENUTA VITIANO ROSSO
2018 Falesco Tenuta Vitiano Rosso Italia
$11.99 per a bottle $143.88 per a case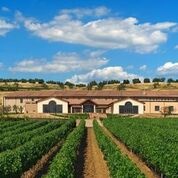 The quality to price ratio of this rich Umbrian red blend is off the charts!  It's also quite a nice surprise that the Cotarello family, one of the most important winemaking families in Italy, is still able to produce a great wine like this at such an amazing value.   Vitiano Rosso is one of those wines that when you first swirl it in your glass and smell it, you'll smile and say "that smells like Italian wine!"  For many, just that smell will bring back fond memories of a relaxing Italian vacation or an amazing Italian dinner with family and friends where you might not have even known what red wine you were enjoying, but you knew it smelled distinctly Italian.  I love when just the aromas of a wine can do that!   But, of course, a wine needs to give you more than just distinct aromas. It needs to taste great too! Well don't you worry, Vitiano Rosso definitely fits that bill.
Made from equal parts Sangiovese, Cabernet Sauvignon and Merlot, Vitiano Rosso is medium bodied, dry red with layers of rich red and black cherry fruits, flowers, spice, leather and that quintessential Italian earth.   The fruit is rich but extremely well balanced with freshness and NOT heavy or jammy in any way.   That freshness makes it immediately drinkable and versatile enough to pair with a wide variety of foods. 
Riccardo Cotarello, nicknamed Il Mago (the Wizard), is one of the leading oenologists in Italy and worldwide and helped shape the Italian wine industry.  He was instrumental in the now common practice of blending of international grape varieties with local indigenous grapes and making modern, approachable wines that still keep their sense of place.