13 Jun 2022 | Samantha Dugan
OUR 2021 "WORLD OF ROSE" SAMPLER: NOW YOU CAN EVALUATE THE 2021 ROSE VINTAGE FOR YOURSELF
Vintage Review of 2021 World Rosés
6 Bottle Sampler Pack   Just $95.99
United States- 2021 Stolpman Love You Bunches Rosé, Santa Barbara
100% Grenache from one of our absolute best selling winery, Stolpman Vineyards. The super-fresh and natural Love You Bunches labels have a HUGE following here at The Wine Country, cherished for their crunchy fruit and light bodies.
France- 2021 Chateau Sainte Pierre Cotes de Provence Rosé
Don't you just love a Saint Tropez shaped bottle? That sexy curve that looks like a corseted waist. Love it. Love it even more when the wine inside is equally as compelling, like this Chateau Saint Pierre is. Made with Cinsault and Grenache, this wine comes off quite tropical. Notes of apricot and guava right upfront with candied orange peel and lemon zest on the finish. Almost too easy to drink. You might want to grab two just in case!
Germany- 2021 Villa Wolf Rosé, Pfalz
"Say what?!" my comment when I heard the price of this German Pinot Noir Rose. Soft, generous berry and melon on the palate, plenty of citrusy and herbal zip, soft acidity and a clean finish. This is the kind of Rose you can drink all day, so stock up while you can.
Italy- 2021 Vajra Rosabella Rosato, Piedmont
We get a very limited amount of this coveted Rose each vintage, just 3 cases this year, and we are grateful for each bottle. Made from Nebbiolo, Barbera and Dolcetto all grown using organic farming, though they are not certified. Here you get an amazing array of floral notes on the nose, along with fennel and hints of peach, this wine feels like Springtime in a glass. Full of freshness and leaping with energy. Simply put, this is a joyous Rose.
Mexico- 2021 Bruma Vino de la Casa Carmenere Rosé, Baja California
Beautiful pink color that has a faint purple hue to it. Wild on the nose! Reminds me of the white part of watermelon and a blast of green chilies. Floods the palate with savory and mineral flavors mingling with pomegranate and rhubarb. A far cry from the fruity or berry driven Roses, this is a truly unique wine that falls on the nerdy side and keeps you intrigued.
Spain- 2021 Xavier Clua El Sola d'en Pol Rosado, Terra Alta, Catalunya
We have many customers that long for just a touch more "meat" or weight on their Roses and that is what this super-value Spanish Rose offers, at a great price too! Made from Garnatxa Negra, (Grenache) and Syrah, here you find more summer melon, berries and even a hint of grapefruit rind. Round texture with plenty of minerals and a long finish, bring on the summer grilled foods and anything with some hefty spicing like Indian, Thai or Vietnamese.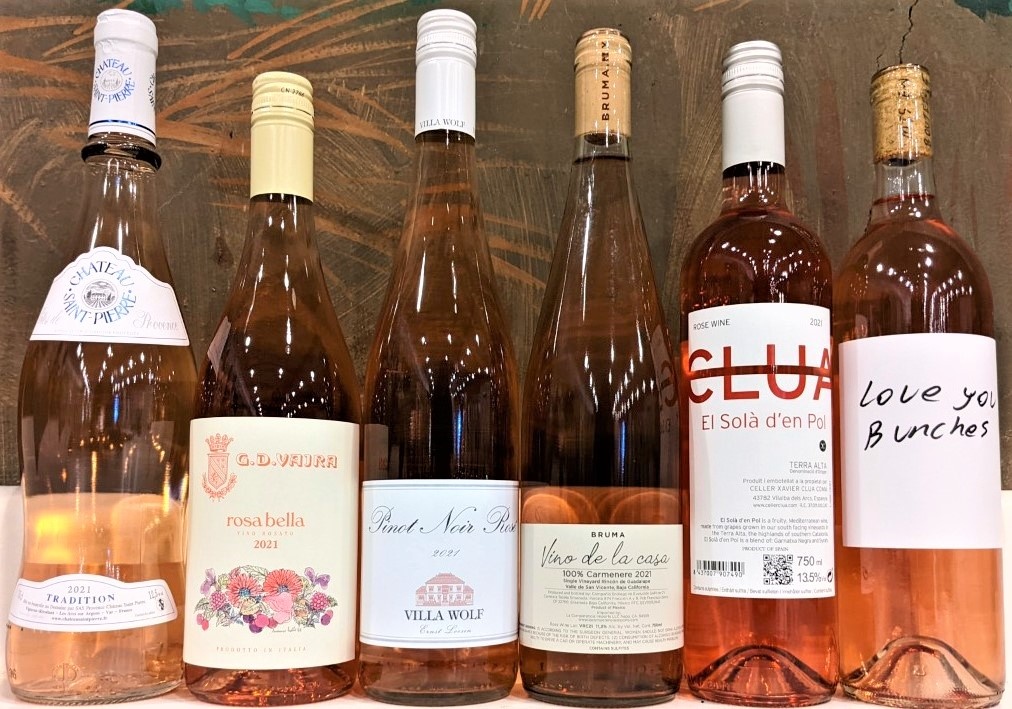 It is no secret that we have a tremendous demand for French rosés. Cote de Provence rosés still takes the lead (they are the standard bearers for summer rosés, after all).  But the Loire Valley rosés have been fast on their heels for the past couple vintages. They are a bit zingier than their South of France competitors due to their cool Continental climate, and oh so refreshing.
Each year I always want to shine the light, and shake things up, offering lip-smacking wines from other rosé producing places, but the vintage from, say, Germany to Baja, there is um, quite a bit of variation to say the least.  After getting a text from my Beaune Imports sales rep letting me some new rosés were here and ready for shipment, some French, some Spanish and some Italian, I thought, "Might it be time for our first Rosé Sampler of 2022?"
So, it's happening, everyone!  Our very first Rosé Sampler of the season is here and ready!
I thought the best way to share with you how the 2021 vintage rosés from different parts of the world are performing, was to make up a six-pack sampler with a bottle of 2021 rosé from France, Italy, Spain, Germany, United States and Mexico. A world perspective, if you will, of the new vintage of our favorite summer sippers, and just in time for our upcoming warmer weather.
Some of these wines are still very limited due to supply and shipping issues, as I am sure you all know all too well right now, so we could only make 24 "World of Rosé" sampler packs. There might be some of these wines left over, but others are just unavailable now. That said, you can bet your parched for pink wine palates, there will be at least 3 more sampler collections before summer is over.