12 Feb 2023 | Randy Kemner
OUR LATEST RED BORDEAUX ARRIVALS
No other wines in the world capture the attention of wine connoisseurs and collectors with more intensity than the red wines of Bordeaux.  The greatest estates are legendary--Petrus, Lafite, Mouton, Latour, Margaux, Haut-Brion—and the French government did consumers a service in 1855 by ranking the best wineries from the Medoc region of Bordeaux into five quality groups called "crus", separating out the grand from the merely excellent.
For those raised on California wines, as most of us in California have been, it is helpful to know that our grandest and most expensive red wines got their initial inspiration from Bordeaux, down to the grape varieties—led by Cabernet Sauvignon, Cabernet Franc and Merlot—to the types of French oak barrels used, to the composition of our blends.  Although modern Napa Valley Cabernet Sauvignon bears little resemblance to red Bordeaux, the former with its plush, soft, ripe, in-your-face character, and the latter earthier, firmer, comparatively more reserved.  In their own worlds they dominate the attention of wine collectors because each exudes prestige, power and self-assuredness. And Bordeaux has been doing this for a couple centuries.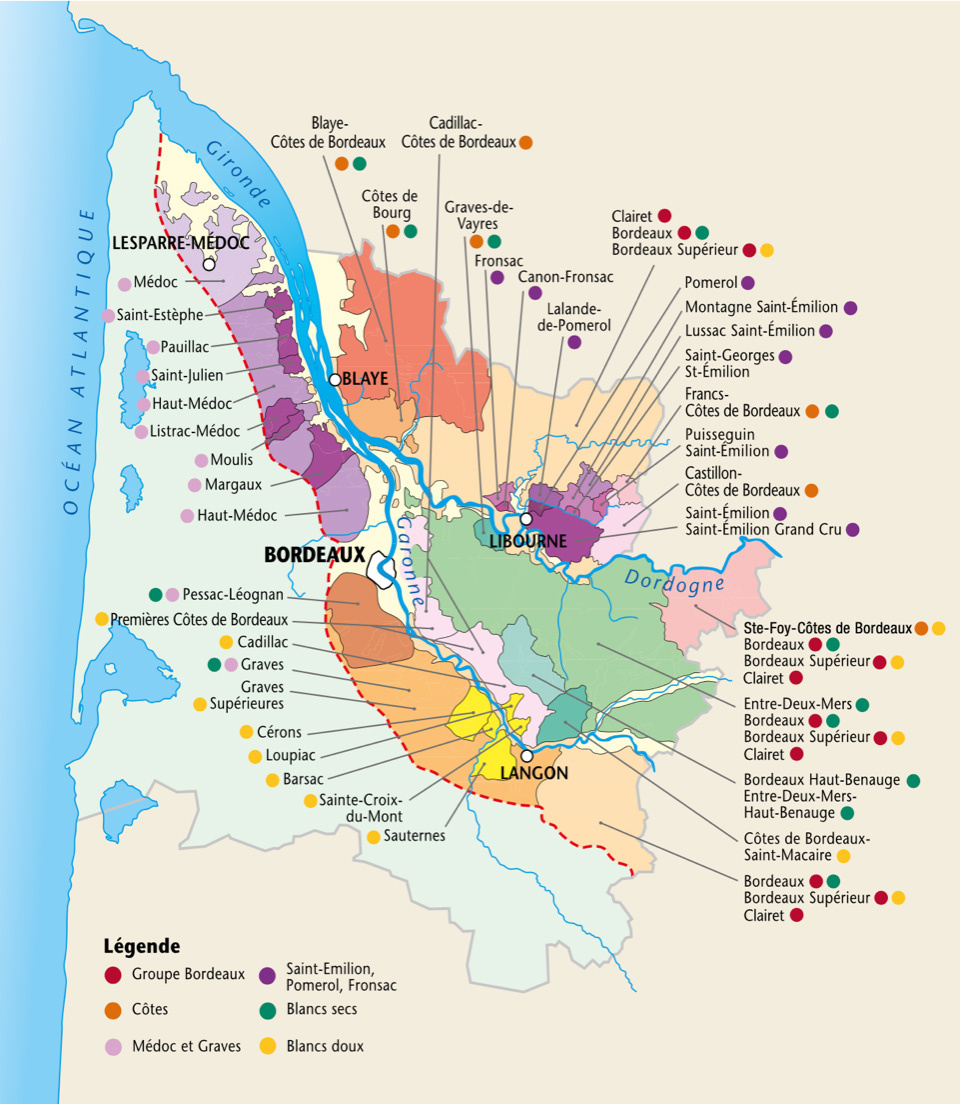 While there are dozens of sub-appellations (growing regions) in Bordeaux, the main dividing line geographically can be broken down into the right bank—areas to the east of the Gironde estuary and the Dordogne river—and the left bank—areas to the west of the Gironde and Garonne river.  While there are very serviceable table wines grown between the two rivers (Entre-Deux-Mers and Bordeaux Superieur mainly), the greatest estates are found in the Cabernet Sauvignon-dominant left bank and the Merlot-assertive right bank. 
Left bank red wines can be characterized as firmly structured, old-school clarets that often need some years to resolve their tannins.  The earthiness of Pessac-Leognan, the silkiness of Margaux, the firmness of Saint-Estephe, the berry character of Saint-Julien and the power of Pauillac provide some pretty astonishing contrasts even though the regions are fairly close to each other.  In hotter vintages, those lines are often blurred; too much ripeness obscures a lot of the character that has previously defined each region (as we know all-too-well in Napa Valley and Paso Robles).  But it's the pull of Cabernet Sauvignon in Napa and Bordeaux that allows us to feel all that prestige, power and self-assuredness seeping into our viscera with each sip.
Right-bank reds, usually harvested earlier because Merlot ripens more quickly than Cabernet Sauvignon, are generally plusher, more inviting at an earlier age, and at least for now, rare and wildly popular.  Saint-Emilion is the classic appellation, with tiny Pomerol gaining its prestige during the past half-century.  Each of these two regions have satellite regions with names like Puisseguin Saint-Emilion, Montagne Saint-Emilion and Lalande de Pomerol, Fronsac and Castillon-Cotes de Bordeaux.  The satellites are capable of producing fine wines, though rarely with the depth and majesty of the two titans of the right-bank.
There is some very good news for those who love red Bordeaux.  Critics and vineyard owners generally agree there were three outstanding vintages in a row—2018—2019—2020. 
We just received a shipment of new arrivals from 2019 and a few from 2020.  They are so new, even we haven't had a chance to uncork them.  Uncharacteristically, for us anyway, we've had to rely on wine critics to help us determine what to buy—which we hate doing, but with classified-growth Bordeaux, there is little choice.
Which gives me an idea.  Maybe we should schedule a Friday evening tasting of these wines so we and you can find out for ourselves which wines merit our cellars.  Stay tuned.  For now, here they are:
RIGHT BANK RED WINES
2019 Montlandrie, Castillon Cote de Bourgogne
Produced by the family of L'Eglise Client.
"93-95 Points.  The 2019 Montlandrie is a blend of 80% Merlot, 15% Cabernet Franc and 5% Cabernet Sauvignon. It comes bounding out of the glass with bright, cheerful scents of warm redcurrants, Morello cherries, wild blueberries and boysenberries with touches of lavender, red roses, cinnamon stick and cast-iron pan. Wow. I LOVE this energy on the elegantly styled, medium-bodied palate. The red and black fruit layers practically dance, intermingled with grainy (Cabernet-like) tannins and tons of freshness. It has a satisfyingly long, fragrant finish. Truly impressive!"--Lisa Perrotti Brown, Wine Advocate
$38.99 per bottle
2019 Les Cruzelles, Lalande de Pomerol
"93+ Points.  The 2019 Les Cruzelles is another terrific success for an estate that's the reference point for what's possible in the Lalande-de-Pomerol appellation. Unwinding in the glass with aromas of sweet red berries, raw cocoa, orange rind, rose petals and loamy soil, it's medium to full-bodied, lively and concentrated, with beautifully refined tannins and a more tightly wound, structured profile than its sibling in the Durantou portfolio, La Chenade."--William Kelley, Wine Advocate
$42.99 per bottle
2019 La Chenade, Lalande de Pomerol
"92 Points.  The 2019 La Chenade is a lovely Lalande-de-Pomerol from the Darantou family, bursting with aromas of plummy fruit, wild berries, rose petals, smoke and loamy soil. Medium to full-bodied, ample and enveloping, with supple tannins, succulent acids and a nicely defined finish, this charming wine represents one of the great values of right bank Bordeaux."--William Kelley, Wine Advocate
$36.99 per bottle
"92 Points.  The 2020 La Cabanne has a classy nose, a mixture of red and black fruit, undergrowth, pencil lead, and light floral scents.  The palate is medium-bodied with finely sculptured tannins, fresh and saline with an energetic and tensile, very focused finish that lingers in the mouth.  I can see this aging very well in bottle.  Excellent."--Neal Martin, Vinous
$53.99 per bottle
2019 Chateau L'Eglise Client "La Petite Eglise", Pomerol
"93 Points.  The 2019 La Petite Eglise has turned out brilliantly in bottle, wafting from the glass with aromas of raspberries, sweet spices, rose petals, black truffle, orange rind and loamy soil. Medium to full-bodied, velvety and concentrated, it's supple and enveloping, with lively acids, powdery tannins and a long, penetrating finish. These days, this isn't really a "second wine" per se, as it combines some younger vine fruit with two dedicated parcels, one located next to Pomerol's church, the other by the château of La Fleur-Pétrus."--William Kelley, Wine Advocate
$103.99 per bottle
2019 Chateau Milens, St. Emilion
"91-93 points.  Deep purple-black in color, the 2019 Milens sings of crushed blueberries, stewed blackberries and black cherry compote with nuances of fragrant soil, violets and aniseed plus a hint of clove oil. Medium to full-bodied, the palate is decadently juicy, framed by bold freshness and plush tannins, finishing long and perfumed.--Lisa Perrotti Brown, Wine Advocate
$51.99 per bottle
2019 Chateau Grand Mayne, St. Emilion
"95 Points.  The 2019 Grand Mayne has a beautifully defined, pure bouquet of blackberry, blueberry, crushed violet and mineral aroma.  The harmonious palate is medium bodied with fine definition, crisp acidity and touches of dark chocolate toward the finish, which displays both power and elegance.  This is a superb Grand Mayne."--Neal Martin, Vinous
$70.99 per bottle
LEFT BANK RED WINES
2019 Chateau Haut-Batailley, Pessac-Leognan
"94 Points.  The 2019 Chateau Haut-Batailley, matured in 60% new oak for 14 months, has a tensile, well defined bouquet, linear and focused, featuring blackberry, briar, tincture of blood orange and a touch of cedar.  The palate is silky-smooth on the palate and very cohesive and harmonious.  Showing great depth and composure on the finish, this is a wonderful Pauillac that will give 30 or 40 years of drinking pleasure.--Neal Martin, Vinous
$77.99 per bottle
2020 Chateau Capbern, St. Estephe
"89-91 points.  The 2020 Capbern is composed of 69% Cabernet Sauvignon, 29% Merlot, 1% Cabernet Franc and 1% Petit Verdot, weighing in with 14.1% alcohol. It is due to be aged for around 18 months in French oak barrels, 60% new. Deep purple-black in color, the 2020 Capbern sings of black cherries, mulberries and redcurrant jelly, with hints of candied violets, wild sage and fertile loam. The medium-bodied palate has impressive verve and freshness, featuring soft, well-managed tannins, red and black berry layers and a mineral-tinged finish."--Lisa Perrotti Brown, Wine Advocate
$38.99 per bottle
2019 Chateau Lafon-Rochet, St. Estephe
"95 Points. There is a feeling of elegance to the 2019 that is so striking.  Sweet dark cherry, plum, new leather, tobacco, licorice, spice, and rose petal all grace the 2019 as it unwinds to its long finish.  Lafon-Rochet is not huge or obvious, as some St. Estephes are, but it is absolutely compelling."--Antonio Galloni, Vinous
$61.99 per bottle
2019 Pagodes de Cos, St. Estephe
"92-94 points.  The 2019 Les Pagodes de Cos (14.03% alcohol) is a blend of 55% Cabernet Sauvignon, 36% Merlot, 4% Petit Verdot and 5% Cabernet Franc, aging in 20% new barriques. Medium to deep garnet-purple in color, notions of wild blueberries, boysenberries and redcurrant jelly come bounding out of the glass, followed by a profound core of warm cassis, licorice and bouquet garni with a touch of cinnamon stick. Medium to full-bodied, the palate bursts with bright, expressive black and red fruit flavors, framed by firm, fine-grained tannins and loads of freshness, finishing on a lingering spicy note."--Lisa Perrotti Brown, Wine Advocate
$77.99 per bottle
2019 Chateau Calon Segur, St. Estephe
"98 Points.  The 2019 Calon Segur is a wine of soaring vertical intensity and pure power.  That's the good news.  The not so good news is it won't be ready to drink any time soon.  Exotic spice, pencil shavings, crème de cassis, mocha and licorice are some of the nuances that develop in the glass, but those descriptions can't even begin to capture the sheer beauty of what's in the glass.  I loved the 2019 from the barrel and I love it just as much from the bottle."--Antonio Galloni, Vinous
$185.99 per bottle
2019 Chateau Giscours, Margaux
"This is the finest Giscours of the new era, and it's well worth seeking out.
"95 Points.  The 2019 Giscours has turned out very well in bottle, wafting from the glass with aromas of sweet berries, cherries, burning embers, lilac and violets framed by a discreet patina of new oak. Full-bodied, layered and concentrated, it's polished and perfumed, with a velvety, seamless profile and bright animating acids, concluding with a long, resonant finish. Alexandre Van Beek and his team are taking this estate to heights it hasn't hit since the 1970s, and this is another of the great bargains of the 2019 en primeur campaign."--William Kelley, Wine Advocate
$76.99 per bottle
2019 Chateau Rauzan Segla, Margaux
"96 Points.  The 2019 Rauzan-Ségla has turned out brilliantly, unwinding in the glass with fragrant aromas of cassis, blackberries, violets, rose petals and sweet soil tones. Medium to full-bodied, seamless and concentrated, it's deep and layered, with beautifully refined tannins, lively acids and a long, perfumed finish. This is a sensual, elegant Rauzan-Ségla from Nicolas Audebert and his team."--William Kelley, Wine Advocate
$136.99 per bottle
2019 Chateau Grand Puy Lacoste, Pauillac
"96 Points.  The 2019 Grand-Puy-Lacoste exhibits notions of minty cassis, plums, loamy soil, burning embers and cigar wrapper, followed by a medium to full-bodied, rich and velvety palate that's deep and concentrated, its generous core of lively fruit concealing an elegantly muscular chassis of ripe, powdery tannin. Consisting of fully 83% Cabernet Sauvignon, this is another true classic from the Borie family."--William Kelley, Wine Advocate
$106.99 per bottle