Posted on
By Samantha Dugan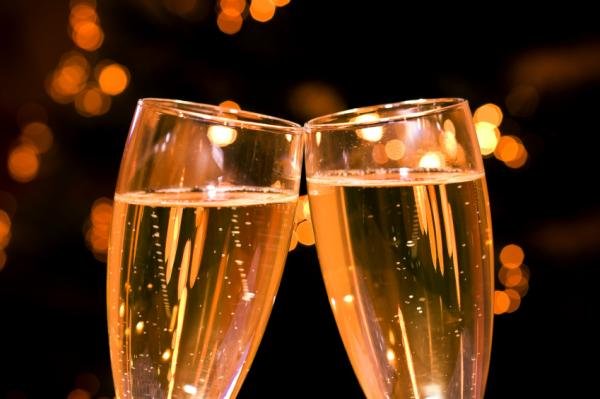 Valentine's Day Do's and Don'ts, and a guide to great tasting bubblies, of course.
Okay, folks, it's that time of year once again. Time to celebrate your love and couple-hood, you know, like you don't every other stinking day of the year.
Yes, it's a silly holiday and yes, it's totally manufactured and manipulative, but guess what, it's still coming and it's time to take the situation in hand. Get your plan in place so as not to be caught at the last minute, trying to find that last not lame card, picking through a bunch of puny looking, bruised flowers and desperately trying to find a box of crappy tasting chocolates without a picture of Snoopy on it or something. CVS or Wallgreens shan't save you on this one, trust me on that.
So, let me try and help you out here, give you a little check list of do's and don'ts to try and ensure that you and your beloved have the very best of Valentine's Days, aka avoiding the dog house.
Romance Do's and Don'ts
Don't - Go out for one of those way over priced and over cheesed Valentine's dinners. Gonna let you in on a little secret here, those are a total racket for restaurants. They charge you a bunch of money for subpar food, crappy and rushed service and horribly clichéd table decorations and heart shaped desserts. They know that many panic and think they must take their sweetie out to dinner on Valentine's Day and they take advantage, big time.
Do - Plan, shop for and maybe even make dinner at home. Now if you have kids, get someone to watch them, at their house. If your beloved is a major foodie/cook type, involve them in the plans as well. Sit together over a bottle of wine a few nights before and plan your perfect dinner, together. If neither of you are into cooking, plan to pick up your favorite take-out. Might I recommend some fried chicken? Don't know many people that don't love crispy fried chicken, the eating with your hands is quite sensual and it just so happens to be one of the most perfect foods to pair with Champagne. Hey, "Finger licking" is a damn fine start if you ask me.
Don't – Fall into the trap of thoughtlessness. Picking up roses, red ones especially, a heart shaped box of waxy chocolates and a stuffed bear with a fake rose clinched between his teeth is the height of thoughtlessness. You didn't have to think of anything! Those cheesy clichés have been around since George Burns was courting Gracie. Crusty and flat-out played to death.
Do – Pick up a little something that your sweetheart might really want or need. Tickets to a show, a favorite childhood film on DVD, a mixed six pack of fun new wines to try, cookies from their favorite bakery. It doesn't have to cost a lot; it just needs to be about them.
Don't – Buy them underwear! Remember what it felt like to open a box of underpants on Christmas? Yeah, it sucks on Valentine's Day too.
Do – If it's "sexy time" you are after, how's about offering a foot rub, massage or to draw a bath?  Get those clothes off and starts with that whole touching thing. Win-win.
Don't – Pick up some factory made bottle of boring bubbles. Doesn't show any thought and you get what you give, if you know what I'm saying. Make the extra effort.
Do – Swing by The Wine Country and pick up any one of these delicious sparkling wines. I can say without hesitation that the wines are far superior, the extra trip made for your darling's pleasure will be greatly appreciated and in the immortal words of Gustav Flaubert, from Madame Bovary, "Iced Champagne was served, and the feel of the cold wine in her mouth gave Emma a shiver that ran over her from head to toe" not a bad state to be in on Valentine's Day, right?
N.V. Roland Schmitt Cremant D'Alsace
Made from a blend of Pinot Blanc, Pinot Auxerois and with a tiny bit of Pinot Noir in the mix, this light little sparkler is a sheer joy to drink. Slightly peachy with a hint of citrus and honey. Clean, bright and with a slightly weightier mouthfeel than you find in say, the Cremants from Loire or Limoux.  Fine bubbles make this wine so charming.  
$18.99 per bottle
N.V. Balivet Bugey-Cerdon
The wine appellation Bugey-Cerdon is located in the Jura region which is near the Savoie close to the foothills of the French Alps.  Balivet's version is a blend of Gamay, Poulsard and other local varieties.  It has a very light garnet color, with a delightful fruity demi-sec character and a charming sparkle all the way through. Lightly sweet and utterly captivating.
$19.99 per bottle
N.V. Bailly-Lapierre Cremant De Bourgogne Pinot Noir
Bailly-Lapierre has in short time become one of our best selling and most beloved little value sparklers. The Brut and Brut Rose consistently fly off the racks and people always come back for more, so we super excited to offer this spectacular sparkler made from 100% Pinot Noir. Dense red fruits on the nose with bits of buttered toast and spice. Very pretty little bead of bubbles with a full mouth fell and a bright, cleans and refreshing finish. Outside of cake or something sweet, can't think of much this wouldn't go with.
$17.99 per bottle
N.V. Xavier Reverchon Cremant Du Jura Brut
Xavier Reverchon is not only one of the nicest men in France's Jura region, he is one of the most passionate. Committed to farming the healthiest possible way, hand harvesting and with very little intervention he has given us a brilliant sparkling wine here. Made from 75% Chardonnay, 20% Pinot Noir, 5% Savagnin, an indigenous variety of the Jura, most of which were planted in 1975. On the nose you first get a blast of warmed custard and crust with apples and blooming white flowers. Nice weight on the palate with flecks of yeast and a super fine and delicate finish. Only 500 cases made.
$25.99 per bottle
2011 Domaine Foreau Vouvray Brut
Only produced in spectacular vintages, this sparkling Chenin Blanc is a rare and wonderful treat. Domaine Foreau is one of the most respected domaines in Loire Valley's Vouvray and one slow sip on this staining and complex sparking wine and you will absolutely understand why that is. While dry there is an amazing honied richness here, it even spills across the palate slow and rolls in heavy. There is a terrific and balancing scrape of green herbs followed by pears and citrus wrapped in dough. So, so lovely.
$29.99 per bottle
N.V. A. Chauvet Grand Cru Carte Blanche
Rich, bready, brimming with gorgeous baked apples and pears with a wonderfully creamy note that caries through on the persistent finish. One of owner Randy Kemner's favorite Champagnes we stock, so that should tell you something! A steal of a Champagne produced by some of the sweetest, warmest people I've ever met.
$45.99 per bottle
N.V. Marion-Bosser Brut Premier Cru
This winery has been run by women since the day they began and now it is Elodie Marion that is running the domaine from the vineyard to the bottle. Made from 60% Chardonnay and 40% Chardonnay with an average vine age of 45 years this regal, graceful but stunningly structured Champagne is a class act from start to persistent finish. White flowers, white pears, butter crust and citrus rind sizzle across on a wave of tiny bubbles. Classic and exceptionally regal. Only 2,000 cases made.
$54.99 per bottle
N.V. Vilmart & Cie 1er Cru Grand Cellier
This sexy, curvy and luscious Champagne is comprised of 70% Chardonnay and 30% Chardonnay and sees just enough time in oak to give it a warmth and richness that makes it instantly swoon worthy. Luxurious and layered with roasted citrus and apples baked in spiced syrup and tucked into a soft doughy bread. Dry but quite generous and the finish goes on forever.
$72.99 per bottle
N.V. Suenen Grand Cru C & C Blanc De Blancs
 The base wine for this stunningly complex Chardonnay based Champagne comes from the 2014 vintage. While not certified Aurelien Suenen farms all his plots organically and uses only natural yeast. This C&C is a blend of two Grand Cru villages which explains the remarkable complexity and intensity. Poached pears, holiday spice, lemon oil and just a brush of chalky minerals. Expansive on the palate, as is Suenen's style, the finish goes on forever. Very serious wine here.  Complex and intense! 100% Chardonnay with aromas and flavors of poached pears, holiday spices, lemon oil and chalk. The flavors bloom as the wine opens up and then you get the most intense floral note followed by tart apple skin and more citrus oil. Amazing. Only 560 cases made
$77.99 per bottle