09 May 2022 | Samantha Dugan
THE FRENCHIES ARE COMING! THE FRENCHIES ARE COMING!
I know, you've all been hearing about the supply chain shortages these days, and trust me when I tell you it is a very real thing. Just take a look at this picture: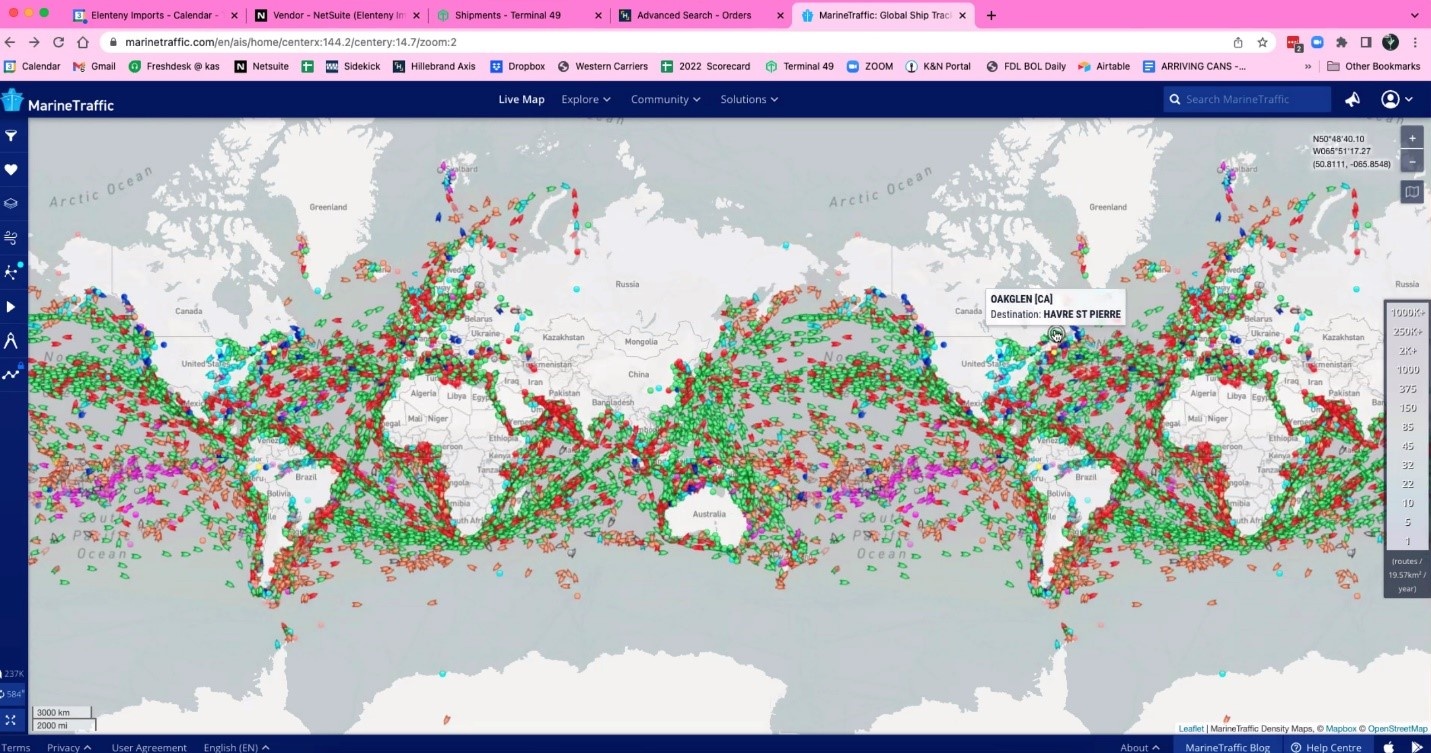 Those little dots on the map there, those are ships currently on the water. So, if you are wondering where your favorite Côtes du Rhone, Chianti, Champagne, cheeses or Frenchy rosés are, they are likely on one of those ships trying to make their way here.
That's the not so good news.
The good news is the first of our 2021 French Roses are starting to land, and we finally have some new French rosés to offer!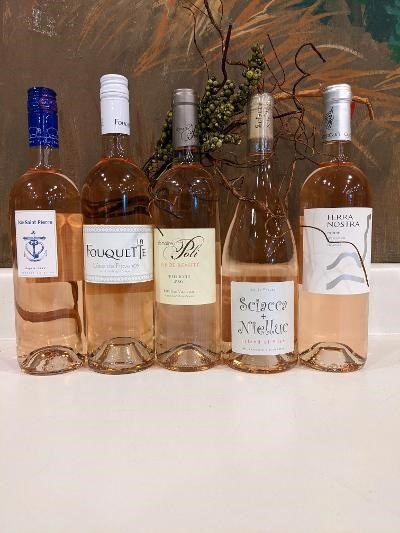 The New Rosés
Once again the Poli family are giving us a classic Corsican Rose at about half the price as so many on the market these days. Made from 100% Niellucciu, (Sangiovese) this was another wine that was tasting really great, even way back in January when I was going through tank samples. Red fruited on the nose with a flirty lemongrass aroma that shines through. On the palate there is more red fruit but here you get a chalky note that also has an oceanic flourish on the dry finish. Makes me crave sea creatures or snappy cheeses made from goat or sheep milk.
Some of my personal favorite roses come from the tiny island of Corsica. The wines just feel wild. Untamed in a way that has always spoken to me, the problem for so long, like many of the wines of the region, they can be a little on the pricier end. That is why I have been devoted to this Terra Nostra. So much, classic Corsican flavor and for far less than most. Made from 100% Sciaccarellu, an indigenous variety known for its wild floral aromatics. The perfume here keeps drawing you to the glass. Reminds me of a pot of dried flowers, spice and stone fruit and citrus rind. There is a palate staining quality that drives me wild. You can pair this wine with anything but I guzzle it all on its own too. Don't miss this one. Trust me.
Another incredible deal of a Corsican Ros"e. Made from mostly Sciaccarelu with some Nielluccio, (Sangiovese) added. I find that this wine has lots of wild herbal notes on the nose, almost like dried herbs sprinkled on stone fruit with a touch of salinity. Nice weight on the palate with a wonderfully long finish. Has enough stuffing to hold up to stronger flavors, like grilled lamb or sausages as well as hearty cheeses and cured meats.
For over a decade this was one of our best-selling rosés, every vintage, but there was a split with the importer so it has been a few years since we had Fouquette to offer. We were elated to find that the domaine and importer reunited and it's back!  The second I stuck my nose in the glass, my mind was flooded with memories of summers past, guzzling bottle after bottle of this punchy pink wine. Made from a blend of Grenache, Rolle, or Vermentino as it is more commonly known, (and is a white wine grape), and the balance is Cinsault, all organic and biodynamic. The aromatics here are downright explosive. So much so that there is something that gives off a New Zealand Sauvignon Blanc vibe.  Packed with fresh green notes, peaches, orange blossom and a touch of melon.  Just so damn easy to drink, this little rosé, and it goes with anything from salads to spicy foods.
One of our first 2021 rosés from France to arrive this year.  So fresh and vibrant and lively. Bright berry fruit with a touch of mineral, and this is a screaming value for sipping all summer long.
To call this wine a "kitchen sink rosé" is sort of an understatement.  Made from Cabernet Franc, Merlot, Vermentino, Colombard, Petit Verdot, Arinarnoa, Carmenere, Tannat and Syrah, all sustainably farmed in the south of France. A rosé that is always a hit as it delivers way more wine than you would expect for such a great price. I first tasted samples of this wine way back in early January and it was one of the wines that was showing really integrated and together at such a young stage. Nice floral notes with some berry like pops of fruit. Dry and easy drinking this is a buy by the case kind of Rose to have on hand all summer long.