Posted on
By Randy Kemner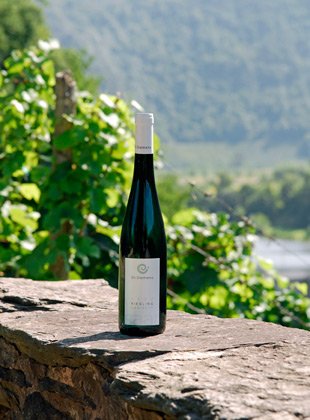 Spotlighting One of the World's Greatest Wine Regions: Germany's Mosel Valley
When was the last time you enjoyed a stellar glass of Riesling? I don't mean merely pleasant, or inoffensive, or wet. I mean, spectacular. Inspiring. Impeccable. Out-of-your-mind enjoyable.
For a lot of you, never.
German Riesling has been out of fashion in the wine world since the 1970s for a myriad of reasons, some of them cultural, some of them because so many lame versions on the market have turned off consumers, some because consumers don't know whether a given wine is sweet or dry, and some of them simply due to a lack of contact with the best of them.
But a new generation of sommeliers has now discovered what we've been telling you all along. German Riesling, that most delicate of wines, is one of the most versatile food wines on the planet. Its inviting fruit, whether dry, medium dry, or lightly sweet offers a wonderful complement to American dishes like ham, and pork chops, European dishes like fish in cream sauce, duck and poultry, sauerkraut and sausages, and hard-to-pair lightly spicy Asian dishes from China, Japan, Thailand and India. Try doing that with Chardonnay.
What's more, if you open yourselves to its pleasures, it's just about the most delicious wine there is. Think of it as fruit in the glass, not booze in your glass. At a lower alcohol, you can enjoy more of it more often, particularly at lunch when you want to avoid the afternoon slump you get after regular wine.
Mosel Riesling: Long Live the Queen!
Since the 1970s, Rieslings from Germany's Mosel Valley have been thrust to the forefront of German winemaking, largely because the wines produced there are more delicate and refined than any other region in the country. More Mozart than Wagner. Wines there are made a little sweeter, even though there has been a lot of pressure in recent years to ferment them to dryness. That would be a shame, because Riesling needs at least a little sweetness to offset its often raging acidity.
The region itself was until recently called the Mosel-Saar-Ruwer, encompassing vineyard land adjacent to the winding, twisting, turning Mosel River between Saarburg-Trier and Koblenz. The region is cool; fewer wine regions in the world have a more northerly latitude. That is great for Riesling, because its natural acidity perfectly balances the delicate sweetness of the wine at all ripeness levels. Genius, really.
I'd like to focus on the great Rieslings of Germany's middle Mosel Valley today, and its top six vineyards are Ürziger Würzgarten, Erdener Prälat, Wehlener Sonnenuhr, Brauneberger Juffer Sonnenuhr, Piesporter Goldtropfchen and the mighty Bernkasteler Doctor. Once overshadowed by the more masculine wines of the Rheingau, the more delicate wines of the Mosel-Saar-Ruwer, now called simply Mosel, have dominated German winemaking during the last quarter century.
The wines shimmer in the glass, the aromas more floral than not, and have a purity and wholesomeness that is impossible not to be charmed by, if one is receptive. Although they are usually grown in slatey soils, they often have an amazing minerality with a fresh, tangy aftertaste. I'm particularly choosy when it comes to German Riesling, and I want to fall in love with a wine, not merely understand it.
I've been sampling quite a few wonderful examples of Mosel Riesling in recent days and I'd like to share them with you in preparation for my first Friday night class in over a year. The tasting and class? A focus on great wines and great producers of the Mosel, May 26 at 7:30 p.m. Reservations must be made in advance due to limited seating (562) 597-8303), and to make it easy on the most people, it only costs $45 per person. I guarantee you'll get more than what you paid for.
Some of the more impressive Mosel wines I've encountered recently:
2015 Loosen Bros. Riesling "Dr. L", Mosel
There is no better ambassador for German Riesling than Ernie Loosen, a tireless promoter for Dr. Loosen Mosel wines, partner with Washington State's Ste. Michelle winery, and importer for an increasingly prestigious band of German vintners. Ernie's company's entry-level Riesling import is the "Dr. L" brand of dry and lightly sweet wines. This wine is the lightly sweet version, and once again, it scores exactly what one expects from such a wine from the Mosel. It's in a mainstream style, not really sweet, not really dry, but pleasant, with bright enough flavors and a solid structure. A tangy, minerally-dry finish will appeal to lovers of Loire Sauvignon Blanc, satisfying skeptics that German wines--even at the entry level--can please all but the narrowest-minded white wine drinkers. In an inspired gesture, the back label suggests "mildly spicy stir fry dishes and Indian curries" as ideal companions, suggesting new uses for German Riesling with international cuisine with no indigenous wine traditions of their own. Or, as the label adds, drink it as an aperitif. Frankly, I am rather surprised and pleased at how accomplished this basic Riesling is. A super-bargain, and at only 8.5% alcohol, a smart wine to keep around for work nights.
$11.99 per bottle
2015 Zilliken Estate Riesling, Mosel
Dorothea Zilliken has taken over the winemaking duties for the Zilliken estate, but her father Hanno, (both long time friends of our store), remains her consigliore. In recent years the Zillikens have been elevating their wines from very good to consistently great, due in part to the advantage global warming has given the chilly Saar. This entry-level Riesling, made into a sec tendre (tender dry), has an attractive minerally, lightly floral aroma, followed by lovely fruit flavors. Balanced and inviting, and another terrific wine to drink with all but the spiciest Asian and Indian foods. This wine should motivate you to explore the estate's stunning prädikat wines, if you can ever find them.
$18.99 per bottle
2007 Wegeler Wehlener Sonnenuhr Riesling Kabinett, Mosel
Combine talented winemaking with an historic, great vineyard, give it ten years of age and let the magic begin. Yes, there is a bit of the "petrol" aroma you get with aged Rieslings, but with a little airing, it tempers a bit. The real magic is in the flavors--beautiful flavors that suggest apples and pears and apple skins. Still amazingly fresh and a real joy to drink.
$34.99 per bottle
2015 Fritz Haag Brauneberger Juffer Riesling Spätlese, Mosel
Winemaking duties have passed down to Olivier Haag, grandson of Fritz and son of the great vintner Wilhelm. Olivier made wonderful wines while at Wegeler's Rheingau estate, and since succeeding his father at the family estate in Brauneberg, has continued producing some of the most celebrated wines in Germany. This Riesling is a solid example of the Haag touch. After experiencing some light, leesy notes in the aroma, some gently sweet apple and pear flavors emerge, leading to a lovely finish.
$30.99 per bottle
2015 Reinhold Haart Wintricher Oligsberg Riesling Spätlese, Mosel
Each year, Reinhold Haart, the master of Piesporter Goldtropfchen, makes a small amount of stunning wine from a vineyard in a neighboring village, the Wintricher Oligsberg. I order it whenever our importer acquires some. It is quite simply my favorite Spätlese because it is so generously sweet and it never disappoints. The latest version is rich, full-bodied and opulent and thoroughly pleasurable. It'll bring a smile at first sip.
$44.99 per bottle
2015 Wegeler Bernkastel Doctor Riesling Spätlese, Mosel
The Wegeler estate is descended from the old Deinhard estate, and possesses prime holdings in the Mosel, Rheingau and the Pfalz. Most prestigious of these is their holdings in the legendary Bernkastel Doctor vineyard in the heart of the Middle Mosel, where it controls nearly a fourth of the Grand Cru vineyard.
All of us were agog when we encountered this magnificent bottle. Traditionally the most expensive vineyard in the Mosel, and for good reason: it produces magnificent wines year after year. Named for its healing powers, the Doctor is truly a Grand Cru vineyard, its wines exhibiting more amplitude and fullness than wines from merely great vineyards. Towering above the medieval village of Bernkastel, the steep, slatey Doctor gave us this generous, sweet, beautiful treasure, full-bodied and bursting with flavors of apples and pear. Immensely satisfying and a very special wine that provides pleasure immediately.
$55.99 per bottle
2010 Reinhold Haart Piesporter Goldtropfchen Riesling Auslese, Mosel
Combine the best vineyard site from one of the world's greatest vineyards with the finest producer of the appellation in a very good vintage, and what follows is magic. When I first sampled this brilliant sweet wine recently, I was blown away. An after-dinner wine, for sure, there are too many aromas and flavors to master. A hint of pineapple, fresh white peach, sweet cream--pure pleasure. Alas, the importer told me there were just three cases left in their inventory--there is never a lot of wines like this to go around--so a grabbed one of them right away. It's a privilege to behold. Only 7% alcohol.
$34.99 per half bottle
2015 Monchhof Erdener Prälat Riesling Auslese, Mosel
Robert Eymael, who you can't help being drawn to for his infectious good-natured-ness, makes wine in the 12th century cellar of one of the most iconic Belle Epoch winery facades in the entire Mosel valley. Robert's holdings are mainly in the imposing Ürzig Würzgarten vineyard behind his winery, which winds its way above a 180° turn in the Mosel river. But he also has holdings in nearby Erden among the prestigious vines of the Prälat vineyard where each vintage Robert makes an Auslese from that vineyard. Sporting the traditional illustration of the bishop on the label, the wine inside is always a pleasure to drink after a couple years in the bottle. The 2015 is showing great right now. Imagine cutting into a fresh apple, biting into its juicy, crisp fruit. That is what you get here. Floral, sweet, and finishing with a lime-like tang. What's not to like?
$48.99 per bottle