Posted on
By Samantha Dugan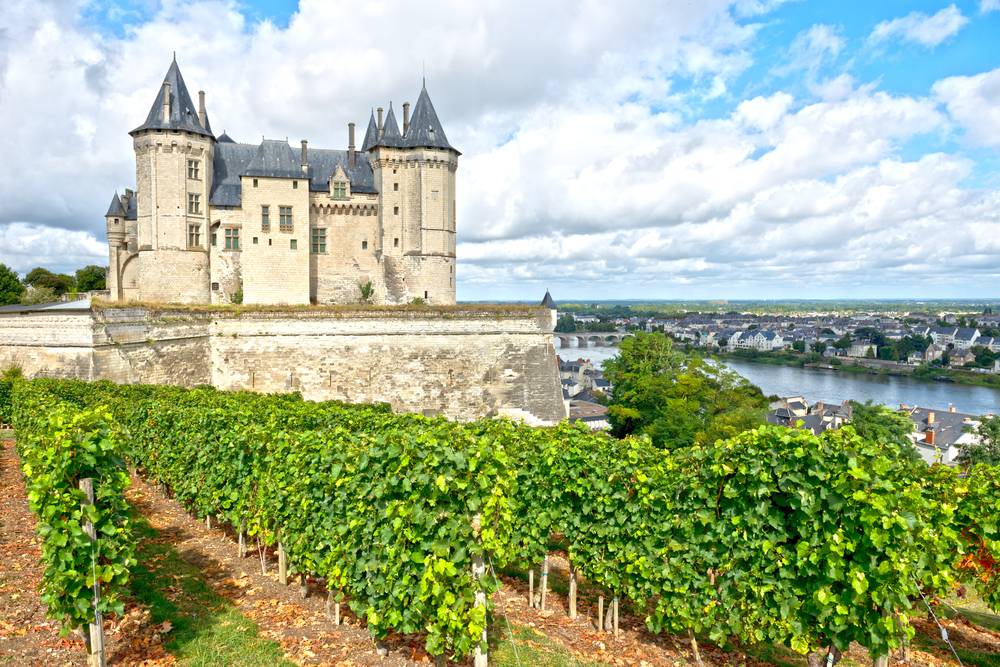 Although France's Loire Valley is best known for its famous white wines like Vouvray, Sancerre, Pouilly-Fume and Muscadet, the food-friendly reds from this enchanting wine region merit attention, too.
I must admit I get a little charge of pride when I see the face of a new supplier or importer when I respond to their questions like, "What are your bestselling French reds? Bordeaux?" and I reply, "Actually Loire Valley reds is one of our fastest selling categories." The way their faces contort as they shift from confusion to the head nodding and raised brow showing how impressed they are with our customers.
France's Loire Valley is often referred to as France's Garden, beloved for its bounty of incredible fruits and vegetables, fresh water fishes and in part because of its amazingly diverse and food welcoming wines. The Loire Valley is France's largest white wine growing region and while the region is unquestionably far better known for those whites like Sancerre and Vouvray, the reds are gaining in momentum here in The United States as folks discover just how fresh, elegant and packed with sheer deliciousness these terroir and fruit driven reds are.
Stretched out across the north-western part of France the Loire Valley is France's largest white wine growing region but one would be horribly remiss to ignore the thrilling and crave inducing reds being made from Cabernet Franc, Gamay, Pinot Noir, Grolleau and Pineau d'Aunis, just to name a few.
As I mentioned before, the category of Loire Valley reds is gaining momentum, finally, here in the United States but once again our wickedly open minded and savvy customers are way ahead of the curve. We've had to expand our Loire Valley red selection over the past couple years, just to keep up with the insatiable demand for those who ache for powerfully flavorful red wines that don't conk you over the head with richness, oak or heavy alcohol.
Here are a few of our favorites we featured at a recent Saturday tasting. There were many people new to these wines who bought them because of their freshness and their soul. Best of all, perhaps, is most of these wines come from small estates, where a family grows and crafts them.
2014 Henri Bourgeois Petit Bourgeois Cabernet Franc Val de Loire
This super value red comes from one of the most prolific names in the Loire Valley. Known for their multi-tiered offerings of Sauvignon Blanc in Sancerre, but they do in fact make a little bit of red and we have been stocking this friendly wine for a couple vintages now. Simple and pure expression of Loire Cabernet Franc, complete with hints of roasted root vegetables, flint and bright red fruits. Light and uncomplicated on the palate with a wonderfully clean finish. A lovely little red for simple dishes.
$13.99 per bottle
2015 Domaine d'Epiré Clos de La Cerisaie Anjou Rouge
We've adored the Savennieres, (white wine region where they grow only Chenin Blanc) from Domaine Epire for decades now but this was the first time we flipped for their little Anjou rouge. Made from Cabernet Franc with an average vine age of 40 years. The chalky soils here give this light-bodied red a wonderful stony, or flinty snap which provides a lovely backdrop to the bright, tangy red fruit. Easy drinking and with a finish of red fruit and cracked pepper. A wine for simple red meat dishes, grilled sausages or heavier fowl dishes.
$16.99 per bottle
2015 Chateau Soucherie Anjou Rouge
This intriguing little Loire red is made from organically farmed Cabernet Franc with a touch of the local Grolleau blended in. Here you find a fantastically bright, dry red wine that is full of life and energy. Tart red fruit with a big crack of black pepper and budding flowers. Great tension and precision with that crunchy bite of refreshment on the finish.
$17.99 per bottle
2015 Chateau de Breze Clos Mazurique Saumur
The wines from this domaine were once so revered that they were a favorite of French royalty as far back as the 1600s. By the time the A.O.C system was betting put into place the owner of the estate declared his vines the best in the area and requested that the hill of Breze be given its own A.O.C. The problem however, no matter how great the vines the winemaking was terrible so he was turned down being given his own appellation. To show his ire he refused to accept the, "lesser" A.O.C. of Saumur-Champagny, thusly leaving no other option but the even lesser prestigious Saumur. Fast forward 52 years and the domaine has had a complete revamp and is now not only being farmed organically, the wines are impeccably made, that one cannot deny. The Cabernet Franc here is all about floral and mineral notes and less about the veggies aromatics and flavors. Wonderful complexity for a wine wearing a price tag under $20.00! Crunchy blue fruits, flowers, a hint of stone fruit with a bright, fresh and lively texture. Big flavors, light and breezy drinking.
$18.99 per bottle
2012 Domaine Fouassier L'Etourneau Sancerre Rouge
Fouassier is quickly moving up the ladder as one of my favorite producers in Sancerre. Not only because they farm organically, protecting the land to ensure the highest quality fruit, but because they are making some truly unique and lip-smacking wines. Fouassier holds back the release of their Sancerre Rouge until they feel the wine is showing its absolute best, profit taking a backseat to the wines offering the most pleasure. The Pinot Noir aromatics here are as undeniable as those assuring you this wine can only come from one place, Sancerre. Lightly smoky with tart red cherries, rhubarbs, mushrooms and limestone. Light and elegant on the palate this wine is begging for grilled or roasted salmon or chicken.
$24.99 per bottle
2015 Andre Dezat Sancerre Rouge
We are consistently dazzled by the absolute beauty of the reds and whites coming from the Dezat estate. Much more on the feminine end of aromatics, flavor and structure. The nose is suggestive of roses, underbrush, flint and ripe cherry flesh. Very light and graceful on the palate with a finish that gives a little snap of citrus rind and goes on forever.
$22.99 per bottle