29 Apr 2023 | Jessica Martinez
WHAT'S UP TED?
Meet Ted Glennon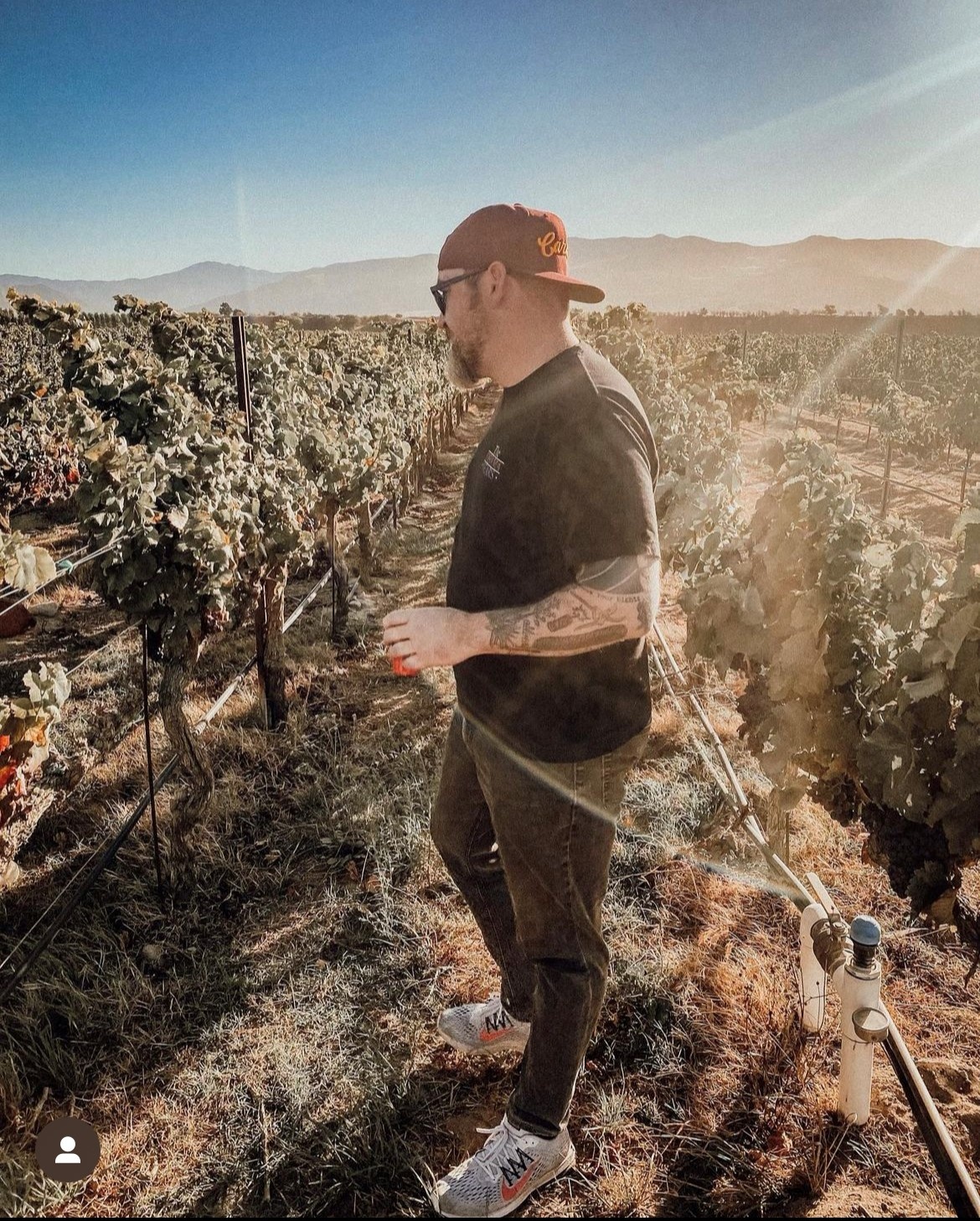 Ted is a wild card. He is moving a million miles a minute, my first interaction with him was a video zoom call while he was driving to town. He managed to run me through a lineup of about 6 wines while driving. The amount he taught me on the 45 minute zoom call was more than I had ever learned about the wine region, imagine what he can teach all of you at one of our Friday night classes. Ted is a great resource that we are luckily to have come teach us about an area he really loves. This Friday night we will be focusing on the wines of Joyce Wine Company as well as Vocal Vineyards. Ted is a representative of Joyce wines and is the winemaker for Vocal Vineyards. Combing both of these producers you get a great representation of Monterey County wines and the diversity that they offer. 
Ted Glennon is a 6th generation of his family born in California and the first to produce wine. He left his career as a top sommelier to pursue winemaking and champion his home state. His winery, Vinos Finos de California, produces Vocal Vineyards' single site reserve Pinot Noir and Cabernets, a reserve Chardonnay Lasai, and a fresh chillable red wine Sabroso!
Raised in the eastern Sierra Nevada mountains, Ted found his way to winemaking through a career in restaurants and hospitality. He led award-winning wine programs as a sommelier, including Restaurant 910, The Hotel del Coronado, Restaurant 1833, Quince, and Post Ranch Inn.
In 2012, Ted worked harvest in Piedmont in Barbaresco, and it became clear that wine growing and production was his path. For 11 years, he has followed his vision of producing exceptional California wine.
Preview of Friday nights tasting! 
Monterey County is the home to 10 Large AVAs! This includes areas such as Arroyo Secco, Carmel Valley, Chalone, Gabilan Mountains, Hames Valley, Monterey, San Antonio Valley , San Bernabe, San Lucas, and Santa Lucia Highlands. For this tasting we will look at wines from Arroyo Secco, Santa Lucia Highlands, Carmel, and Monterey. We will also dive into Santa Cruz Mountains and central coast. Lets talk about these areas and what they have to offer. 
What we are tasting: 
Joyce Vineyards Albarino Arroyo Seco 2022
Russell Joyce Reserve Vermentino Arroyo Seco 2022
Lasai Escolle Vineyard Chardonnay Santa Lucia Highlands 2018
Russell Joyce Reserve  Gamay Noir Arroyo Seco 2022
Vocal Pinot Noir Reserve Monterey 2019
Russell Joyce Reserve Pinot Noir Santa Lucia Highlands 2021
Sabroso !!! Grenache, Cabernet Pfeffer, Zinfandel Central Coast 2022
Vocal Cabernet Sauvignon Carmel Valley 2019
Vocal Cabernet Sauvignon Santa Cruz Mountains 2019
Russell Joyce Reserve Syrah Santa Lucia Highlands 2021
Here is a brief intro to the regions! 
The Arroyo Seco appellation, which translates to "dry riverbed," starts in a steep, narrow gorge at the foot of the Santa Lucia mountain range and extends east into a widening topography that eventually opens up to the warm, fertile soil of the Salinas Valley.
Because of the diverse topography, this AVA contains several microclimates, soil types, and unique features like large river stones that facilitate drainage. These properties nurture the vineyards and their root systems while protecting them from the elements. Because of this diverse terrain, this AVA yields several varietals, including:
Chardonnay 
Riesling 
Zinfandel
Bordeaux varietals
Rhone varietals
AVA Approval: 1983
Acres Planted: 7,000
Climate: Moderate, partially sheltered from breezes.
Dominant Soils: Garey Sandy Loam, Oceano Loamy Sand, Lockwood Shaly Loam
Min./Max. Elevations: 266 ft./1,670 ft.
The Monterey AVA is the largest in the area, with over 40,000 acres, and extends the entire length of the county. Because it covers so much terrain, it has a diverse climate, which translates to exceptional grape diversity. Still, Chardonnay reigns supreme throughout the region, accounting for over 50% of vines in production. 
Cooler weather, ocean breezes, and fog characterize the northern section, which produces cool-climate grapes like Riesling and Pinot Noir. In the South, it opens up to Salinas Valley, which can reach up to 100 degrees during the daytime. This warmer weather produces Bourdeaux varietals (Cabernet Sauvignon and Merlot), Rhone varietals (Syrah and Petite Sirah), and some Zinfandel. 
AVA Approval: 1984
Acres Planted: 40,000
Climate: Cool to hot, based upon location within the 100-mile stretch of land.
Dominant Soils: Lockwood Shaly Loam, Chualar Loam, Placenta Sandy Loam, Rincon Clay Loam, Garey Sandy Loam
Min./Max. Elevations: 0 ft. / 2,320 ft
The Santa Lucia Highlands AVA contains over 4,700 cultivated acres planted high up on southeast-facing terraces of the Santa Lucia Mountain range overlooking the Salinas River Valley. This AVA has a climate comparable to Burgundy. 
This elevated position exposes vines to morning sunshine and afternoon maritime breezes. Ultimately, this climate results in a long growing season, enabling grapes to achieve maximum varietal potential. Varietals include:
Chardonnay
Pinot Noir
Syrah
AVA Approval: 1991
Acres Planted: 5,000
Climate: Cool, steady temperature climate.
Dominant Soils: Chualar Loam, Arroyo Seco Gravelly Sandy Loam
Min./Max. Elevations: 98 ft. / 2,349 ft.
ABOUT CENTRAL COAST: Stretching 250 miles south from the San Francisco Bay to Santa Barbara County is the Central Coast Wine Region, a coastal sprawl responsible for about 15% of California's total wine production. In the northern parts of the Central Coast, Chardonnay tends to dominate the plantings, with Pinot Noir, Merlot and Cabernet Sauvignon also playing significant roles. The cool, maritime-influenced climate along with the fertile and gravely soil contribute to Chardonnay's crisp acidity and citrus flavors, and the extended growing season yields concentrated Merlot and Cabernet. Some of the top northern Central Coast AVAs include, Santa Lucia Highlands, Santa Cruz Mountains and Monterey. South of Monterey, the Paso Robles AVA has garnered fame for its wines produced from Rhône varieties, Cabernet and Zinfandel. At the southern end of the Central Coast, Santa Barbara County (made famous as the backdrop for the movie Sideways) fosters a microclimate perfectly suited for Pinot Noir and Chardonnay, which are the force behind the region's wine production. Within Santa Barbara, the AVAs of Santa Ynez Valley, Santa Maria Valleyand Sta. Rita Hills yield some of California's most-excellent Pinot Noirs and Chardonnays.