Posted on
By Samantha Dugan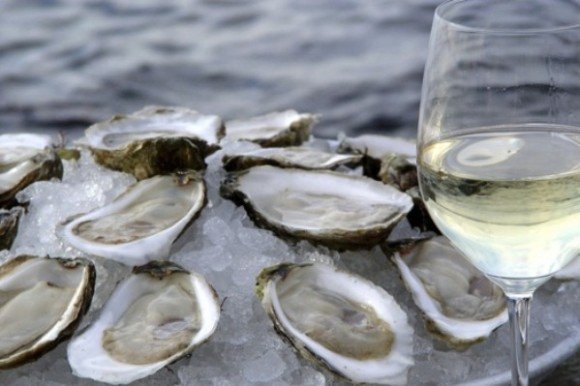 Our Annual Oyster Fest arrives at The Wine Country Saturday February 3rd, with Executive Chef Shelly Bojorquez and the shucking crew at Saint and Second restaurant opening 1,200 oysters for our customers and staff. The French know about oysters and wine better than anyone, so we're taking a cue from them and serving bright, racy, thrilling dry white wines made for such endeavors. Of course, you don't need oysters to enjoy these wines, but the oysters sure love them!
 "He was a bold man that first ate an oyster" – Jonathan Swift
Can't say as I can argue with that thought, but I'd think such a bold, groundbreaking, palate pleasure seeking innovator should not only be revered, he ought to be knighted. To forage, pry open and feast his eyes upon that slippery, grayish, ocean scented blob and think, "why yes, I shall eat this ugly little morsel" well that was taking one for the team in a big way and I can think of no way to better honor such a brave man than to make sure we drink with the oyster wines that highlight, lift and sing with their intensely briny flavor.
Much like the traditional toppings of lemon and shallot studded vinegar, wines that best frame the noble little mollusks are tangy, punchy, often briny in their own right and have enough zingy acidity to cut the creaminess of the oyster flesh, but also have enough mineral flavors to double down on the oceanic aromas and flavors.
We are thinking hot and heavy about wines to go with oysters as we have our annual Oyster Fest on February 2nd.  Always a hugely popular event full of discovery, interesting discussions, the loud happy chatter of people with bellies full of sea treats and super refreshing white wines. Even if you aren't a fan of the slippery little bivalves there will be ten, brilliant and nervy French white wines to taste and fall in love with! Sign me up,
Oyster Wines:
2016 Domaine De La Chauviniere Muscadet Sevre-Et-Maine
Now this is as classic a Muscadet as they come. A delightful combination on the nose and palate of green stems, lime rind and sea shells. Light and crisp on the palate with a zingy finish. This wine is begging for oysters, cold shrimp and clams.
$12.99 per bottle
2016 Domaine Vacheron Sancerre
 There are very few names more respected in the Loire Valley's region of Sancerre than that of Domaine Vacheron.  Spend the night with a bottle or two of this delicious wine and you will be able to tell why. True Sancerre flavors of pink grapefruit, green citrus rind and minerals with a lift of delicate white flowers on the rounder finish. 2016 was not an easy vintage in Sancerre but with winemaking of the quality that you get from top producers like Vacheron, well they were able to produce a small amount of truly beautiful wine.
$29.99 per bottle
Pouilly-Fume is an area in the Loire Valley where they produce Sauvignon Blanc and while half the size of Sancerre they make some truly wonderful wines. Flinty soils lend to noticeably flintier wines giving them a very distinctive quality all their own. The Sauvignon Blanc for this wine comes from older vines, on average 25-30 years which gives the fruit more density and complexity. Add that to a nice ripe vintage like 2015 and you have yourself one hell of a wine. Clearly green and mineral rich on the nose with lime oil and limestone the most assertive. Nice weight and curve in the mouth and with a finish that just goes on and on. Brilliant bottle of mouth watering white wine from under $25.00.
$23.99 per bottle
2015 Jean-Marc Brocard Sainte Claire Chablis
The wines from Jean-Marc Brocard have quickly moved up the ranks here at The Wine County. The wines always over deliver for the price. Offer traditional and true Chablis character and flavor and come with the added benefit of being organically produced which is a true rarity in Chablis. The fruit for this Sainte-Claire comes from vines over 30 years of age that have been organically grown for nearly that long. Tart green apple, lime oil, uncooked bread dough and minerals all over the nose. Those aromas carry through on the palate which is nicely weighty but still brimming with zippy acidity.
$26.99 per bottle
2015 Domaine Charlopin & Tissier Aligoté
We were first introduced to this Aligote from Charlopin & Tissier with the 2014 vintage, but it was so quickly devoured by our customers that we never really got a change to talk about or feature it. I wish I could say there is plenty of this 2015 to get behind but sadly, that is not the case. While nice and ripe the 2015 vintage was a small harvest and for a teeny tiny producer like Charlopin & Tissier? Well we were lucky any of this little stunner of a dry white wine made it here to The States. The nose is a brilliant combination of ripe, juicy, just this side of tropical fruit, and tart lemon mixed with cold wet stones. Silky upfront in the mouth but just the perfect amount of acidity to keep everything tightly in balance. A rare and real treat.
$29.99 per bottle
N.V.  R. H. Coutier Champagne Grand Cru Blanc de Blancs, Ambonnay
Many of you are very familiar with the Grand Cru Brut Tradition from R.H. Coutier, it has been one of our best-selling grower Champagnes for over six years now, and the wine we recommend for anyone looking to branch away from that "orange labeled' factory fizz. With all our enthusiasm for the Brut Tradition we let this gorgeous Blanc de Blancs slip under the radar. Shame on us. Coutier is located in the Grand Cru village of Ambonnay which is highly revered from their Pinot Noir, so it is highly unusual to see a Blanc de Blancs coming out of Ambonnay. The Coutier family were in fact among the first to plant Chardonnay in the village, though most of their holdings are still planted to Pinot Noir.  In this stunner of a Champagne you get the delicate texture and aromas of Chardonnay but with the lean of a Pinot Noir thinking winemaker. Dense, doughy, baked apples and lemon curd spill out on the palate while the tiny bubbles dance along the tongue providing the perfect amount of freshness. This is a Do Not miss grower Champagne. Trust us on this one.
$42.99 per bottle