05 May 2022 | Randy Kemner
A PINOT NOIR RARITY FROM A WINEMAKING LEGEND
2000 Longoria Pinot Noir "Blind Faith Vineyard", Sta Rita Hills  $124.99 per bottle
Earlier this month, Dale and I joined our friends Jim and Rose Witt for a little getaway in a house they rented in the Santa Ynez Valley.  I was especially thrilled when I learned Rick and Diana Longoria would be joining us for dinner on the second night.
For those of you who do not know the name Rick Longoria, he is a Santa Barbara County wine pioneer who started making wine there in the 1970s.  Rick and Diana sold their Lompoc winery earlier this year and are now stress-free, happily playing with their grandchildren and enjoying life.
I first met Rick in 1985 when he had just been appointed winemaker at The Gainey Vineyard.  In 2019, he and Ken Brown hosted a seminar of their wines at The Wine Country in one of the most memorable nights in our store's history.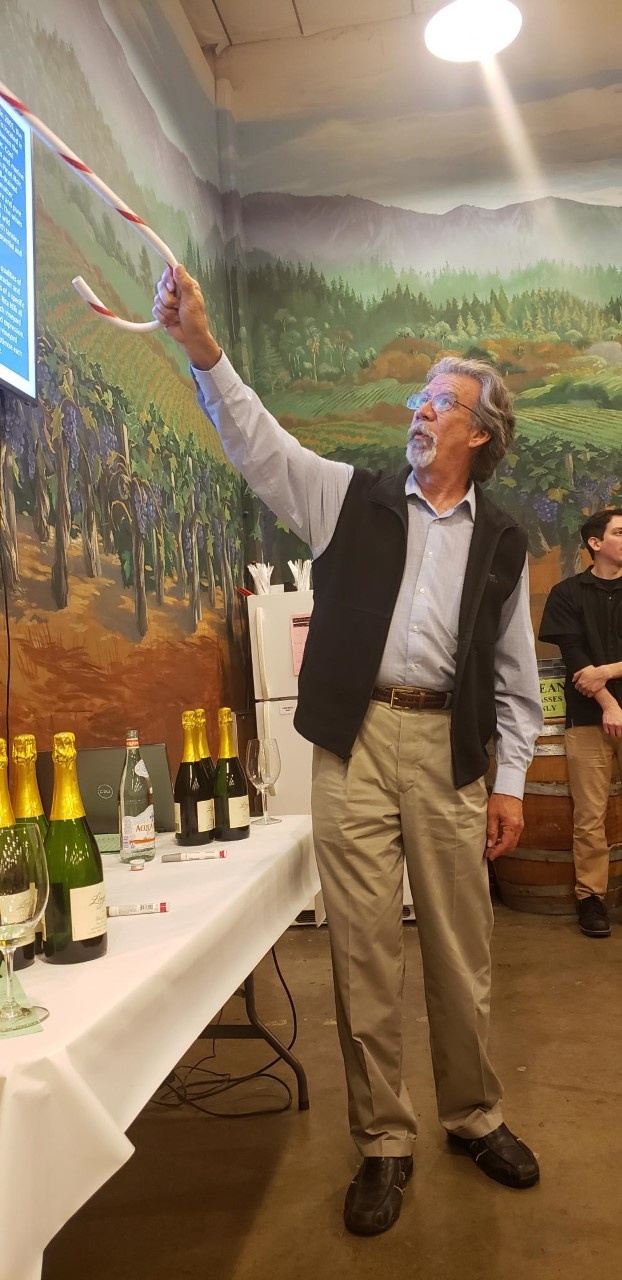 As soon as they arrived at our rented guest house, we toasted Rick and Diane's retirement with a chilled bottle of Camille Savès Carte Blanche Brut champagne, and soon after, Jim began grilling his marinated quail for dinner. 
What I hadn't expected that evening were the incredible wines Rick selected for dinner from his and Diane's family cellar—rarities that spanned Rick's entire career—a 1978 Napa Valley Cabernet Sauvignon he had made from a vineyard surrounding his rented Stag's Leap District house, a 1989 Gainey Cabernet Sauvignon Limited Selection, a 2007 Longoria Chardonnay Sta. Rita Hills, and remarkably, his Pinot Noir from the first crop of a vineyard he had planted in 1998.  More on that later. 
We were in for a memorable evening.
Let me tell you about Rick.  While a still a student at UC Berkeley, Rick used to spend weekends visiting Napa Valley and other North Coast wine regions, and early on he was smitten with the wine bug.  Just after graduation he got a job in the cellar at Buena Vista winery where he met the winery's consultant, historic winemaker André Tchelistcheff, who would become Rick's mentor.  Much to his surprise, André would invite him into tasting trials where Rick began to hone his skills.  After a sudden employee shakeup, Rick found himself interim manager of the cellar at Buena Vista.  
One day André told Rick about a new winery he was consulting for in Santa Barbara County, a wine region so young that the earliest commercial vineyard wasn't planted until 1964.   It was called Firestone Winery and the owners needed someone to run the cellar.  It was the mid-1970s and this brand-new wine territory had to experiment with everything.  Rick would be on the ground floor of what would become one of the country's great wine regions.
Diana began working at Firestone Winery tasting room on her 21st birthday.  They both fell in love, and a few months later they were married.
The next leap in Rick's career came when he was appointed winemaker at J. Carey Vineyards, which at the time grew the best Cabernet Sauvignon in the valley.  In 1982 while still at J. Carey, Rick created his own label, Longoria, concurrently making small amounts of stylish Chardonnay and Pinot Noir from purchased fruit.
When The Gainey Vineyard was about to open in 1985, they abruptly dismissed their consulting winemaker and offered the winemaking position to Rick.  The Gaineys would allow him to purchase Pinot Noir grapes from some of the finest vineyards in Santa Barbara County, including the great Sanford & Benedict vineyard in Sta Rita Hills.
As the years went by, Rick grew the Longoria label, building a small winery in the industrial center known as the Lompoc Wine Ghetto, expanding his offerings to include Cabernet Franc, Cab blends, and eventually Syrah, Pinot Grigio, Albariño and Tempranillo.  Before long, he was able to create a business that could support his family. 
I'll let Rick tell the story about this historic wine:
Winemaker's Notes:  2000 Longoria Pinot Noir, Sta. Rita Hills, Blind Faith Vineyard
In 1998 I planted three different clones of Pinot Noir, Pommard, Dijon 115 & Dijon 667 on 9.75 acres on leased property located west of other well-known vineyards such as Sea Smoke, Mt. Carmel, Sanford & Benedict to name a few.
It was the first time I had personally overseen every aspect of designing and planting a vineyard. The experience made me appreciate what other grape growers have gone through and I realized what an act of faith it was to invest time, labor and money and not be totally sure that the quality of the grapes would be worth the effort. It was an act of "blind faith". Inspired by this revelation and also a nod to my 60's upbringing and a tribute to one of the super groups, Blind Faith, I decided this would be an appropriate name for my new vineyard.
In 1999, the vines produced no crop and in 2000 a few vines had two to four clusters each. I had not planned on harvesting any grapes but the sight of those few clusters and the taste of the berries together with my anxiousness in finding out what the quality would be I had to harvest what little crop was there.
We harvested about 500 lbs from the 9.75 acres. The grapes reached 22.6 Brix with excellent acidity. The grapes were destemmed into a grape picking bin and cold soaked for 2 days before adding yeast. After fermentation the must was pressed off and racked to a neutral 30 gallon French oak barrel. It aged for 11 months before being bottled without filtration.
I produced 12 cases of which I gave half to the property owners, Hank & Brenda Klehn. By the time I bottled the wine, I had discovered that a winery in Paso Robles had named one of their vineyards, Blind Faith. To avoid the conflict, I chose to change the name with the Spanish translation of blind faith, Fe Ciega.
To me, this first vintage of Fe Ciega has one of the purest expressions of the vineyard character of any vintage I've made. That this wine is still showing the strength of fruit after almost 22 years is a testament to the quality of the ecology of the site; soil, aspect and climate. I have been rewarded for the "blind faith" I put into this site and project.
Cheers,  Rick Longoria, Founding grape grower, Fe Ciega Vineyard
The 2000 Blind Faith Vineyard Pinot Noir was never released, sitting in Rick's personal cellar quietly aging year after year, decade after decade. 
After we had devoured the grilled quail and sipped all of Rick's library wines at the ranch house, I kept going back again and again to Rick's 2000 Blind Faith Pinot Noir.  Amazingly, it kept developing, retaining its fruit even after being opened more than an hour.  He looked at me enjoying his wine, and out of the blue asked if I'd like to buy a case for the store. 
Just 12 cases made, only six belonging to Rick, and he was offering The Wine Country one of them! 
Let me tell you about this wine.  Yes, it had complex aromas that only age can bring.  The surprise for me was how alive the wine tasted—not at all the fruitless, white-pepper flavors you get from wine past its prime.  Because this was made from hillside grapes from one of the coolest growing regions in California, the acidity had allowed the wine to develop impeccably, supporting its fruit and giving the wine vitality even at 21-1/2 years of age.  Again, an hour later, the wine was still fresh tasting when most California wines of that age would have petered out.
"Sure, I'll take it!" I exclaimed.  "Ship it to the store.  I have customers who love your wines and will buy this historic, very rare bottle."
12 bottles are now resting in our display case at cellar temperature.  They have never been offered to the public before now.