27 Oct 2021 | Jeremy Dugan
BOTTLED IN BOND: HOW MOONSHINE CHANGED HOW WE DRINK
Bonded Whiskies
Prior to the Bottled-in-Bond Act of 1897 there were no regulations on what could be bottled and called "whiskey". People trying to make a quick buck would put some coloring into moonshine or vodka and call it whiskey. Some would take the heads or tails of a distillation, the parts of the distillation that should be thrown away or reused, and bottle it and call it whiskey. Before 1897 there was a chance that your whiskey could get you sick, or worse; kill you. Now 1897 wasn't the first time the Government tried to put some type of regulations on whiskey, but where Alexander Hamilton's Whiskey Tax idea resulted in a minor rebellion, most were for the idea of keeping them safe from killer libations.
By law for a whiskey to be Bottled-in Bond (BIB) all its distillation must be done in 1 season (January-June, July-December) at 1 distillery, aged for a minimum of 4 years in bonded warehouses under government supervision, bottled at 100 poof (50% abv), can only have water  added to it and on the label the location of where the distilling and bottling took place must be noted (if different). The BIB certification once served to let consumers know they were drinking a safe product. Now-a-days besides letting consumers know they are getting a 100-proof spirit, it also gives whiskey heads vintage like experience. Since everything must be made in 1 season, you are getting the flavors of that harvest, since they are required to be aged for at least 4 years in the same location depending on how hot the summers were and cold those winters were, you get to taste how deep into the oak the liquid got during those years.
It would seem that something that is so regulated might cost an arm and a leg. But that's the beauty of the category, there is a Bottled-in-Bond whiskey at all price ranges! Check out these Bottled-in-Bond whiskies that are available in our store now.
Mellow Corn Kentucky Straight Corn Whiskey
Corn Whiskey doesn't get the respect it deserves as the first real American Whiskey. But that's a conversation for another day. This is a great cocktail Bourbon. With a mash Bill of 80% corn, 8% rye and 12% Malted Barley there is no surprise that this Whiskey has notes of caramel with hints of vanilla and baking spices. That caramel and vanilla create a coating mouthfeel that leads to no heat being detected on the finish.
Evans Williams Straight Kentucky Bourbon (white label)
This Bourbon does have some richness, but more spice characteristics to balance out those sweet flavors. Floral rye up front savory tea leaf with coco and hints of honey and shortbread.
Rittenhouse Straight Rye Whiskey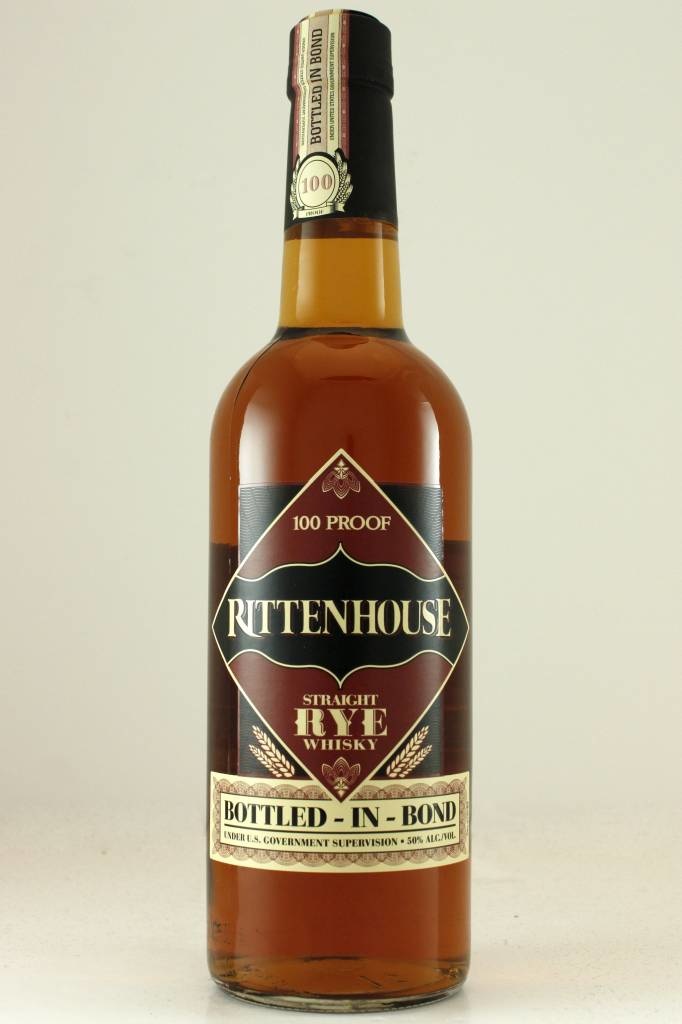 Rittenhouse has always been one of my go to "bang for buck" whiskies. It's great in cocktails but has enough depth to be enjoyed neat or on the rocks. A Combination of red apple and dark cherry notes give the rye a freshness not seen in a lot of whiskies. Bright pops of rye and baking spice bring a vibrancy while hints of dark chocolate along with the cherry notes from before add a softer richness to balance out the spice characteristics.
Wilderness Trail Small Batch Straight Kentucky Bourbon
With a Mash Bill of 64% corn, 24% rye and 12% malted barley this Bourbon has a nice layering aspect to it. Floralness from the rye pops onto the palate while rich notes of butterscotch coat the tongue. Hints of tobacco leaves and soft red apple bring a savory profile along while light notes of chocolate round out the finish.
Old Forester 1897 Straight Kentucky Bourbon
I wonder where they got the name for this expression. Malted chocolate and shortbread cookies up front. Rich notes of toasted vanilla and caramel gives it a nice coating mouthfeel. Subtle notes of baking spice brings a little vibrancy on the finish.
Leopold Bros. 5-year Straight Bourbon
Like all Leopold Bros Whiskies; this Bourbon has layers. This mash bill of 64% corn, 21% malted barley and 15% rye has earl grey tea like savory spices along with rye flavors up front give the Colorado distillate a vibrant introduction to your palate. Notes similar to shortbread cookies with caramel and just a hint of toasted vanilla brings out the richer, fuller aspects of the bourbon giving it a rounded mouthfeel and creates a balance to the spicier profile up front.
Laws Whiskey House Henry Road Single Malt Whiskey
Earlier this year when we had our Laws Whiskey House zoom tasting (click here), the non-bonded version of the Henry Road Single Malt was a surprise hit to those who attended. So I was very excited when I was told by our Laws representative that the second batch of the Bonded Henry Road was going to be released. And what we have in this bottle is rich dark coco and caramel that coats the palate and creates a decadent profile. Bold white pepper causes the subtle floralness to pop more. Soft caramel on the finish rounds out the flavors and lingers nicely on your taste buds.
Leopold Bros. Three Chamber Rye Whiskey Collector's Edition
Of this first batch there were only 5,280 bottles made worldwide. Only 2 barrels (300-400 bottles) were shipped to California. This is the first Three Chamber Whiskey made since pre-prohibition. This is a collector's edition due to the numbering on the bottles along with the signature of Tod Leopold, head distiller and part owner of Leopold Bros Distillery. To start off, this is the most interesting mouthfeel on a Whiskey I have ever had. The oils the unique Three Chamber Still is able to capture gives the Whiskey a much more Cognac mouthfeel; coating but light, allowing all the flavors to play their part properly and layer elegantly on the palate. Honeysuckle and orange blossom start out on your taste buds with a balance of rich and floral. The floralness of the orange blossom turns into floral rye and the rye becomes vibrant baking spices. A softer flavor similar to shortbread cookie combines with bold dark chocolate to give this Whiskey a richness. Through that richness bolder rye comes through on the finish giving it a savory ending.