26 Jan 2022 | Samantha Dugan
CABERNET THE WAY THEY USED TO MAKE IT
FEBRUARY WINE OF THE MONTH
 "You know, the minute you handed me the glass and I took a deep sniff I thought, this is what Cabernet Sauvignon used to smell like."  He took a sip and smiled. "And this is what Cabernet Sauvignon used to taste like."
Randy's first words to me the morning after we confirmed that we had a screaming good French Cabernet Sauvignon to offer as our February Wine of the Month. So good, in fact, that we put on hold a wine I had already ordered 20 cases of because there was so much crowd appeal and excitement about this Cabernet Sauvignon, from the entire team. Shifted the little Loire Valley white I had planned on featuring, (well, reduced the number of cases for now, but, should you be interested in a super-value Loire Valley Sauvignon Blanc, we just might have a bottle or two floating around), and bought the last 23.8 cases of Domaine Font-Mars Cabernet Sauvignon the importer had.
Domaine Font-Mars is located in the Languedoc, which is in the South of France and more specifically, from the village of Pinet which some of you might recognize when you buy a Picpoul de Pinet, (Picpoul from Pinet), those crispy and refreshing white value wines we love to guzzle all year long. I had never encountered anything other than white wine from Pinet, so this wine had my attention right at the start. Took only a few deeply satisfying sniffs and two sips before I was calling the rest of the staff over to try it. Big grins and repeated, "Oh wow! There is a ton of wine here for this price" comments started. 
I looked at our sales rep and said, "We will take it all".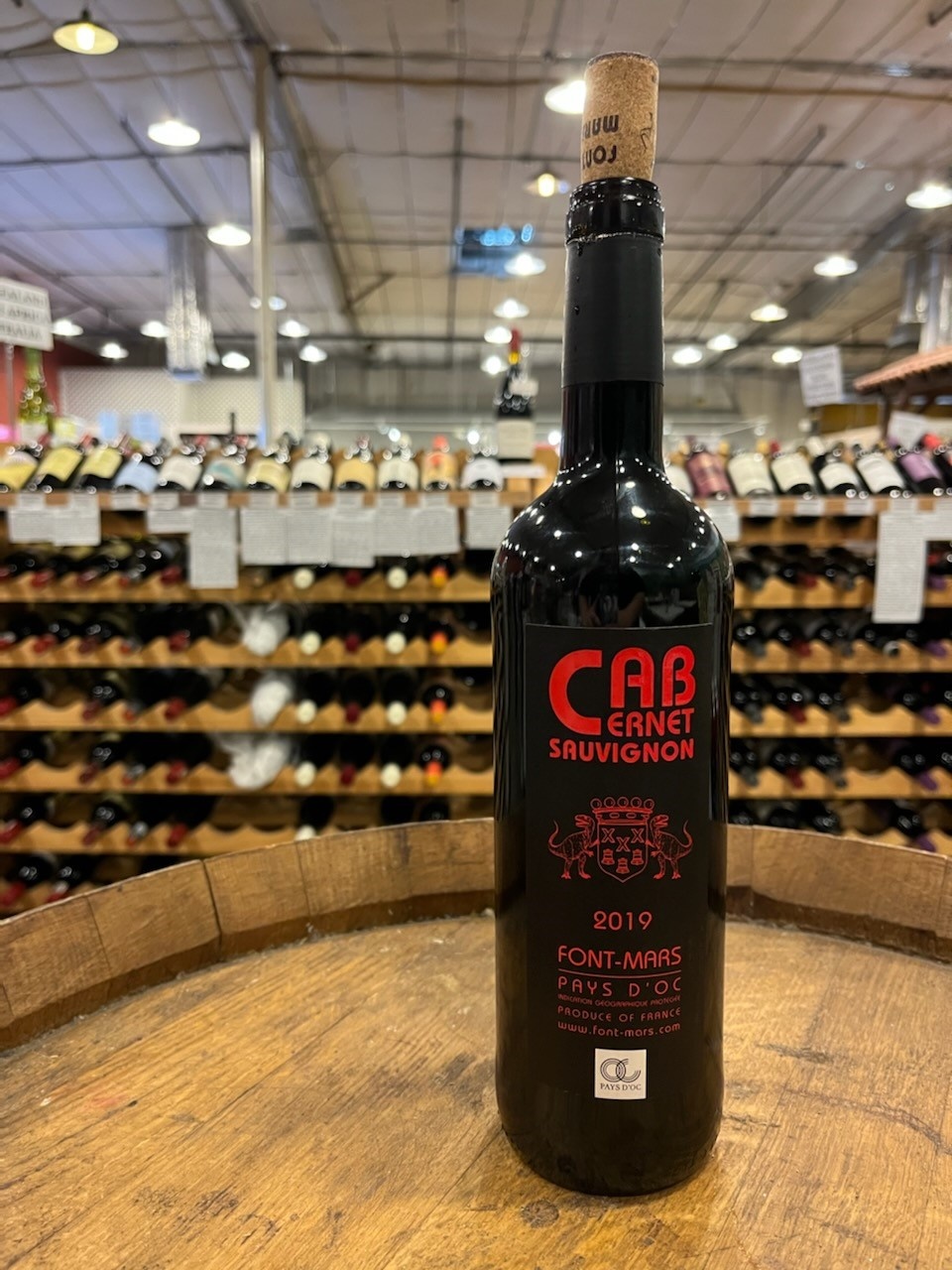 Not mucked up with too much oak here, you find pure red and black fruit with hints of cassis and spice.  In the mouth, you get a blast of dark fruit and a very cool little mineral, or flintiness followed by a sturdy grip of tannin. Not a rich or round Cabernet Sauvignon, just purely delicious, un-adulterated, honest Cabernet Sauvignon. Just like they used to make, as Randy noted.
We typically order 25-35 cases of a Wine of the Month, So, yeah, you won't want to wait getting your hands and faces into a bottle of this wine; this will be one of those wines that sell out quickly. I would have ordered more if I could, but we all knew this wine was made for our cherished wine-loving community.