11 Apr 2023 | Randy Kemner
DO YOU LIKE IT SASSY?
I've heard there are people who think a glass of typical California Chardonnay is dry wine.
If that's the case, I'm at a loss.  I don't know what to call the wines I'm about to point out below. 
Zingy-zazzy?  Shimmering & shammering?
Used to be, we turned to Sauvignon Blanc if we wanted a tangier, fresher taste than we got with other California white wines.  But the fact is, due to climate warming, a whole lot of domestic Sauvignon Blancs on the market are picked riper, have more than a perceptible sweetness in them, and some, like Chardonnay, have been infused with so much oaky and malo flavors, they no longer can play the role of a wine refresher.
If you are willing to explore, there are lots of choices for those looking for white wines that are truly dry, whose acidity covers what fruit may lurk inside, eager to be released with some accompanying salami, prosciutto or vinegary dishes.
Those of you who have discovered white Sancerre or neighboring Pouilly-Fumé--the Loire Valley versions of Sauvignon Blanc--you already know the racier side of the variety.  Reflecting the minerality in its limestone-rich soils, wines bearing these placenames can produce thrilling experiences.  Sometimes grapefruity, sometimes herbaceous, sometimes flinty, these wines all have energy that is frankly missing in most warmer-climate wines.  
While white Sancerre and Pouilly-Fumé wines are pushing the $30 median due to scarcity and demand, there are several other pockets in the world making other tangy-tart white wines mostly created for the foods of their regions, many for far less money.  To add a practical functionality to our drink-it-alone cocktail habits, these also make vibrant aperitifs for those who have acquired a taste for the lemony side.
Traveling west along the Loire just before the river empties into the Atlantic Ocean, you will find the quintessential oyster wine region, Muscadet.  Not to be confused with Muscat in any form, the Melon-de-Bourgogne grape grown in Muscadet has been described as "electric", because of its lively acidity.  You want tangy?  Wines from Muscadet deliver tangy like few others in the world.  Loire Valley wine expert Jacqueline Friedrich described Muscadet better than anyone: 
"Pale, racy, and dry, Muscadet's appeal is its delicacy and the steely vigor it expresses within that context.  Its tart lemon tang is offset by savory almond flavors and a Badoit-like taste of minerals.  A barely perceptible sparkle lifts the wine across the palate with an exciting, hard, cold tingle, like a mountain stream flowing fast over rocks."
Most Muscadets can be had for under $20, some well-under.  A new sub-appellation Clisson, whose wines are priced a bit loftier, tries to elevate the Melon to a fleshier, more serious wine.  The few I've tried so far have been fatter than a classic Muscadet Sevre et Main sur lie, lacking the brash energy of the latter.   Aficionados claim, with some good evidence, that Muscadet can age a decade or more.  Going from Rombauer Chardonnay to Muscadet may force something of a sensory shock to many American consumers.  However, it's not too much of a stretch to transition from non-oak Sauvignon Blanc to Sancerre to Muscadet, but each move is a stretch.
One of the trendier wines in the past half-dozen years has been called the "Muscadet of the Languedoc", and that is Picpoul de Pinet.  Not quite as brisk as the sometimes challenging Muscadet, it nonetheless provides enough zip to accompany any shellfish platter or mouth-cleansing refreshment.
France also has another white wine that serves as a zingy aperitif that has sprung on the scene in the past couple decades.  Happily, the prices for these wines are well under $20, and one of my favorites is half that.  White wines from the Côte de Gascogne in France's southwest resemble a light, fresh, unoaked Sauvignon Blanc, but they are usually blends of regional grape varieties.  Colombard and Ugni Blanc (called Trebbiano in Italy) have historically been undistinguished table grapes ideal for making Armagnac, the great brandy of Gascony.  Modern vinification and improvements in the vineyard have allowed these grapes to make a satisfying glass of wine, perhaps not of the depth you want for a meal, but a welcome refreshment on a warm day, or as I have written before, a wine that takes the road dust off when you get home from work as you decide what you're going to drink for dinner.  Another plus:  Côtes de Gascogne blancs are usually under 13% alcohol, so a second glass will not be the one that pushes you to the dark side.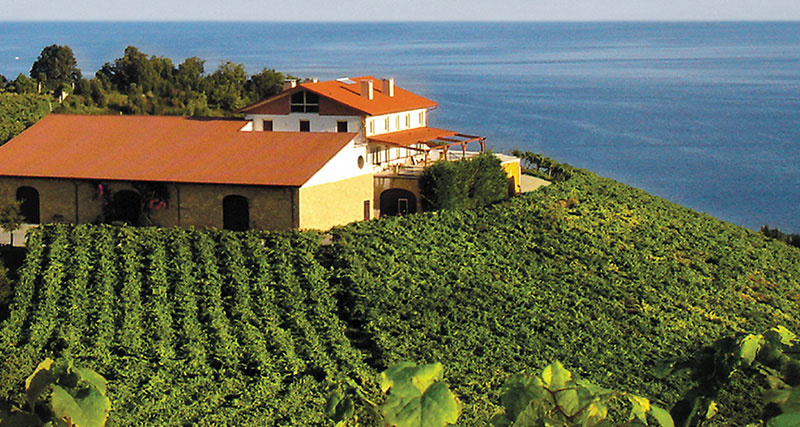 Spain has some tangy wines, too, the brightest of which come from the cool north coast facing the Bay of Biscay.  There you will find the quasi-sparkling Txakolina (chock-oh-LEE-nah), a lower-alcohol wake-up call to your palate made primarily of Hondarrabi Zuri (which you have no need to memorize at all).  Wine writer Eric Azimov of The New York Times described the wine thus:
"You get a real sense of place with Getariako Txakolina. It's typically only 10.5 to 11.5 percent alcohol, with tangy acidity, and the wines are as bracing as a plunge into cold saltwater. Their flavor more closely resembles the aromas of the ocean air there, rather than any particular kind of fruit."
I've seen videos of bartenders showily splashing Txakolina at arm's length into a lowered glass, for what reason I don't know.  To diffuse the effervescence?  I just may have to visit the north coast of Spain to observe this ritual and learn for myself.
Moving on to Germany, which too many Americans equate with sloppy-sweet grocery store Riesling, the truth is that the cold-climate vineyard lands of Germany are just about the northern limits of where grapes can adequately ripen, thus producing wines with more natural acidity than just about anywhere.  Germany's legendary sweet wines have a fresh-fruit snap that can only come from elevated acidity, but it is the modern wave of high-quality dry Riesling coming from the top vineyards of the Mosel, Nahe, Rheingau and other historic regions that quickly dispel any myths that quality Riesling has to be sweet.  In fact, the variety's greatness stems in large part from its ability to taste great at any level of sweetness.
Although Riesling and Germany are inextricably tied, there are other white wines grown in the country that are even tangier and, in many ways, more surprising.  I'm speaking, of course, about Silvaner (spelled Sylvaner in France), a grape whose greatest expression comes from the Franken region surrounding the beautiful city of Würzburg.  Tangy?  I had an importer's rep once tell me, "You smell Silvaner and you may get a whiff of sweet orange blossoms and think there is a sweet wine ahead.  One sip, however, and—BAM!--it's like putting your finger into a light socket!"
There are many other white wines in Europe—those of Santorini in Greece, Vinho Verde in northern Portugal, Furmint in Hungary, and just about every white wine in northern Italy—that are designed to express themselves particularly with their local foods, including seafood, but also accompanying cured meats where, quite surprisingly, fruit that was locked behind their acid walls explodes forth where none was perceived drinking the wines unaccompanied (like most Americans do as a matter of course).
The fun of these wines is exploring their sassiness and vivaciousness, but also taking them one step further, and experiencing them in their totality, as they were intended, with the right foods at the right time.
Here are some examples of delightfully tangy wines that will get you started along a refreshing pathway.  Remember, The Wine Country offers dozens and dozens of wines that'll provide the same.  Just ask us:
2020 Alexander Sirech Cotes De Gascogne "Le Blanc", Southwest France $14.99
I'll be drinking this wine over and over again until it is no more. How much more delight can you get from a dry white, low-alcohol quaffer?  There is real substance in this Colombard/Gros Manseng/Ugni Blanc blend, beginning with a lovely honeysuckle aroma, plusher texture and citrus-pith flavor.  No, it's not meant to be a complicated wine.  It is merely joyful to quaff.
2021 Moulin de Gassac Picpoul de Pinet, Languedoc, France  $13.99
From vineyards very near the oyster beds on the Mediterranean sea, this wine is a classic example of why Picpoul is known as the "Southern Muscadet".  Intriguing, briny mineral notes in both the nose and mouth provide the perfect backdrop for fish and shellfish. Some melon and citrus flavors keep you coming back for more and the crisp acidity assures that your palate does not tire from this zesty wine.
2021 Domaine de Pouy Cotes de Gascogne Blanc, Southwest France  $9.99
This super-value is made from 60% Ugni Blanc and 40 Colombard, cold soaked on the skins to capture the maximum amount of freshness and aromatics. No oak aging is used so that high-toned energy is captured.  Cold soaked on the skins to capture the maximum amount of freshness and aromatics. No oak aging is used so that high-toned energy is captured. Tons of bright green apple and melon, little hits of citrus and a racy green finish. At this price this is definitely a wine not to over-think, just drink!--Samantha Dugan
2021 Regis Minet Pouilly-Fumé, Loire Valley  $29.99
This is a core item of importer Kermit Lynch's portfolio, and a wine we've stocked since our earliest days.  I cannot remember a vintage I've enjoyed more than the current one, though.  I fell in love with the floral aroma immediately.  The flavor captivated me as well.  Medium weighted, brightly structured, and loaded with jazzy Loire Sauvignon Blanc goodness.  I just love this wine!
2020 Domaine du Haut Bourg Muscadet Cotes de Grandlieu, Loire Valley  $12.99
Classic Muscadet with a nice balance of minerals, melon and citrus in the nose. Excellent acidity backs up a wine that possesses the spritz that is the hallmark of true Muscadet Sur Lie. Bottled unfiltered from vat, this is that perfect wine for all fish and shellfish. No lemon needed…--Samantha Dugan
2021 Txomin Etxaniz Txakolina, Basque Spain  $21.99
A fantastic Txakoli.  The grapes are grown on steep sloping hills on tall arbors overlooking the Bay of Biscay.  Classic in style with refreshing, spritzy lemon and lime citrus and saltiness. It is slightly softer and more elegant than other less expensive txakoli wines.  It is an ideal pairing with oysters and other shellfish, seafood.--Kevin Lepisto
2021 Robert Weil Estate Riesling Trocken (Dry), Rheingau, Germany  $27.99
Produced in large, neutral oak casks for a rounder texture, the Riesling Trocken (German for "dry") is a charming, fruit-driven wine, whose balanced, tangy flavors and food-friendly versatility mean that one glass is never quite enough.--Kevin Lepisto
2021 Santo Wines Santorini Assyrtiko, Greece  $31.99
Assyrtiko is Greece's most acclaimed white wine and the best examples are produced from old vines on the island of Santorini.  Assyrtiko wines from Santorini are typically bone-dry and citrus driven with an intense vein of minerality from the volcanic soils in which the vines are grown, and a little more weight than your average Mediterranean white wine.  Assyrtiko is an ideal white wine to pair with seafood but also pairs great with robust Mediterranean salads and grilled white meats.--Kevin Lepisto
2021 Pra Soave Classico "Otto", Veneto, Italy  $19.99
Graziano Prà is one of the leading producers in Soave and instrumental in revitalizing the region.  His wines truly represent how much the quality of Soave wine has improved in the last 20 years.  The "Otto" Soave is produced from old vine Garganega in the heart of the Soave region.  This is a refreshing, bright and minerally Soave with zesty green apple and unripe peach flavors and a crisp clean finish.  Great with salads, chicken and seafood.--Kevin Lepisto