09 Jul 2022 | Samantha Dugan
SPLENDOR IN THE CRUCIFERS--A MAGICAL DISH OF CABBAGE & CAULIFLOWER & WINE!
You ever have one of those dishes that while deceptively unattractive offer so much more pleasure than the sum of their parts? I have a few, but I think I have a new favorite. I posted some pictures on my Facebook page and had so many people ask me to share the recipe that I thought, why not post it here on our blog so you all can tuck this one away in your "easy to please" file.
I got the initial idea from Smitten Kitchen but, as always, I had to crank things up just a bit to make it mine.
INGREDIENTS:
1 Small Savoy cabbage cut into 1 inch chunks
1 Small cauliflower cut into 1 inch chunks
Olive oil
Salt & Pepper
3 Tablespoons Tahini
2 Cloves of garlic grated
Zest of one lemon
Juice of 2 lemons
2-ish Tablespoons Harissa (You can always taste and add more if you like it with more heat)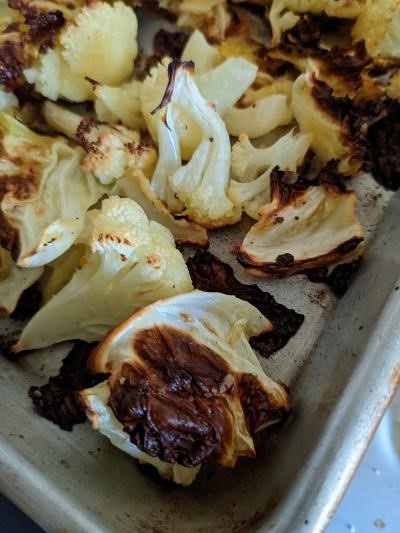 METHOD:
Preheat oven to 450 degrees.
Chop cabbage and cauliflower and toss with olive oil, salt and pepper. Spread on a sheet pan and pop in the oven.
While the vegetables roast, whisk together the following:
Tahini, harissa, lemon zest, lemon juice, grated garlic, salt and pepper. If the dressing looks too thick, whisk in some water to loosen it. The longer it sits the better.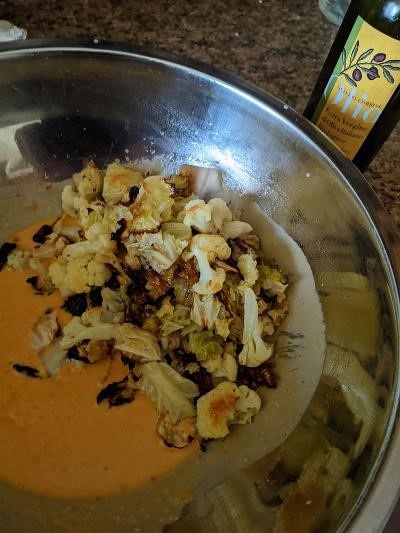 Stir or shake the vegetables after, like, 10 minutes and roast for another 10-15 minutes; you want lots of little charred/black spots on the vegetables. Fresh out of the oven, toss the veggies into the dressing and toss thoroughly. Can be served right away or it can sit at room temperature until ready to eat.
Now I warned you, this dish in NOT a looker but, damn, is it tasty!
I've paired this with kielbasa and sausages, but it is pretty flexible and open to making new friends.
Best wine?
Rose from Beaujolais like the Chateau Thivin ($21.99) or Dominique Piron ($12.99), or a fuller rose with some fruit like the Chateau Campuget Costieres de Nimes ($11.99).
Pinot Gris from Alsace, like the Roland Schmitt ($20.99) or Oregon such as Elk Cove ($18.99). These wines provide enough weight and fruit to hold up to the big flavors in this crave-inducing dish.
I think a nicely weighted Riesling, like the Donnhoff Estate Riesling ($23.99) is also a natural.
And don't forget, sometimes the best wine for a specific dish is BEER!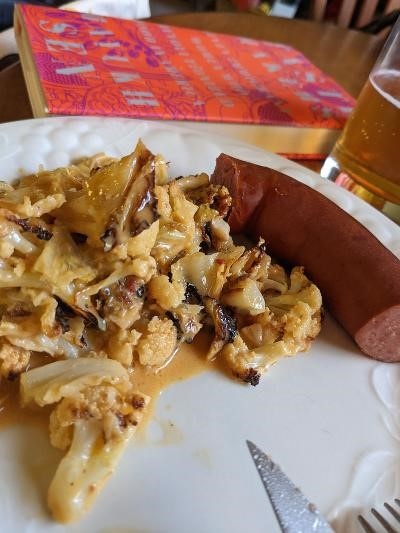 Have fun and report back:
Samantha, Kitchen Nerd