04 Aug 2022 | Randy Kemner
THE 2ND DAY OF BORDEAUX CLASS: PAUILLAC
As I was scanning our store's wine library, I came across a book comparing Bordeaux and Burgundy, the two most iconic and important wine regions in France.  They have always been rivals for the attention of the world's enophiles—Burgundy, the haunting, halting, frustrating more rustic region that is home to Pinot Noir and Chardonnay, and Bordeaux, the bold, assertive, reliable region that exudes wealth and power, the home to blends of Cabernets and Merlot.
The wines of one region are sensual and seductive, the others, earthy, tannic, and in-your-face, especially when young.
For those of us first introduced to wine by the bottles from California, think of how you react to glasses of domestic Cabernet Sauvignon (a major grape of Bordeaux) and Pinot Noir (the red grape of Burgundy).  One is bold and uncompromising, the other is perfumed, supple, and a bit mysterious.  To lovers of wine, the appeal of each couldn't be further apart.
I must admit, I have always been drawn to the wines of Burgundy, much more now as I get older.  But recently, there is something that is pulling me back to Bordeaux, which I first encountered as a very young man.  The wines from Bordeaux are much easier to intellectually grasp—the best estates mainly use Cabernet Sauvignon, Cabernet Franc and Merlot, three of the five traditional red grapes (and two of the three white grapes--Semillon and Sauvignon Blanc) in their blends.  What sets them apart from each other, of course, are their major appellations:  Pauillac, Margaux, St. Estephe, Saint Julien, Graves/Pessac-Leognan), St. Emilion and Pomerol.  These are where Bordeaux' power players reside, and one cannot truly understand wine without discovering these important regions.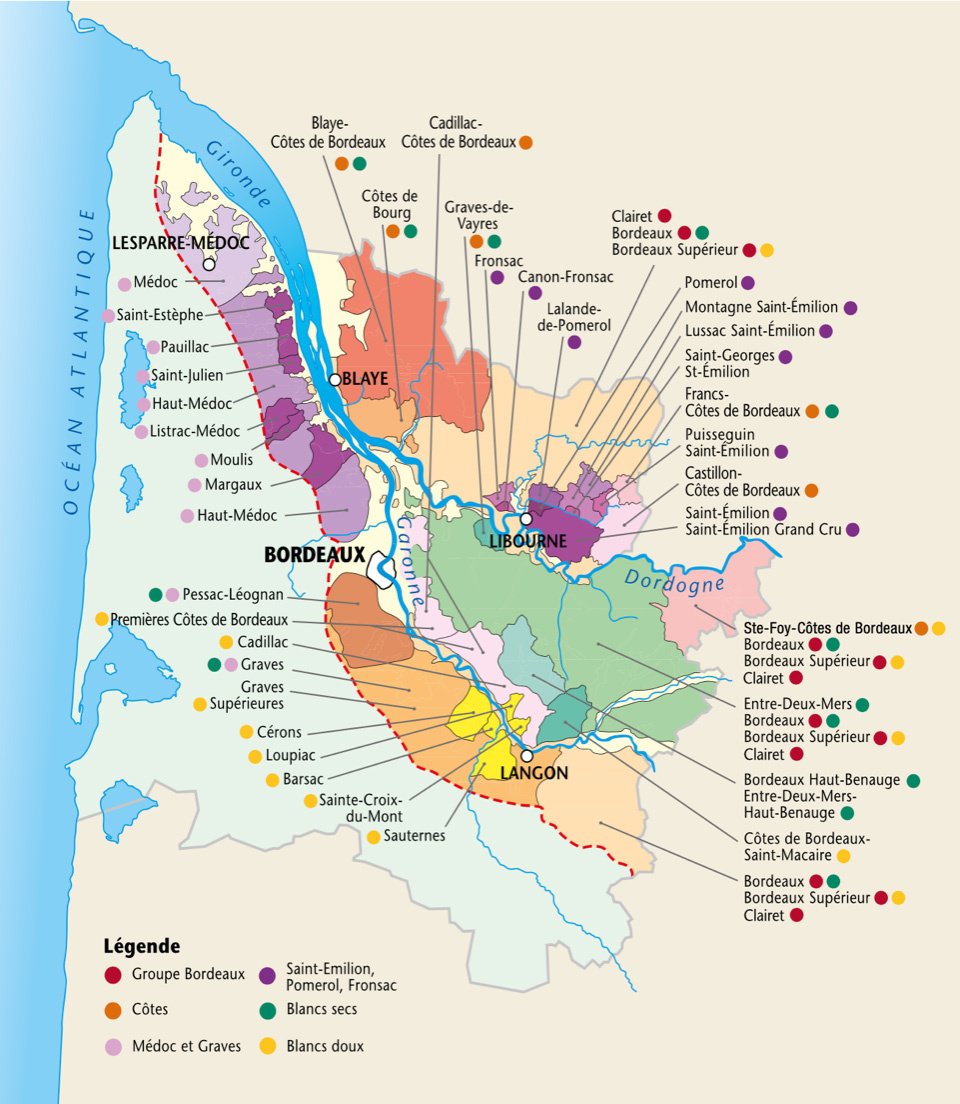 Bordeaux 101 students quickly learn the geography:  the last two communes on the aforementioned list belong to the "Right Bank" of the Gironde estuary where the earlier-ripening Merlot plays a more dominant role, usually making wines that are suppler.  The first communes on the list are on the "Left Bank", where Cabernet Sauvignon is usually more dominant in the blends, producing wines with more power and structure.  The Left Bank is the home to the five "First-Growths", while the Right Bank is home to the more recently acclaimed wines of Pomerol and the historic wines of St. Emilion. 
This hints at another appeal of Bordeaux, one that puts prestige ahead of any function as a table wine, and that is, since 1855 there has been a pecking order established by the classification of the Paris Exposition that year which ranked its top wines into 1st, 2nd, 3rd, 4th, and 5th Growths.  Originally determined by market prices, these 60 odd estates were selected into these groups, which since then have more or less convinced the wine-consuming public of their quality. (If logic flows, 1st is better than 2nd, 2nd is better than 3rd, and so on.  This is the subject of much debate, and rather being an absolute determiner of quality, more accurately demonstrates a general progression of accomplishment.)  In fact, the mere satisfaction of possessing a Grand Cru Classé, as they are called, has supported higher prices, which, in turn, have allowed each privileged estate the wherewithal to maintain higher standards for their wine production than their neighbors, like proper work in the vineyards, new barrels and expert personnel.
I am one of the guilty ones who succumb to the lure of Bordeaux' lore, too.  Would I ever turn down a glass of Chateau Latour?  Never.  Do I think Latour is worth the money?  That's a more complicated question to answer.  No, it is not ten times better than a $100 Bordeaux.  How much is drinking a Latour worth to you? is a better question.  You are drinking winemaking regality with a rich lore.  That's the price you have to pay to get all that.  Wine lovers must provide their own answers individually.
The lure of classified Bordeaux doesn't end with First Growths.  In a wine store, do I linger over expensive bottles of Gruaud Larose and Chateau Montrose with dreams of roast beef dinners in my future?  Of course I do.  For me these are aspirational wines, and I drive a Toyota.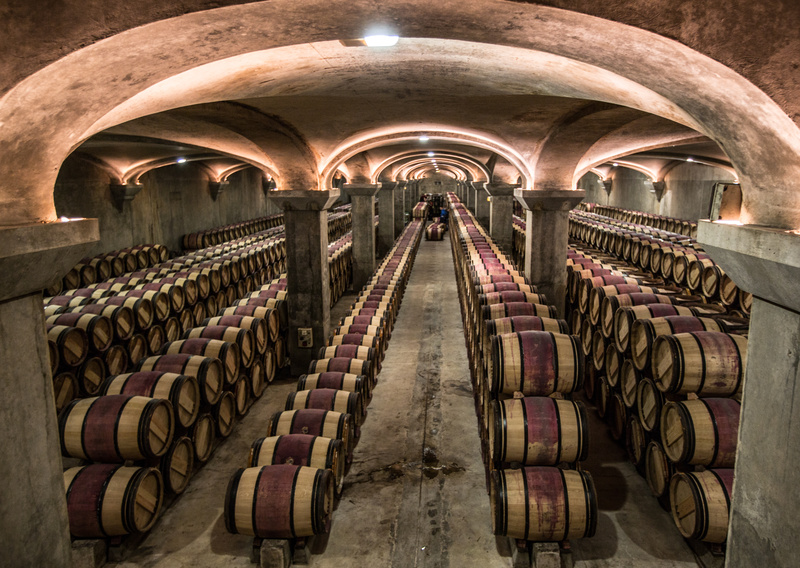 A few weeks earlier at the store, I wanted to renew my acquaintance with the some of The Wine Country's Classified Growths of Bordeaux, so I staged an informal tasting of several wines from Margaux and Graves and shared them with Jeremy Dugan and the rest of my staff.
This day, I would focus on the wines of Pauillac, home to the first growth giants Chateau Latour, Chateau Lafite-Rothschild and Chateau Mouton-Rothschild and many of the most highly regarded Bordeaux estates.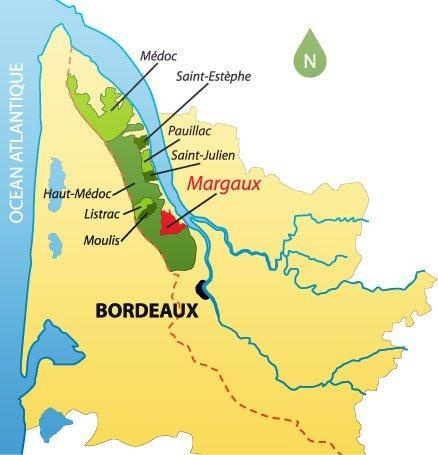 As one would expect, the powerful wines of Pauillac clearly got our attention.  The following wine notes reflect Jeremy's impression as well as my own.  We hope they may provide some guidance in selecting wines for your table and your cellar.
2019 Chateau Peyredon Lagravette Haut Médoc  $27.99 per bottle
A warm-up starter in our tasting--not a Pauillac--and priced for everyday drinking, the Peyredon Lagravette performed well at our second Bordeaux tasting.  A little spice and a floral note lay in its intriguing aroma.  I wished the attractive flavor would persist longer, but alas, it came up short in the finish.  Enough quality for the money, but if you can afford to step up, I would.  63% Cabernet Sauvignon, 37% Merlot.
2019 Chateau Duhart-Milon Pauillac Grand Cru Classé  $116.99 per bottle
My first Duhart-Milon (I think it was the 1970) had an attractive vanilla aspect to it that made me want to enjoy it over and over again.  I must say I've never found that again in Duhart, which maybe unfairly, made me a bit disappointed.  Still, it is part of the Lafite-Rothschild family, so I was up for another go-round.  We tried the 2016, but alas, the appealing cherry and strawberry notes were tapped down by an animal funkiness.  Was it a bad bottle?  I'll never know because it was the last bottle.  I hoped for more with the 2019, a well-reviewed wine, which arrived a couple weeks later.  When I got around to sampling the 2019, I was delighted.  The nose offered a lot of little treats and treasures, some violets, some black cherry, some cassis.  The mouth is silky, round, viscous--a lot more stuffing than a mere bottle of Bordeaux.  One should expect more, too, for its Grand Cru pedigree and its higher price.  Happily, it delivers.  I'd be proud to pour this wine at a dinner this week, but I would advise you to be patient and let it develop in the cellar for a decade or more.
2018 Chateau D'Armailhac Pauillac Grand Cru Classé   $79.99 per bottle
One of the estates owned by Mouton-Rothschild, D'Armailhac has produced affordable classified Bordeaux, while lacking in bells and whistles, still provided handsome and serviceable table wines.  Kind of like kissing your sister—neither exciting nor off-putting.  We were about to discover whether the 2018 would bring some new excitement to the party.  Dark fruits, tobacco and spice are pulled out of the nose, while a bolder presentation awaited the flavor.  Woodsy spice, soft dry cocoa in the mouth followed by some medium-high tannins and soft minerality in the finish.
2019 Chateau Clerc-Milon Pauillac Grand Cru Classé   $113.99 per bottle
Part of the Mouton-Rothschild family of Bordeaux estates, Clerc-Milon has produced medium-weight, perfectly delightful wines that performed well at the table even as younger wines.  In very recent years, something big has been going on in this estate, as critics have been praising the estate for its impressive string of vintages.  Black fruits in the nose with flavors of cherries, hints of ripe strawberries, a touch of blueberry, some green-ness and a bright character framed by modest tannin.  I felt this was the most drinkable Bordeaux in the tasting, ready to go now.
2017 Chateau Pontet-Canet Pauillac Grand Cru Classé   $165.99 per bottle
Wine critics have been heaping praise over the wines of Pontet-Canet in recent years.  So much so, that this was one of the wines I was most curious to sample in this tasting.  The nose featured hints of fig, light mushroom and a touch of mint.  I imagine the density and power in the mouth is what made critics swoon.  Chocolate-covered tart cherries, salted figs, dried cocoa and a slight vegetal note in the flavor.  The texture is full in the mouth with a long, lasting finish.
2018 Chateau Lynch-Bages Pauillac Grand Cru Classé  $214.99 per bottle
There is near-unanimous opinion that if the 1855 Classification were held today, Lynch-Bages would be elevated from its 5th Growth perch to 3rd or 2nd Growth status.  Masters of bold Cabernet Sauvignon, the winemakers over the past five decades have produced superior wines that delight wine lovers the world over.  We sampled the 2016, a dense wine, with a nose of roasted coffee, tobacco and light notes of dark purple fruits.  Heavier in the mouth, making a statement for sure, but this day charmless.  Two weeks later the 2018 arrived, and this was another story altogether.  Magnificent, full-bodied, and richly textured, but that was just for starters.  The nose offered all kinds of complex aromas and nuances.  How did they do it?  Massive flavors, but none were harsh or out of whack, nor did the tannins feel pushed.  A glorious vintage for Lynch-Bages and a rare treat for me.
2017 Chateau Pichon Longueville Comtesse de Laland Pauillac Grand Cru Classé  $228.99 per bottle
This 2nd Growth came out of our locked case.  On a roll for over three decades, this terrific estate continues to produce wines at the highest level.  And we were about to discover this today.  This "Super-Second" Growth has hints of coffee grounds and dark cherries in the aroma.  In the mouth, flavors of bright ripe strawberry, cherry, light tannin, rose petal, figs and a hint of cocoa in the finish.  If I owned this bottle, I'd cellar it to see how it develops over the next decade or longer.