20 Oct 2022 | Randy Kemner
THE FINAL DAY OF RED BORDEAUX CLASS: SAINT-ÉSTEPHE & SAINT-JULIEN AND THE RIGHT BANK APPELLATIONS OF SAINT-ÉMILION & POMEROL
Let's take a look at the wine map of Bordeaux again.  As we all know, geography in fine wine is all-important.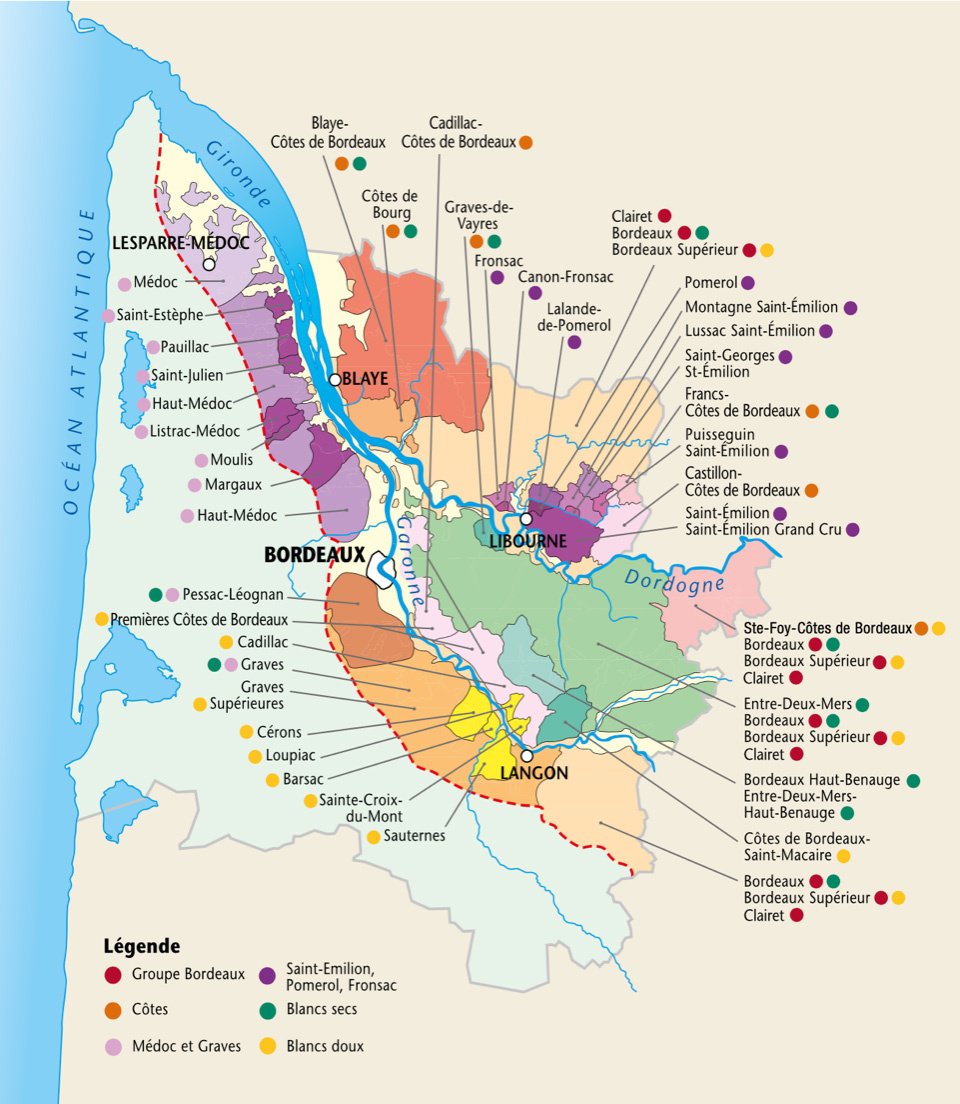 Rather than dwelling on geology and sub-soils at this time (or any other time), let's just see where these places lie compared to each other.  You'll notice that the Saint-Estephe (and its sturdy wines) is nearest to the cool Atlantic Ocean, while Saint Julien is a little further south on the Médoc, protected by a slightly wider swath of land, which provides a distincly different character, more berry-like.
On the right bank—which the French call the Libournaise—the ancient town of Saint-Émilion (named after a hermit-priest) gives its moniker to a long-distinguished wine region where earlier-ripening Merlot is the dominant grape.  The wines of the better estates are usually a bit more graceful than the powerful Cabernet Sauvignon-dominant wines of the left bank, like Pauillac and Pessac-Leognan.  Not part of the famous 1855 classification, but fully aware of the financial benefit of such a list, the wineries of Saint-Emilion were classified a hundred years later, in 1955, then revised periodically (1969, 1986, 1996, 2006, 2012, 2016, 2022) since then with wines ranked Grand Cru Classé, Premier Grand Cru Classé and eventually Premier Grand Cru Classé A and Premier Grand Cru Classé B. 
All of this sounds confusing, and frankly it is.  So much that three of Saint-Emilion's top estates—Chateau Ausone, Chateau Angelus and Chateau Cheval Blanc--pulled out of the classification system altogether, believing that their individual status is powerful enough not to have to put up with the bureaucratic nuisances that go along with the re-applications required in the classification system.
The mystery of the right bank is why all the hoopla surrounding the tiny region of Pomerol, inside the Libournaise.  The home of Bordeaux legend Chateau Petrus, the plusher wines of Pomerol have been so successful during the last quarter of the twentieth century, that prices have reflected their rarity and demand in drink-me-now cultures, like the USA and the Far East.  Fueled by the enthusiastic promotion by American wine critics (originally led by You-Know-Who), the modern reputation for Pomerol has seen its top wines skyrocket in price.  According to WineSearcher.com, the current price for the 2019 Chateau Petrus averages $6,665.00 per bottle.
The irony is Pomerol was never considered as a top wine region before the 1960s.  Why not?  Perhaps the wines weren't classically structured.  Maybe the tiny region, which was once part of St. Emilion, was ignored by the negociants and British wine press. More probably, there never were any rating systems.  Unlike the Médoc, Graves and Saint-Émilion, Pomerol growers have opted out of the classification system.  The region is so tiny, the case production of each estate so low, market forces of this now-popular region have made it unnecessary to go to the trouble.
2018 Lalande de Pez Saint-Estephe
For those of us who love red Bordeaux but put off our splurges for once-in-a-while, handsome petit chateaux like the Lalande de Pez satisfies our needs during the long in-between times.  It's a medium-weight red, with an aroma that hints at olive and oak.  There is already some development in the aroma, a head-start on aging which makes for a more interesting, complex experience.  This is also felt in the flavor, which makes it more compelling than a simple wine loaded with only primary fruit flavors.  Framed by sturdy tannins, this wine is a satisfactory touch of Bordeaux at a good price.
$36.99 per bottle
2015 Chateau Clauzet Saint Estephe
2015 was a ripe vintage all throughout France, a critic's delight because there were many full-throttled wines produced that year.  The bottle we tried had a little funkiness in the aroma at first, but with a little swirling, it blew off.  Fruit-forward, medium-weighted, simple wine that is priced right.
$44.99 per bottle
2018 Pagodes de Cos Saint-Estephe
The chateau calls this a "lunch" wine.  This is the second label of the mighty Cos d'Estournel (I assume the "dinner" wine), and an obvious step up from a lot of petit chateaux.  A darker color, a richer look to the wine.  An attractive aroma of crushed blackberries, followed by ripe flavors of black fruits hemmed in by very firm tannins.  Well reviewed by critics.  60% Cabernet Sauvignon, 36% Merlot, 3% Cabernet Franc, 1% Petit Verdot.
$77.99 per bottle
2017 Chateau Phelan-Segur Saint-Estephe
Elevated to Bordeaux Superieur Exceptionelle status, Phelan Segur produces handsome wines that don't quite match the top classified growths, but are satisfying on their own.  The aroma is balanced and not too aggressive, as is the flavor which I'd characterize as elegant.  Medium bodied with flavors of black fruits and tannin to balance.
$63.99 per bottle
2017 Chateau Calon-Segur Saint-Estephe Grand Cru Classé
All I can say is wow, I wish we had more of this wine to sell, but we simply cannot get any more of this vintage nor the following two.  The chateau is that hot of late.  This gives you a mouth full of extracted, concentrated goodness featuring notes of ripe blackberries.  Yes, it's full-flavored, with enough fruit to balance the ample tannins.  A knockout.
$126.99 per bottle
2017 Chateau Branaire-Ducru Saint Julien Grand Cru Classé
A bit of roast coffee dominates the aroma, and truth be told, the flavor follows the aroma with a roasted aspect.  An interesting take on Saint-Julien.
$84.99 per bottle
2018 Chateau Langoa Barton Saint-Julien Grand Cru Classé
I fell in love with the 2017, which reminded me of classic Saint-Julien in the old days, so I approached the 2018 with anticipation, and wasn't disappointed.  The color is blood-red, appearance opaque and viscous.  A deep, ripe aroma predicts the mouthful of rich, delicious flavors to follow.  Pretty big in size, with exotic elements that weave in and out of the flavor.  Framed beautifully by its tannins  Very impressive.
$100.99 per bottle
2018 Chateau Talbot Saint Julien Grand Cru Classé
The 2018 vintage featured an etched label right on the bottle.  This is a heady Bordeaux (the label reads 14.5% alcohol, but wines of this era may be misleading in an attempt to avoid the Trump wine tariffs.)  The aroma is a little wild at first, blowing off with air to reveal solid Bordeaux aromas.  There is a lot of fruit in there, and there are firm tannins in there, but it may take a bit of time in your cellar for them to integrate.  I would urge patience.
$87.99 per bottle
2018 Chateau Beychevelle Saint-Julien Grand Cru Classé
I am happy to report that after a period of stagnation in the 1980s, Chateau Beychevelle is back.  This dense, focused, darkly colored wine has an opaque, viscous appearance, with an aroma that you have to search for a bit, but ultimately satisfying, if not as aggressive as some.  There is a silky texture that oozes luxury, with a flavor of crushed blackberries and a touch of licorice in the finish.
$119.99 per bottle
2018 Chateau Gruaud Larose  Saint-Estephe Grand Cru Classé
Gruaud Larose has come a long way since I first encountered the wine forty vintages ago.  This has the pedigree of a classified growth, as you notice at first glance of the opaque, dark garnet-colored viscous appearance.  The aroma is forward and welcoming, and the juicy mouthful of berries just screams Cabernet Sauvignon.  Firm tannins frame the finish. 
$110.99 per bottle
2019 Chateau Beau-Séjour Bécot Saint-Emilion Premier Grand Cru Classé
Benefitting from a very good growing season and the fact that at this young age the fruit is upfront, the aromas of black fruits are fresher and livelier.  In the mouth, they are even handsomer, with more primary fruit than older bottles.  That isn't to say it's not a serious wine.  It's finishes with serious graphite tannins which help create the impression that this is a dry wine, for sure.
$86.99 per bottle
2017 Chateau Canon Saint-Emilion 1er Grand Cru Classé
This is a magnificent estate, which has been doing great work in recent years.  The right-bank vineyard has produced a dry, focused wine in 2017, not flamboyant, yet elegant, especially in the aroma, which is beginning to display secondary complexity, with depth.  In the mouth, there is a powerful flavor, but reined in by its tannin.  The fruit is more in the background here.
$131.99 per bottle
2017 Chateau Canon La Gaffelière Saint-Emilion Premier Grand Cru Classé
I don't know if it's a characteristic of right-bank Bordeaux from 2017, but I've noticed some secondary aromas peeking in earlier than their left-bank counterparts.  A tad juicier than Canon, but still focused and at this point, a little severe.  It's a serious wine.
$128.99 per bottle
2017 Chateau La Gaffèliere Saint-Emilion Premier Grand Cru Classé
At this point in the wine's development, the plum-colored wine is tighter than its left-bank counterparts.  The nose is also focused, finishing with drying tannins.
$108.99 per bottle
I knew right away what makes modern-day Pomerol more sought after than wines from neighboring Saint-Emilion.  You would think that the climate and soils wouldn't be that different, but you'd be wrong.  Here is a classic example why.  The pleasant aroma is still showing more ample primary fruit, which gives the wine more fullness, fruit and plush character.  It finishes a bit tight as the tannins assert themselves.
$119.99 per bottle
As I first poured this viscous, garnet-colored wine into the glass, a gorgeous perfume emerged, so appealing I found myself being drawn to the glass over and over.  Was it a touch of vanilla that I found so compelling?  In the mouth I discovered an equally appealing juicy fruitiness, full-textured, offering a little spice (from the oak, I wonder?).  Remember that Merlot-dominant wines rarely out-punch Cabernet-dominant ones, yet Le Gay is fairly full-bodied, finishing with ample tannins which produce a dry finish.  Pretty impressive performance.
$141.99 per bottle