06 Oct 2022 | Randy Kemner
THE SEARCH FOR THE SOUL OF SYRAH
What's going on with Syrah?  And why is it in so much trouble?
These are questions that have been dogging the wine industry for decades.  Once thought to be "The Next Big Thing" before and after the post-Sideways Pinot Noir boom, the wine media's enthusiasm for Syrah, potentially among the world's most expressive red wines, has never been fully realized by the public.
Sure, there was the Australian Shiraz explosion in the 1980s, but it receded into a whimper by the 2000s, largely due to its excesses and poor performance at the table.
In the U.S., Syrah never found its footing, after having been grown in hot weather and cool climates, from the Sierra Foothills to Paso Robles to Washington State.  There was never a domestic standard-bearer for Syrah, as there was for Merlot with Duckhorn, or Pinot Noir with Williams-Selyem.  Because it tasted so dramatically different depending on where it was grown, nobody really understood what good Syrah was supposed to be.
Even our suppliers have been complaining that Syrahs—no matter where they came from—are just ho-hum sales-wise.
What is the reason?  After all, Syrah is the grape of the great wines of Hermitage, Côte-Rôtie and Penfolds Grange. 
Perhaps it is a matter of dashed expectations.  If someone likes a particular Syrah from a particular producer and the next producer's Syrah is radically different, they'll avoid the category altogether.  Think of the confusion over sweetness that wrecked another great variety, Riesling.
You see, most people want predictability.  Look around you.  How many stores and restaurants in your local malls are the same chains you find in every other community?  Go from grocery store to grocery store and you see the same items on all their shelves.  We humans are mostly timid souls who worry they won't like something if it is different.
Then there are the hearty band of brothers and sisters who seek out adventure in our wines.  Burgundy lovers accept this; they know they must endure many expensive disappointments before they discover the magic bottle that propels further searches.  Our customers are more likely to fill up their carts with twelve different bottles than buy one case of the same thing.
Like Pinot Noir, Syrah is for the explorer and adventure-seeker.  The wines are nearly as temperamental as their Burgundian counterparts, reflecting the place they were grown as much as the philosophy of its winemaker.  
Whenever I'm faced with uncertainty in wine, I try to look back to its origins for clues.  And, lucky for us, the detective work has already been done.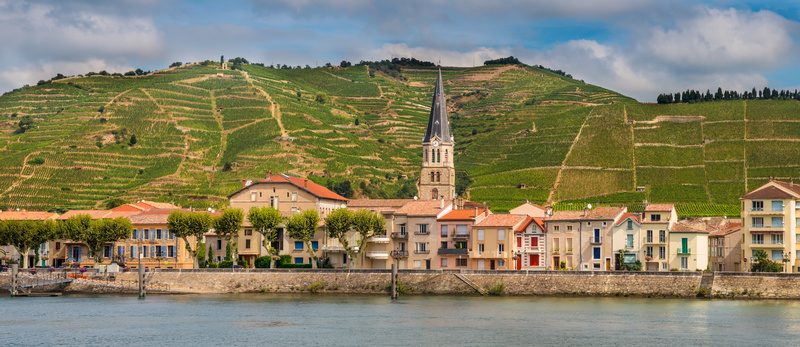 The Origin of Syrah
In 1998, a UC Davis research group headed by super-sleuth Carole Meredith (the same network which also discovered the mother vineyard of Zinfandel in Croatia), used DNA typing to determine the source of Syrah.  The data led them to determine that Syrah's parent varieties were Dureza, a red wine from the Ardeche (in northern Rhone), and Mondeuse Blanche, a white variety from Savoie and concluded that "Syrah originated in the same place where it came to fame—northern Rhône Valley".
This is the Continental-climate northern Rhone, not the Mediterranean southern Rhone.  While it might sound like I'm too much in the weeds for casual wine sipping, it is important to recognize the differences between the two. 
To fully embrace Syrah's ancestral soul, one must take a moment to consider the geography of the northern Rhone.  From Lyon, in the center of France, a short drive to the south puts you into the Syrah zone beginning with magnificent Côte-Rôtie, the northernmost tip of the skinny 50-mile long north-south northern Rhone region.  It gets cold in the winter.  I stood in the street in front of my hotel in Chavanay on a chilly January night while it snowed.  In my view, the food and red wine of this region has more affinity with the wines to the north of Lyon—Beaujolais and red Burgundy—than they do with the mighty Chateauneuf-du-Pape, a few hours' drive downriver. 
Beginning in the 1980s, Robert Parker embraced the wines of the Rhone Valley and threw his considerable weight behind them.  Before this recognition, peasant vignerons who for generations toiled to make wines that were so cheap, growers had to supplement their incomes with vegetables and fruits, selling preserves and eggs and anything else they grew on small plots of land in order to make a living.  After Parker, wine icons were born with names like Chave, Clape, Guigal, and Rostaing, and prices of their wines rose with their notoriety and international demand. 
In the early 1990s, Parker also championed the Syrahs of Australia—called Shiraz—and encouraged a manic wine boom to acquire the wines of Penfolds, Henschke and Mollydooker.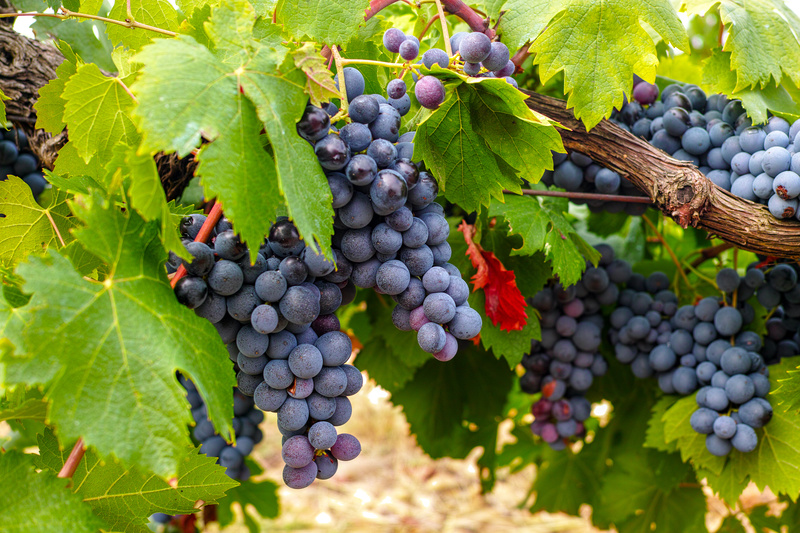 What Happened to Syrah?
So why didn't Syrah take off in California?  One explanation is that the varietal is relatively new.  The first Syrah bottling was probably by Joseph Phelps in 1974, and it took awhile to get enough plantings around the state to create enough Syrah to forge a stylistic consensus.  It is the wild west here—we don't have an appellation system that tells us where to plant Syrah—and the results have been all over the map.  Sean Thackrey, John Alban and Ehren Jordan have had great successes with Syrah, but there were so many producers that made lackluster wines, consumers never knew what to make of the variety.  Like I noted before, unless consumers had experience with the northern Rhone wines of Hermitage, Saint-Joseph, Cornas and Côte-Rôtie, there was no guidepost for New World Syrah.  Paso Syrah wines had a completely different character than those of the Sonoma Coast—warm climate compared to cool climate offerings.  Similarly, the Shirazes of Australia Barossa Valley smell and taste nothing like the Syrahs of Saint-Joseph and Côte-Rôtie. 
So how are newcomers going to navigate the variety?  If they fall in love with Barossa Shiraz, how can they also love Hermitage?  If they discover a favorite Syrah producer in Paso Robles or the Sta. Rita Hills, how can they also embrace the temperamental Syrahs of Cornas and Crozes?
Over the past quarter century, many consumers have become disenchanted with Australian Shiraz, despite Parker, as they discovered most didn't age well in cellars, and many took on a salty, flabby character the longer the wines aged in cellars.  There are exceptions, of course, but the market for high-priced Shiraz dropped like a rock during the 2000s.
California (and Washington State) Syrahs lost what little enthusiasm people could muster up for the variety, largely because of dashed expectations.
Failure is Not an Option
Attendance for our first Syrah tasting since the Covid shutdown was less than half of the attendance for the previous week, whose theme was nothing in particular.  The magnificent grape of the Northern Rhone wasn't the draw I hoped it would be, even though our lineup performed impressively in the glass, at least for me.  I need to do something about that.
After spending a solid week preparing for this event, it became clear to me why Syrah is problematic—or at least uninspiring--for so many wine lovers.  Again, it goes back to predictability and expectation, or the lack thereof.
That's why I implore the adventurers among our wine clientele to re-discover the wonders of Syrah.  Lamb dinners at our house are never without it. 
I'd like to share with you my impressions of the Syrahs I encountered this past week, and embracing their stylistic differences, I was surprised at how much there was to appreciate.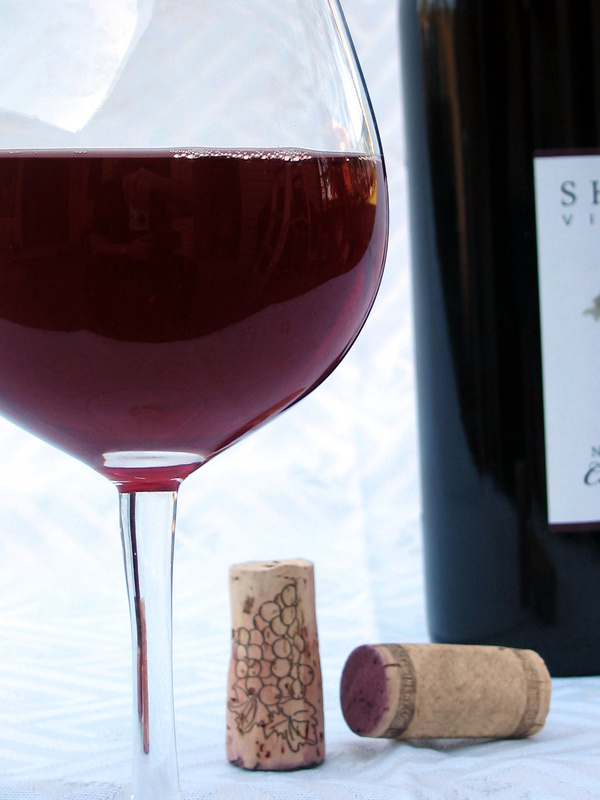 OLD WORLD SYRAH
2018 Domaine Verzier IGP Collines Rhodaniennes Syrah, Rhone Valley
Here is a masterclass in the contradiction-laden temperament of Syrah, a wine that explains both why Syrah is so intriguing and why it is so maddening all in one sip.  The appearance displays a dark plum color, the aroma, part woodsy, part funky.  In the mouth, the wine is grapey and medium-bodied with a flavor of tangy blackberry dominating, rather than the usual northern Rhone clichés, and no hint of oak in the flavor—all fruit and soil.  A firmly structured, substantial wine with some grip in the finish, it is bottled unfiltered and looks like it in the glass.
$18.99 per bottle
2020 Domaine des Pierres Seches Sylvain Gauthier IGP Ardeche Syrah, Rhone Valley
The modern side of northern Rhone Syrah.  It's dark.  It's opaque.  It's full-bodied.  It has tannic grip with its graphite finish.  The cool-climate source is evident in its structure; its an assertive red wine at a good price.
$20.99 per bottle
2018 Alain Voge Cotes du Rhone "Les Peyrouses", Rhone Valley
I was reluctant to write about this wine due to very limited supply, but Voge has a good reputation for Cornas, and this all-Syrah northern Rhone rarity is made up of younger vine material, so here goes.  A woodsy aroma wafts out of the dark, opaque wine.  It seems like there has been a lot of skin soaking here.  This mouthful of wine offers a tannic grip in the finish.  Straightforward Syrah looking for a hearty stew.
$30.99 per bottle
2016 Sebastien Blachon Saint-Joseph "Premier", Rhone Valley
The extra few years' age reveals the more complex side of northern Rhone Syrah, a developed wine that frankly tells me to enjoy the primary fruit of the species, but Hermitage aside, most wines should be drunk in their youth, or adolescence at most.  There is a not-too-dark reddish-plum appearance, with the color beginning to show its age.  Possessing an elegant, soulful aroma that reflects its extended time in the bottle, the fruit here is more in the background and more nuanced than more aggressive younger wines from the region.  This is a wine to contemplate, not a wine that smacks you in the chops.
$39.99 per bottle
2019 Domaine Verzier Saint-Joseph "Madone"
The domaine is known as Chante Perdrix, the singing partridge, and this reserve bottling originates on a sloping hillside with the Rhone River in view below.  This estate's wines never attempt to be powerhouses, but all the good Syrah stuff is there.  The young wine is restrained, but not delicate.  Just medium-weighted.  At 13.5% alcohol, there are echoes of Côte-Rôtie, with the violets and blueberries present, but more in the background.  A civilized bottle.
$41.99 per bottle
2019 Domaine des Pierres Seches Sylvain Gauthier Saint-Joseph "Pure Syrah", Rhone Valley
I've sampled this wine twice, and each time I thought it was probably the best "transition wine" for those who admire California Syrah, but want to dip their toes into the northern Rhone.  This is a full-flavored, mouthful of delicious Syrah.  Possessing a gorgeous aroma, round texture and sumptuous flavors, including some oak, but balanced with plenty of fruit.  It's no shrinking violet—the wine's 14.5% alcohol tells us the fruit is plenty ripe, but the little bit of heat aside, it is packed with flavor.  You can almost chew it.
$34.99 per bottle
2019 François & Fils Côte-Rôtie, Rhone Valley
This excellent Syrah needs about an hour or two decanting to bring out all its charm.  Aged in large and smaller barrels, it possesses classic Côte-Rôtie violets and blueberries in both aroma and flavor, haunting beauty that may re-define what Syrah means to you.  Medium bodied, with a little saltiness.  The flavor of crushed blueberries stays with you through the finish.
$67.99 per bottle
2017 Barruol Lynch Côte-Rôtie "Les Roses", Rhone Valley
Here is a wine full of contradictions.  Aromatics in Côte-Rôtie are usually very forward, but here you have to search a bit to discover its pretty florals.  In the mouth, there is the usual Louis Barruol density and tannic finish that make it a more straightforward red.  A partnership between Barruol and importer Kermit Lynch.
$81.99 per bottle
2018 Barruol Lynch Hermitage, Rhone Valley
In my view, Hermitage is the superior terroir of the northern Rhone Valley.  The best wines from the distinctive hillside can age decades and produce majestic wines of true nobility.  Anytime you drink Hermitage, it's an occasion for celebration.  This wine approaches greatness.  Sporting a dark, opaque appearance, the aroma reveals the beauty of Syrah from this privileged locale.  It's not a perfect wine, revealing more heat than I personally like, but its full in the mouth with flavors of black fruits and a tannic finish.  Perhaps the wine will stir up a little controversy; there is power here.
$83.99 per bottle
NEW WORLD SYRAH
2021 Coquelicot Estate Vineyard Carbonic Syrah, Los Olivos District, Santa Barbara County
Coquelicot Estate practices organic viticulture, with minimal intervention in the winery—what we call "natural wine".  Winemaker Mike Roth, after stints with Nils Venge and Mike Grgich, was drawn to the non-interventionist side of winemaking, and this innovative wine is but one example of his work.  Think Beaujolais-meets-Syrah, due to the Beaujolais-method (carbonic maceration) working its charm on this chillable red.  It's a delightful wine with a pretty, luminous magenta color.  Not a complicated wine, but one you'll be happy to grab with a big crusty sandwich or any mid-week meal.  14.4% alcohol.
$24.99 per bottle
2019 Union Sacré Wines Syrah "Paragon Vineyard", Edna Valley
Union Sacré, a partnership between Philip Muzzy and winemaker Xavier Arnaudin, is located in the Tin City complex at the edge of Paso Robles.  Their philosophy is to make table wine, not wines to pontificate over, mainly concentrating on Alsace varieties, but here have made a drinkable, friendly Syrah from Edna Valley's established Paragon Vineyard.  With a deep garnet color, the generous aroma showcases Syrah's more floral and fruity side.  In the mouth, ripe fruit is evident, framed by bracing acidity, giving the wine a clean finish.  You may notice some hints of strawberry in the finish.  13.7% alcohol.
$14.99 per bottle
2019 Samuel Louis Smith Syrah "Sandstone Terrace", Santa Cruz Mountains
A classic, gorgeous Syrah from the cool-climate Santa Cruz Mountains.  Samuel Smith considers himself a micro-negociant, acquiring wines in small quantities—in this case just 250 cases—and impeccably selected.  Sporting cool-climate flavor and structure, this unfiltered wine channels the soul of Syrah in a classically beautiful way.  The flavors suggest blue fruits, mostly.  A little tannic grip in the finish provides a handsome framework.  There isn't a lot of this wine available, obviously, so don't pass it by.  Highly recommended.  13.2% alcohol.
$30.99 per bottle
2021 Fernweh Wine Co. Unweg Syrah "Shakrian Vineyard", Santa Barbara County
Dark, viscous, plush, nearly opaque appearance.  Mouthfilling, ripe flavor that doesn't hold back its flavors of crushed blackberries.  This wine is for fans of dark, full-bodied red wines.
$28.99 per bottle
2019 Melville Syrah Estate, Sta. Rita Hills
When I first met Chad Melville, he was punching down a batch of Pinot Noir at Samsara Vineyard, which he has since sold to take up winemaking duties at his family estate.  Gazing about the tasting area, I noticed a high wrap-around shelf full of empty bottles I recognized—J.L.Chave Hermitage, Clape Cornas, Domaine de Vieux Telegraphe Chateauneuf-du-Pape.  It was obvious where Chad's North Star was—smack dab in the Rhone Valley.  And his wines show his vision.  Jessica Martinez, our domestic wine buyer, is a huge van of Chad's winemaking, and she told me he spends a lot of time amongst his vines, where a true vigneron belongs.  Now that he's using family fruit for his family wine, his work in the vineyard is obvious.  The nose is one of the most complex of any Syrah in the store.  Layers of exotic perfumes, smoke and blue fruits find their way to the flavor, one that demands your full attention.  Plum and a hint of tar may be found there, too.  A solid structure, but refined.  More Cary Grant than Mike Tyson.  "Serve slightly chilled" is on the back label, and by that I suppose he means it is ideal to drink this wine at cellar temperature where it is cool to the tongue.
$38.99 per bottle
2018 Eric Kent Syrah "Kalen's Big Boy Blend", Sonoma County
This is a big wine, as the name suggests.  The Eric Kent winery's mission is to feature wines of Sonoma County, and this is a bruiser.  At 14.5% alcohol, it has a brash flavor.  The dark, viscous wine features bold flavors of black fruits.  You can chew it.
$36.99 per bottle
2016 Handpicked Regional Selections Shiraz, Barossa Valley
We can't do a piece on Syrah without at least giving a shoutout to Australia, particularly the Barossa Valley.  Called Shiraz in Australia (the grape is not Persian in origin—just a name that gives a nod to Persian poetry), it has served as the wine most identified with the continent.  Pour this negotiant wine and take a sniff.  Yep.  Australia.  Specifically Barossa.  This wine stands apart from all the other Syrahs I've sampled lately—surely typical of Barossa Shiraz—but completely distinctive.  Is it the warmer climate.  It's a very good wine to like, but subtlety is not its calling card.  There are woodsy notes and some toast in the aroma and taste.  Full. Flavorful.  Aussie.
$22.99 per bottle