Posted on
By Kevin Lepisto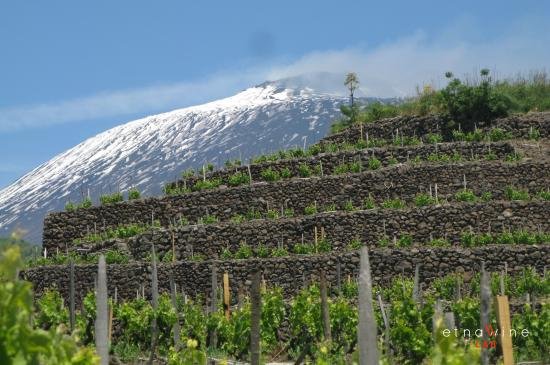 Often grown at higher elevations in volcanic soil, the wines of southern Italy and Sicily have been growing in popularity in recent years largely for their riper, clean flavors and their distinctive sense of place.
We all think of Southern Italy as being hot, with the warm Mediterranean climate being the driving factor in the styles of wines being produced there, but many of the most exciting wines coming out of Southern Italy are influenced more by the soil composition, vineyard location and dramatic temperature shifts from day to night rather than the hot sunny climate.
Some of the most elegant and complex wines come from the cooler, higher elevation vineyards on the rolling hills at the base of the Apennine Mountains or on the steep volcanic slopes of Mt Etna and Mt Vulture.  Those volcanoes also produced miles of volcanic soils which add intense minerality, depth and structure to these unique wines.
Winemaking in the southern regions dates back thousands of years to Greek and Roman times, so most of the wines produced here are still made from ancient indigenous varieties which have adapted well to the local terroir.  Pair all these attributes with modern winemaking and it's no wonder there are so many new high quality wines being discovered each year.
Here are some new finds I'm particularly excited about and some of my favorites that stun me with their beauty year after year.
Whites
2016 Benito Ferrara 'Vigna Cicogna' Greco di Tufo, Campania
Greco is an ancient white grape variety, which as the name implies, is thought to be brought to Italy by the Greeks. Greco di Tufo is the name for Greco wines produced in the hilly inland town of Tufo which is named for its tuff volcanic soils. Greco di Tufo is considered to be one of Southern Italy's most noble white wines as the cool climate and volcanic soils produce medium bodied Greco wines with intense aromatics, bright acidity and zippy minerality. Benito Ferrara's Greco di Tufo is often hailed as one of the best white wines in all of Italy. The nose is intense with white flowers and honeysuckle and the medium bodied wine is bold with citrus fruits, white peaches and a hint of green almond. Bright acidity and flinty minerality tame the bold fruit keeping it inviting and refreshing. Light up the grill and get some calamari and shrimp grilling to pair with this beauty!
$28.99 per bottle
2017 Clelia Romano Colli di Lapio Fiano di Avellino, Campania
Fiano is an ancient white grape grown primarily in the Campania region of Southern Italy and the best Fiano wines come from the limestone rich hills of the Avellino province. Romano's Fiano is stunning year after year and one of the best examples of the exquisite, minerally white wines coming out of Southern Italy. It's rich and luscious in the mouth with complex flavors of white peach apricots and melon, yet it's bright and fresh with a long persistent finish. Enjoy this dry white wine with cheese,
$28.99 per bottle
2016 Graci Etna Bianco, Sicily
Wines from high elevation vineyards on the volcanic slopes of Mt Etna are some of the best examples of terroir driven wines and rank close to Chablis when it comes to minerality and purity. Etna Bianco wines are made from the indigenous Carricante and Cataratto grapes with Carricante taking the lead role. Graci's vineyards range from 2000-4000ft elevations with the white varieties planted at around 2000ft. Graci's Etna Bianco is a dry, medium bodied wine with bold citrus and yellow apple fruits, notes of Mediterranean herbs and a salty minerality to refresh your palate. It's a pleasurably fruity wine made for seafood or white meats.
$26.99 per bottle
Reds
2010 Cantine del Notaio 'La Firma' Aglianico del Vulture, Basilicata
Aglianico is one of Southern Italy's most noble grapes and often called the Barolo of the south due to its powerful structure and ability to age for years. Aglianico really shines when grown in volcanic, mineral rich soils and at higher elevations like on the slopes of the dormant Mt Vulture volcano in Basilicata where the cool nights allow the grapes to slowly ripen. In fact the grapes for this wine are harvested in early November which is some of the latest in all of Italy. This unique terroir creates powerful and complex wines with intense floral aromas and bright acidity. La Firma is smooth, rich and generous like a great Amarone but lighter in weight and more herbaceous. It's dense with dried fruit, plums and spice and the tannins are velvety given its age.
$49.99 per bottle
2016 Caravaglio 'Nero du Munti' Corinto Nero, Salina (Sicily)
Salina is a tiny volcanic island in the Aeolian Islands archipelago off the northern coast of Sicily. The Caravaglio family has been growing grapes on these islands for over 500 years. Corinto Nero is an ancient, almost extinct grape found only in the Aeolian Islands and Caravaglio's Corinto Nero grapes come from 150 year old pre-phylloxera vineyards planted inside Salina's ancient volcanic caldera. Currently he is the only winemaker producing a 100% Corinto Nero wine. This is a vibrant and fresh medium bodied wine with dark red plum fruit, hints of spice and pronounced wild herbs. A great wine to pair with sausages, pastas and meaty fish.
$19.99 per bottle
2015 Pietradolce Etna Rosso, Sicily
The gorgeous wines from Mt Etna in Sicily are all the talk amongst wine professionals these days and getting compared to France's great Burgundy wines. Etna Rosso is primarily made from the Nerello Mascalese grape grown at high elevations on Mt Etna in dense volcanic soils. This unique environment creates hauntingly fragrant wines with deep complexity, intense minerality and great structure. Pietradolce's entry level Etna Rosso is 100% Nerello Mascalese and produced from their younger vines of 30 to 50 years old. The wine is vibrant and fresh with bright red berry fruits and hints of mountain underbrush. This is a versatile wine that can be paired with grilled tuna or swordfish, vegetable dishes or white meats.
$21.99 per bottle
2013 Du Cropio 'Dom Giuva' Cirò Rosso Classico Superiore, Calabria
Cirò is an ancient wine found in the Calabria region of Southern Italy and is made primarily from the local Gaglioppo grape. The quality of Cirò wines have improved dramatically in recent years and are catching the attention of wine enthusiasts and critics. Du Cropio's Cirò is a beautifully complex, medium bodied dry red wine that is a great example of why these wines should be getting attention. This elegant wine is layered with flavors of dried red plums and ripe black cherries with hints of earth and spice. It reminds me of a cross between Valpolicella Ripasso and Nebbiolo wines from Northern Italy with hints of sun dried fruit, bright acidity and somewhat firm tannins. A great match for roasted and stewed meats or even BBQ.
$21.99 per bottle