12 Jan 2023 | Samantha Dugan
TUESDAY NIGHT EFFORT, 3 STAR IMPACT MEAL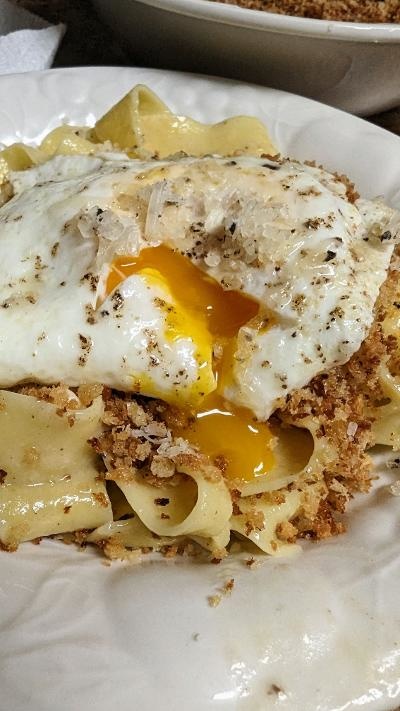 This dish occurred to me one night while poking about in the cheese case, trying to think of something to take home for a solo dinner when my husband was out of town on business. I have a long-standing tradition that goes back to when Jeremy was a pre-teen, whenever dad was away the two of us would indulge in a platter of pungent and gooey cheeses, and cured meats for dinner. Unlike my son and I, my husband is of the, meat with a side of something plan for dinner. So picking at cheese over the course of the evening is often off the table, as it were, for dinner around my house now a days. I hovered over some pungent blue, poked a pudgy wedge of ripe brie, waffled between Comte and Caved Aged Gruyere and that was when my gaze fell upon the holy of all un-holy cheeses, La Leyenda Queso de Oveja Con Trufa, a Spanish sheep's milk cheese with black truffles. My inner wannabe chef brain did a quick scan of the shelves, and a dinner plan was hatched.
The absolute best meals I've ever had, and made for that matter, have been simple, unfussy dishes but prepared with the very best ingredients and this Tuesday night, decadent, noble dish that came to me in seconds and was prepared in less than 15 minutes is exactly the kind of dish you can snuggle into while wearing your comfy pants on a Wednesday night, or serve to your most well-traveled, food obsessed and savvy guests. It has quickly become one of those dishes that me and my meat seeking husband both crave, seeing as that it is both affordable and a snap to whip up, we will be deeply forking the hell out of this one for years to come.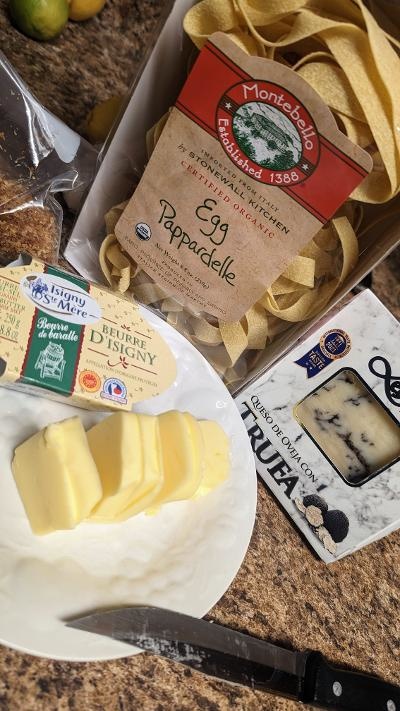 I've made this dish a couple different ways and while the temptation is there to just build upon the flavors, it is truly best when kept sublimely simple to let the gorgeous ingredients sing. I am still on the fence on which way I prefer it, with or without a glistening fried egg on top so I will leave that up to you but if you have some great fresh eggs. Like the Patterson's Family Organic eggs we stock, you will want the luscious addition of rich egg yolk, pierced and oozing into the already luxurious sauce, it does take the dish to that next level. Seriously one of the easiest and most groan inducing dishes I have ever made. Treat yourself to this 3 star quality dish for a Tuesday night price and effort. You can thank us later.
What You Need
Isigny Ste. Mere Beurre D'Isigny Unsalted Butter
Montebello Organic Egg Pappardelle Pasta
La Leyenda Queso de Oveja Con Trufa Cheese
Panko Topping- (Panko toasted with olive oil and finished with grated garlic, salt, pepper and lemon zest. I make this is batches and use it all week for salads and as a topping for this pasta as well as others. Also gives great crunch to roasted vegetables)
Salted Water
Patterson's Family Organic eggs (optional but, DO IT)
The French Farm Aglio Alle Erbette Marinated Garlic (I don''t always add this but if I have a jar open in the fridge I will toss in a few cloves)
As per the usual I don't have exact measurements but use your eyes and desire for buttery and salty, truffle kissed cheese as a guide.
Put a large pot of salted water on to boil, in the meantime grate the Queso de Oveja Truffle Cheese, the amount will depend on how much pasta you are making. I use the whole box of pasta (leftovers heat well, without egg of course) so I finely grate most of the wedge but 2/3 of the piece ought to do fine. Melt the Beurre D'Isigny, anywhere from 2-4 tablespoons over low heat or in the microwave if you prefer. This is where I will add a few of the marinated garlic cloves roughly chopped, they can warm up with the butter while it is melting. Cook pasta according to instructions and reserve two ladles of pasta water. When pasta is finished, drain, and return to warmed pan, move quickly and a little bit of residual water on the pasta will not hurt a thing. Alternate adding the butter and cheese to the pasta, twisting, and stirring the pasta the whole time. Add ¼ cup of pasta water to loosen the sauce and not make it too buttery, if there is such a thing. This would be a good time to start frying your eggs if using them. I like to fry them in the same butter but olive oil is fine too.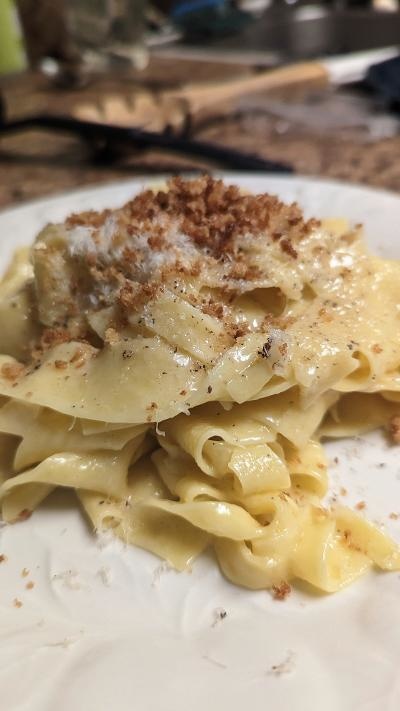 Once pasta is coated in velvety, cheesy, trufflely sauce plate, I like a shallow bowl but whatever you have is fine, and cover generously with panko topping and finish with fried egg. It's really just that easy.
Wines
This is a very wine friendly dish. You can go red or white, hello even rose or bubbles would work but for a more traditional pairing I like white wine because of the acid and the lift. So think Vermentino or Pinot Gris for white and for reds, Italian Dolcetto and Langhe Nebbiolo retain great acidity and both are lovers of the grand truffle.
Cheers- Samantha Dugan