11 Nov 2022 | Randy Kemner
WHY NOT BEAUJOLAIS?
Sometime during the 1980s, there began to be a prestige gap between wines that critics deemed worthy—Bordeaux, Burgundy, Barolo, Napa Valley Cabernet—and those deemed less so, like Chenin Blanc, Riesling and especially Beaujolais.  This was the beginning of the era of the great wine boom, where Americans learned to use a corkscrew, pronounce Sauvignon, drink White Zinfandel and graduate to Kendall Jackson Chardonnay.  It was also the golden age of the wine writer, the all-seeing, all-knowing sages that told us which wines were good and which wines would be embarrassing if we ordered them at a business dinner.  It seemed that Beaujolais (and its grape Gamay) fell into the latter category.
It wasn't always so.  Frank Schoonmaker wrote of Beaujolais in the 1960s, "One of the most popular and best-loved wines of France.  Beaujolais is a light, agreeable, fruity, eminently drinkable red wine whose lively acidity enables it to complement a variety of foods; the best examples have a special, almost spicy flavor and no trace of harshness.  The wine is usually served at the temperature of the cellar rather than that of the dining room, which is to say, it is one of the few red wines that benefits by being put in the refrigerator for an hour or so."
In 1988, Kermit Lynch wrote in Adventures on the Wine Route, "Beaujolais must be the most inspired invention in the history of wine.  What a concept, downing a newborn wine that has barely left the grape, a wine that retains the cornucopian spirit of the harvest past.  It even serves to remind us of the first time man tasted fermented grape juice and decided it was an accident of nature worth pursuing."
Then, 34 years later, Kermit's son Anthony wrote, "Last night, I opened my wine fridge looking for some evening refreshment. I didn't quite know what would be for dinner—likely take-out, as I felt too lazy to coerce the various odds and ends lingering in the refrigerator into something palatable—and I wanted a wine I could sip as an apéritif while my mystery meal materialized.  Looks like it's another Beaujolais night. Am I too predictable? Do I have a Beaujolais problem? I pondered these questions as I sunk my corkscrew into the wooden cylinder standing between me and my chilled Gamay. But then it hit me: I am predictable, and I do have a Beaujolais problem…But who wouldn't? It happens to be the most versatile and easygoing red wine on the planet. It can be enjoyed without food, but also pairs flawlessly with nearly all cuisines on Earth. And of course, it is so irresistibly gulpable."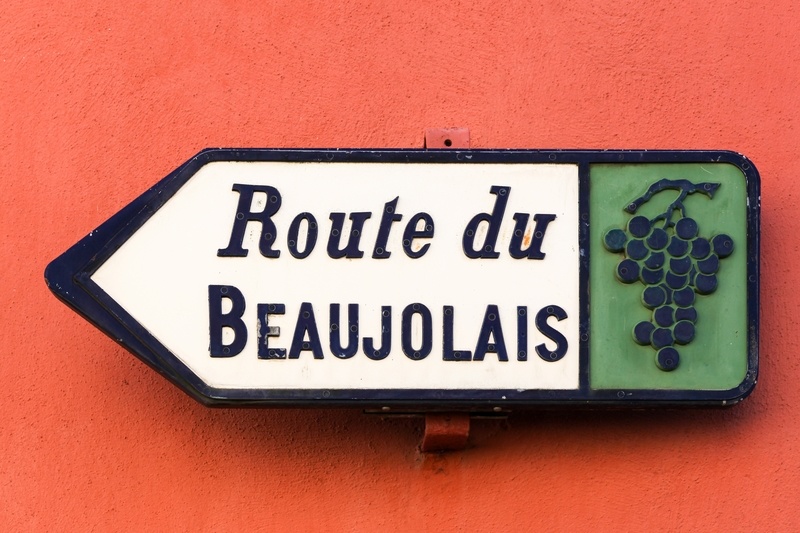 Beaujolais was one of the first wines I ever drank, ordered for me by my date of legal age in a fine dinner house, and it tasted great with my medum-rare slab of prime rib.
Perhaps the Nouveau Beaujolais craze of the 1980s and 1990s knocked Beaujolais out of the consciousness of fine wine drinkers.  Surely Beaujolais lacked the prestige of more "worthy" wines because Nouveau Beaujolais wasn't "serious" enough. 
But they got it all wrong.  It's a matter of perspective.  Nouveau Beaujolais wasn't meant to be serious, just a fun and frothy ritual, a drink of the newborn wine of the recent harvest conveniently released around the world on the same day—exactly one week before the American food orgy known as Thanksgiving.  It wasn't a bad choice, pairing-wise, although most of us were looking for excuses to dig into our cellars and pull out cellared red and white Burgundies, or a Cabernet picked up during a recent trip to Napa.  (As it turned out, Beaujolais was always the better choice if yams and sweet salads--those fine wine killers--made their way to the Thanksgiving table.)
Critics and the wine drinking public painted all Beaujolais with the same brush as Nouveau, and that was wrong headed.  There have always been fine table wines labeled Beaujolais, Beaujolais-Villages, and Cru Beaujolais with names like Fleurie and Morgon and Cote de Brouilly, even sassy Beaujolais rosé and occasionally some rare white Beaujolais, made from Chardonnay.  Beaujolais—the region—was once lumped in with neighboring Burgundy to the north, but its main grape, Gamay, was better suited to Beaujolais' granite soils than in Burgundy.  Phillip the Bold knew as much when he banished Gamay from Burgundy calling it "foul" and "disloyal".  Gamay was never a good fit for Burgundy, but in Beaujolais, it has been charming gourmands for centuries.
So here we are, having to confront our cultural biases, overcoming our conditioned response to Beaujolais wine—many of which are on the natural wine radar because the modern movement began there.
With heartier holiday meals on the near horizon, we are faced with a choice:  do we match the heaviness of turkey and gravy with heavy wines, or do we select fruity wines like Beaujolais to provide a contrasting lift to the meal?
Personally, I opt for the second.
Recently, I've been sampling several of our Beaujolais wines in preparation for our Saturday Beaujolais tasting, conveniently scheduled for the weekend before Thanksgiving.  I invite you to stop by the store November 19 between 1 and 4, and for just $25, including tax, experience some pretty fun and some nearly profound wines—wines that will have you saying, "Critics be damned.  I love this stuff."
2020 Domaine Dupré Goujon Beaujolais Villages Blanc, Clos des Muriers
Fantastically weighted and bright rare white Burgundy from Beaujolais. This is a Chardonnay that shows its regional drawl with plenty of mineral playing amongst the stone fruit and floral notes. Poached seafood, turkey and roasted chicken partner well.--Samantha Dugan
$28.99 per bottle
2021 Dominique Piron Beaujolais Rosé
Long after the summer hordes have departed our rosé department, this wine just keeps performing and performing.  It's not made from the Mediterranean grape varieties we crave in the summer.  The Beaujolais region has a Continental climate, and thus a feel and character to its wine that better suits the cooler-weather cuisines we currently look to.  Sort of a no brainer here, rosé of Gamay from Beaujolais, for under $15.00? Um, yes please! Dominique's family has been growing grapes in Beaujolais since the 16th century and it was in 1971 that Dominique took over the domaine. He farms everything sustainably and always looks for his wines to be light and lifted. This rosé is exactly that. The nose is violets and berries with a soft mouthfeel and the perfect amount of acidity and lift. Quintessential picnic wine because it is so damn friendly, it will go with anything.—Samantha Dugan
$12.99 per bottle
2020 Piron Vin de France Gamay "Coq Leon"
We are utterly charmed by this wine, from label to last drop.  Labeled Vin De France because there is a small amount of Gamaret which is not allowed in Beaujolais, well, to put Beaujolais on the label anyway. Light body, full of playful Gamay flavor, clean and bright on the refreshing finish.—Samantha Dugan
$12.99 per bottle
2020 Paul Durdilly Beaujolais "Les Grandes Coasses"
Juicy, velvety, friendly and fun! These are all descriptions of this perennial favorite. Backyard barbecues, roast chicken, steaks--you name it! Swig it down!  A pure, refined Gamay wine with a Burgundian personality, grown on soils more common to Vosne-Romanée than Beaujolais. Violet aromas, silky tannins, ruby-red fruit.  As inviting as red wine gets.
$13.99 per bottle
This joyful expression from Dominique Piron is from Lantignié, a small area of mostly old-vine Beaujolais-Villages near Regnié and southwest of Chiroubles.  Piron's Beaujolais mostly tend toward the traditional grapey style, just the way I like it, and the Fructus Agape bottling is balanced, fruity and fun.
$19.99 per bottle
2021 Domaine des Braves Regnié, Beaujolais
This dependable Beaujolais producer has done it again: produced a true Beaujolais with all the nostalgaic character we crave.  Régnié is one of the 10 Beaujolais "Crus", appellations that have the potential to produce wines of greater character than Beaujolais-Villages.  We first discovered Domaine des Braves twenty years ago and have always admired its easy-going nature and trueness to traditional Beaujolais.  That's what you get in the 2021 vintage.  It's a pretty Beaujolais, loaded with charming fruit, not trying to be something it is not.
$20.99 per bottle
2021 Domaine des Mouilles Fleurie, Beaujolais
The first thing that struck me is this Cru Beaujolais is priced like some estate villages wines.  What should we expect, then, from such a bargain?  A lighter ruby color.  A medium-bodied wine, lighter in the middle.  A tart cranberry flavor with classic notes in the finish.  Yes, this grapey wine is true Beaujolais in character, if not profound.
$19.99 per bottle
2020 Domaine Chignard Fleurie , "Les Moriers", Beaujolais
From importer Kermit Lynch, Chignard's Fleurie has always exhibited the legendary flowery fruit that gives the appellation its name.  The 2020, however, is a bit muted in the aroma, but the flavor is another thing entirely—explosive berries jump out in this delicious, full, fruity wine.  Round texture, a much more ambitious and successful wine.
$38.99 per bottle
2020 Nicole et Romain Chanrion Domaine de la Voute des Crozes Cote-de-Brouilly, Beaujolais
We've been offering this producer since our founding (when we can get it!), and the 2020 is another winner.  I recall drinking Chanrion's Cote-de-Brouilly out of magnum a few decades ago with a smoked pork loin and thought I'd found the perfect wine on the planet for that dish.  The nose has some familiar herbal notes, and in the mouth, it has a silky texture and a flavorful expression of its terroir.  Grapey at first, then showing off flavors of crushed berries ending with a firm grip.  Another very good wine.
$26.99 per bottle
2021 Chateau Thivin Cote de Brouilly Famille Geoffray, Beaujolais
Thivin has been going through some transition in recent vintages.  Once very pretty in all aspects, it went a few vintages that were denser, darker and brooding.  This vintage it is somewhere in the middle.  There is a distinctive green-leafy herbaceousness to the aroma, somewhat complex, that also adds to the flavor of crushed blackberries.  Grapey, dry, with some grip, it is a wine with a more serious attitude than a playful one.
$31.99 per bottle
2020 Jean Foillard Morgon "Cote de Py", Beaujolais
From the premier hillside within the cru, and perhaps in all Beaujolais, this is the richest and fullest-bodied Beaujolais in the store at the moment.  It sports a beautiful, medium-ruby color, nearly opaque.  There are gorgeous fruit flavors in this impressive wine.  A premium price, sure, but worth every penny.
$53.99 per bottle
And Here is a Rare, Unconventional Bubbly to Share with Your Holiday Guests as They Arrive:
Eric Bordelet 2021 Cormé Sidre, Maine, France
This super-rare cider made from an ancient crabapple-like fruit native to the border area of the Loire Valley and Normandy.  Bordelet, the consensus master of French cider, produces this bottling the same way he does his award-winning ciders, naturally fermenting them in the bottle.  It is a dry cider with explosive flavors, a sparkling drink you must try at least once before you die.
$46.99 per 500 ml bottle