08 Aug 2021 | Jeremy Dugan
BITTERS WITH BENEFITS
We live in a Time of Consciousness when it comes to what we put into our bodies.  You can see it in grocery stores with organic food sections getting bigger, in wine with organic/bio-dynamic and natural wines all getting more popular and more winemakers moving in that direction.  Even in spirts, with brands like Prairie Vodka, Don Abraham Tequila and Greenbar Distillery which all use organic ingredients to make their products.
And now we are carrying two brands of bitters that not only focus on using pure ingredients, but also making bitters that can help with health benefits.  While not a new concept, both Elemental Spirits Bitter and Bennett Bitters are putting their mark on the business.
Before bitters were ever used by a bartender, those who practiced medicine would put leaves into alcohol to preserve and extract their components.  These tinctures would help relieve pains, support immune systems, help with inflammation, help with digestion, protect against fever, or sometimes just help "clean out your system".  To this day when using Eastern medicine, the remedies usually include a combination of herbs either boiled in a tea or extracted.  
Both Elemental Spirits and Bennett Bitters take a step back in history and look at alchemy in making their products.
Kat Valentina studied Planetary Herbology and Traditional Chinese Medicine and was also a bartender. Deciding to combine her passions with her work, she started working with Lake Tahoe Distillery on creating a line of bitters that not only taste good, but could have health benefits as well. 80% of the botanicals used in Elemental Spirits are grown by Kat, so it's safe to say she's pretty hands on. We are carrying the sampler pack from Elemental Spirits at the moment which contains 1oz bottles of each of their bitters; Qi-li, Sun Kissed Cocktail, Sage Advice, Lavendahhhhh and Blessed be Basil.
Qi-li- Made with organic red wine, star anise, chili pepper and cacao. Rich cacao flavors coat the palate and then a quick burst of spice from the chili pepper balances out the sweetness. Dried cherries and anise on the finish. Suggested to mix with aged rum, coffee or tangelos. Helps with increasing circulation, supports cardio-vascular health.
Sun-kissed Cocktail- Made with tangerine peel, meyer lemon peel, rosehips, lemongrass, ceylon, cinnamon, vanilla bean, cloves and allspice. A bright pop of cinnamon, cloves and allspice up front leads to vibrant tangerine and meyer lemon citrus. The vanilla bean slightly coats the palate through the tasting experience. Great for any cocktail needing bitters. Helps serve as an anti-inflammatory, useful in pain relief and can be an antiseptic.
Sage Advice- Made with Cleveland sage, grapefruit peel and black peppercorns. Savory and lively, bright pop from the grapefruit leads to a bold savory combination of black peppercorns and sage which have a lingering finish. Suggested for drinks with Gin, Rye or Mezcal. Serves as an antioxidant, aids in digestion & weight loss and can calm respiratory distress.
Lavendahhhhh- Made with French and English Lavender, Salem rosemary, culinary rosemary and celery leaf & seeds. The lavender and rosemary create a very herbal and refreshing profile, the celery leaf and seeds bright a savory and minerality component to the bitters. Can be used to sooth bold cocktails or settle floral cocktails. Helps with anxiety & insomnia, can help relief a headache and supports brain function.
Blessed be Basil- Made with a variety of medicinal and culinary basil, ceylon, cinnamon and Chinese licorice root. This is spicier up front than expected. Vibrant cinnamon and Chinese licorice root up front leads to a slight sweetness from the basil compared to the spices up front. The basil sweetness does round out the bitters and give it a refreshing finish. Suggested for herb forward cocktails and can serve as an immuno-booster, can nourish kidneys and supports lung function.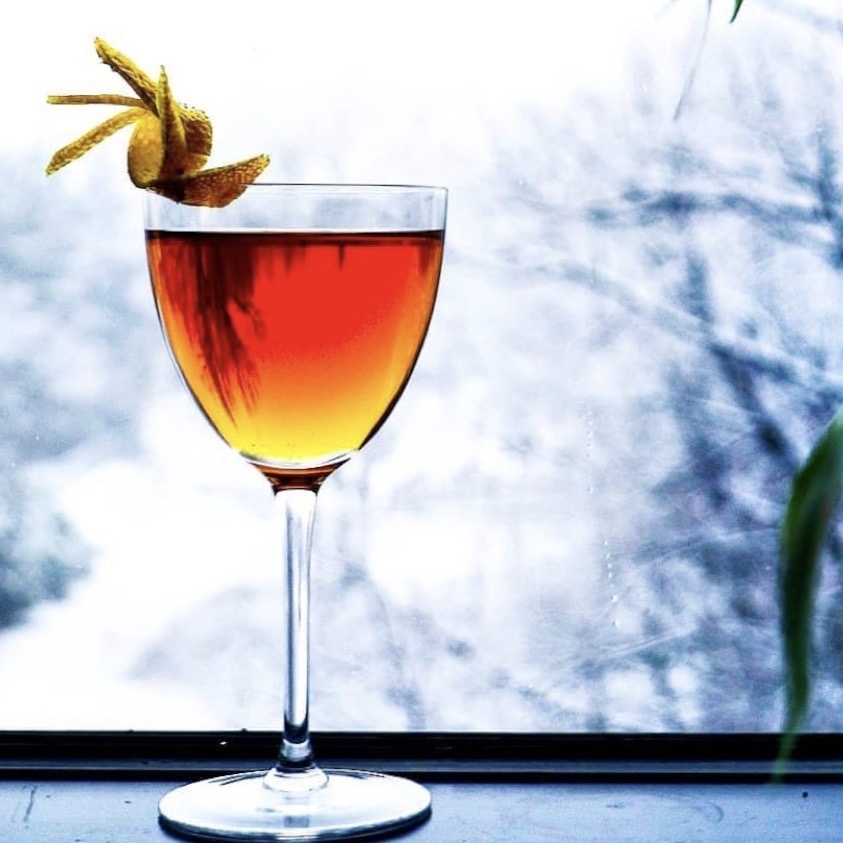 Joseph and Yana Bennett moved to New York with the goal of improving the bitters they had made when living in Seattle. After a few years and a few hundred samples, the Bennett Bitters company relaunched in 2018. Continuing the legacy of alchemy, the Bennetts hand-blend their herbs with pure spirit in small batches under the light of the full moon. They hand fill and label every bottle and 2% of their yearly profits go to supporting nature conservations in the regions they source their ingredients from. We are carry 2 of the Bennett bitters in the 60ml (2 ounces) format, Exorcism and Wild Hunt.
Containing Cubeb Berries, Angelica, Meadowsweet, Anise, Yarrow, Turbinado sugar, herbs and spices. Green and earthy up front, the anise and angelica root are vibrant on the palate. Cubeb berries and the sugar balance out the root flavors to round out the finish. Suggested use is in an Old Fashioned, Gimlet, Dark and Stormy or Arnold Palmer. Cubeb helps relieve inflammation and congestion. Yarrow helps fights infection and relaxes the digestive system. Meadowsweet soothes pain and promotes immune support.  $16.99 per 60 ml bottle
Containing Devil's club root, Icelandic moss, Chamomile, Passionflower, Life Everlasting, Turbinado sugars and herbs. An herbal combination that reminds me of Sage, Basil and white pepper all combined into one. Chamomile gives it a little floralness to lighten up the profile, sage like notes seem to linger. And a great thing about Bennett Bitters is that they use ingredients that have benefits to you as well. Suggested use is in Daiquiris, Moscow Mule, French 75 or Rob Roy. Devil's club root helps regulate blood sugar, relieves joint paint and supports lung health. Passionflower is known to calms nerves and chamomile soothes the digestive system and relieves pain.  $16.99 per 60 ml bottle