29 Dec 2021 | Thomas Oliver
THOMAS' SEASONAL SPECIAL
As the cocktail person among friends, I am used to slinging out cocktails for friends and family. As soon as you mention you like to make a stiff drink, trust that someone will ask for one. But this season I just wanted to relax, so I decided to make a batch cocktail. I started by making a cranberry cordial; I figured cranberries would still be in stores a while longer.  It is easy enough. It's like making a very runny cranberry sauce. If you cannot find whole cranberries, you can use your favorite additive free cranberry juice, in that case skip to step 3.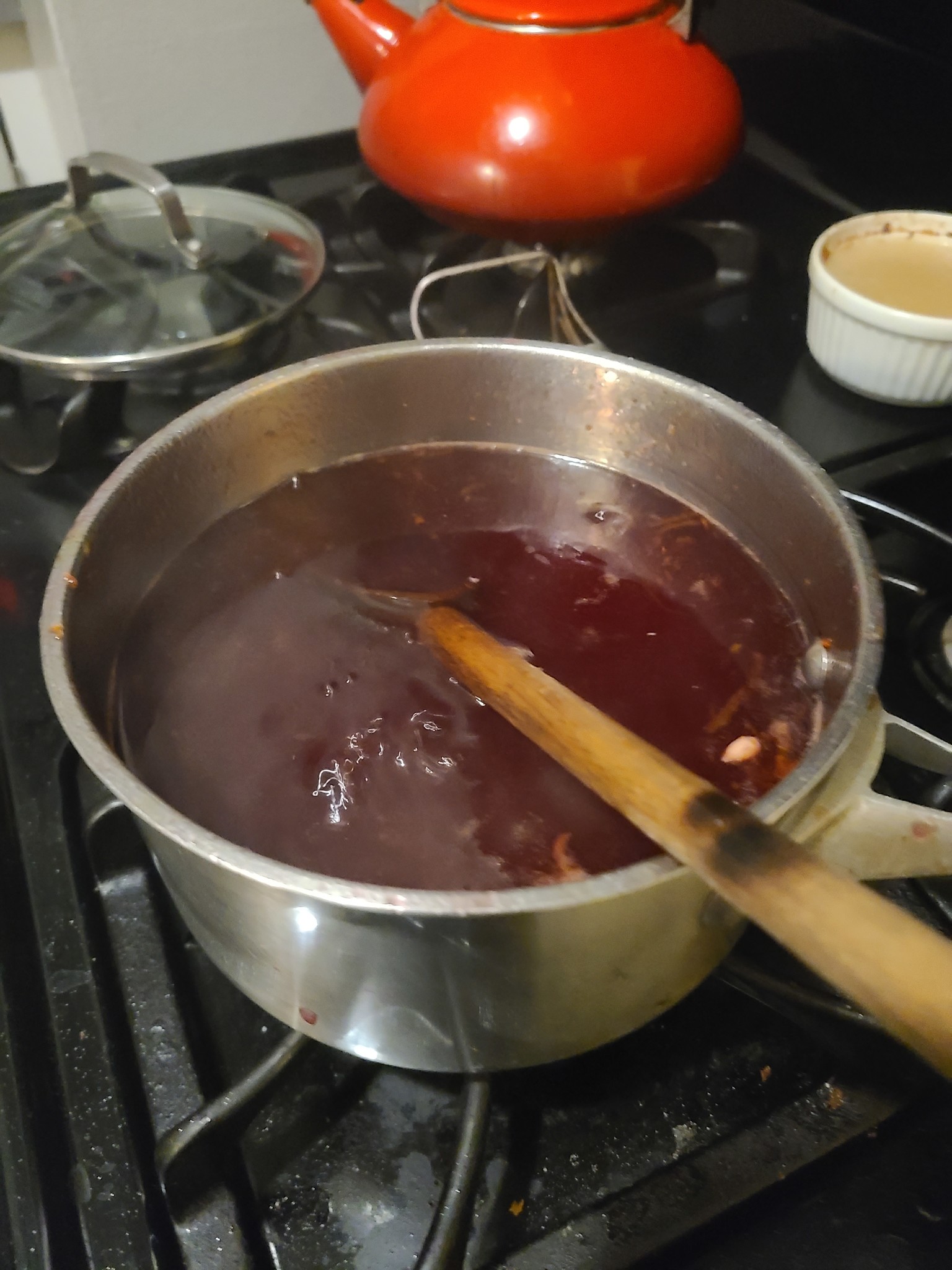 Thomas' Cranberry Cordial
Ingredients
3 cups Cranberries,
6 cups Water,
~4 cups sugar
1 Orange
3 Lemons
1 oz vodka
Coffee-Filters/Cheese Cloth
This recipe is simple, it just takes a little bit of time. If you don't want to do it from scratch, it is okay to use a natural, low additive cranberry juice instead of making your own. Skip ahead if you choose to do that.
1. Simmer cranberries over medium heat in water for one hour until cranberries have burst and become mush.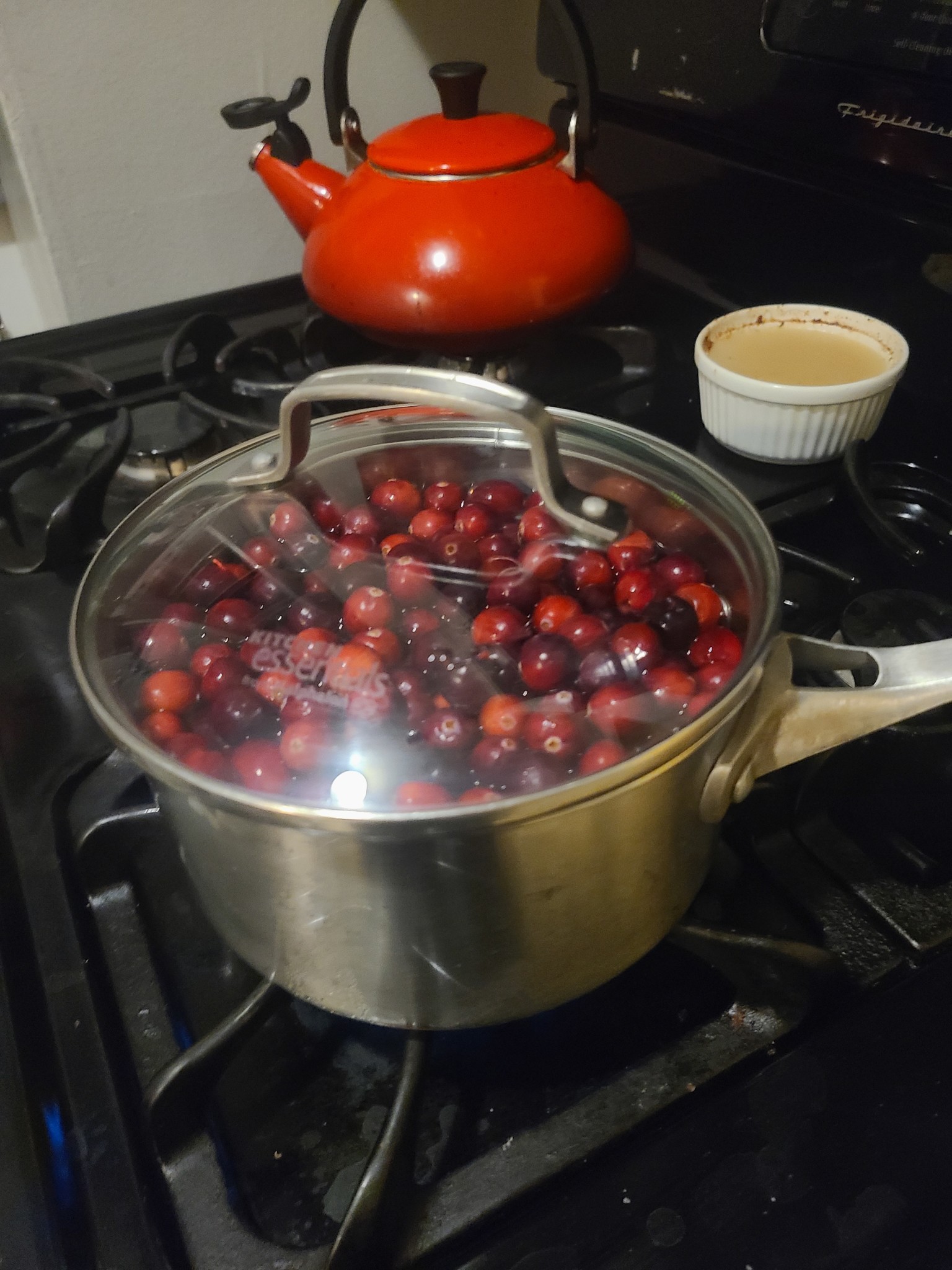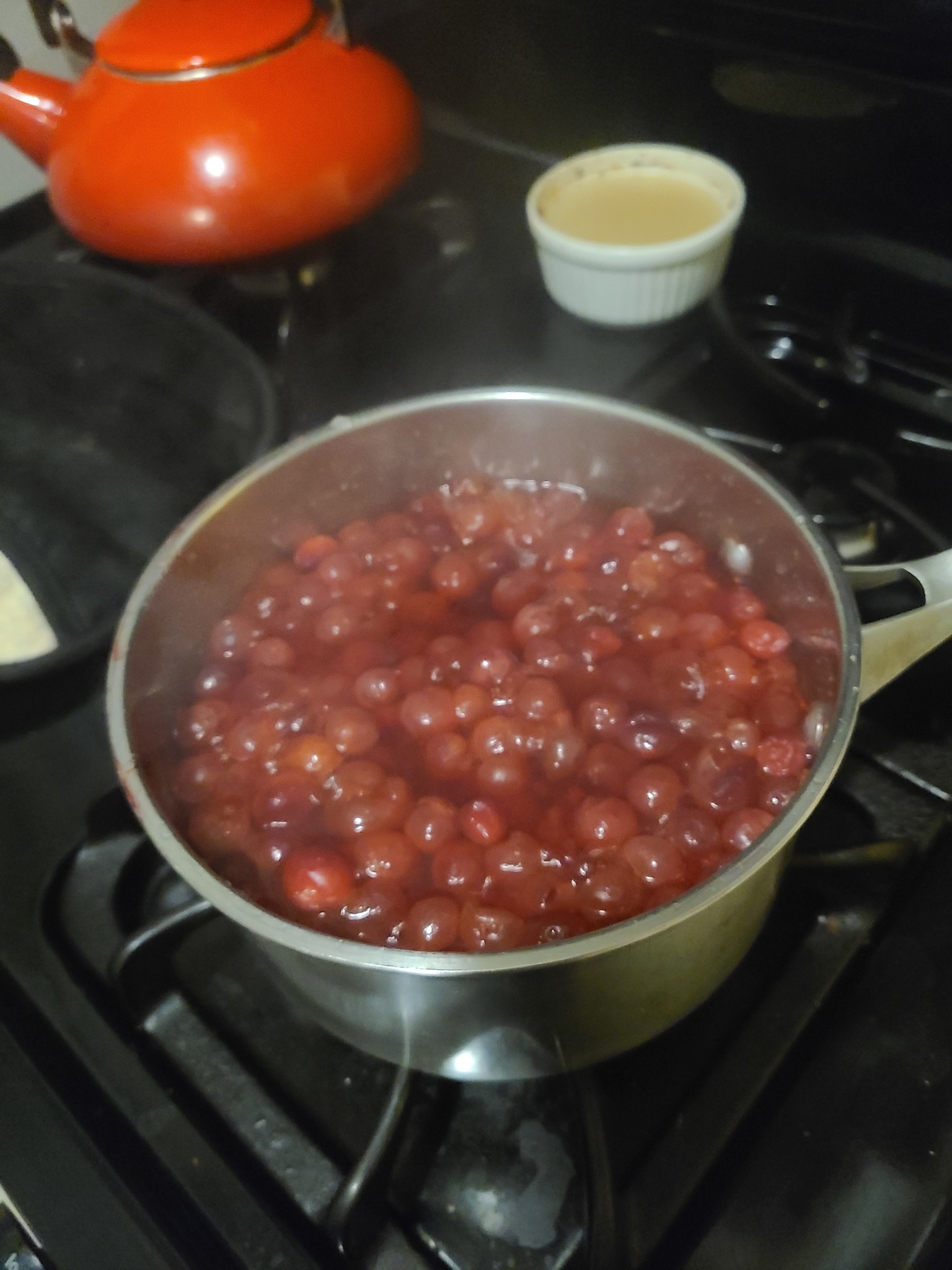 2. Sieve through your cheese cloth or a paper coffee filter. I kept the cranberry mush for a future jam.
I lost some liquid as it was boiling and through sieving it and ended up with 3 ½ cups cranberry juice.
3. I matched that 3 1/2 cups cranberry juice with sugar and put it back on medium-low.
4. I zested half of an orange, juiced 3 lemons and added that back in.
5.I let that reach a boil and bring it off to cool. I added in the 1 oz vodka.
I read in a recipe for orgeat that you should add a lil bit of a matching spirit to help preserve your cordials, since you don't have any other conventional preservatives (still store them in the refrigerator). Though it is mostly sugar, I try to use all of my cordials/orgeats/ home-made syrups within two weeks. 
Playing around with my cordial, I created 3 drinks to match the cranberry cordial. Here is my favorite: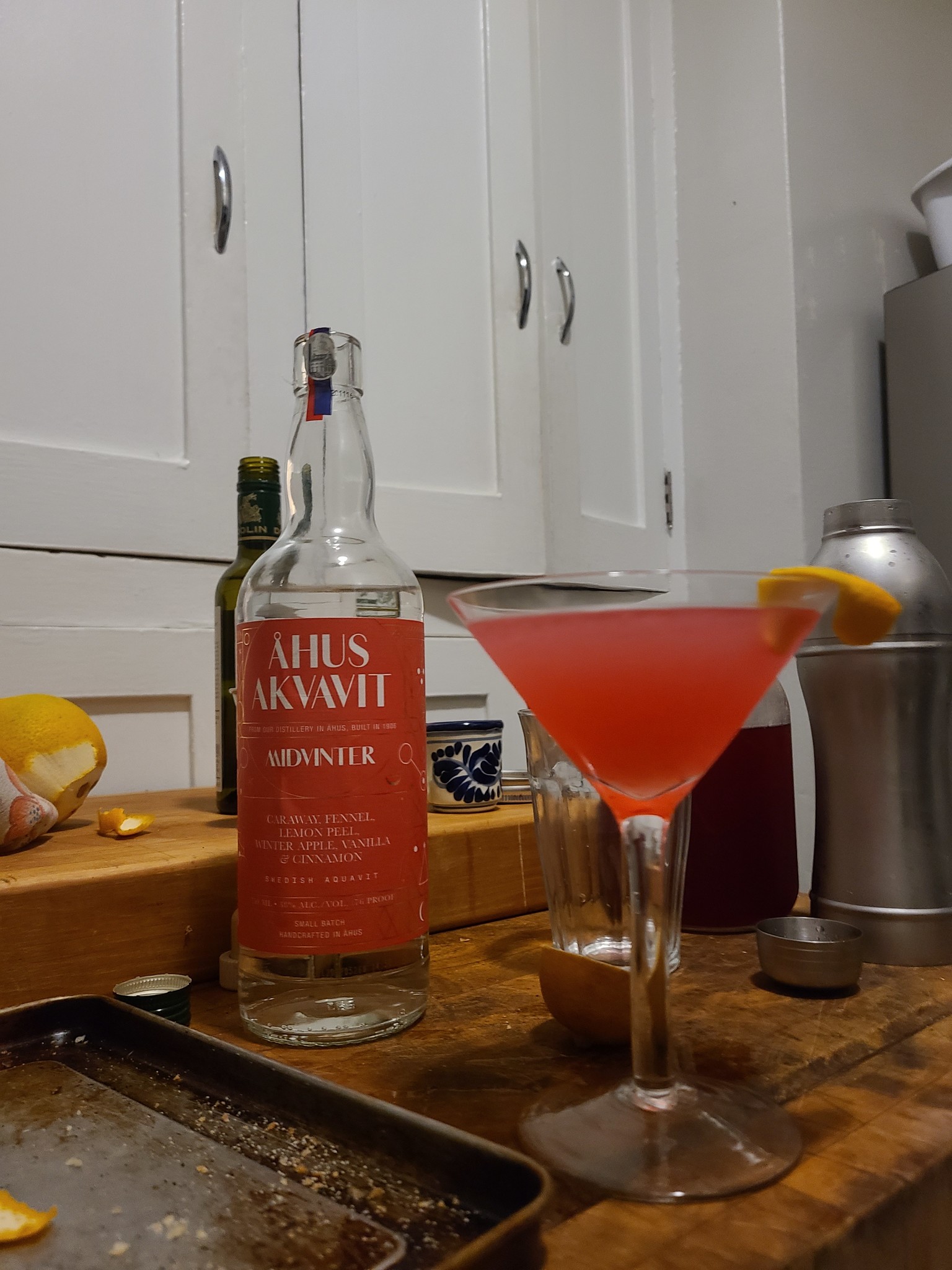 Add 3 oz Ahus Akavit "Midvinter" Swedish Aquavit, 1.5 oz cranberry cordial, 1 oz dry vermouth, and .5 oz lemon juice into a shaker. Shake with ice and strain into a martini glass. Express an orange twist on top and squeeze 3 drops of Bennett Wild Hunt Bitters on top.
 The aquavit brings this spice of evergreen to the palate with its key spice of caraway. It immediately conjures images of a frigid ski trip. The hint of orange almost tastes candied compared to the tart, ascorbic cranberry, and the vermouth lends to a crisp, dry finish. It is an interesting drink because the spice from the aquavit provides this backdrop of warmth, yet the cranberry is so refreshing. The almost gelled cranberry shakes up nicely to provide loads of body.
I also adapted this cocktail for my table, so I would not have to spend the holiday making cocktail after cocktail for friends and family. Here is that recipe: 
I mixed 3 cups Aquavit, 1.5 cups Cranberry Cordial, 1 cup dry vermouth, a bit less than a cup of water, and a half cup lemon juice together in my pitcher. The reason I am adding a cup of water is because when you make a batch cocktail, you need to account for the dilution you would get when shaking or stirring a cocktail. 15% of the volume is the supposed dilution you achieve when shaking/stirring a cocktail, or 213 ml in this case.
Stick your pitcher in the fridge and chill until your event. The day of all I have to do is stir it, pour into a glass with ice and garnish. I chose to garnish with an orange peel and my Bennet Wild Hunt Bitters again.
The cocktail was really popular with several people getting belligerently drunk because they did not realize how much alcohol they were drinking.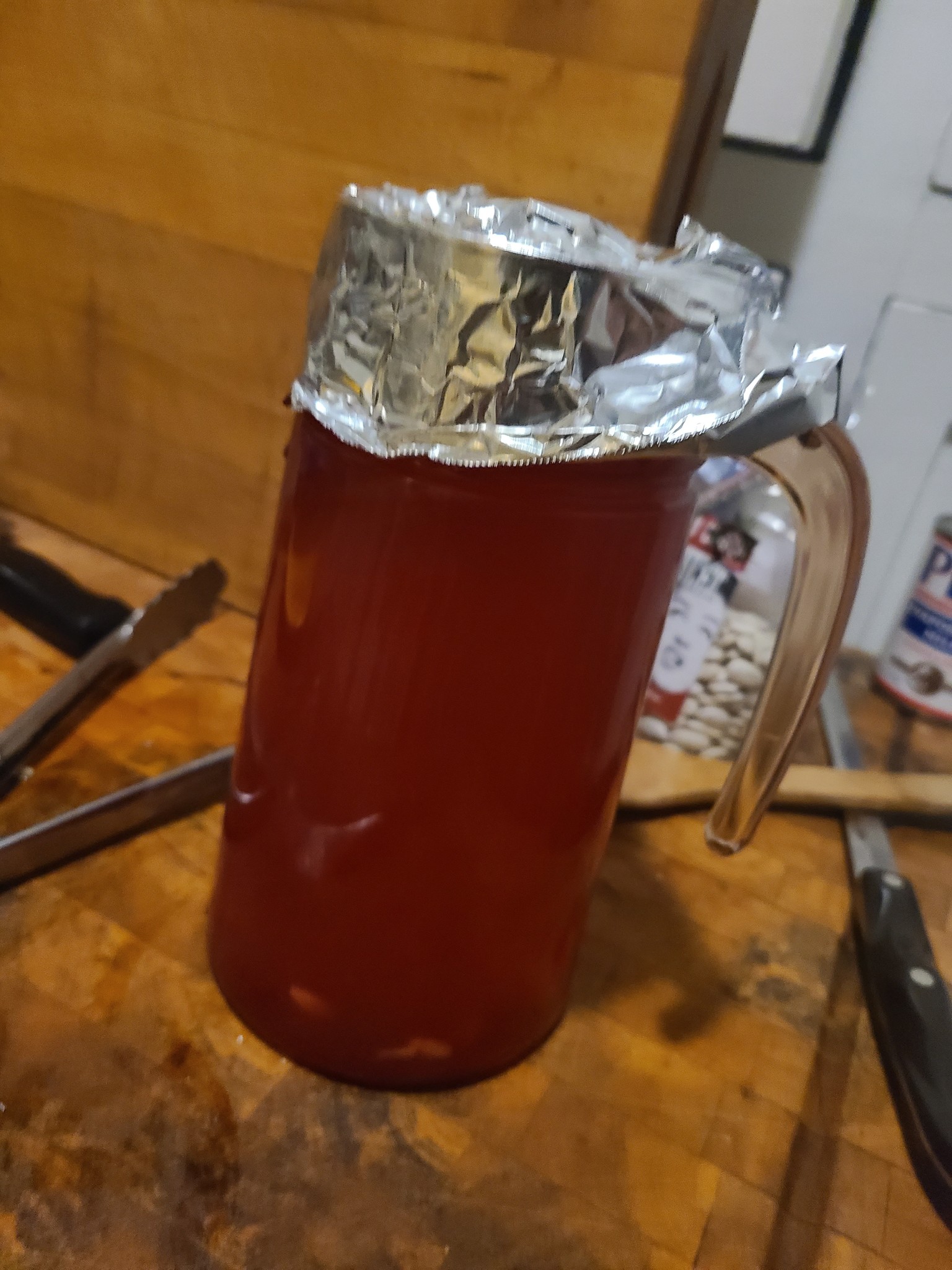 You can adapt this drink easily. Instead of aquavit, use a more juniper forward gin, instead of dry vermouth, use coucco americano. The wild hunt bitters in this recipe are a nice addition to clarify the spice of the aquavit in the drink but are by no means necessary. 
This cordial goes well with vodka as well. I made a cocktail of 3 oz vodka, 1.5 oz cranberry cordial, .5 oz lemon juice, and 1 oz triple sec. Though definitely a less complex cocktail, the simplicity of it is its own virtue. Finish with a complimentary bitters: orange, cardamom, Qi Li, etc... You could also add a dash of Chambord, lean into the herbaceous side of the cranberry by adding Mandarine liquour, or add a dash of apricot brandy. Have fun with it and enjoy the season.